Published September 1, 2023 in
Top 9 reasons your business needs a chatbot
Looking to cut costs, save time, boost sales, or delight customers? A no-code Messenger chatbot can help with all four.
A chatbot is your business's Swiss Army knife: a multi-purpose tool that can help you with all kinds of different tasks and goals. Looking to cut costs, save time, boost sales, or delight customers? A Messenger chatbot can help with all four. And the best part is: You don't need to be a tech expert or have coding knowledge to build one! That's what no-code tools like Chatfuel are for. So allow us to dig a little deeper into the question of why your business needs a chatbot. Your business can benefit from chatbot technology in the following nine ways, because bots can help you…
Cut business costs
What company would turn down an easy opportunity to cut expenses? A Messenger chatbot for your business can help do this in two key ways.
Qualify leads automatically to reduce operational costs
Simply by asking questions in its natural, conversational style, a chatbot can automatically sort prospective customers into categories. They can narrow down which prospects would be a good fit for your services, for example. Or, they could separate out those who seem more prepared to buy your products than others. Check out these real-world examples of Chatfuel users who have found success with their lead qualification chatbots:
A car dealership saw a 3.5x increase in qualified leads and a 10x increase in sales in the first month, thanks to a bot that qualifies test-drive leads
An astrology brand was able to cut costs by $25,000/month and reduce their staff by over half once they launched a chatbot to qualify leads, since their employees no longer had to waste time talking to unqualified prospects.
Improve return on ad spend
Let's say you run a Facebook ad that directs users to your ecommerce store, your restaurant's menu, or your agency's website. Once the user arrives, they're on their own to browse, and hopefully convert. But direct them to a chatbot on Messenger instead, and they'll get personalized guidance right down the sales funnel. Your bot can recommend products in your store, answer questions about your food delivery, or qualify leads for your marketing agency's services. The result? More conversions and a better ROAS for you.
Save time
The less time your employees have to spend on repetitive questions and tasks, the more time they'll have for other value-adding projects. Here's why you should consider chatbots as a business solution for saving time.
Automate your overflowing inbox
Are you or your staff spending countless hours responding to Facebook messages from prospects and customers? Good news: Chatbots and customer service are a match made in heaven. In fact, a well-built Messenger chatbot can answer up to 80% of routine questions.
In a couple of hours (and with no coding involved!), you can build a chatbot to answer FAQs instantly, 24/7. (You can also use a no-code integration to add AI to your chatbot to make it even better at answering user questions!) See for yourself: Chatfuel client HelloFresh built a customer support chatbot and cut their response time by 76%! Customer satisfaction went up, and HelloFresh's support team now has more time to focus on other tasks.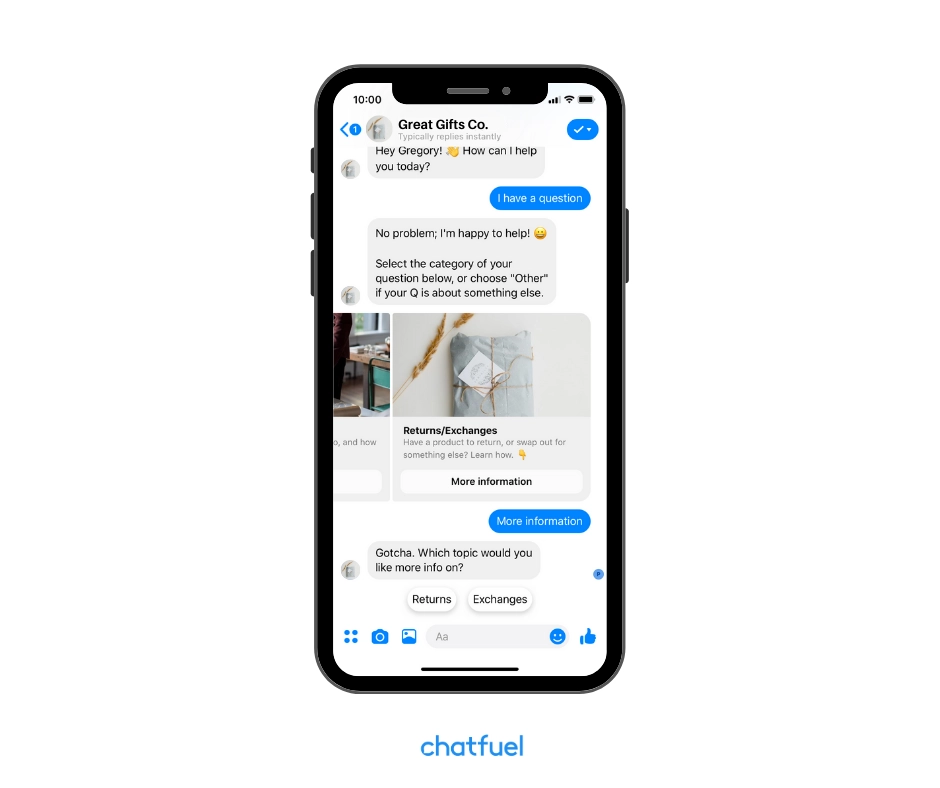 4. Launch quickly and cheaply
Chatfuel is no-code tool for building Messenger chatbots. That means you can launch a simple chatbot for your business in a couple of hours, or a more sophisticated bot in days or a few weeks. Our Flow Builder interface makes building a chatbot a visual, intuitive experience. (Video tutorial below.) Plus, all our most valuable Pro tools are now available to all Chatfuel customers. Our free trial plan gives you the perfect opportunity to test your concept with 50 users.
Boost conversions and sales
Need another reason to adopt a chatbot for your business? We've got two words for you: more sales.
Gather valuable lead information
Your business needs a chatbot if you rely on leads for revenue! (For example: Chatbots for marketing agencies and chatbots for real estate brokers are especially popular use cases.) First, bring users to your bot from your website or Facebook ads. Then, your chatbot can qualify them and gather contact information in a casual, conversational way. It can ask for their zip code, job title, or whatever data would be useful for your business. Then, with the Save User Email and Phone Number plugins, the user can share their contact information with the chatbot in one click.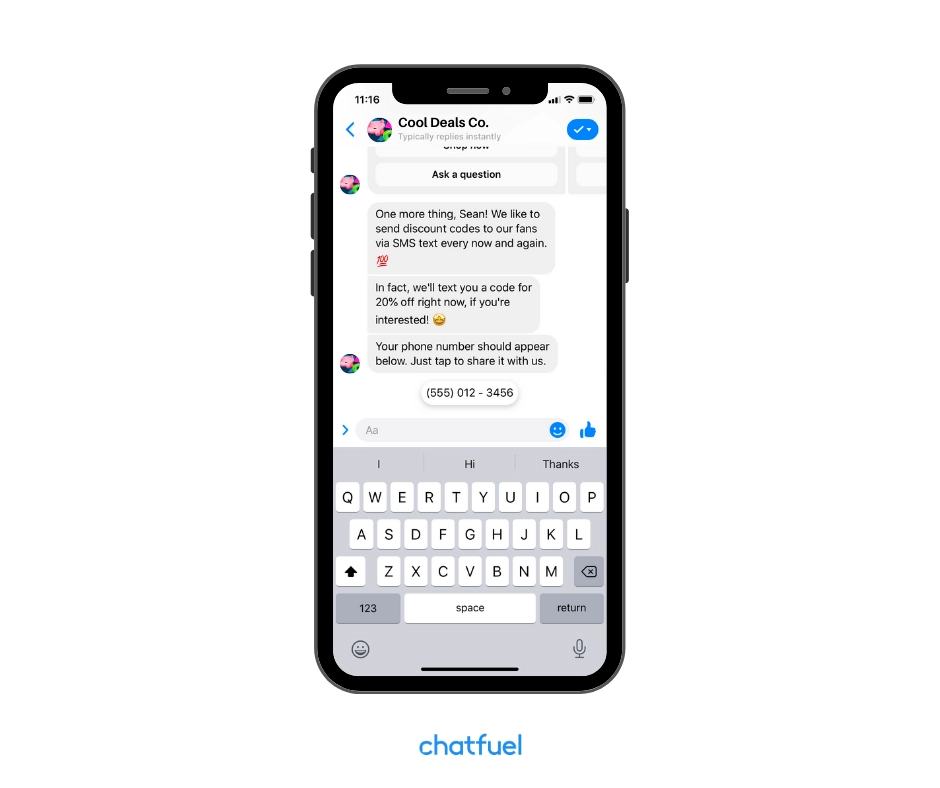 Convert followers and website visitors into customers
Businesses can use chatbots to turn lukewarm leads into a warm leads or even customers. Meet prospects where they are, and use your chatbot to guide them towards a conversion. For example, you could:
Add your chatbot to your website. Don't leave visitors to browse your products or services alone! Have your friendly chatbot pop up on your website and offer to answer their questions, make a recommendation, or guide them to the right resources. Take the case of a large English university, for example. They added their Chatfuel bot to their website to generate and qualify leads and doubled their conversion rate, facilitating $3.1 million in new enrollments in one day!
Set your chatbot to respond to Facebook comments. The Comments Autoreply Entry Point in Chatfuel makes this a breeze. You can have your Messenger chatbot respond to comments on every post or only one post, and all comments or just those that contain keywords. Once this feature is set up, your bot will send commenters a message instantly and tell them more about your contest, offer, promotion, product, etc. Just look at what Chatfuel client DECEN Muebles did with this tool: They got almost 4,000 qualified leads from a single post!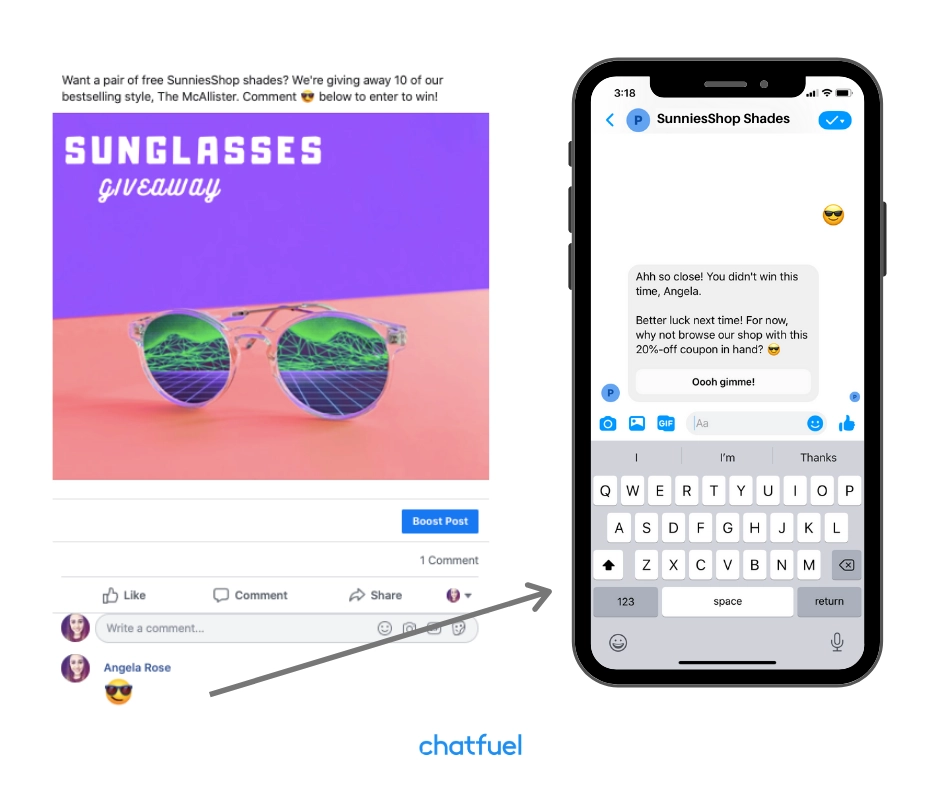 Gather key customer data
The more you know about your audience, the more effectively you can sell to them. Lucky for marketers, chatbots make excellent data-gathering tools. You can set your chatbot to save the data it collects from users via its back-and-forth, conversational style. The data will be stored in Chatfuel in the form of user attributes, which are like tags. From there, you can:
View and export all user data from the People tab in Chatfuel.
Create user segments in the People tab, and sync them to Facebook Ads Manager in one click. Then, use the data to create Lookalike audiences to reach valuable new prospects, or custom audiences to reengage existing users.
Use data from customer actions in your bot to visualize your chatbot sales funnel. (The Send Analytics Events plugin makes it easy.) Then, you'll be able to clearly see if there are any drop-off points in your flow, and make adjustments to maximize conversions.

Create a dazzling customer experience
Finally, a chatbot for your business can be the "wow factor" that delights users and keeps them coming back to your brand for more.
Personalize the experience
It's flattering when someone you've met before remembers details about you. It shows you that they were truly listening to what you had to say. That's exactly the feeling your chatbot can give your audience. Your bot can incorporate two types of user data to personalize the conversation:
Data from their Facebook profile. Chatbots on Facebook Messenger have access to a user's basic profile details. That means that—without asking for the information—your chatbot can greet prospects by name, or customize messages by their location or time zone.
Data from past conversations. Chatbots can store data from previous chats as attributes, and use those to customize future conversations. A chatbot could tell the user about new products related to one they showed interest in last time. Or, a chatbot could show locations or shipping availability for a user's specific area based on the zip code they shared in a past conversation.
Personalization make users feel seen and special, which helps build brand trust. Plus, 80% of users say personalized experiences make them more likely to buy. That means this feature of Messenger chatbots can benefit your bottom line, too.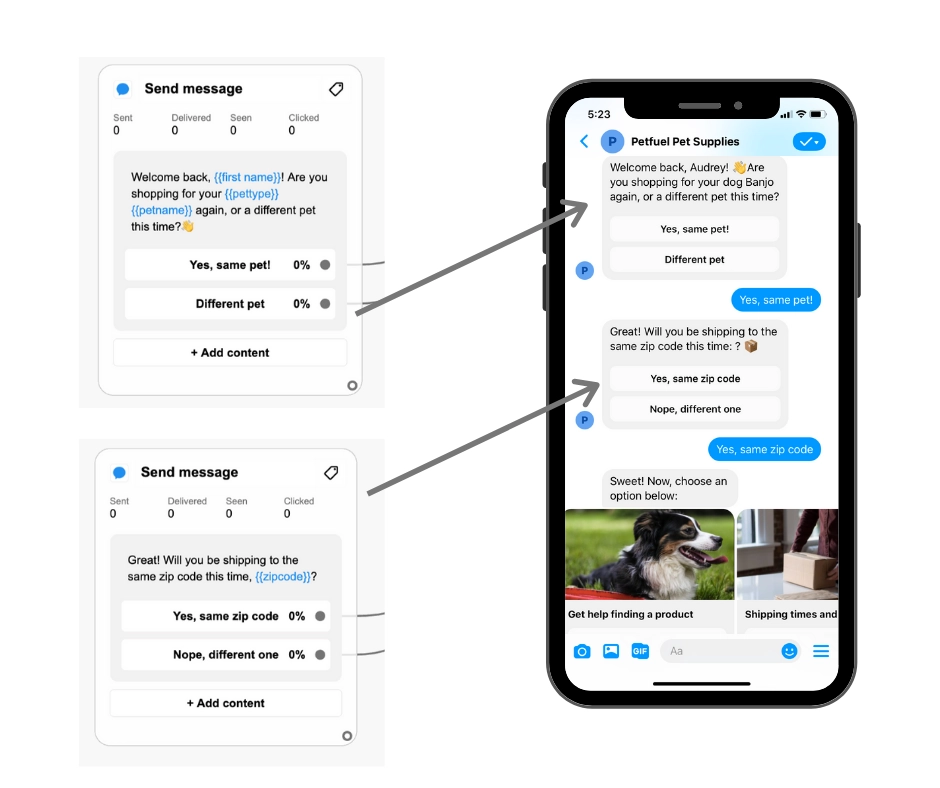 Delight users with a fun, engaging conversation
There's so much room for creativity when building a chatbot for your business. You can add videos, quizzes, and trivia to your chatbot. Sprinkle in GIFs and emoji to draw the eye and break up the text. Translate your brand voice to your Messenger chatbot to make users comfortable and build trust. Choose a chatbot name and persona to keep users interested. Use the opportunity to create an interesting, interactive experience that your users will remember.
Ready to jump aboard the "chatbots for business" train?. Sign up for a free Chatfuel account today and start building a chatbot for your business—no previous experience or coding knowledge required.