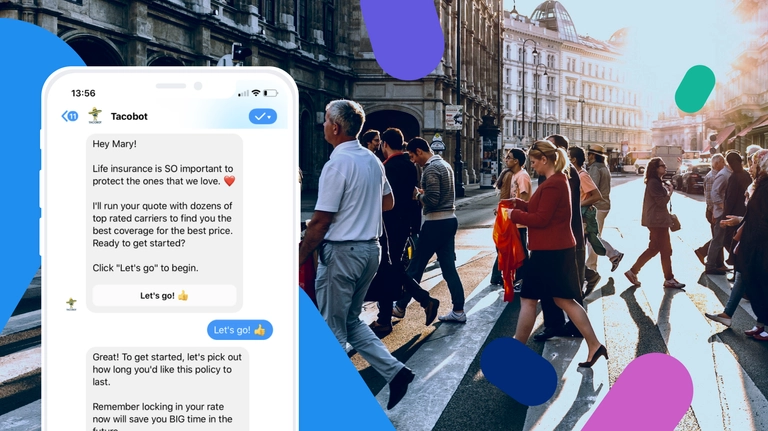 Published July 25, 2023 in
Marketing agency uses Messenger bots to deliver high-quality leads for customers
Tacobot is a chatbot marketing agency that helps small, local businesses get high-intent, high-quality leads at an affordable price.
The brand
What's the one ultra-valuable resource that all insurance brokers and real estate agents depend on? High-intent, high-quality leads, and ideally at an affordable price. Tacobot is a US-based chatbot agency that helps small, local businesses of these types get exactly that.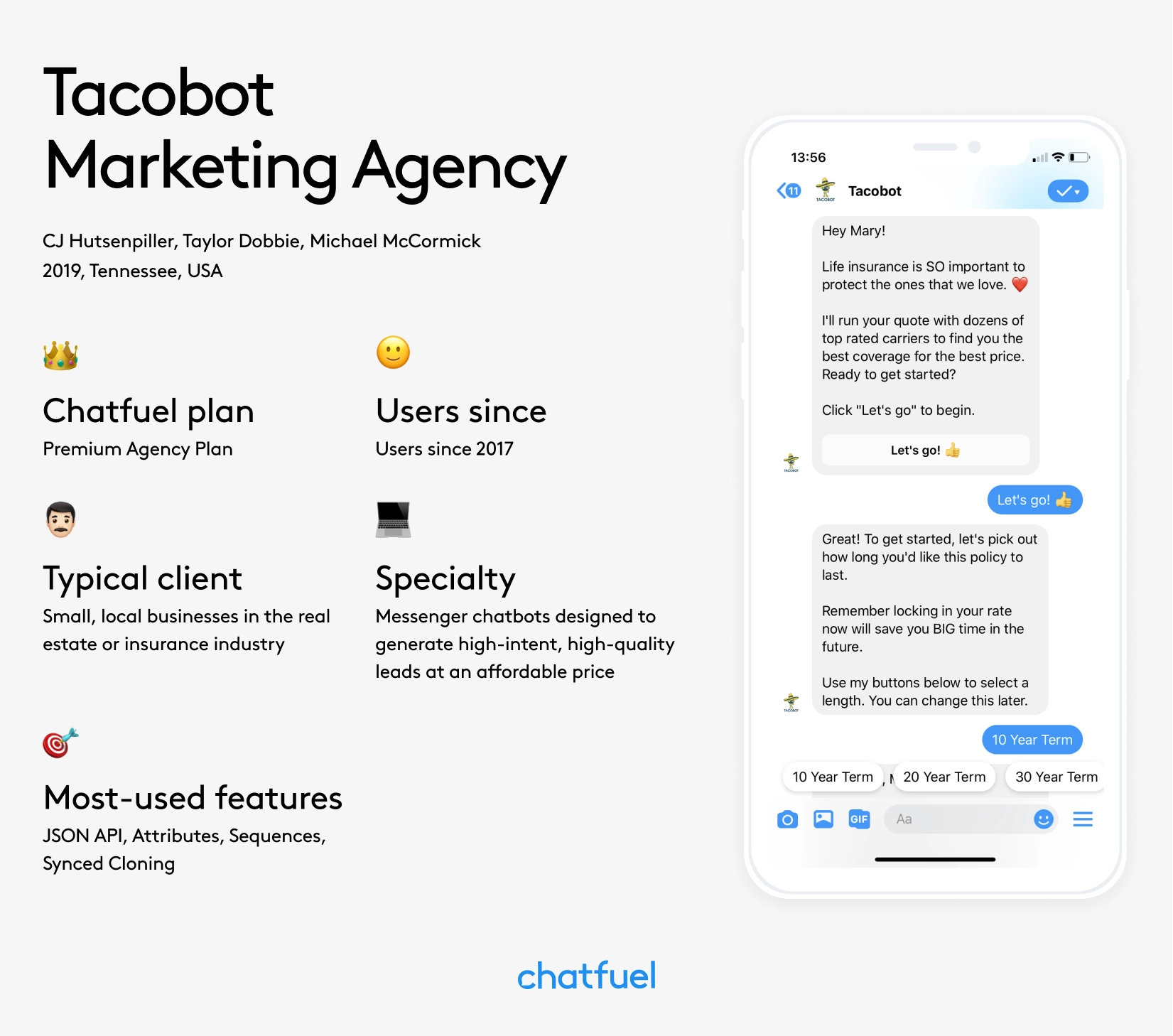 The problem
Every insurance company or real estate business needs a regular influx of leads. Major national brands can afford billboards, TV commercials, direct mail, and other pricey strategies to get them. So how can a local company with a fraction of the sales and marketing budget generate leads?
According to Tacobot co-founder CJ Hutsenpiller, most turn to lead vendors. These are groups that scrape lead information from web-traffic sources and sell the data to businesses. "The problem with that, " he explains, "is that the leads are low intent, high priced, and often sold to multiple agencies at once."
Hutsenpiller always kept a lookout for marketing solutions to this problem. One afternoon, he was watching a Facebook video ad where the host was selling a book. She told viewers to comment to receive a free sample of the first chapter. "I commented, " he says, "half-expecting to never hear anything. But to my surprise, their bot immediately started communicating with me. I knew right away that I could use this in the insurance space." As he puts it, he stumbled on chatbots as a new service for his clients by "complete dumb luck!"
The solution
Tacobot offers cheaper way to get higher quality leads than the vendors Hutsenpiller described. His agency provides pre-built lead-generation chatbots for clients. "In order to be successful in generating business in the insurance field, you must do more to win a client's trust, " he says. "There's something to be said for the power of being able to have a conversation with a prospect—and that's what bots allow our clients to do. Immediately when a user enters the funnel, the bot can start building a relationship with them using conversation."
Tacobot's carefully designed chatbots help clients start these meaningful conversations with prospects. The chatbot marketing agency's clients can pay for subscription-based access to a bot "skill, " as Hutsenpiller calls them. They can choose one or more of the following skills, or functions:
Quoting tool for life insurance. This bot skill generates life-insurance quotes for prospects right in Facebook Messenger. If the user wants to purchase the policy, one click will take them to a pre-filled web application.
Quoting tool for home/auto insurance. The user simply has to answer a few questions. Then the bot pulls information from third-party sources. It combines it with the user's responses and generates a quote.
Rent calculator. This bot skill is designed for mortgage and real estate professionals. First, it captures how much the user currently pays in rent. Then, it converts it to an estimate of a mortgage payment that amount could sustain. Finally, it'll show matching house listings in the user's area.
Home-value calculator. Real estate businesses can also select this chatbot skill. It'll give prospective home sellers an estimate on the value of their property.
And of course, the chatbots will capture user information for each of the leads that it chats with. That way, the businesses can pursue them personally.
Tacobot also has their own chatbot. It lets clients preview different skills so they can see how each one works. The client can then purchase the skill (s) of their choice right within the bot (see screenshot below). From there, Tacobot chatbot development agency will customize the bot for the client's business. Then they launch it, and teach the clients how to access it in Chatfuel. Tacobot also runs a Facebook support group. They use it to answer questions, and to share strategies to help clients push traffic to their bots.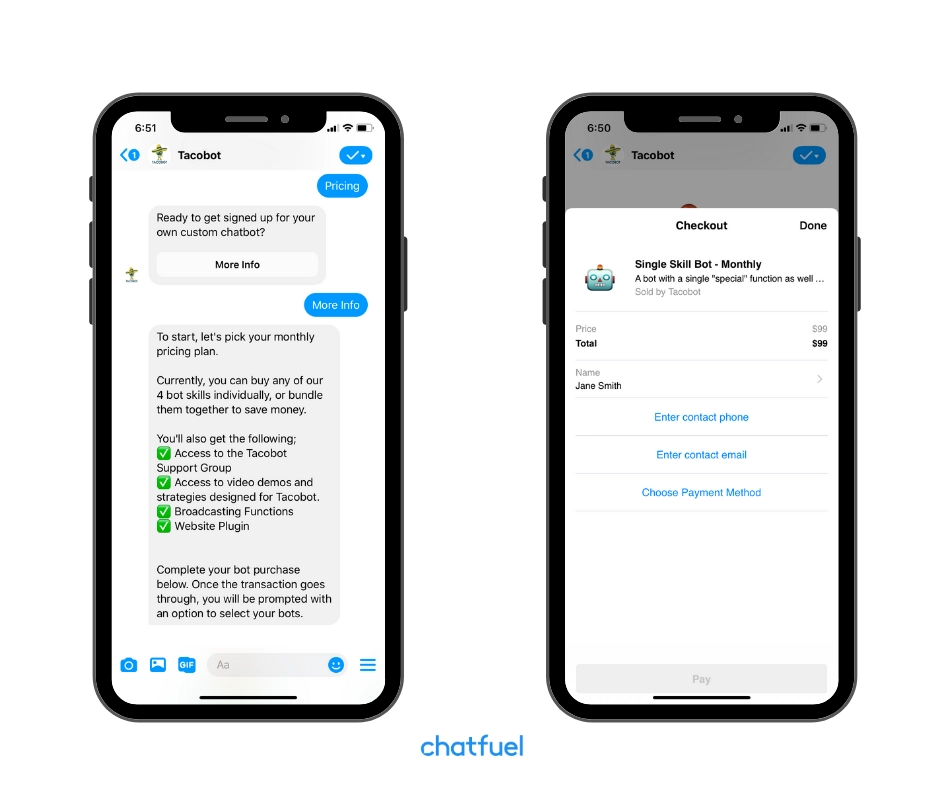 The recipe
The Tacobot team relies on these Chatfuel features the most to build effective bots for their clients:
JSON API
Once a chatbot gathers a lead's information, it has to make it available to the client. From there, the client can pursue the leads personally. Tacobot's smaller clients use the Notify Admin Via Email or Send to Google Sheetsfor this. But for larger or more advanced clients, Tacobot uses JSON to send the details to the client's CRM directly and automatically. Hutsenpiller says they've integrated with CRMs like Salesforce, BoomTown, JotForm, Mailchimp, and Agency Elephant this way.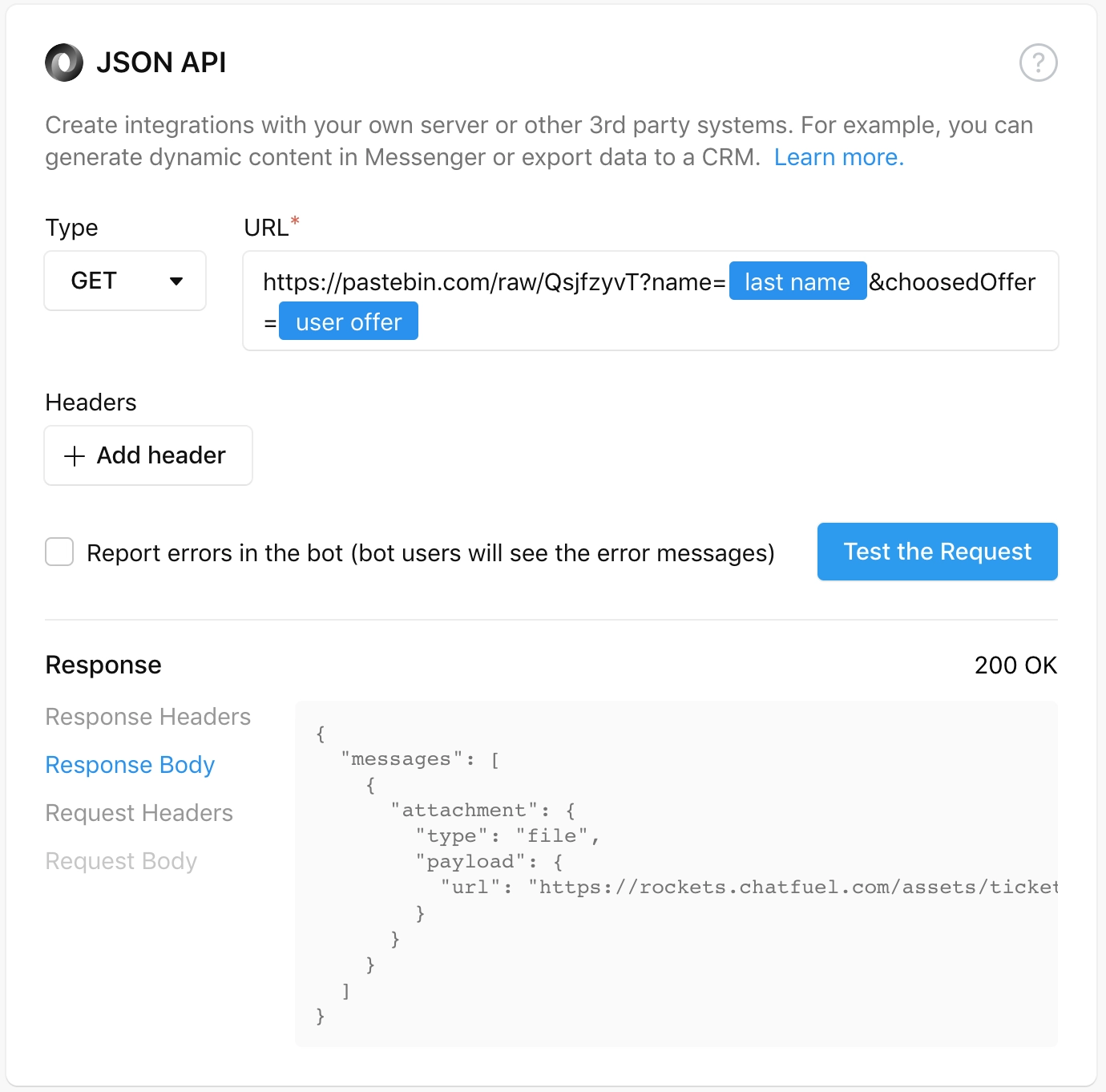 Sequences
Sequences let you schedule follow-up messages from your bot. Sequences are a key component in each of the four bot skills. Let's say a user starts going through the flow for the rent calculator, or another skill Tacobot chatbots offer. But, halfway through, they get distracted and abandon the process. Tacobot ensures the user will later receive a sequence of messages that remind them to come back and finish the flow. (These messages are sent within the 24-hour window outlined in Facebook's Messenger policies.)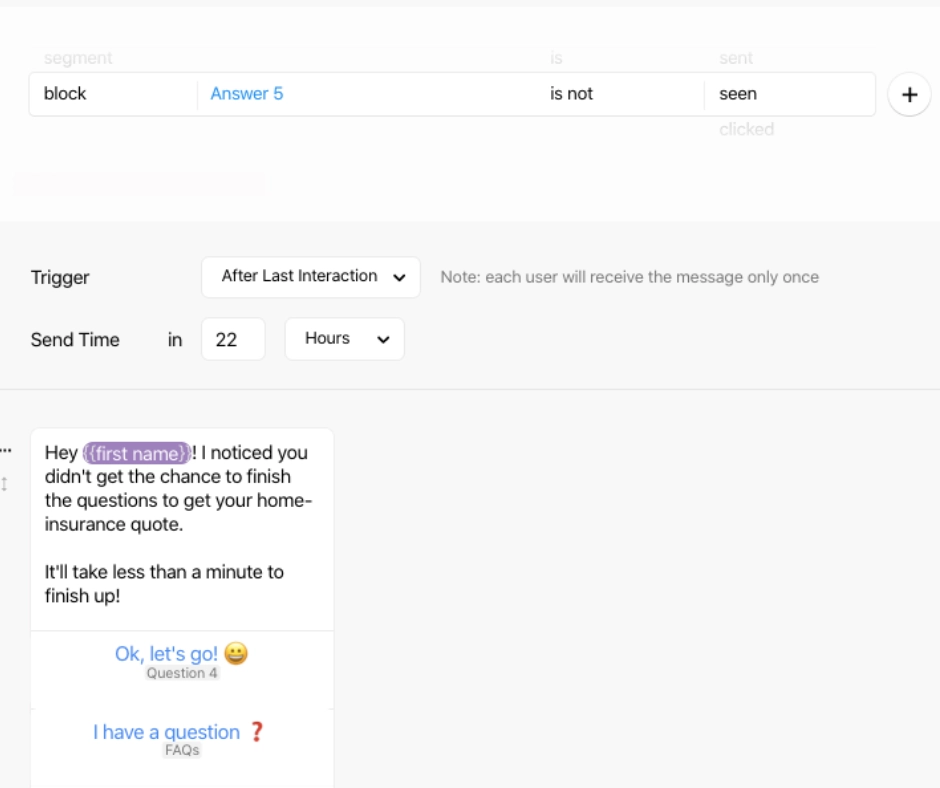 Attributes
User attributes are like tags. They identify a certain preference or characteristic of a bot user. You can create as many custom attributes as you want based on what's useful for your business. Tacobot clients using the home-insurance quoting skill could have their bot save every user's zip code as an attribute, for example. The bots can do this automatically via the Save User Input plugin. That way, the client can sort leads by area to assign them to different agents, or to create retargeting ads. They'll be able to easily sort their leads into segments based on this (or any other attribute) in the People tab.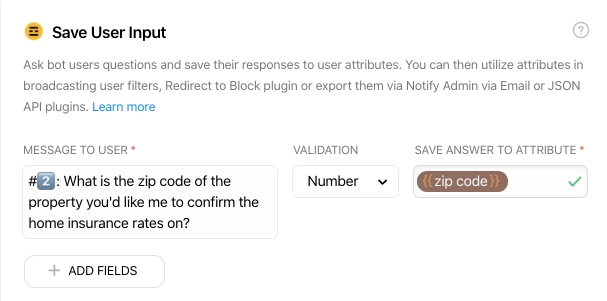 The results
"The insurance space as a whole is behind when it comes to anything technology-related—especially digital marketing strategies, " Hutsenpiller tells us. That's likely why Tacobot's chatbots have become the tool of choice for local insurance and real estate businesses in 41 US states. Prospective clients take notice when they hear how Tacobot uses the accessible, affordable technology of Messenger bots to achieve such impressive results.
Tacobot's clients come from all over the country and from a few different industries. As a result, metrics for their bots vary. But Hutsenpiller says that clients who follow his team's guidance can expect metrics like these:
$2-5 per high-quality insurance lead
Less than $10 per high-intent real estate lead
$0.10 per conversation
For insurance clients, that's "drastically cheaper than what they can get with a lead vendor, " he explains. "Real estate and mortgage are a little harder because of Facebook's new special ad-category targeting rules, " he tells us, "but we still generate those for less than $10 each." Plus, the Chatfuel interface is easy for both the Tacobot team and its clients to use.
"I've built bots on both major platforms, " explains Hutsenpiller, "and I find the structure of Chatfuel to be much easier to use. I also have always gotten great support from the Chatfuel Community on Facebook, and from the videos by Andrew Demeter—who is an amazing asset to the company."
Your agency can "lead" customers to success with Messenger bots
If your marketing agency doesn't yet offer chatbots as a service, now's the time to consider it. In these difficult times, meaningful conversations are more important than ever.