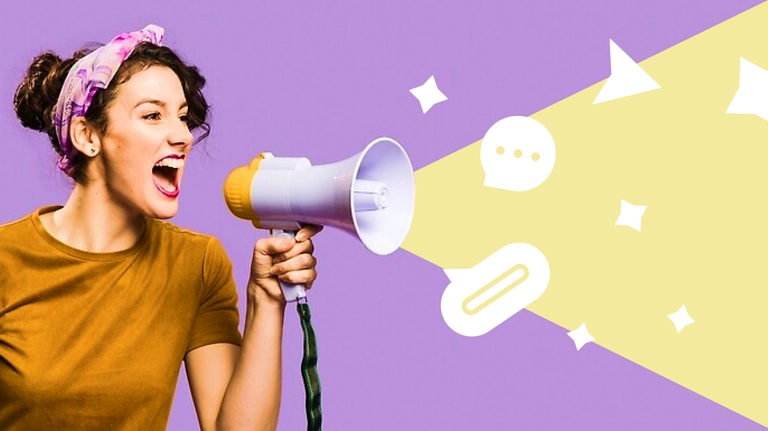 Published March 28, 2023 in
How to craft a brand voice that converts: expert copywriter's advice
What brand voice is and how it works? This article will demonstrate how to make a brand voice recognizable on different channels.
A solid and consistent brand voice is a marketing aspect that often gets pushed to the bottom of the priority list of the priority list. But a clear and expressive brand voice brings trust to your brand, increases conversions and sales, gets social proof and word of mouth, and ensures high customer retention and loyalty.
It isn't easy to create a brand voice when you've never done it before. So, we asked copywriter Leana Tajkov to share some tips. This article will demonstrate how to make a brand voice recognizable on different channels.
What brand voice is and how it works
Your brand's voice is the recognizable, consistent style you use when communicating with your audience. It's deeply integrated into everything your business does. It applies to your website, newsletters, social media, and a Messenger chatbot
Your brand voice is how you want people to view your company and how you want to make them feel using language tools:
word choice;
spelling and punctuation;
emojis.
Brand voice directly influences customers behavior, so let's learn how to build it correctly.
Five steps to craft a brand voice that converts
Be ready to answer the questions you possibly didn't ask yourself before. So, take time to work out the brand voice and involve your colleagues.
Define your brand values
Specify what's important to you as a brand, and what you're focused on providing for your customer. Analyze which behavior you support in your team, for what you spend more money and time no matter the business results, and why you define your product as better than others. Write answers to all questions—these are the brand mission and values.
If it's hard to put the values into words, search for examples of values that exist. Here's a list of the most popular values:
high-quality product;
customer satisfaction;
sustainability;
originality;
honesty.
Define your brand personality
Imagine how your brand would look and behave if it was a person—it's called brand persona. It's not an easy task when you do it for the first time, so ask your team members for help:
Ask them to list a few adjectives that describe your brand persona. For example, motivational, trustworthy and sophisticated.
Then ask to explain how these adjectives are expressed in actions. For example, "Trustworthy means supporting all theses with statistics and research."
Collect all the results and take the most popular ones.
If you're selling online business courses, you want to make the person confident that they can transform into a business owner. So your brand persona should be empowering, inspiring, and reliable.
If you're selling science toys for children, you want to make the purchasing parent feel like they're making a good investment in their child's future. So your brand personality should be intelligent and aspirational for the parents, yet approachable and fun for the kids", says Leana.
Define your target audience
You should speak your customers' language to reach the business goals. To do this, create a portrait of your customers.
Not to be mistaken, brands with a gross budget can run market research, launch A/B tests, and speak directly to focus groups. If you're not on this level yet, go to social media and read comments on your posts. Look who's following you and who buys your competitors' products to know:
Your customers' pains: problems that they can't solve, but your product can help them.
Their preferences: what they watch, read and listen to in their free time.
Demographic characteristics: what age group they are, which field they work in, do they have children or not.
"A bicycle company selling racing bikes would have a different brand voice than one selling beach cruisers. The target audience for the first brand is experienced athletes. The target audience for the second might be families who want to get exercise and fresh air together for fun.
An e-commerce business that sells orthopedic walking shoes won't get very far if they speak in memes, puns, and pop-culture references. That kind of voice wouldn't resonate with their target audience and sound reliable in health sphere. However, it might work perfectly for a brand that sells bright sneakers for skateboarding", says Leana.
Create a style guide
It's a document fixing the results of previous steps. You'll give it to team members who communicate with clients and create content. Then, you offer hypotheses based on it. What to include in the guide:
Glossary. Collect a list of words commonly used in your industry and your brand. Decide how you'll spell specific terms in all channels of communication. Rely on dictionaries, your customers' habits, and Search Engine Optimization ranging—check how people spell the words in Google and take the most popular option. Or, if all options are correct, just choose the one all of you will use. For example, decide to write "e-commerce", not "ecommerce" or "E-commerce".
Formatting rules. Beyond basic grammar, decide which stylistic elements your brand will follow. Include rules on how your copy should look in formatting and mechanics like punctuation, too. Regulate the number of emojis per paragraph and make a list of emojis you never use. Think of a way to deal with quotes—'quotation marks' or italics?
Examples. Support every term and rule with example and anti-example. Collect your successful and unsuccessful ads and messages in the style guide and explain the mistakes.
If you need examples, look at publicly available style guides like MailChimp's or Microsoft's. Keep in mind that these guides for their companies. Every guide solves the exact brand problems, so don't try to make it the same.
Get inspired by other brands
Analyze other brands across your industry and try to understand how their social media posts and ads are connected with their products. We analyzed three popular brands to show you an example:
Slackcan be described with adjectives: approachable, light, genuine, concise, casual but professional, like a friendly chat at the water cooler. Slack's brand voice reflects the style of instant messages between close colleagues—which is precisely what their platform offers. They focus on accessibility and simplicity. They're upbeat, warm, and friendly but still professional.
Nike is powerful, encouraging, and empowering, like an inspiring coach. Nike's brand voice portrays athletes as heroes and empowers anyone active to call themselves an athlete. They focus on a global community that play sports, which is evident in their inclusive language. They use short, simple, impactful sentences and inspirational phrasing. Audience can recogzine Nike's content even without their famous logo—it's that unique. For example, "Listen up. Equality isn't a game. But achieving it will be our greatest victory. That's why we keep playing, until we all win."
BarkBox is playful, bright, endearing, funny, and quirky, like your dog if it could talk. BarkBox has created a brand voice that appeals to dog lovers. Their voice reflects the qualities we all love most in dogs: that infectious, always-upbeat, "happy to be here" attitude. They use wordplay, whimsy, and a hint of silliness to make pet owners smile.
Let your brand speak with the right voice on autopilot
Adapt all your communications to a new high-converting brand voice and automate them with Chatfuel. We offer various conversational options that you can set up in intuitive bot-building software. Decide how you want to sound for your customers and set up automation. Your chatbot will answer FAQs, collect all customers' replies in one place, and analyze them to make your communication even more effective, following the style rules you created.
Automation with us doesn't require coding experience. Sign up for free and get first 50 conversations for free.