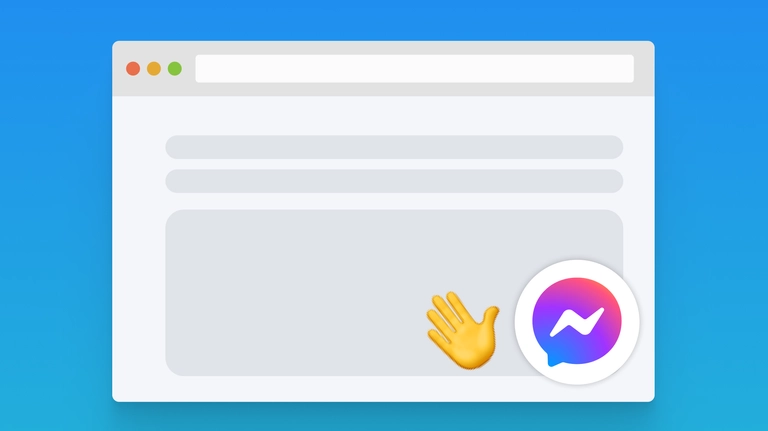 Published March 28, 2023 in
Add a free Messenger bot to your website in 4 steps
Earn many more conversions using a bot to guide your website visitors down the funnel. This article about how to add a bot to your website
Users not only chat with family and friends via messengers. They also contact brands to learn more about products and services, make purchases, and book appointments. As a result, businesses use messengers to tell about their brands and products, offer customer support, collect clients' feedback and sell more. According to a Facebook study, 53% of consumers are more likely to shop with a business they can message. With the Facebook Messenger automation, you can create a consistent, helpful, constantly available presence on multiple channels.
A chatbot fills the gaps and appears in places where your target audience spends time: in Facebook feeds, on Instagram, or your website. Users enjoy your brand's constant availability by interacting with the familiar interface on various channels. This article will explore why the brand's website should be the first place you embed automation. We will compare the Website Messenger bot and a traditional website chat window. And we will show you how to set up a Messenger bot on your website in a few clicks.
How a Messenger bot looks on your website
There are 2.9 billion Facebook Messenger active users, ranked by the number of users in 2022. They are familiar with its interface and know how it works. Instead of creating a chat window on your website, you let your clients use Messenger to reach out to you. After adding, a Messenger logo appears on your website. Then, users click it and open a conversation with your bot. That way, users engage with your chatbot directly on your website and have a long-form interactive conversation. With Chatfuel, you use Messenger automation for different purposes, depending on your industry and needs.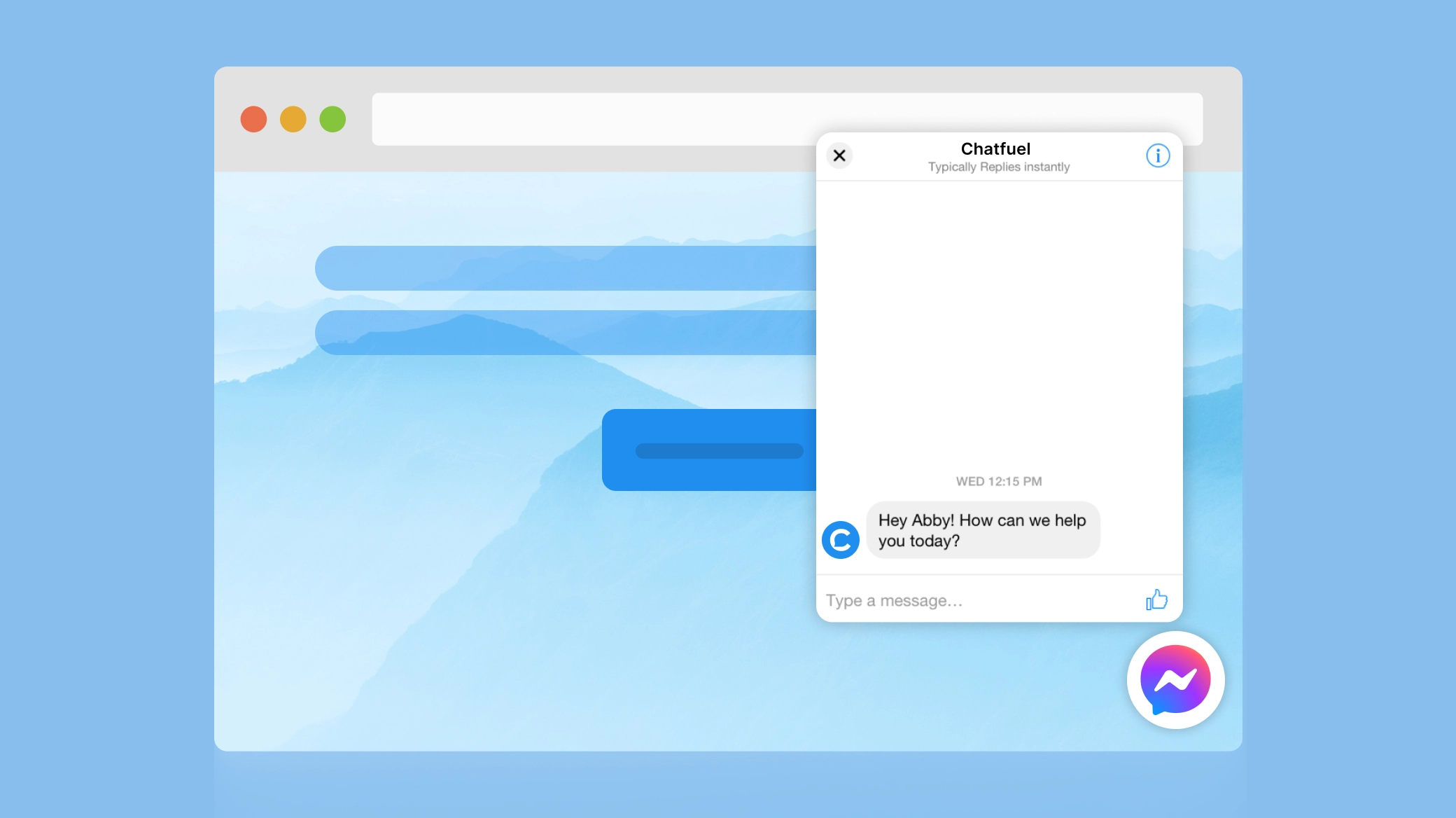 Who should add a chatbot to their websites
A Messenger chatbot has two prominent use cases: automating FAQs and product recommendations. You can set up multiple conversational scenarios on different pages of your website. That way, each conversation with your chatbot will be more relevant to a user. For example, clients take a quiz on your product page, get a personalized recommendation, and buy your product. And on your page for wholesalers, clients enter a different business-to-business conversation.
You can make all interactions with every person who visits your website meaningful. Share information, answer questions, recommend products, and guide visitors through a conversion. Whatever worksfor your business. Here are some use cases of how our clients from different industries used Messenger automation:
How to set up a free Messenger bot on your website
A Messenger chatbot on your website is a point where users start a conversation with your bot. In Chatfuel, we call them Entry Points. To add a Messenger bot to your website, you'll need to set up a Customer Chat Entry Point:
Go to Automation → Flows and create a Customer Chat Entry Point.
Click next to the Messenger symbol to open a settings panel.
Click Copy Code.
Paste the copied code into your website.
Ensure to toggle the switch on to activate the Entry Point and insert the code right after the opening tag on each page where you want the plugin to appear. Plugin — is an extension that adds new functions to a host program. For example, you add a Customer Chat Plugin to your website by pasting the copied code into your website. Now your customers can interact with your business anytime they see a familiar Messenger logo. See the detailed tutorial on adding a Messenger chatbot here.
How a website chatbot works
Visitors see a Messenger window on your website, inviting them to engage. If they decide to begin the chat, they continue with their Facebook account or as a guest: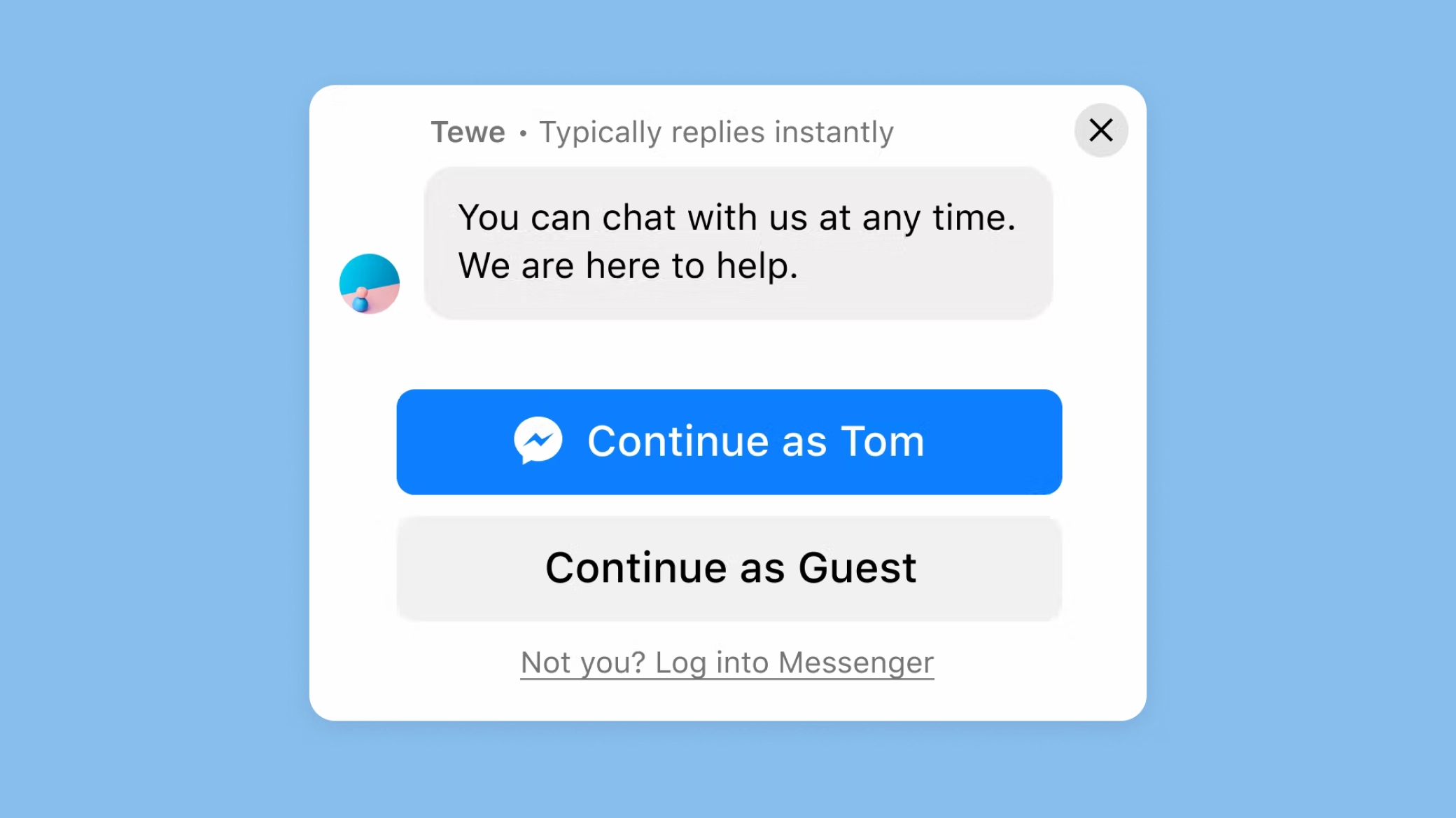 With Facebook account
When users choose this option, they let your bot use their Facebook profile data. For example, name and timezone so that your automation personalizes the chat using attributes. In addition, the chat's history is saved in users' Messenger, and they can continue the conversation later via Messenger. For example, users decide to do it after leaving your website. In that case, all their previous interactions with the bot on your website will be accessible.
As a guest
When users choose a Guest mode, a temporary guest account is created. Your bot doesn't get their Facebook account information. You can't message guest users after they end a chat with your bot or after 24 hours from creation, depending on which came first. The conversation remains in your inbox until you delete it.
We recommend creating different flows for guests and logged-in users. For example, you only have one flow, personalized with attributes. However, since your bot doesn't have access to a guest user's profile data, it can't fill in values for the attributes. The result could be an incomplete or even confusing experience for that user. With the Customer Chat Entry Point, you can create two different flows for logged-in and guest-mode users.
Website Messenger bot VS. Traditional website chat window
Both aim to inform or assist visitors and move them along the funnel. But a Messenger chat window has several unique advantages:
A channel for future communication. Once a logged-in user responds to your website Messenger bot, you'll be able to reach them via bot again in the future. Gather their contacts with the Chatfuel plugins and Export data from the chatbot to Google Sheets.
Seamless conversations. A traditional website chat starts from scratch every time, even if the same user comes back to your website. With a Messenger bot, the conversation has context. Users logged into Facebook see the previous messages exchanged with your bot. Also, they can chat with your bot via Messenger even after leaving your website.
Access to profile information. Once users continue the conversation with your bot with Facebook, you can access their profile information in the People tab in Chatfuel. Use this data to segment users with attributes, and retarget them accordingly later.
Improved user experience. Users recognize the familiar interface of Messenger and enjoy that same rich media experience.
Full chatbot functionality. Any functionality you build into your bot is available on your website, including the ability to hand over the conversation to a live agent to close the deal.
Get more value from your website traffic
Embedding a chatbot window on your website is a game-changer. Earn many more conversions using a bot to guide your website visitors down the funnel instead of leaving them to browse and learn about your brand on their own. Sign up to get started with Chatfuel today.