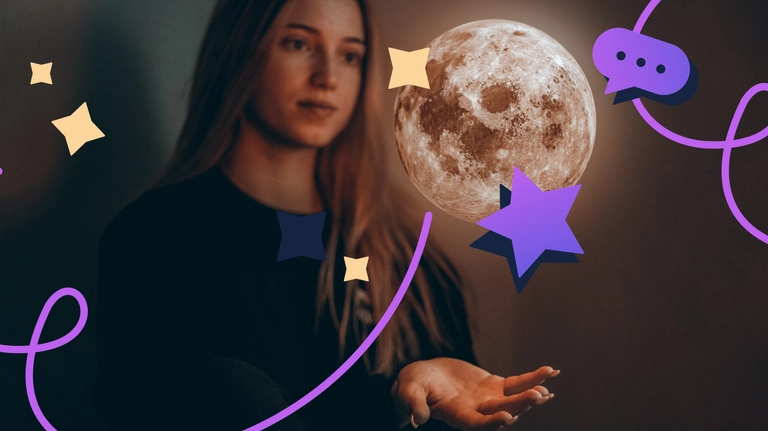 Published July 28, 2022 in
Astrology brand cuts monthly operational costs by $25,000 with a Messenger chatbot
This article shows how Chatfuel chatbot cut monthly operational costs by $25,000 and get about 8,000 new visitors daily for astrology brand
Tarot & Astrologia Brasil is a São Paulo-based company whose consultants provide tarot-card and astrology readings to customers over the phone. Even though some people don't take this industry seriously, this brand strives to be a positive force in the lives of its customers by delivering high-quality, professional service.
This article shows the Tarot & Astrologia Brasil's journey to cutting monthly operational costs by $25,000 and getting about 8,000 new visitors daily.
Consultants spend half of their time dealing with prospects who would never be able to convert
As the customer trust grew and the company was getting more and more successful, its staff got overwhelmed with answering repetitive questions on the phone. Because of the local market specifics, most of those calls brought the company to the point where consultants spent much time with no benefit.
A team of experienced, thoroughly vetted consultants provide the readings to customers from a call center, and customers pay for their services via credit card. Roughly half of the Brazilians do not have a credit card, however. So, consultants spent over 50% of their time speaking with those who eventually had no way to pay. Nevertheless, the staff continued to grow to accommodate the call volume. However, they spent half of their time dealing with prospects who would never be able to convert.
Chatbot Cassandra steps in generation and qualification process
Cassandra is a name of Greek origin, meaning shining upon man. The Tarot & Astrologia Brasil chose this name for their bot for Facebook Messenger. Cassandra's primary function is to qualify leads using a series of questions. This process includes taking the prospect through the payment funnel. As a result, no human time is wasted talking to users who can't pay.
The Cassandra bot asks visitors about their basic preferences too (such as the type of reading desired), which also helps to save the human agents time. It also provides biographies and photos of available consultants to build trust and quizzes and articles to promote user engagement.
Thanks to Cassandra, the Tarot & Astrologia Brasil consultants can now focus only on qualified leads who already trusted the company and shared their payment info. This boost in efficiency allows them to help more paying customers while providing an even better quality of service.
The Cassandra bot's superpowers
Gallery cards. This Chatfuel feature allows Tarot & Astrologia Brasil to display each consultant's photos, biographies, ratings, and specialties. This visual display shows customers a picture of their service provider, which builds trust and provides a polished, professional touch.
User attributes. The bot greets users by name to create the intimate, personal feel astrology customers desire. The brand also uses attributes to segment users and save their information in the People tab, which helps with future ad retargeting.
Sequences. With sequences, the bot provides a daily article about astrology or tarot to users who subscribe to the newsletter. This feature allows the brand to entertain and nurture visitors' curiosity, keep them engaged and add value to their experience.
Facebook automation cuts monthly operational costs by $25,000 and brings about 8,000 new users daily
Tarot & Astrologia Brasil's new Facebook bot has cut its monthly operational costs by $25,000. In addition, with only qualified prospects making it through to the call center, they reduced their staff from 55 to 25 consultants.
Their bot's success has also led them to shift their ad dollars from the more expensive Google AdWords and regular Facebook ads to click-to-Messenger ads only. This move has saved them money and brought a steady growth of approximately 8,000 new users daily over the first two months.
Not only does the bot help the company cut costs, but fewer employees means better supervision and better service. The brand can now provide a top-quality service experience while improving the level of professionalism in the industry, all thanks to their new Facebook Messenger bot.
Boost your own business with a chatbot
It's written in the stars: your business can reap the benefits of a Chatfuel bot as Tarot & Astrologia Brasil has. So sign up with Chatfuel today to see the difference.