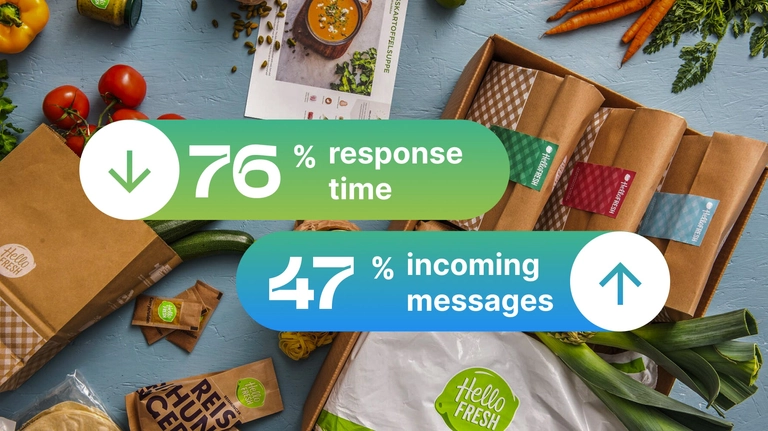 Published June 22, 2022 in
HelloFresh creates customer service chatbot with Chatfuel
HelloFresh reduces response time with Chatfuel. Quick Replies make for a seamless user experience and help keep the conversation on track.
The brand
HelloFresh is a creative solution for those tired of eating out at restaurants but don't have the time or know-how to plan and cook meals from scratch. This subscription-box service delivers fresh ingredients to your door and instructions to transform them into delicious meals. HelloFresh helps people enjoy healthy, home-cooked food without the hassle of meal planning and grocery shopping.
The problem
HelloFresh the US faced two main problems:
They needed at least one customer-service agent to monitor incoming Facebook messages round the clock, just to keep up.‍
Slow response times. It took their support team between six and twelve hours to get through all the necessary steps to resolve a customer issue from one of these messages.
Their customer-care team was overworked and could never get ahead. In addition, customers themselves were getting frustrated with the long wait times.
The solution
In 2017 HelloFresh team started exploring chatbots to improve customer support and engagement. And so, the idea for Freddy the Messenger bot was born. "Within just a few days, I created Freddy out the customer service bot framework," explains Alex Curtis, Senior Associate on the HelloFresh Social Media Team.
Here's what the HelloFresh team taught bot Freddy to do:
Reply to users. For Black Friday 2017 and 2018, the team created Facebook promo posts with riddles and questions. Freddy would automatically respond via Messenger to all users who gave a correct answer and send them a promo code. In 2018, this campaign had a 64% conversion rate — meaning that over half of users who received the code used it to place an order!
Recommend music. HelloFresh calls it Get Grooving: when the bot suggests a playlist to match the meal kit the user will be cooking that evening.
Share seasonal tips and blog content around the holidays. They call it their Holiday Hotline, and it's yet another way to create a unique, helpful experience for prospects and customers.
The recipe
Freddy has been a hit with HelloFresh prospects and customers — and, their support team has benefited in a big way. To do it, they used these Chatfuel features:
Comments Autoreply. Freddy automatically messaged people who commented on HelloFresh's page posts. Once the user responds to Freddy's first message, they become a reachable bot user. This feature was key in several of HelloFresh's Facebook campaigns.
Quick Replies. That way, users can tap suggested topics instead of having to type. Quick Replies make for a seamless user experience and help keep the conversation on track.
Gallery cards. HelloFresh incorporated gallery cards in their bot, using plenty of bright, colorful graphics to catch a user's eye.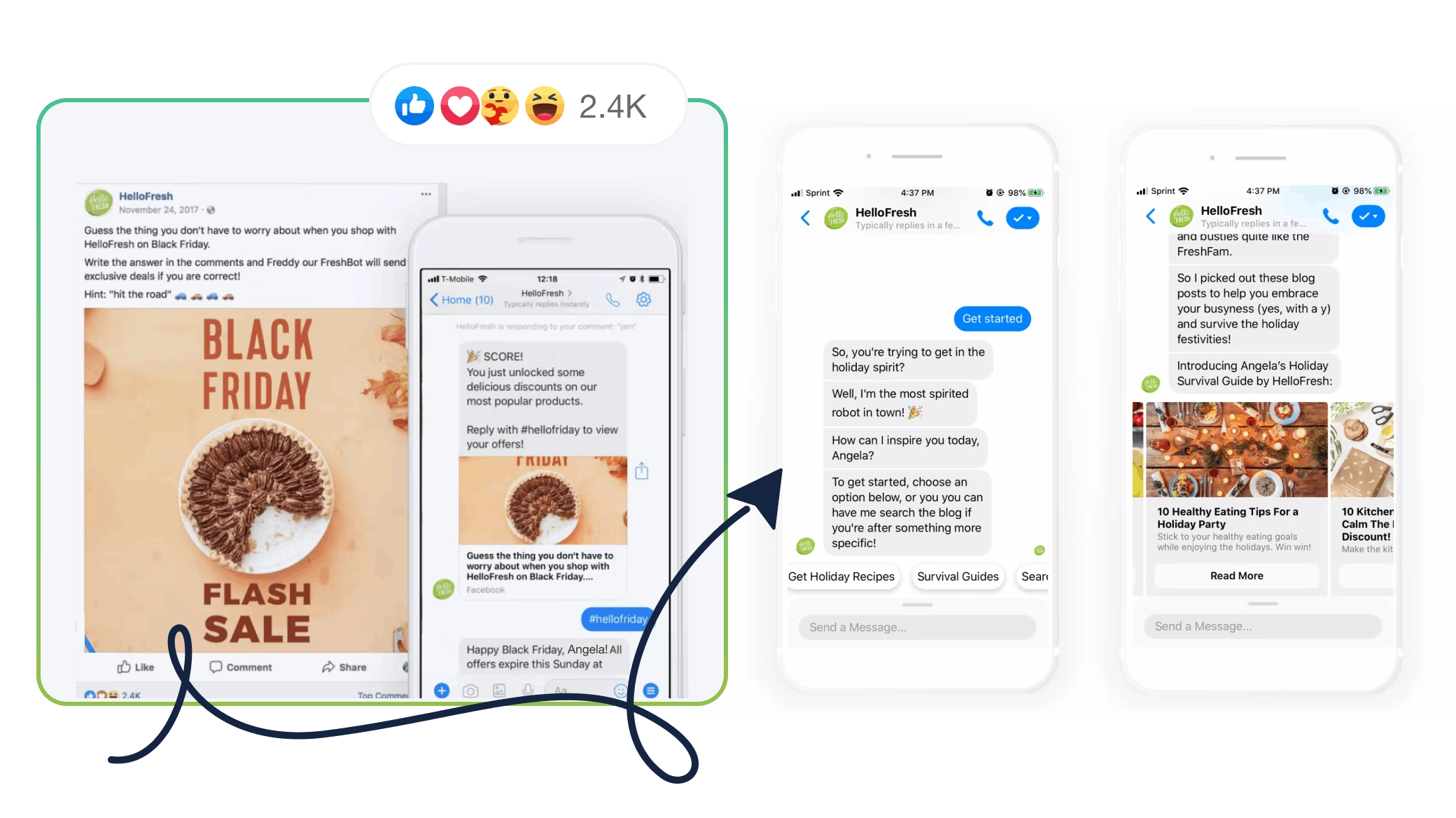 The results
In 2018, HelloFresh's average response time to customer inquiries was five hours. In 2019, it dropped dramatically to one hour and 11 minutes. That's a 76% decrease in response times, even though they got 47% more messages on Messenger overall.
"With our bot, a customer conversation that used to take six to 12 hours now takes just a few minutes to address and sometimes to resolve entirely," says Curtis. The support team gets more time to deal with complex inquiries instead of answering the same routine ones repeatedly.
Customer satisfaction has increased with the quicker service, and Freddy is creating a positive impression for users in other ways, too. Chatting with the bot is instant, interactive, fun, and helpful, and it makes HelloFresh stand out from the competition.
"Chatfuel streamlined how we handle customer-service inquiries on social media. It lets us provide an incredible experience for our fans that you don't get anywhere else in the industry. On top of all that, it was easy enough for us to learn without extensive training or experience.", Curtis shares.
A fresh take on customer support and engagement
Now that you've got a taste for the success a chatbot can bring you, it's time to build a Messenger bot for your own business. Sign up today to get started.