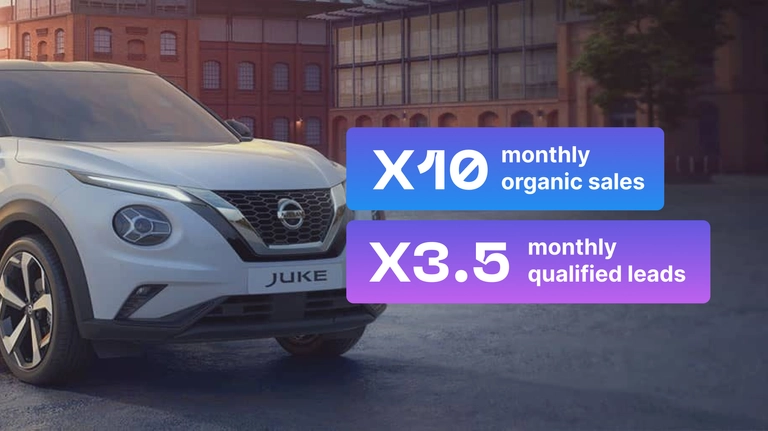 Published June 22, 2022 in
Nissan sells $380,000 in its first month using a Messenger bot
This Nissan car dealership got into marketing automation with a lead generation chatbot that helped them drastically increase sales
Nissan Motor Co., Ltd. is a Japanese multinational automobile manufacturer with about a hundred years of history. Nissan has produced mainstream cars and trucks, initially for the domestic market but exported worldwide since the 1950s.
The Nissan dealership in Israel is one of 10,000 dealerships that the Nissan Group has around the world, according to its global website. They focus on selling new and used cars to local buyers and receive many questions through their Messenger inbox. In this article, we'll look at their journey that brought the Nissan Israel team to an incredible 10x increase in monthly organic sales and 3.5x of monthly qualified leads from Facebook by using a Messenger bot.
The inbox becomes a leaking sales funnel
The Nissan Israel used to answer customer messages manually. The number of user messages grew instantly because of high interest in Nissan electric cars and their bestsellers. As a result, most who asked their questions via Messenger got delayed responses. The busy team couldn't physically cover all the inquiries.
Worst of all, the team wasn't qualifying leads because they had no system. In other words, all the leads were treated as equals. A cold lead who was window shopping might get priority over a warm lead who was ready to sign the paperwork today. The dealership's Messenger inbox was a leaking sales funnel.
Messenger bot qualifies leads and sends only ready-to-purchase to a human
Nissan Israel realized that they needed to find a fast and straightforward solution that was easy to implement right away. So, they contacted a digital marketing agency Business Pineapple and decided to collaborate to test a Messenger automation with Chatfuel. The central hypothesis they wanted to test was implementing an automated lead qualification system for the Nissan Israel Messenger inbox.
The first step was to analyze the questions people asked the Nissan dealership in Israel via Facebook. That's how the team gathered the most popular questions:
Which of these models do you like?
Is your mind already set on this model?
What are your phone number and email address?
The second step was to measure user buying intent by asking a few questions. In other words, to qualify leads. Chatfuel bot determines the lead's temperature and buying intent based on the answers provided. Then, if the lead is ready to buy, Chatfuel tags them as "high priority" and sends their information to the dealership's customer relationship management (CRM).
The third step was to close the deal with those who were about to make a purchase. The Nissan sales team then jumps in, counters objections, and closes the deal. Then, the Chatfuel bot re-engages the rest of the leads and encourages them to return and buy later. Let's check out the features that let Nissan bot hit the main goals.
Four features test drive to generate and qualify leads
The Business Pineapple team picked four features to build their bot that will solve work on lead generation and qualification on the Nissan Israel Facebook Page via Messenger:
Gallery cards
The gallery method of displaying images in a chatbot is helpful for any business that sells a physical product. This layout lets users scroll through different images with unique options and links below for more information. In Chatfuel, you can add up to 10 items in one card with a 640-character limit on each. It lets brands display and describe their products in detail to increase interest. For example, a Nissan bot has gallery cards with available vehicles and buttons to allow users to learn more about each car.
Save User Email/Phone plugins
A vital aim of the Nissan chatbot was to gather contact information from qualified leads so human agents could follow up. The Save User Email and Save User Phone plugins in Chatfuel make this easy: user can share their contact information (whatever's on their Facebook profile) with one tap. Nissan Israel's chatbot suggests the email address and phone number on the user's Facebook profile for frictionless, one-click lead capture.
Notify Admin via Email plugin
Once the Business Pineapple team set up this plugin, the Messenger bot automatically sent lead information to the Nissan Israel team via email. This plugin lets you choose which user attributes to include in the email. Once set up, it will instantly email this information to the address you specify for easy lead organization and quick personal follow-up. In addition, this plugin alerts the Nissan Israel sales team via email when a lead is qualified and ready to test drive.
JSON API plugin
As a final step, the Nissan bot used the JSON API plugin to send lead information (name, email, car model) to the dealership's CRM. It closes the loop and keeps customer data automatically updated for the dealership.
Automation wins the race
In the first month after launching the bot campaign, Nissan Israel generated $380,000 by selling ten cars to leads generated by their Messenger chatbot. The promotion was purely organic.
The dealership saw a 10x increase in monthly organic sales from Facebook.
Their number of monthly qualified leads from Facebook also grew by 3.5x— from ten to thirty-five.
Behind these impressive metrics is the set-up lead generation and qualification process to bring even better results in the future.
"I've played around with many chatbot builders, and the key things I like about Chatfuel are its stability and speed. Each message gets delivered when it should be, without delays or lags." — Dima Kagan, Founder of Business Pineapple
Set up a free chatbot to qualify leads for your business
Lead generation and qualification are critical points for businesses across different industries. With a Facebook Messenger chatbot, you can quickly put lead generation and qualification on autopilot. As a result, prospective customers will come to you, and you will have more time for essential tasks. Join Chatfuel today and build your chatbot for free, without coding knowledge.