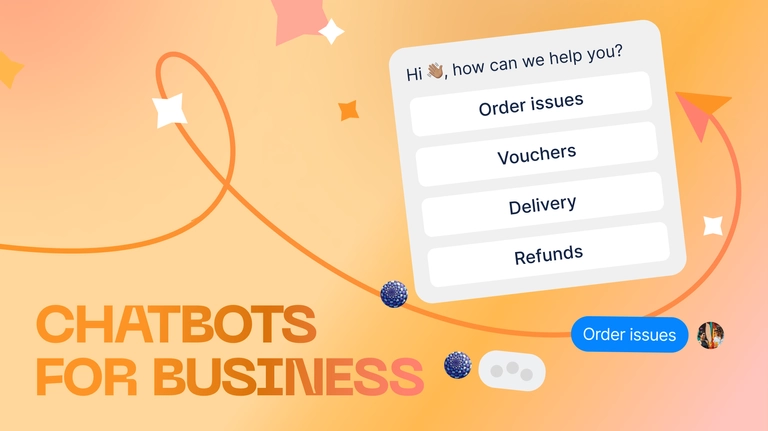 Published September 26, 2022
Why a social media chatbot can help any business
Chatbots for business are used in marketing, for customer support and in sales. Learn how they work and how you can make one.
What do chatbots mean for business?
A chatbot is a software built to respond to messages. It can be set to reply to common questions, respond based on specific keywords users type or utilize AI to adapt its answers to a particular situation.
Using chatbots helps businesses scale more smoothly without worrying about customer support overloads or missing new leads due to growing activity. They are mostly used for: boosting sales and increasing conversion, improving customer service and loyalty, generating and nurturing leads.
The most common channels for chatbots use are:
SMS texts;
website chat windows;
social media platforms.
In this article I'll focus on social media chatbots.
What main problems do chatbots solve?
In marketing
Marketers use chatbots to:
boost sales;
drive repeat sales;
improve ads performance;
increase engagement in socials and more.
For example, a chatbot that sends a promocode to prospects after they leave their e-mail generates you leads and helps increase sales. A bot that responds to every new comment under your posts increases engagement rate. And a chatbot for ads guides new customers through a sales funnel after they click an ad.
In sales
Chatbots for sales are used for:
lead generation;
lead qualification;
booking meetings;
making sales inside the bot.
For instance, a survey chatbot helps get customer contacts and filter them out into smaller segments. A bot link you can send to customers will let them book a meeting with you right in their socials. You can also design a chatbot to act as a store to let customers buy from you without leaving their favorite social media site.
In customer support
Customer support specialists use chatbots to:
answer frequently asked questions;
keep track of new comments;
gather customer feedback;
improve customer happiness.
For example, a chatbot that shows customers FAQ buttons lets them solve their problem faster and frees up time to handle more pressing tickets. A bot set to react to new comments in socials keeps track of any incoming requests and won't keep any customers waiting. Finally, using a chatbot to run surveys and collect feedback increases customer loyalty and keeps you informed on issues that need improvement.
How to build a chatbot?
Building a chatbot consists of 4 main steps: setting a goal, creating a conversation logic, building the bot, monitoring statistics.
Define your goal
There are many things chatbots can do, but it's always best to start with a single idea. Try to find an area of your business that needs help the most and put your effort there. Or take the opposite approach and try to improve an area you're doing really well in to see how much you can scale it. Just remember to focus on one thing first.
Take a look at the list below. Does anything resonate with you? Does your business struggles or needs growth in some of these areas? If so, pick a goal that you feel fits your business the most.
finding customers (lead generation);
getting better leads (lead qualification);
paid customer acquisition (running ads);
increasing customer loyalty (product recommendation).
Create a conversation logic
After you set a goal you need to create a general conversation logic of how the interaction between your bot and customers will go. This logic will differ depending on the goal you chose. For example if you chose to get more customers the logic will focus on collecting contacts during the conversation or if you chose to increase customer loyalty you'll focus more on giving special offers or discounts.
Creating any conversation logic follows the same principle. First, think through the steps your customers will go through during the conversation. How will the beginning of the conversation look like? How does it go from there? What happens at the end of the conversation? Write down these steps on the piece of paper or use a Google Sheet.
Make a bot yourself or hire professionals
The first step in making a chatbot is choosing a bot building platform. There are several main criteria you need to consider: ease of use, supported platforms, features and pricing. Check out my chatbot platform comparison guide to learn more.
Most of the platforms let you create a chatbot with no-code builders. If you ever installed software on your computer or set up Facebook business page then you'll be able to build a chatbot yourself. Sign up for a bot building platform and start adding conversational blocks to your bot's logic, connect your socials and activate your bot.
If creating a bot sounds difficult or you already tried building one and felt overwhelmed you can get professional bot builders to do it for you. Chatfuel has a dedicated team of bot builders that help customers to: define goals, create conversation logic, build a bot itself and get the most from chatbots for each individual case.
Monitor and course correct
After you activate your bot, focus on analyzing stats and making necessary adjustments based on that data. Look for anomalies in the numbers. Are there any parts of the conversation where the numbers notably drop? What buttons get clicked the most? How many people get to the end of the conversation?
Find such blind spots and figure out how to deal with them. Then, make adjustments and keep monitoring the incoming data.
How you can use a chatbot
Below are some main examples on how to use chatbots. Every feature in this list, except Workspaces is available in any Chatfuel subscription plan. Keep in mind that this list includes selected features and there are more functionalities available to Chatfuel users.
Answer FAQs
Answering frequent questions is the most common use for chatbots. Having a list of buttons on your page helps people solve their problem on their own. You can add up to 6 buttons that can lead to various blocks: text, media, product gallery, collecting contacts, booking a meeting and more.
FAQ buttons also affect how many visitors contact your business. Some people might struggle to formulate their question or hesitate to start a conversation, so they never message you. FAQs are shown to people before they type any message, so having them in place helps customers make a decision to contact you easier.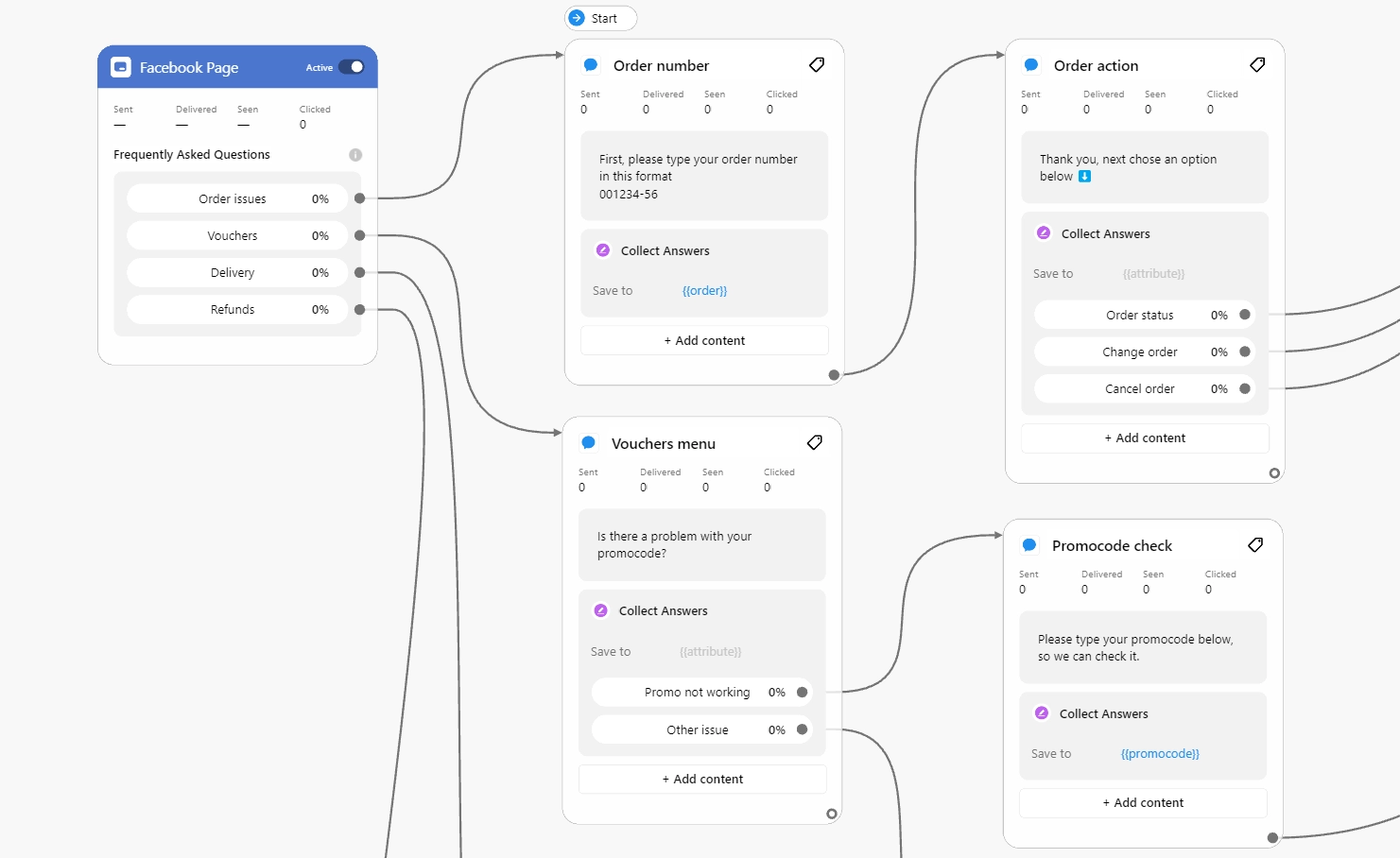 Reply to comments
Chatbots can handle your Facebook or Instagram comments. Some popular uses include: tracking all incoming comments, giving instant responses to new comments, sending after hours notifications, offering promo codes in response to specific hashtags and more.
You can set up autoreplies to one or multiple posts, to all comments or the ones containing particular words, phrases or hashtags. The bot can give both public and private replies and respond after a certain time since the new comment.
Sell via Facebook Shops
A Facebook Shop is an online storefront where people can explore and buy your products inside Facebook. A Shop connected to a bot lets you instantly respond to questions about products. Set up answers for specific products or all products in your store. Give a blanket response or add keywords to let your bot reply to certain words or phrases.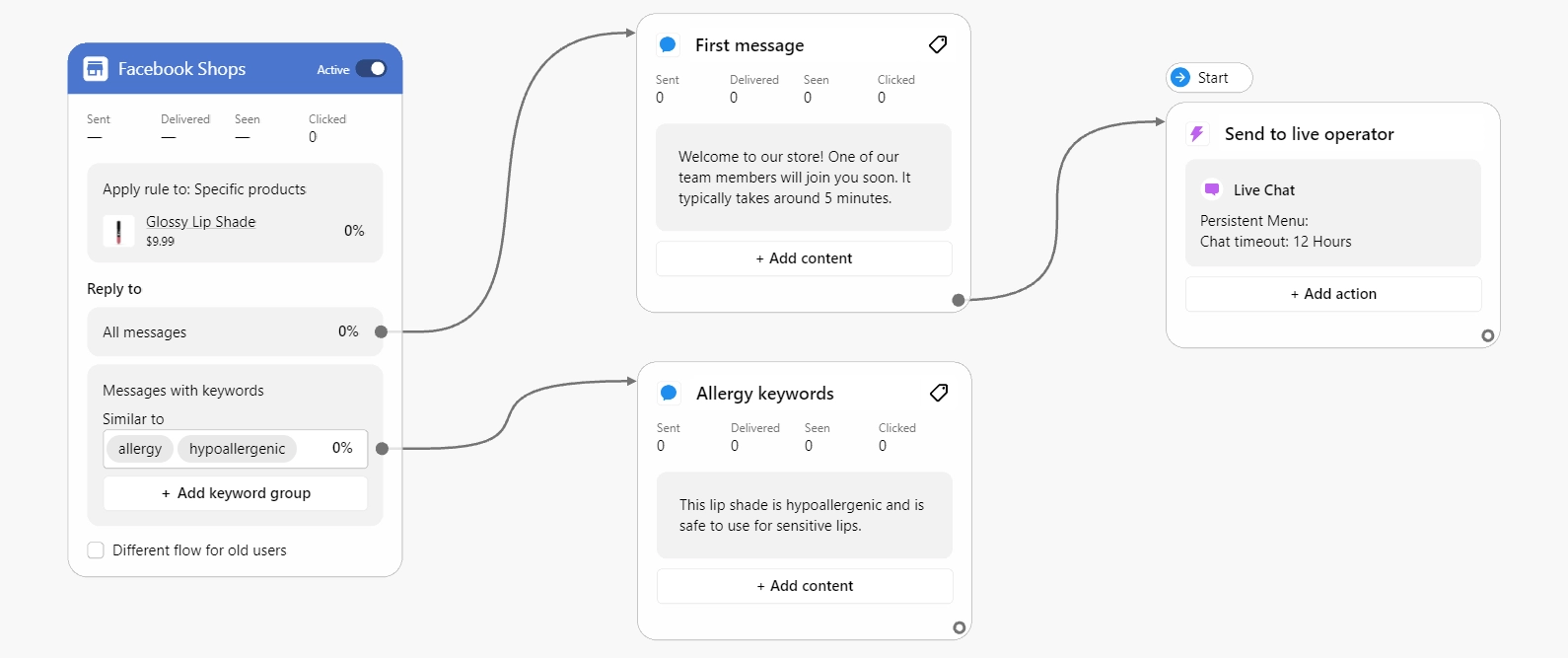 Improve your ads
Connecting Facebook or Instagram ads with a chatbot helps warm up customers before they decide to go to your store. Add information about your product and let customers get familiar with your offering without leaving the platform they trust. You can also ask hesitant buyers to leave their contacts, giving you new leads.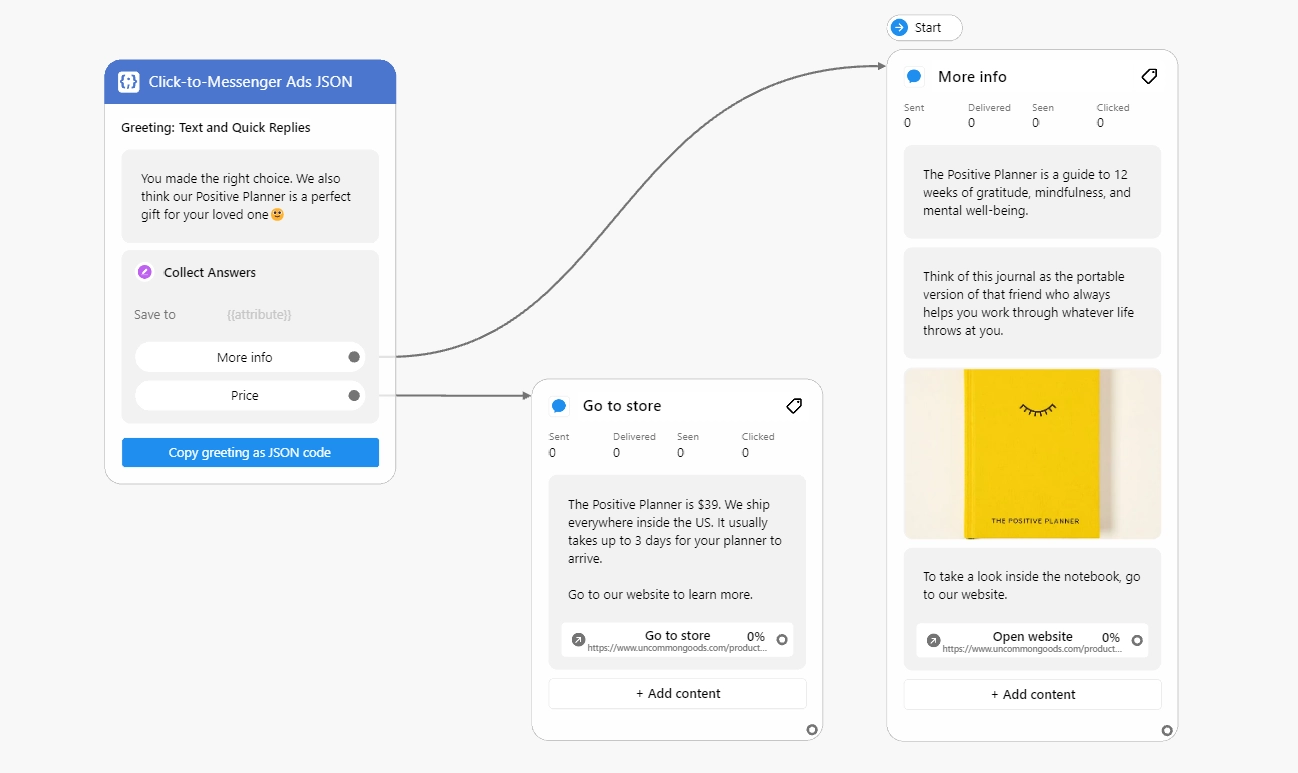 More Chatfuel features
Templates
Templates offer a quick and easy entry into chatbots. They allow business owners to chose between pre-made templates divided by industry and use case. Pick your niche and template, then change the data inside, no need to worry about building a conversation logic from scratch. New templates are added regularly and be sure to tell us if you don't find the one you're looking for.
Explore our templates catalog here.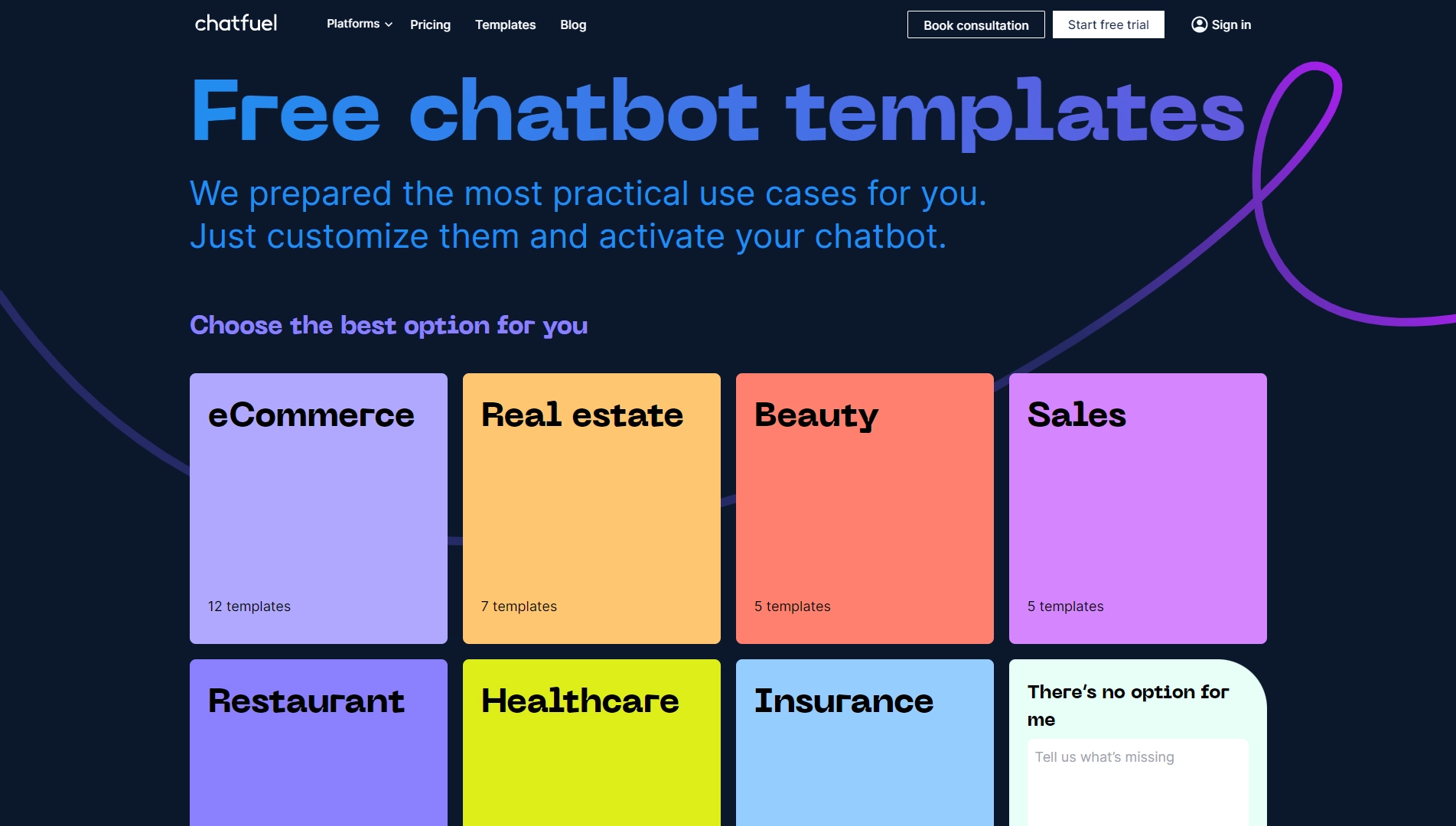 Workspaces
Workspaces is a feature aimed at agencies, it's only included in the Enterprise plan. It lets you organize multiple bots into groups and then pay for an entire group instead of paying for each single bot. This simplifies billing management and helps to put your money where it needs to go.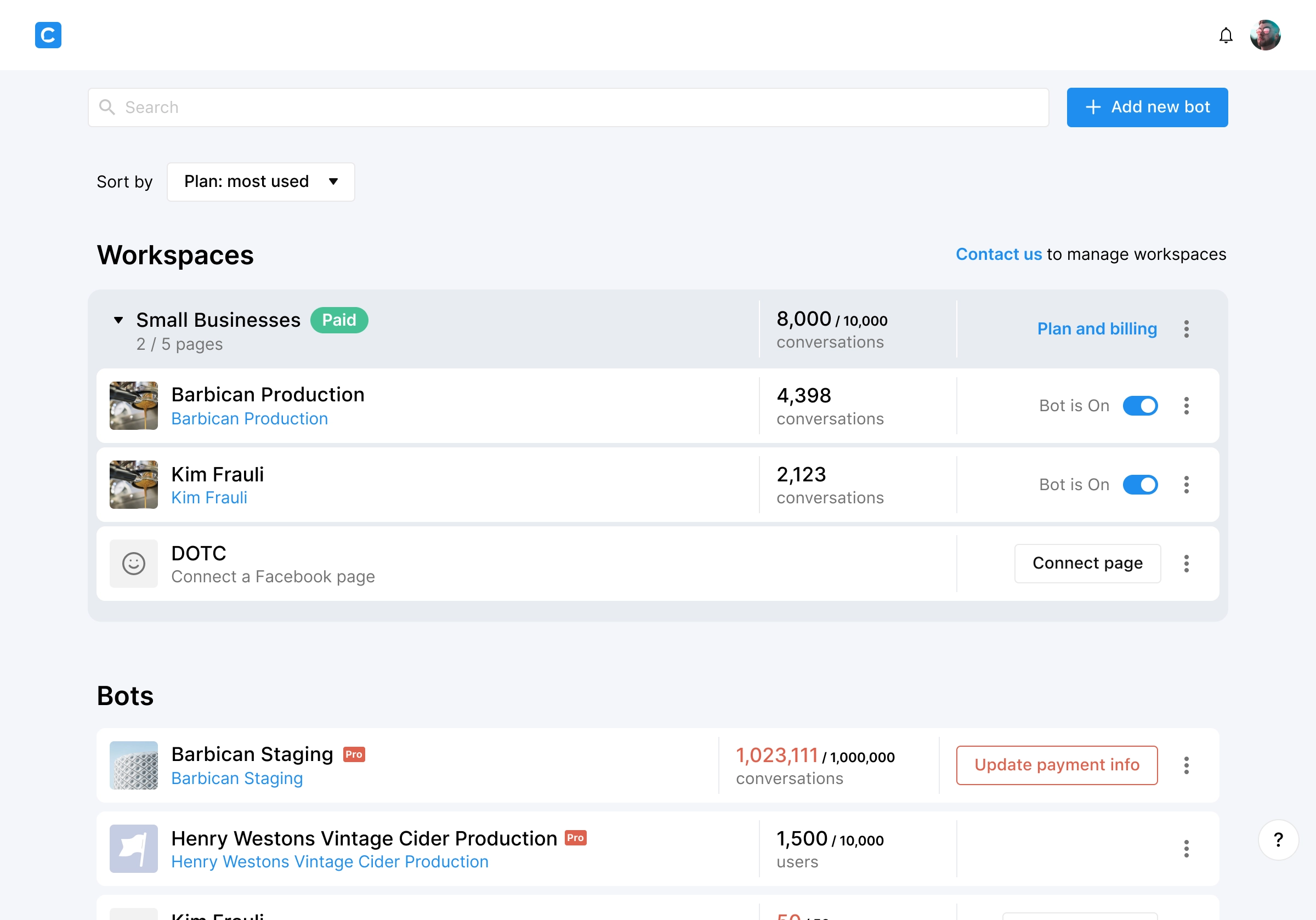 Strong support
Chatfuel has a friendly team of dedicated experts available 24/7. They are bot building experts who always focus on solving every individual case. So expect a mom-and-pop shop level of service.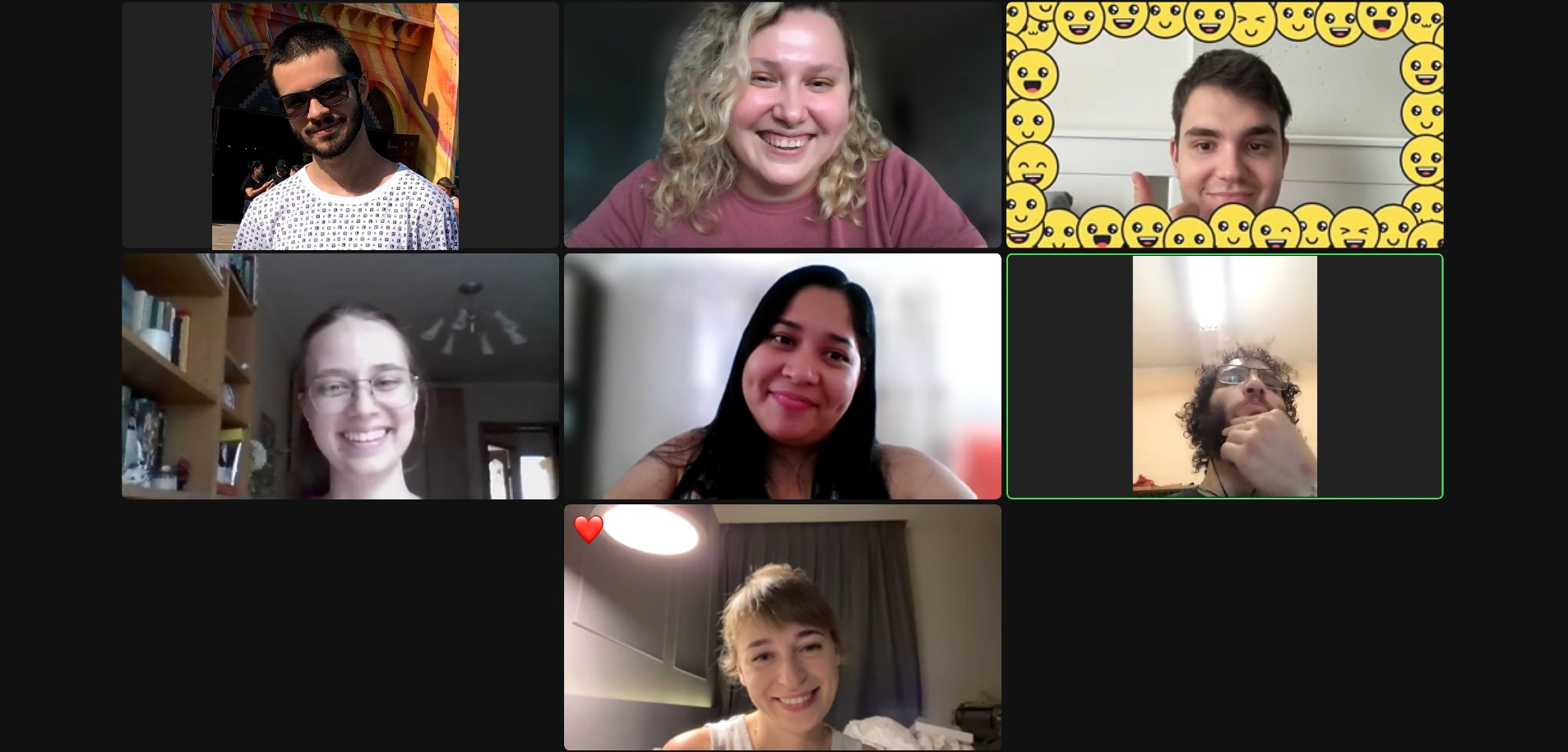 Examples of how real businesses use chatbots
For marketing
Example 1. CodEye, a media company used a chatbot to address the effectiveness of their ads. Their bot redirected people to their app by showing teasers for top news stories. Their acquisition cost went down by 200% and app installs grew by 40% per month.
Example 2. An e-commerce retailer struggled to find and attract their audience. They used a bot to collect replies from customers who clicked their ads and then used this info to improve their ad targeting. As a result their yearly average return on ad spend (ROAS) result was 999% and a repeated sales rate went up by 30%.
For sales
Example 1. Nissan ran a bot that first asked prospects questions about the kind of car they wanted. Then it measured their buying intent and sent out "high priority" contacts to a dealership. This helped them make $380,000 in a month and improved their organic sales 10 times.
Example 2. Beauty Player struggled to fulfill orders in time and lost leads because they couldn't be there 24/7. By using a chatbot they increased their monthly sales by 40% ($250,000) and reduced the conversion cost by 50%.
For customer support
Example 1. HelloFresh built a bot to automatically check on new activity on their Facebook Page. It then replied to users and answered common questions. Their response time dropped by 76%.
Example 2. A startup created a Messenger chatbot for hotels so they could keep up with competitors like Airbnb. Their first six hotels saved 140+ hours of time.
Enterprise plan benefits
Custom pricing — pay based on your business needs.
Workspaces — organize multiple bots into groups to optimize spending.
White labeling — keep clients within your ecosystem without any mentions of Chatfuel.
Bot building team — explain your vision for your bot to our experts and they'll do the building.
Dedicated account manager — address your concerns and make sure your needs are met.
Priority support — resolve any issues with your bot as soon as they arrive.
Ready to try? Sign up for a free trial to start with bot building, or book a meeting with us, if you need help setting up a bot.