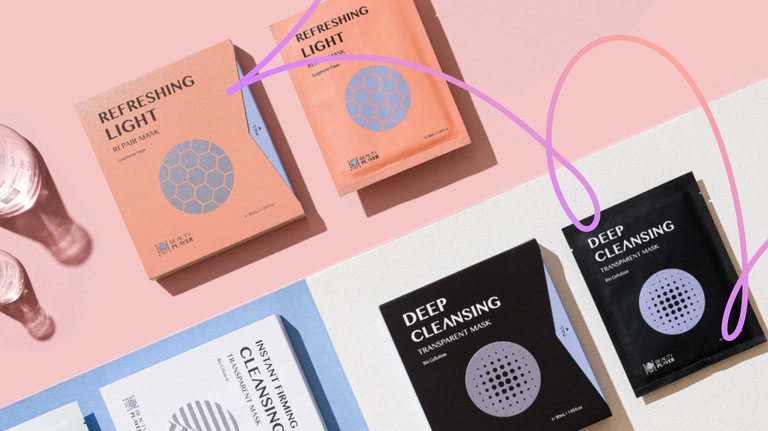 Published July 6, 2022 in
Beauty startup reduces the cost per conversation and increases sales by 40% with a Messenger chatbot
Beauty Player is a cosmetic startup in Taiwan. They built a Messenger chatbot to automate FAQs about thei product, shipping, and discounts.
Most startups go through growing pains in the early stages, such as team management, overall performance, and communication. Beauty Player is no exception. As they picked up and implemented a successful product line in 2017, they had inquiries and orders flooding in from around the world. While the team was thrilled at the positive response to their brand and products, they found they couldn't address all customer needs fast enough.
This article shows the journey that brought the Beauty Player to impressing metrics. The team built customer support, reduced cost per conversation by more than half, increased sales by 40% and achieved 10x return on ad spend (ROAS).
The overworked team struggles to fulfill orders in time and loses customers
Beauty Player is a Taiwan-based cosmetics startup. Its mission is to help customers enhance their skin's natural beauty. Beauty Player's most popular product line is a facial mask collection. There are masks for all skin types and multiple functions: refreshing, cleansing, and firming. The brand helps people of all skin types restore a healthy glow and build confidence.
Beauty Player was overwhelmed with messages and struggled to answer questions and fulfill orders on time. As a result, the team became overworked, and the company lost out on the opportunity to serve even more customers because they didn't have enough resources. In addition, the cost per conversation was growing since the team had to process all messages manually. Beauty Player managers realized that they had to find an affordable solution and, if possible, reach multiple goals at the same time. The team aimed to automate answering FAQs and increase client loyalty and sales.
A Messenger chatbot automates FAQs and increases sales
To organize and streamline their customer communication, Beauty Player enlisted the help of a chatbot marketing agency called GoSky AI. This agency decided to build a Messenger bot in Chatfuel mainly to automate FAQs about shipping, discounts, affiliate opportunities, and other popular topics. That way, the Beauty Player team would have more time for other tasks that need human attention.
"Chatfuel helps Beauty Player solve the problem of not having customer support 24/7," — Fash Chang, Marketing Director at GoSky AI
The other Beauty Player chatbot's essential function is to increase brand awareness and sales through interactive education and product recommendations. First, the bot asks users whether their skin is dry, oily, or sensitive. Depending on the response, it then shares relevant skin care tips. It recommends a suitable facial mask (plus a coupon code) from their product line.
The four-step strategy and the five powerful features
Knowing Beauty Player's pains and goals, GoSky AI offered them a simple, yet a brilliant strategy that involved four key steps:
Facebook ads lead users to the Beauty Player bot.
The bot offers users a personalized product recommendation plus a coupon code based on their input.
Human agents match users who redeemed the coupon to those who purchased a mask on their website.
The team then exported matching leads (those who were deemed most likely to purchase) from the Chatfuel People tab. Then, they used that list to create a Lookalike audience to run more effective Facebook ads.
Then the GoSky AI agency built a powerful automation, using the following Chatfuel features and integrations:
User attributes
This feature enables the Beauty Player chatbot to greet users by their first name for an added touch of personalization. The bot asks users about their skin type and offers quick reply buttons to choose from dry, oily, sensitive, etc. Automation saves user choices to user attributes to segment users based on their skin type for later use in retargeting campaigns.
Facebook Ads integration
Beauty Player also benefited from the combination of Facebook's powerful data targeting and Chatfuel's rich set of customizable tools. Connecting Facebook Ads to Chatfuel Entry Points is easy. There's no need to decipher confusing code. For this case, Click-to-Messenger Ads or Sponsored Messages were just right.
People tab
From the Chatfuel People tab, the Beauty Player team can easily export a CSV file of bot users who placed an order on their website. Next, they can send this customer data to Facebook Ads Manager using Segment Sync to create a Lookalike Audience of their most valuable customers. Finally, Facebook uses that information to find new leads with similar characteristics to existing customers. As a result, Beauty Player experienced a significant decrease in cost per conversion and an impressive increase in ROAS.
JSON API
Beauty Player uses the JSON API to gain insights about when users are interacting with the bot. As a result, they can reengage those recently dropped off and retarget those who haven't redeemed their soon-to-expire coupons.
AI tab
Most users typed in something like "My skin is dry/oily/sensitive" when messaging Beauty Player. Knowing that the GoSky team taught the bot to react to specific keywords in the AI tab. An AI integration allows the bot to understand this request and send an appropriate response. So now, users who type a similar word at any point in the chat get a personalized selection of recommended products and skin-care tips.
A top-level digital marketing strategy brings incredible results
Using the five Chatfuel tools above, GoSky AI revolutionized Beauty Player's business. Automation helped them grow brand awareness and revenue and reduce costs. As a result, the team now enjoys less stressful and more streamlined operations. After launching their bot, Beauty Player got impressive results:
40% ($250,000) higher monthly sales. Automation helped them control the orders and messages they were already getting and increased sales overall.
50% less cost per conversion. With click-to-Messenger ad campaigns, the Beauty Player team reduced it by more than half, from $8.30 to $4.06.
10x return on ad spend (ROAS). Using multiple marketing automation tools positively affected this key metric as well.
10% more average order value (AOV). Brand awareness and educational content in automation added more products per user.
"We believe that when we bring the top-level digital marketing strategy (Facebook ads + Chatfuel bots) to all the traditional SMEs and startups, we can help make their dream come true. And this is our dream." — Fash Chang, Marketing Director at GoSky AI
Start your own marketing campaign with a Chatfuel bot
With Chatfuel, building a chatbot for Facebook Messenger, Instagram, or your website is easy. You don't need coding or programming knowledge to develop and create conversational flows that work best for your business needs. Join Chatfuel today and free more time for the tasks that need your attention. Harness the power of automation and see the difference.