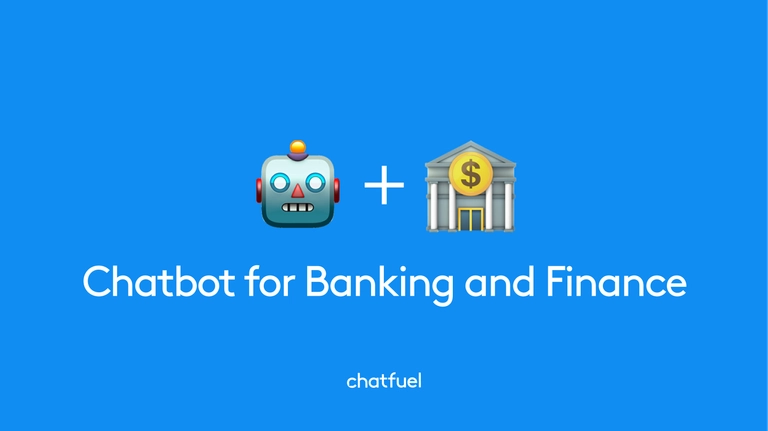 Published July 21, 2023 in
Why any banking or finance business needs a chatbot
Did you know chatbots can help improve the user experience at every stage, saving banks and finance brands time and money in the process?
Banks and other businesses in the finance industry usually have large customer bases. That means providing personalized, helpful guidance to prospects and clients at scale can be a challenge. That's why Facebook Messenger chatbots for banking have become so popular. Chatbots can help improve and customize the user experience at every stage, saving banks and finance brands time and money in the process.
Why bots are ideal for banking and finance brands
Conversational banking is the new trend in the industry. It makes complex or time-consuming financial topics and tasks more accessible for prospects and customers. Plus, it allows users to complete certain routine tasks without help from a human agent. Not only does this mean they receive faster service, but also that human support staff can save time, too.
Plus, when conversational banking takes place in Messenger, the chat history is saved. This means that users can always go back and review information shared with them in the past, and that human agents can view a user's previous chats with the bot later, for context.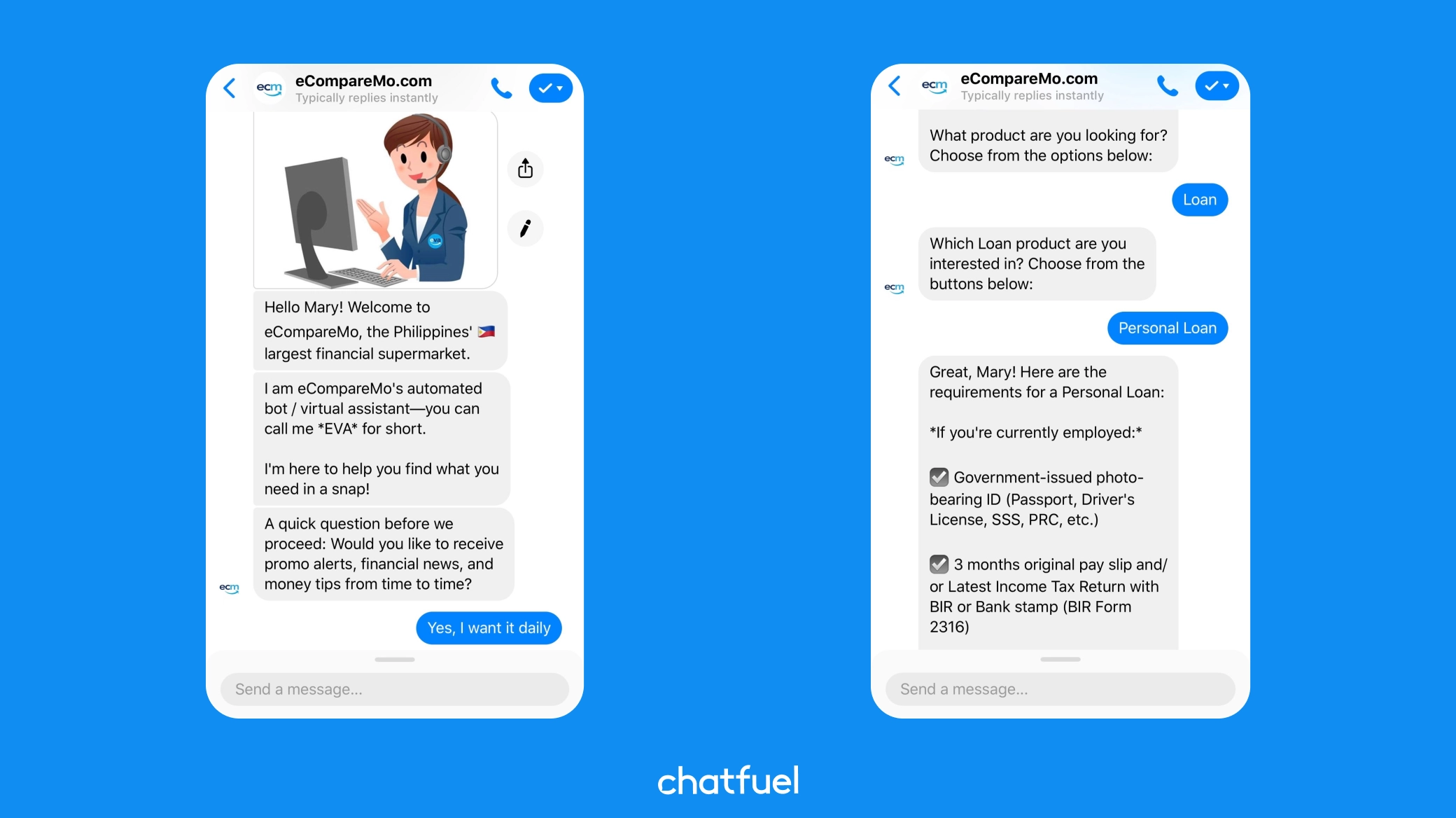 Chatbots are also easier to build and implement than a full, separate banking app. Since chatbots exist in Facebook Messenger, they don't require a team of developers and months of time to implement. There's no coding knowledge required to use Chatfuel, and you can build your first bot in an afternoon. Plus, with 1.3 billion users on Messenger, it's safe to say that a large portion of any business's clientele is already familiar with the interface.
A bot doesn't have to have to replace a full digital banking app though. Many finance-related businesses prefer to design a bot for one topic or initiative, in addition to their main, separate app. There are banks that made bots in Chatfuel specifically for information, advice, and promotions related to their investment services. Anything related to transfers, bill pay, loans, or credit cards still remains in their full app.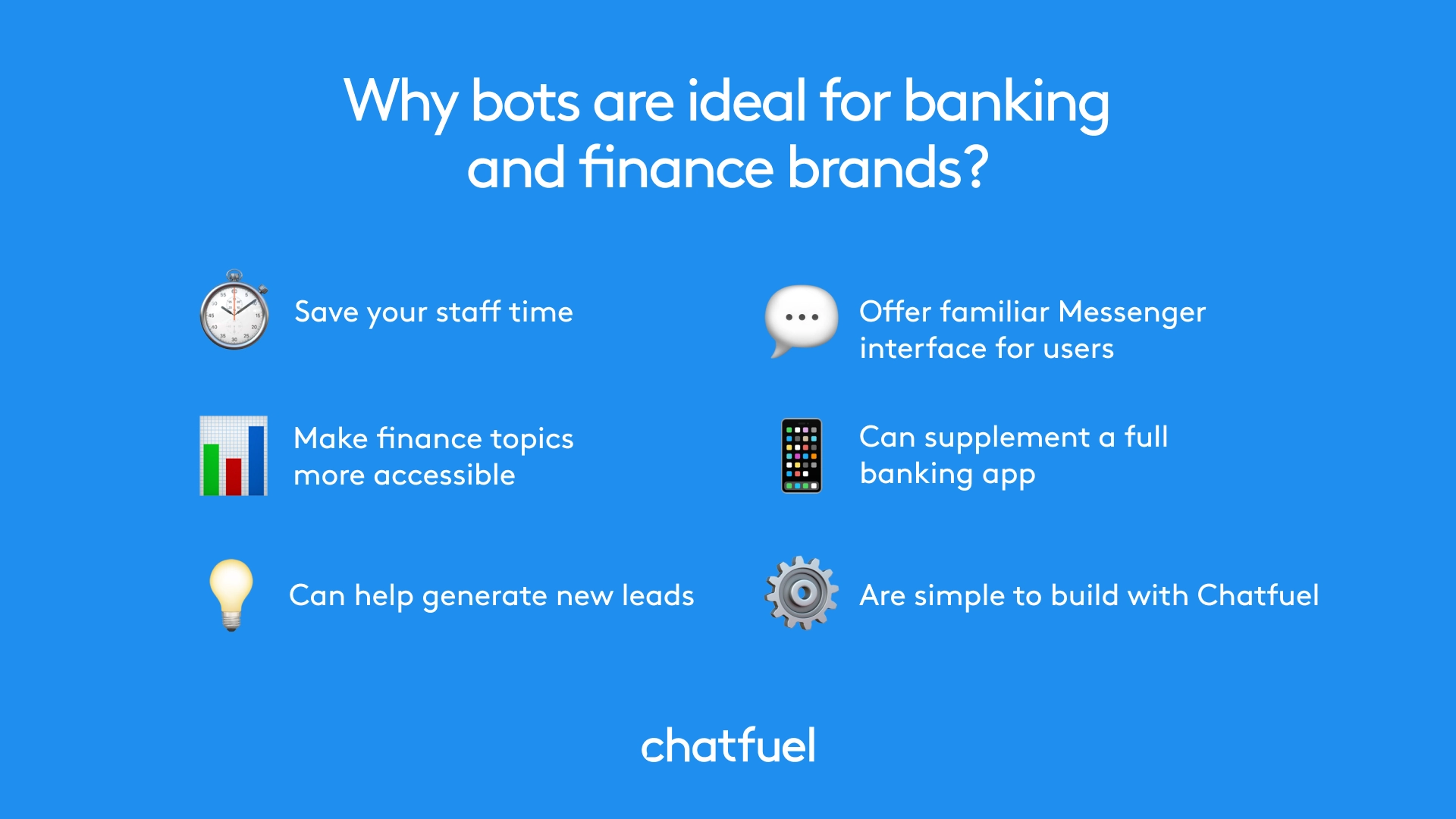 What a chatbot can do for a business in the finance industry
The functions of a finance or banking chatbot are nearly endless. A few of the most helpful applications include:
Automated, personalized customer support, 24/7. For routine questions and tasks, customers no longer have to visit a branch, stand by on hold, or wait for business hours. Chatbots are available to provide the same level of helpful, personalized customer service every time, on demand.
Advice and information. A Messenger bot is a great tool for giving out details about a brand's services, products, or locations. It could share blog posts with money-saving tips or financial planning advice, offer details about a new credit card, or let users locate their nearest branch or ATM.
Lead generation and qualification. There are several effective methods to bring new users to your bot. You can link your bot to Facebook ad, incorporate a chatbot window on your website, or even set up a feature to acquire bot users from comments on one of your Facebook page posts. (You can do all of the above with Entry Points!) Once there, your bot can ask users questions to qualify them. For example, you could set up a Facebook ad about your bank's business loan services, and then ask users who click through questions about the size and type of their business. If they qualify, your bot can gather their information for a member of your team to contact later, or have them book an in-person appointment through the bot.
Audience segmentation. You can set your bot to apply certain tags, called user attributes, to users based on their actions or responses. This way, your chatbot can act as a mini-CRM, allowing you to learn more about your audience and do specific retargeting in the future. For example, you could tag all users you acquired from comments on a post about your new credit card, and send them an offer related to that topic in the future, too.
Customer feedback collection. Bots make it easy to gather feedback from your users. Customers generally have low motivation to complete a static email survey about a bank. But an engaging quiz in an instant, conversational format via chatbot will see much higher completion rates.
Multi-location support. Banks or finance companies with multiple branches don't need to create separate bots for each one.
Tips for building a banking chatbot
To build an effective banking chatbot for your finance business, here are some tips:
Distinguish between your bot and human agents. It's crucial to make sure users know when they're interacting with a chatbot. Have your bot introduce itself and share a bit about what it can do in the Welcome Message. If, at any point, you choose to have a human take over the conversation, let the user know as well. Making this information clear is a great way to show transparency, build trust, and manage user expectations.
Select a name and persona.Choose your bot's name and persona carefully. Banking and finance inevitably involve sensitive user information, so you don't want a bot that comes off as too casual or easygoing. Build one that interacts in a friendly but professional manner. You want users to feel welcome, yet confident that your bot is an authority and will handle their information responsibly.
Be mindful of security. If your banking chatbot handles any kind of sensitive user information, you must have the appropriate security measures in place. Your bot should inform users of these measures as well, so they feel confident interacting with it. For example, Surfshark, a VPN service, clearly informs users that their product will ensure that "your location is private and your sensitive data is secure, at all times."
Start small. Bots have lots of potential uses for businesses in the finance and banking sector. At the beginning though, it's best to focus on just one. Concentrate on your most common or pressing customer pain point, and build a bot to mitigate it. Once you've proven that your bot has enhanced the user experience, you can work on expanding its functionalities.
Test your bot. Once you've built the first version of your bot, invite colleagues or a small focus group to test it before you release to your entire audience. As these users interact with your bot, track the analytics to see how it's performing. Check and see if there's anywhere your bot or users get stuck, and make adjustments as needed. Once you've gathered feedback and made your changes, you can launch your Facebook bot to a wider audience.
Engage and grow your audience. Once you have your banking chatbot up and running, there are lots of tools you can use to maximize its impact. Try the Acquire Users from Comments feature to send people who comment on your Facebook posts right to a conversation with your bot. Then, you can use sequences to send subscribers specific messages on a set timeframe, like to follow up if they signed up for an offer or had an in-person appointment.
Finance-bot success stories from Chatfuel clients
First Valley Bank is a Philippines-based company in the banking industry that provides information about their business via a Chatfuel bot. Their Messenger chatbot:
offers money-saving tips;
has a branch locator tool;
lets users interested in loans or a new account to share their contact information, so a bank representative can follow up later.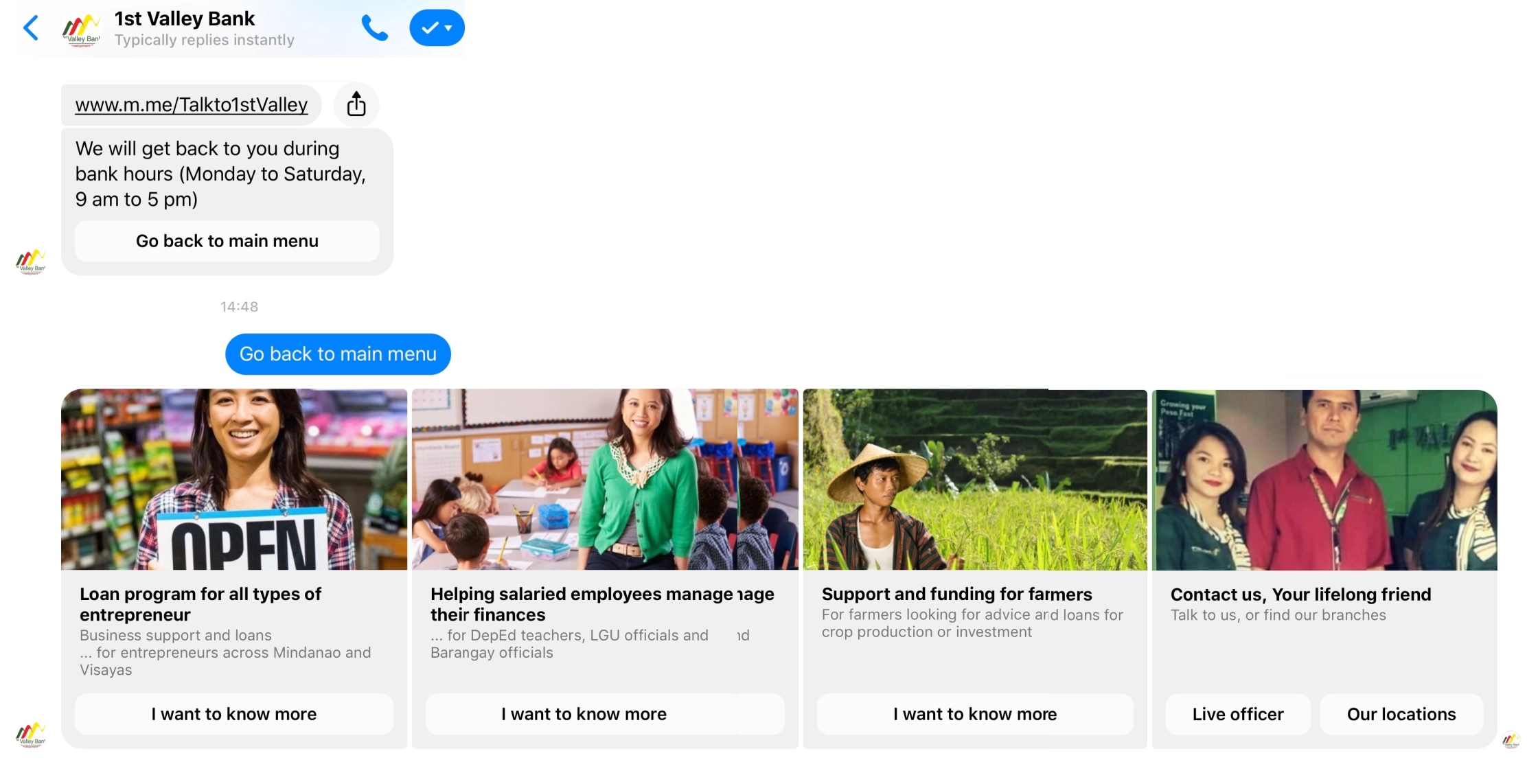 Banks are a great use case for Facebook chatbots, but so are financial planning and wealth management firms, money-management apps and influencers, loan companies, and money-transfer services, to name a few.
EasyDebit Philippines is another great example of a finance-related business who serves its users with a well-designed Chatfuel bot. EasyDebit allows customers to use their debit card to withdraw cash and make payments through local merchants, rather than having to travel to an ATM. They've built a simple bot that gives users basic information about their services, and offers answers to FAQs.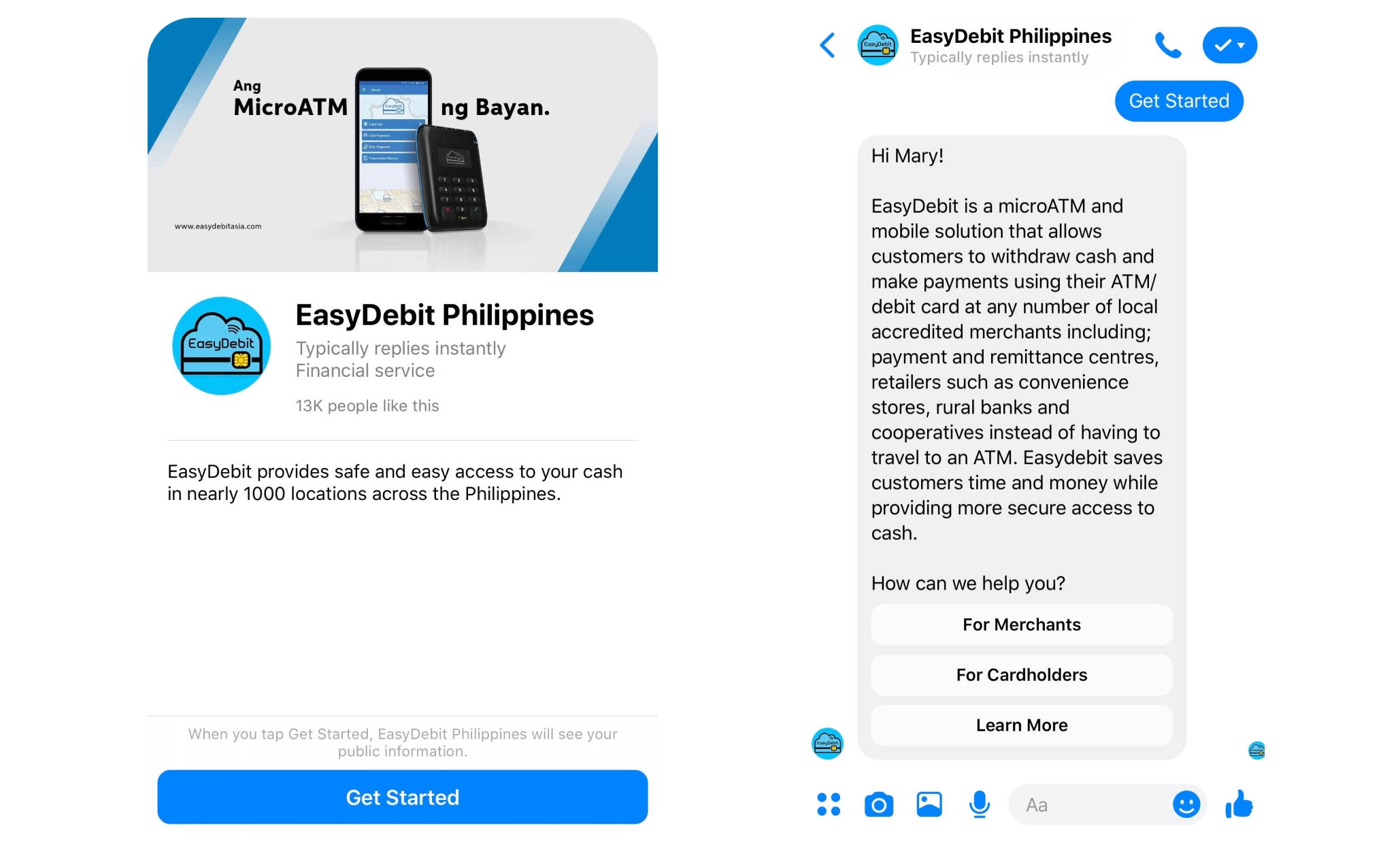 Bank on a bot for your brand's success
Ready to take your banking or finance business to the next level? It's time you explored the world of Facebook Messenger chatbots. The function of Chatfuel is to make it easy for businesses like yours to build powerful no-code chatbots. To get started, sign up for your free account today. If you're part of a marketing agency, check out the perks of our Premium Agency plan.