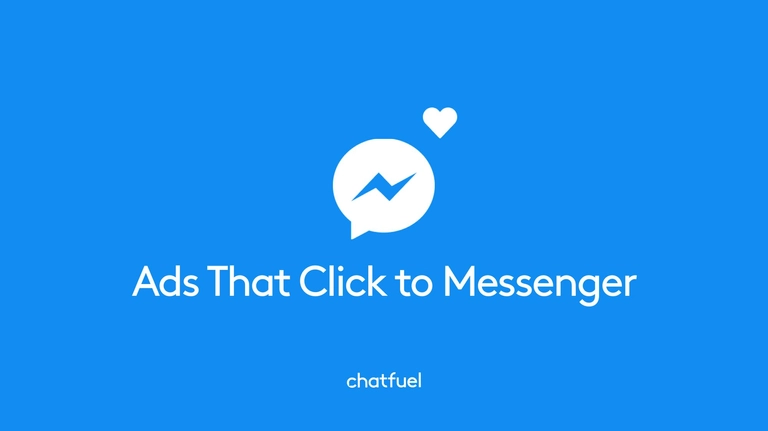 Published July 25, 2023 in
How to create Click-to-Messenger Ads to drive traffic to your bot
Boost engagement, sales, and ROI for your business by harnessing the synergy of Facebook ads and chatbots.
Ever heard of chatvertising? It's the key to getting more sales for your business in the modern marketing landscape.Chatvertising refers to digital ads that spark conversation between your brand and consumers.
If your brand has a great Messenger bot, you've already laid the groundwork for these meaningful conversations. But how do you "spark" them? How do you get them started? What tools can you use to bring new users to your bot, so it can engage them and drive conversions?
Though there's more than one way, running click-to-Messenger ads on Facebook is your best option for fast, effective results.
Click-to-Messenger ads can be placed wherever any other type of Facebook ad can appear, including News Feeds, columns, Stories, and even on Instagram. When a user clicks the ad, they'll be redirected from the Facebook or Instagram app to the Messenger app. They'll be brought directly to a conversation with your brand, which your bot will immediately initiate.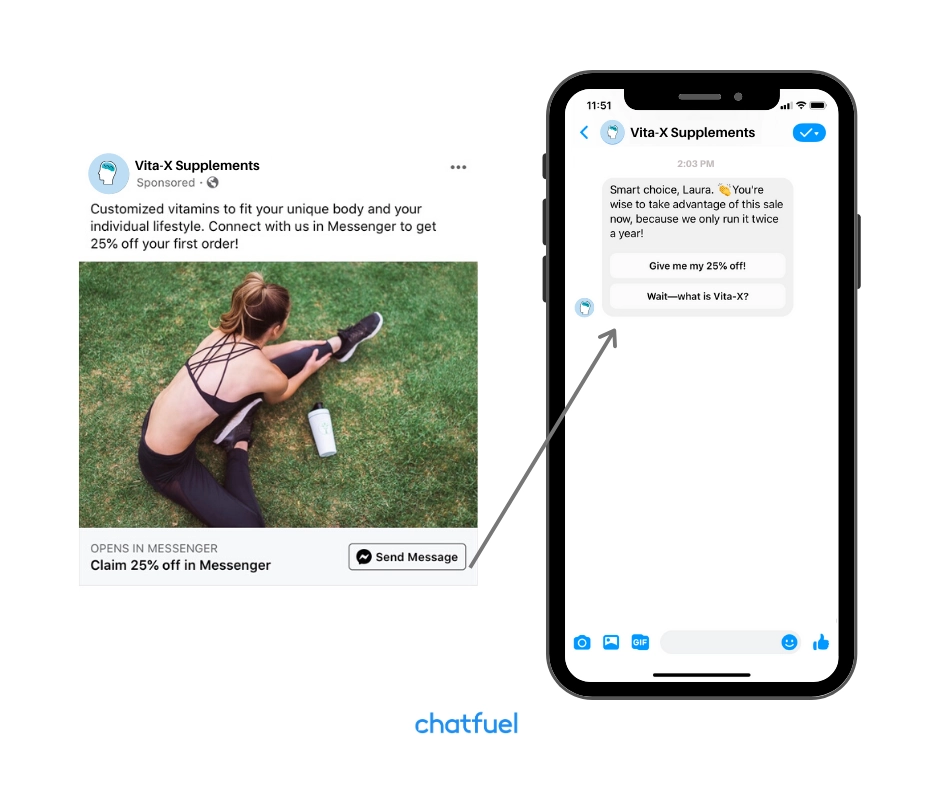 How to set up click-to-Messenger ads for your Chatfuel bot
If you've already created your click-to-Messenger ad in Facebook, skip to the next section. If not, follow these instructions to set up the ad in Facebook Ads Manager:
Choose the Messages objective for your new ad. Give it a name too, so you can easily find it in Chatfuel later.
Choose Messenger under Message Destination, and keep Click to Messengerselected in the drop-down.
Choose your audience according to your business's unique goals. (You'll find more on creating custom and Lookalike audiences in the next section of this guide.)
Choose Automatic Placements. Or, if you want this ad to show on Instagram too, you can use Manual Placements. On the one hand, being redirected from Instagram to Messenger may be more jarring to users. On the other, Instagram has a valuable audience of over one billion users, most of whom belong to younger demographics. It's up to you to decide whether this placement makes sense for your brand (or you can split-test to find out).
Choose your desired budget and schedule for the ad.
In the Identity section, make sure that your ad will come from the same Facebook page that your bot is linked to in Chatfuel.
Next, design your ad creative. (Find tips in the next section of this guide.)
In the Messenger Setup section, choose the Start Conversations option and click Create.
In the window that appears, we recommend choosing buttons or quick replies under Customer Actions.
In the same window, customize the greeting. This is the first message users will see from you in Facebook Messenger, so make it engaging!
Click Finish. There's no need to set up your buttons or quick replies in this final window; you'll do this in Chatfuel. Just click Confirm to submit your ad to Facebook for review.
How to link click-to-Messenger ads to your Chatfuel bot
Once you have your ad created in Ads Manager, head to Chatfuel to link it to your Facebook bot.
How to link ads to a chatbot built in Chatfuel's Automation → Flows tab
Set up your click-to-Messenger ad in Facebook Ads Manager.
Then, go into Chatfuel's Grow tab to link your ad account (s) to your Chatfuel bot. In that tab, you'll see a card that says Facebook Messenger Ads. Select your ad account from the drop-down on that card.
Back in the Flows tab, add the Click-to-Messenger Ads Entry Point to your flow.
Click Choose ads to select an already-created ad (s).
Create the flow that users will be sent through after engaging with your click-to-Messenger ad, starting with the greeting. Once you've added the content of your greeting, drag and drop from your Entry Point's card to create the next card (s) in the flow.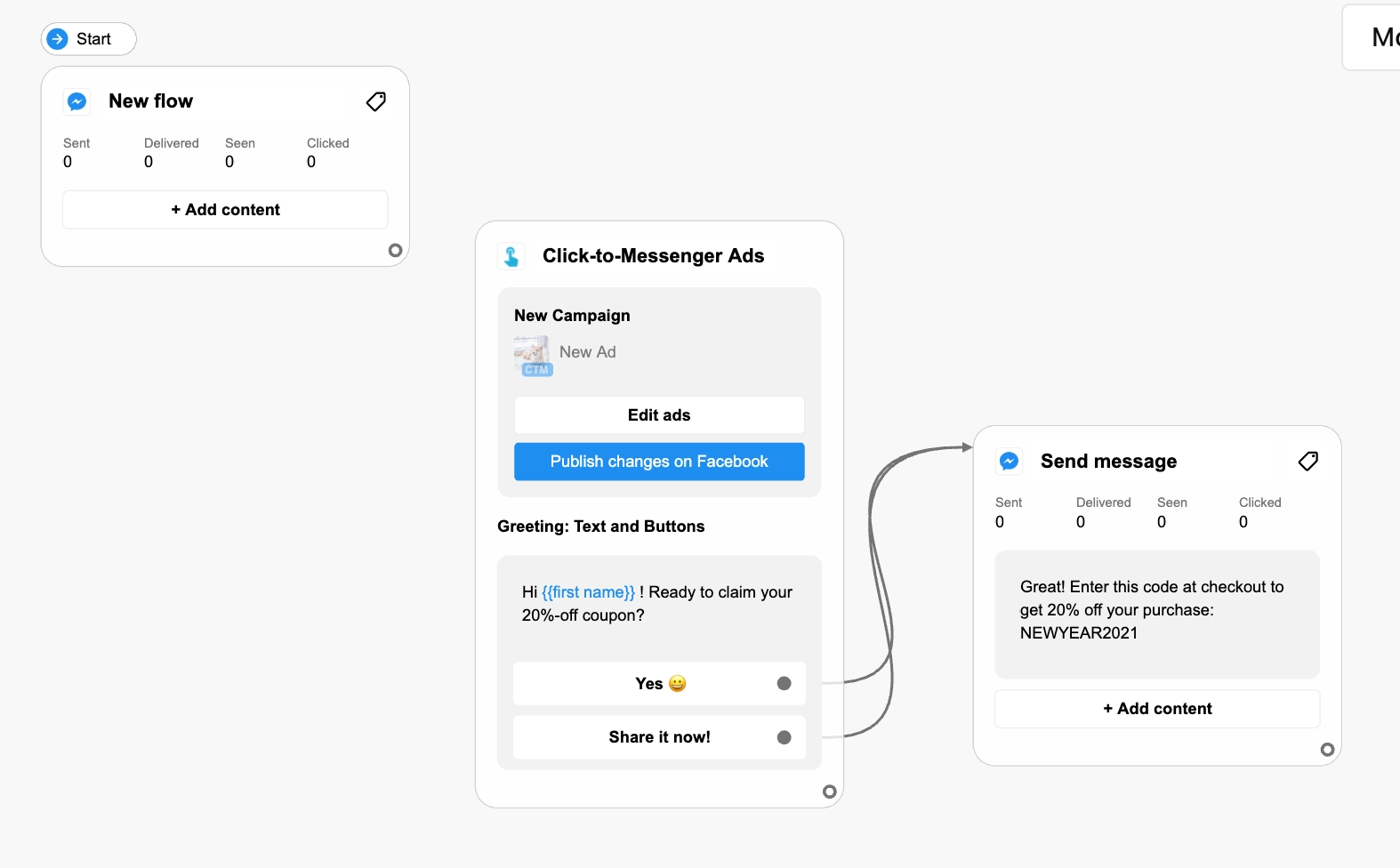 Get full instructions on the easy setup for the Click-to-Messenger Ads Entry Point. Or, watch the video tutorial. 👇
How to link ads to a chatbot built in Chatfuel's Automation → Blocks tab
Go to the Grow tab and find the native integration for Facebook Messenger ads.
Use the drop-down menu to choose the ad account you want to use, and click Set up.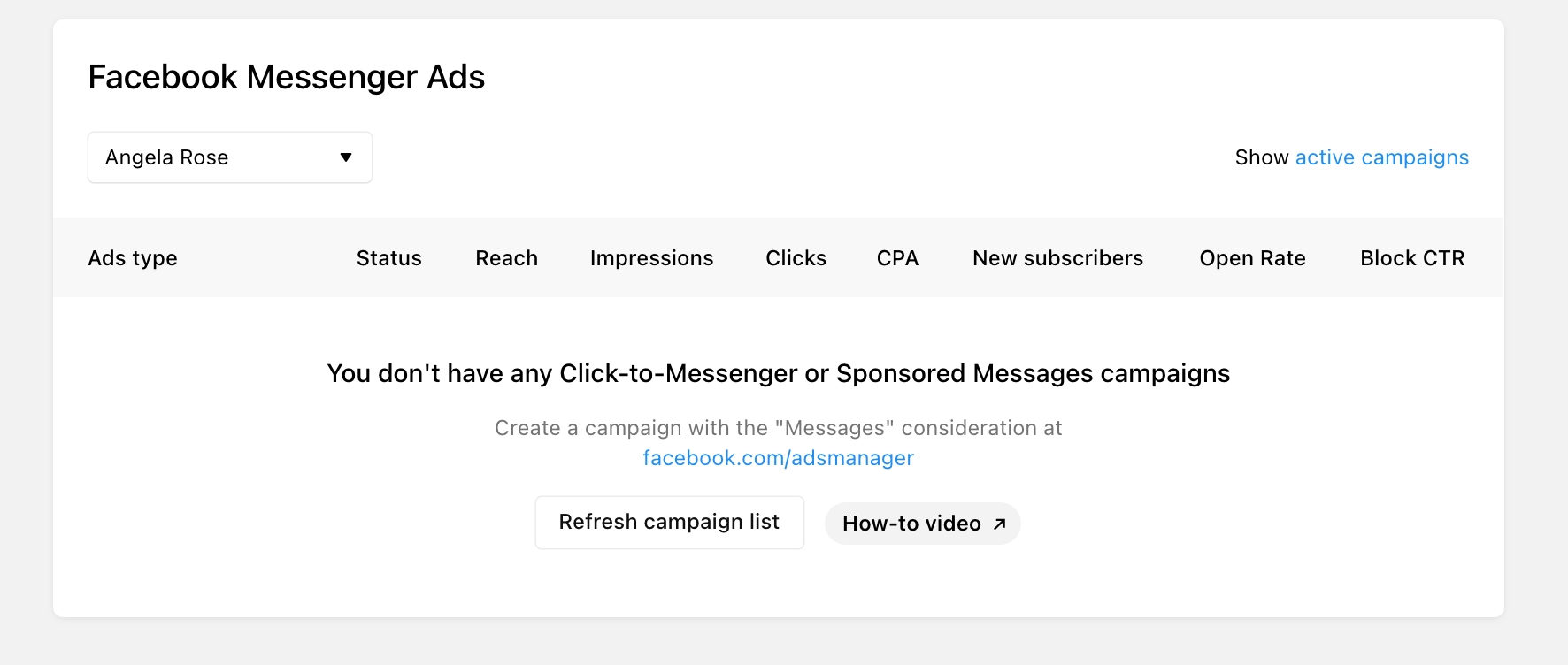 You'll then be asked to grant Chatfuel the necessary permissions.
Once you've done that, click + Connect new ads. An outline will appear to guide you through the three-step process. 👇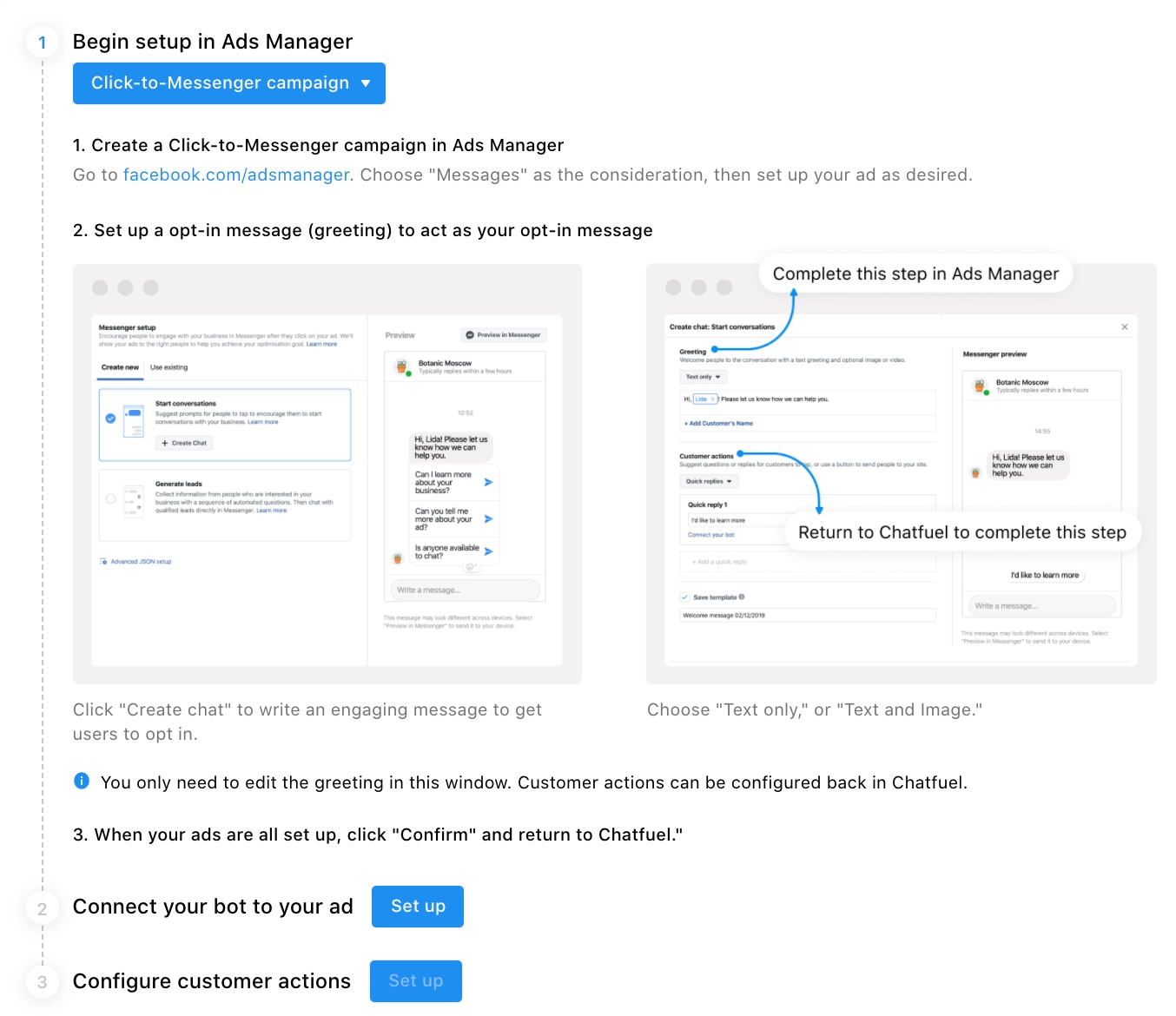 First, select the Click-to-Messenger campaign button in step 1️⃣of the outline. It'll lead you to Facebook Ads Manager to build your ad. (Or, if you've already built a click-to-Messenger ad, it will appear in the integration automatically.)
Click Set up next to step 2️⃣, which is to connect your bot to the ad you've just created (or that you created previously). Select the ad from the drop-down list (you may need to refresh the page for it to appear).
Step 3️⃣ is to configure customer actions. Click Set up next to that step. Here's where you'll choose between buttons or quick replies as options for how users can respond to your bot's first message. You can do it all right in Chatfuel:
Create the text for each button or quick reply.
Choose which bot blocks each one will link to.
Click Save, and you're done!
As soon as Facebook approves your ad and sets it live, it will lead users to the bot experience you've set up.
Best practices for click-to-Messenger ads
The ad creative you choose depends on what works best for your industry, and the advertising goals for your unique business. That being said, there are a few general best practices for "chatvertising" that apply to any brand.
Target carefully. The best way to maximize return on ad spend and minimize conversion costs is through proper ad targeting. You can advertise to custom audiences (based on existing customer lists) or Lookalike audiences (to reach new prospects similar to your most valuable users). Get all the data you need to create these in Ads Manager from the People tab in Chatfuel. Use Segment Sync to send this data to Facebook in one click. You can also create custom audiences based on actions users have taken in your bot using our Send Analytics Events to Facebook plugin. (Note that custom audiences aren't available for some European-based pages. Get more information on Facebook's updated policies for EEA countries.)
Mention the word Messenger in the ad copy. When users click your ad on mobile (and 94% of them will), they'll be redirected from the Facebook app to the Messenger app automatically. By mentioning Messenger in the copy (i.e. Connect with us in Messenger to claim your 25%-off coupon!), you remind users of what to expect. That way, the app switch won't be as disorienting and fewer users will abandon the process after being redirected.
Use emoji in the ad copy. It's not just because emoji can make an ad more eye-catching. It's also because they can help you draw attention to the call-to-action button you want users to click (Send Message). Emoji provide a clear, visual way to draw people to the next step.
Optimizing for the double opt-in
Once a user clicks on your ad, they're only halfway to converting. To become a bot subscriber (a user that's reachable by your bot), they also have to respond to your chatbot's initial message once they arrive in Facebook Messenger.
Here's the challenge: There's a 50% average drop-off rate between these two steps. That's why it's crucial to optimize those first messages from your bot to make it easy, enticing, and rewarding for users to engage. Here are some tips for getting users to interact once they arrive at your bot.
Choose the initial-response options wisely
You need users to respond to your bot's first message. To improve your odds, we recommend using buttons instead of quick replies. Sometimes quick replies don't render properly on mobile, so buttons are generally the safer bet. Plus, buttons don't disappear when your bot sends its next message, making it easier for the user to follow the conversation as it progresses.
We also suggest getting creative with the button copy. Get Started is a popular choice, but isn't very engaging. Using a custom message is more effective—and using two is even better! A bot that offers two welcome-button choices generates 5x higher first-engagement rates.
Incorporate emoji and GIFs into the messages
First, people already use the Messenger app from Facebook to chat with family and friends. Creating this same kind of intimate, casual atmosphere with emoji and GIFs can help encourage users to engage. Plus, these elements add color and motion to the conversation. They help catch a user's eye, and they make your bot and your brand seem more approachable and human. Just make sure any that you use are appropriate for your brand voice and tone.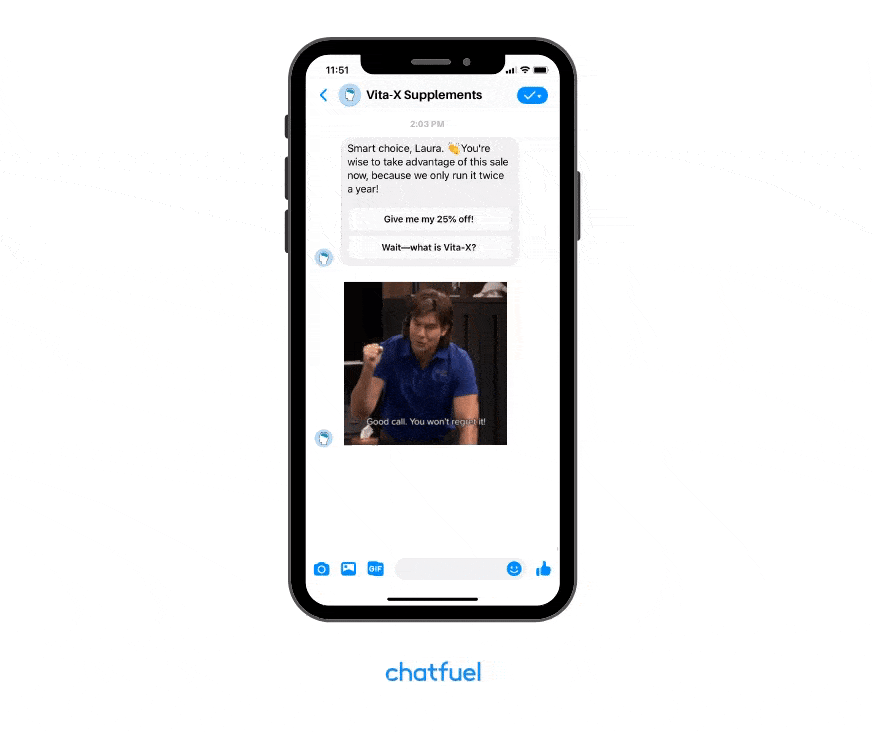 Keep the conversation flowing with "this or that" questions
It's your responsibility to design a chatbot that keeps the conversation going. Don't expect users to take the initiative! That's why having your bot ask engaging questions is so important. In fact, "this or that" questions have been shown to double initial chatbot engagement rates. So don't just keep sending block after block of text from your bot. Remember that it's a two-way conversation. Offer the user response options often so they can easily participate in the dialogue.
Gather leads and boost sales with click-to-Messenger ads
One click to Messenger and one click to engage with the bot, and you've got a new lead for your business. Click-to-Messenger ads are the most effective way to advertise on Facebook to get new users for your chatbot. Once they're there, your bot can nurture these leads and move them down the funnel towards a conversion.
Start using click-to-Messenger ads now to grow your business. Sign up for a free Chatfuel account today.