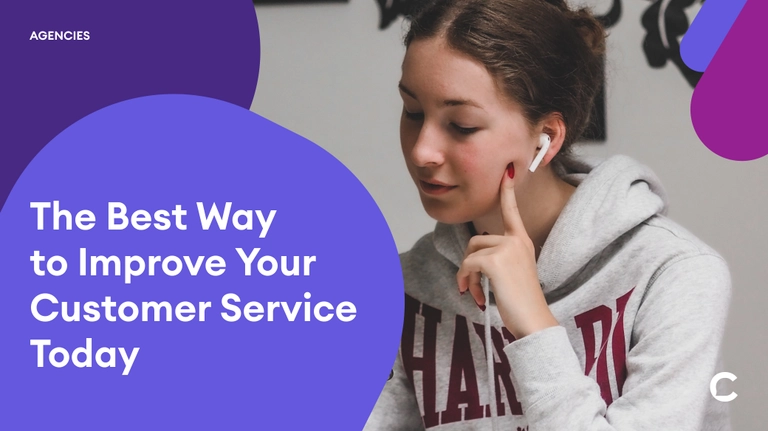 Published September 1, 2023 in
How to build a free chatbot for customer service
Find out how a customer support chat bot can help your brand provide a better customer experience.
"It takes months to find a customer and only seconds to lose one," in the words of Vince Lombardi. And what's the quickest way to lose a customer? Through a poor customer service experience. The modern consumer expects 24/7 service that's fast, helpful, and friendly. But most businesses can't afford a huge team to provide this kind of support consistently, around the clock. Even if they could, it certainly wouldn't be an easy-to-manage or cost-effective solution. So what's a brand to do?
This is where a Messenger chatbot comes in. Businesses can use chatbots for many reasons, to help with everything from lead generation to sales. But one of the most popular use cases for a bot is providing excellent, on-demand customer service. The best part: You don't need a big budget, a team of engineers, or even any coding knowledge to set up automated customer service via bot yourself.
Why your business should use a chatbot for customer service
Because Messenger chatbots can:
Save you time, money, and resources
Let's get one thing straight first: Chatbots aren't here to take the place of your human customer support team. However, bots are fantastic tools for automating routine and repetitive inquiries to save your human agents time. A well-built chatbot can automate up to 80% of routine inquiries, and can be available to as many customers as necessary, 24/7.
Provide consistently high-quality service
A chatbot for customer service can handle thousands of customers at once. Day or night, no matter the topic, you can set up your chatbot to instantly provide a consistent, friendly, and helpful customer experience every time. It'll never forget anything, or get frustrated at a user asking the same question for the fifth time. Every customer who interacts with it will enjoy the same positive, on-brand experience.
Help your business in other ways
After your bot has resolved the customer's concerns, it can offer to assist them in other areas, too. It can recommend products, share news, qualify them as a lead, and handle other tasks that will help or delight the customer and boost your business. Plus, after a user responds once, they become "reachable." That means your bot can reengage them again in the future for announcements or for promotions.
‍
Be used by businesses of all sizes
‍You don't have to be or hire a developer to build a powerful customer support chat bot. Chatfuel is a no-code platform, which means anyone can use our visual, drag-and-drop builder to create a basic help bot on their own in an afternoon—no coding required. 💡That's why bot-building platforms have become such popular customer service tools.
How to build a customer service chatbot
The core of most customer service bots is FAQs. If you can set up a Facebook bot to handle the most routine, repetitive inquiries, your human support staff will be free for lots more complex, value-adding tasks.
An FAQ bot can be as simple or as complex as you like; it depends on your brand, your industry, and your unique audience. The simplest FAQ bots display a few common questions in the form of quick replies. When a user clicks one, they receive the answer (or a link to a webpage that has more information). Or, if the brand has a bigger list of FAQs, they might display categories in the form of a gallery, and then have quick reply options for the individual questions linked to each one.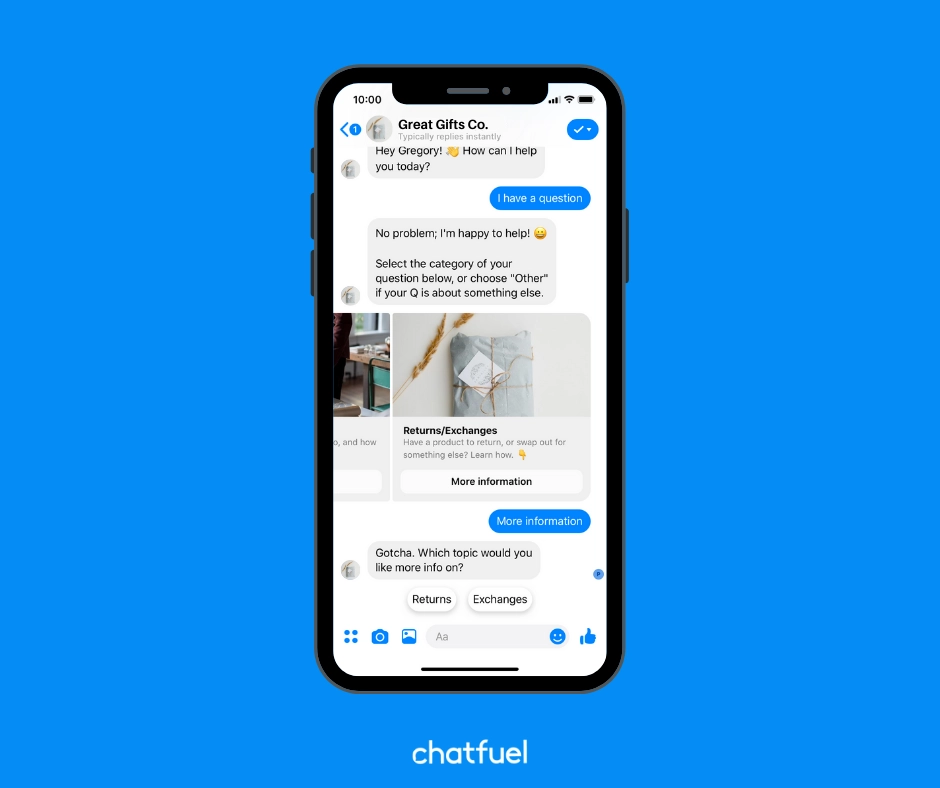 On the other end of the spectrum, a business with complex customer support needs might incorporate a specific, trained AI for their niche. A help bot like this could accept free-form text input from users and offer useful responses.
There are two easy ways to get started building your own customer service bot for Facebook Messenger:
If you're building in the Automation → Blocks tab
, use a pre-built flow for FAQs. A pre-built flow is like a ready-made set of blocks you can insert into your bot for a specific purpose (like answering FAQs). A pre-built flow takes care of the structure—you just have to add the content. So first, add the pre-built flow for FAQs to your bot. Then, fill in the question blocks with actual FAQs and answers that relate to your business, and you're ready to go! (P.S. Start using a pre-built flow now with your free Chatfuel account!)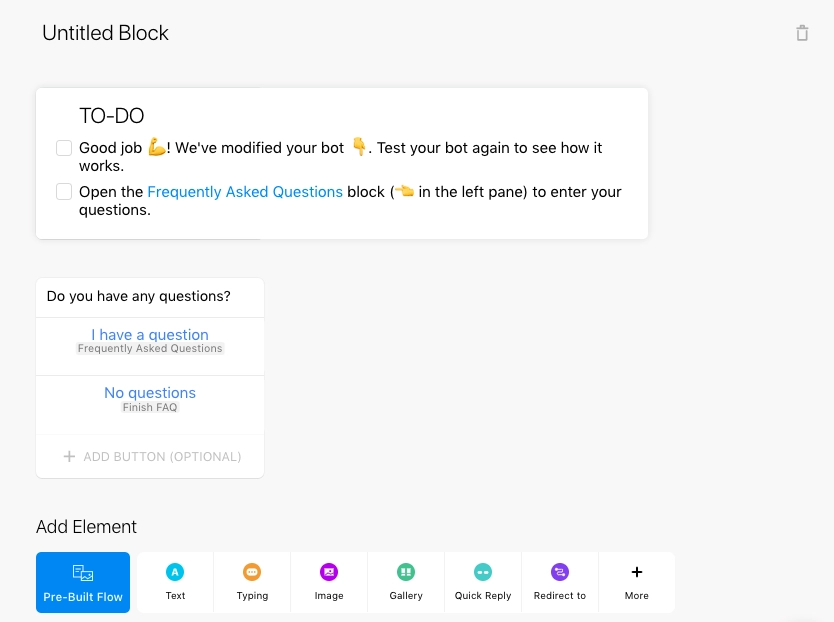 If you're building in the Automation → Flows tab
, use the Facebook Page Entry Point to set up basic FAQs and answers in your chatbot, called Icebreakers. Here's how Icebreakers work: When a new user arrives at the bot, they normally have to click or tap the Get Started button to initiate a conversation with it. But when you set up this Entry Point, you can have a handful of FAQ options appear on that first screen too, as other options for starting the chat.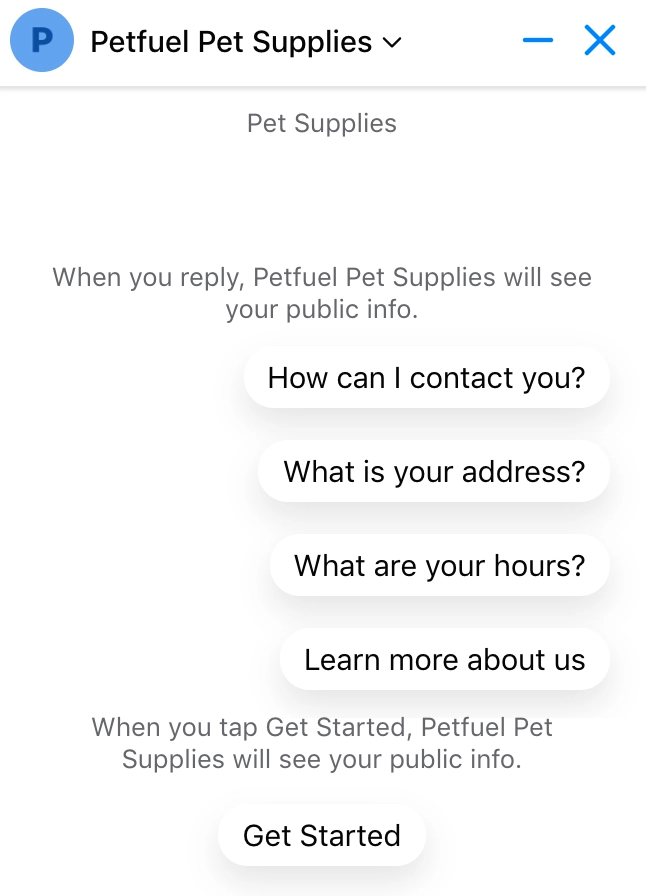 You can type in your own FAQs to display there as Icebreakers, and connect them to blocks that contain the answers.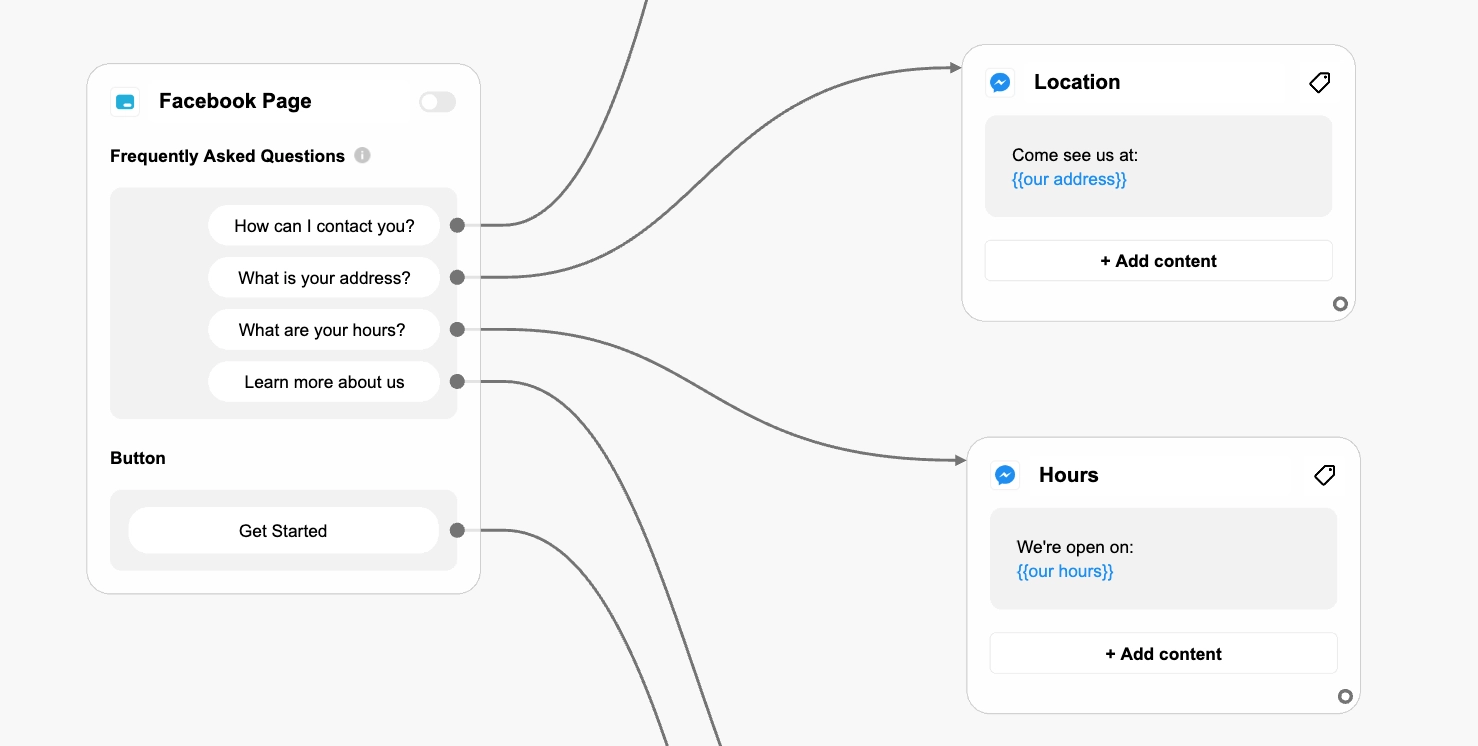 If you're building in the Automation → Flows tab
, you can also use our free flow template for FAQs. Here's a video that explains how to install and customize it.
Tips for improving your customer support chatbot
No matter how simple or complex your chatbot is, great conversational design and a clear sense of your brand voice are crucial. Beyond those, how much detail you add to your Facebook bot depends on the needs of your business. If you're looking for a more robust solution for providing the best customer service, consider incorporating some of these helpful add-ons to a basic bot:
A menu option for support access any time
The persistent menu is a navigation menu that users can access at any point during the conversation with your bot. You can link to your FAQ or customer support flow here. That way, users can get support from your chatbot at any time, no matter what they're currently doing in the bot.
If you're building in the Automation → Flows tab, use the Persistent Menu Entry Point to set this up. If you're building in the Automation → Blocks tab, you can edit the persistent menu in the Configure tab.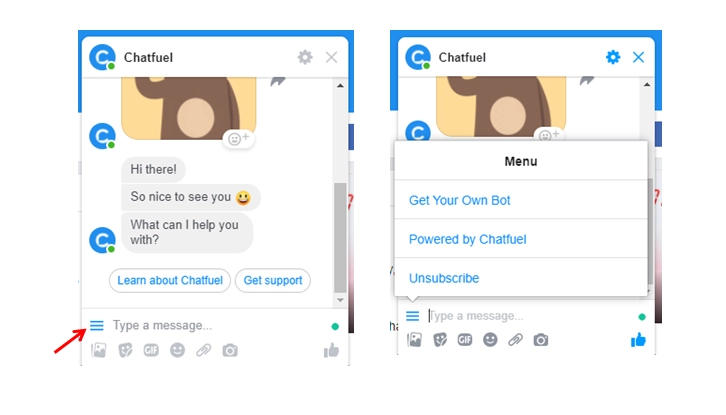 Artificial intelligence (AI) for smarter replies
AI can enhance a user's experience with your customer support chatbot. It helps the bot understand the user's intent so it can give accurate, helpful responses to free-form text input. You can create basic AI rules in the Set Up AI tab (under the Automation tab). Here's how AI rules work: If a user's typed, custom message includes one of the keywords in your rule, the bot will respond with the answer you've set.
The option to chat with a human instead
The debate is not technology vs. human interaction. Instead, the best support experiences combine the two. Chatbots for customer service should as the first line of defense for support teams. Then, if a user has a more complex question, set up Live Chat so the bot can pass them along to a human agent. That agent can pause the bot flow to jump in and resolve the user's query personally. When they're finished, they can resume the flow so the user can continue their conversation with the bot.
And if you'd like to track these support-team interactions via tickets in your CRM, you can make use of Chatfuel's conversation handover. It lets you integrate your third-party CRM so the agents on your team can continue to work through that software, even when taking over conversations from the bot.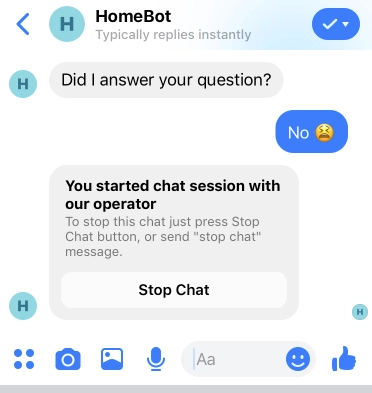 Tags for different types of users
User attributes, or tags for users who chat with your bot, are a great way to track the effectiveness of your customer service bot. Just set your bot to assign attributes to users based on their interactions: what source they come from, whether they use live chat or not, etc. Then, you can measure how their support experiences may relate to more purchases, a higher LTV, etc. over time.
A way to monitor and optimize
There's room for improvement in every bot, no matter how simple or complex it may be. It's important to monitor your chatbot's performance often and optimize as needed. Here are a few ways to do that:
Inline stats. These at-a-glance statistics will show you how many users have viewed and clicked on each block in your Messenger chatbot's flow. It's an easy way to pinpoint any bottlenecks or drop-off points in the customer support experience.
A/B testing.The A/B Test plugin lets you show multiple versions of the same blocks to different groups of users. If one version performs significantly better than the other, you can make that change final in your Facebook chatbot for an improved user experience.
Ask your users. One of the simplest ways to see if users find your customer support chat bot helpful is to ask them! At the end of the conversation, your bot can request that they rate their experience via quick replies. (You can even use the Save User Input plugin if you'd also like to gather text comments from them.) Then, adjust your bot as needed based on the feedback you receive.

‍
How to bring customers to your support chatbot
You want your customer support chat bot to be available wherever prospects and customers are when they have questions. That's where Chatfuel's Entry Points come in. If you think of your chatbot like a freeway, Entry Points are like on ramps. They direct new users to your bot from outside sources. Here are a few Entry Points that are especially useful for customer service chatbots:
Customer Chat (when your chatbot appears in a small window on your website). There are two support scenarios where this Entry Point is especially helpful. First, a potential customer might be browsing your website and have a question about a product or service. Your bot can pop up and offer help, answering their questions and moving them toward a purchase or lead capture. Second, an existing customer might visit your site specifically looking for a way to contact support. The bot can appear and offer help as your support team's first line of defense.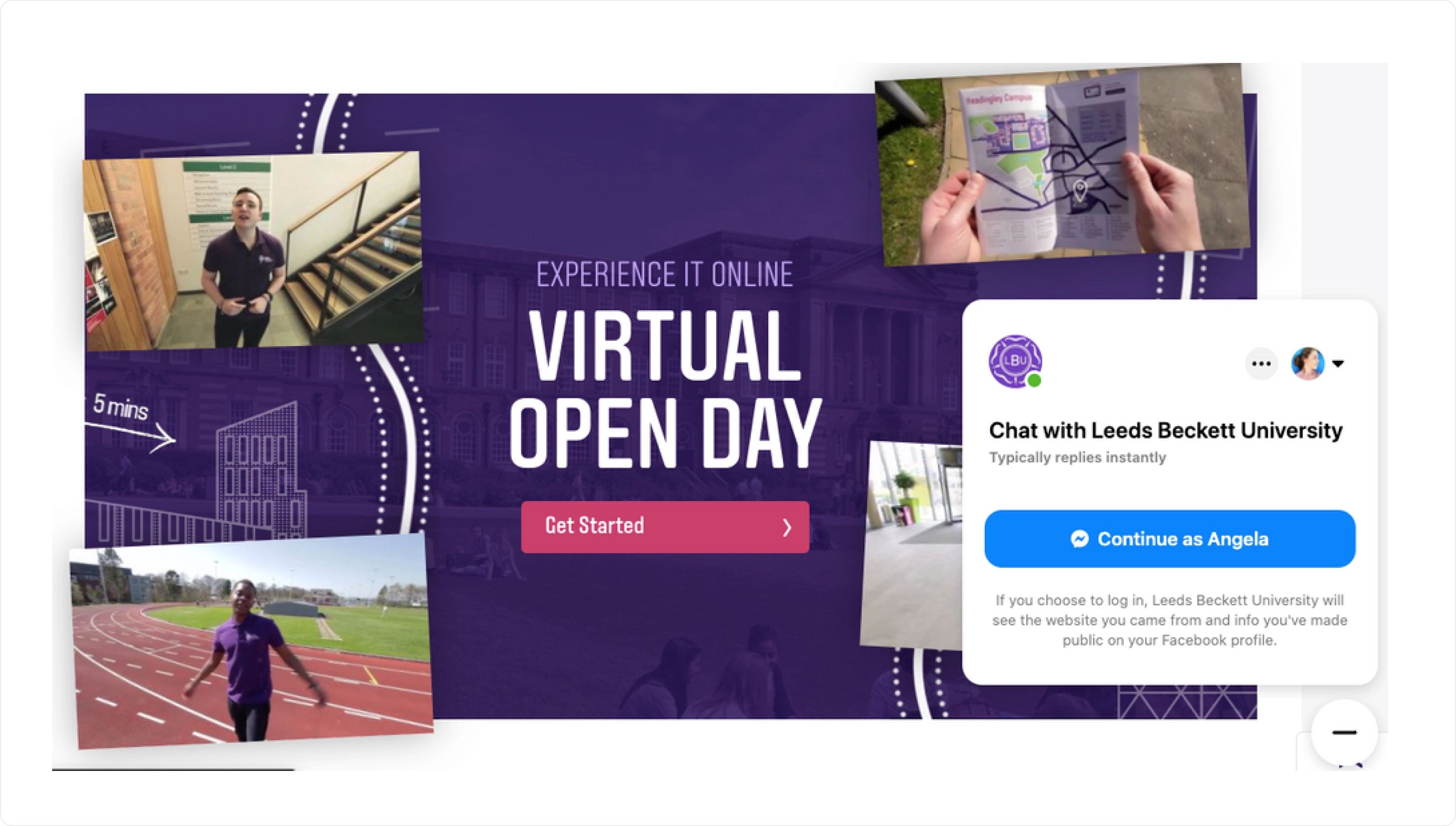 Facebook Page (when visitors are led to a chat with your bot after clicking the button on your Facebook page). If your Facebook Messenger inbox is constantly flooded with questions from prospects or customers, this Entry Point is a great option. It'll send those who try to contact your page right to your chatbot, so it can assist them immediately. And, as mentioned above (in the How to set up a customer service chatbot section), you can use this Entry Point to automatically set up your first few basic FAQs for you, as Icebreakers.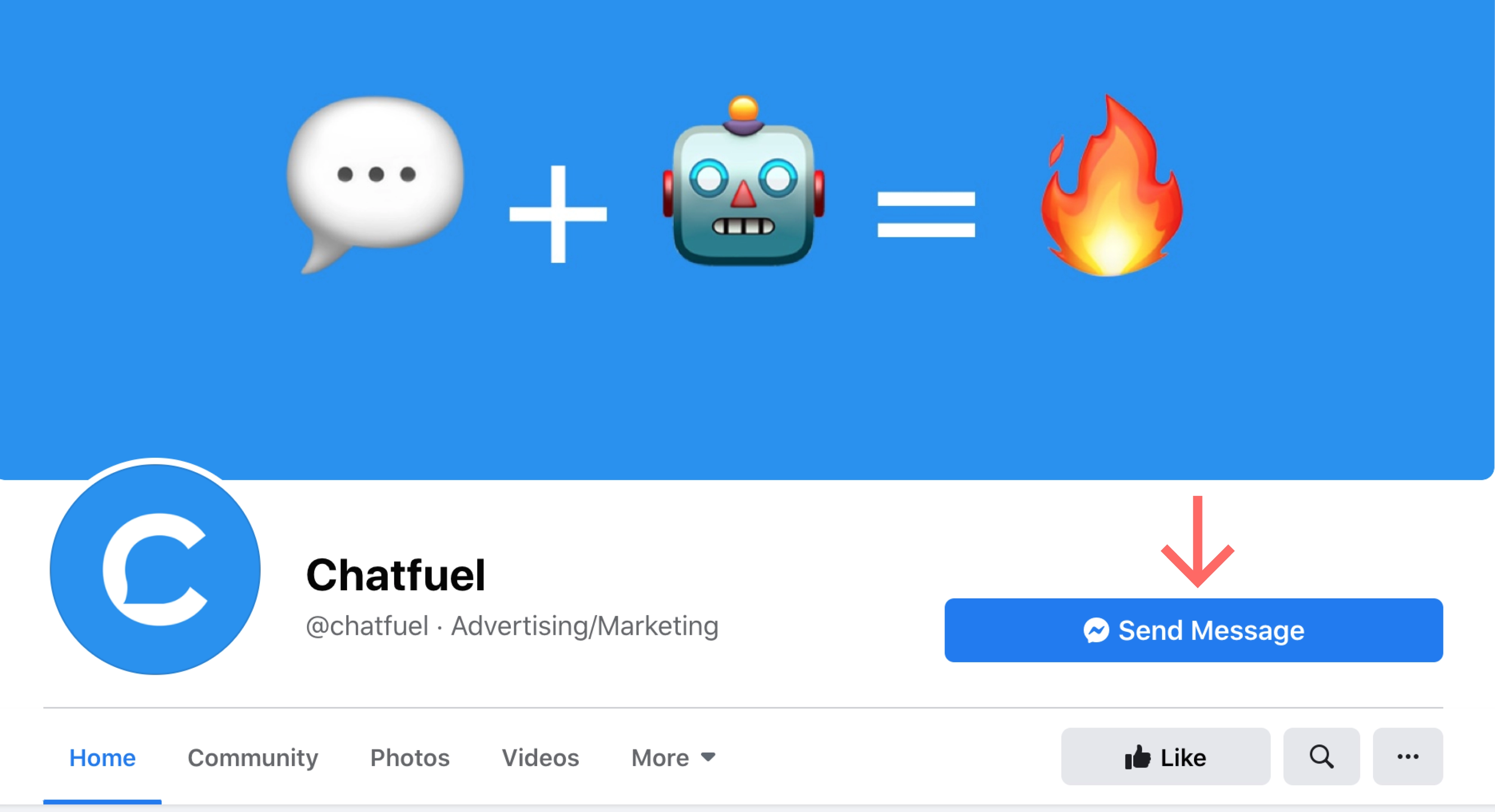 And of course, we recommend making use of the Persistent Menu Entry Point too, as mentioned in the previous section. There are also two other Entry Points you might find useful for your support bot in certain cases: REF Links, and Send to Messenger. Learn about them all in this video tutorial. 👇
‍
Excellent customer service chatbot examples
Here at Chatfuel, we've seen plenty of major clients build incredibly effective Facebook chatbots for support. First, one of the best customer service chatbot examples is 3D Mats, an online store for car accessories. They built a chatbot that answers FAQs, and uses a product quiz to help customers find the right accessory for their car's make and model. The result: a 70% reduction in repetitive inquiries!
Another top example of customer support chat bot case studies comes from the meal-kit delivery service HelloFresh. Before they built a Messenger bot, their average customer response time was five hours. Once they launched the bot, that time dropped to an hour and eleven minutes—a 76% decrease, despite a 47% increase in total message volume! It's all thanks to the fact that their bot now handles a large portion of inquiries, which frees up their support team to help customers with more detailed questions.
Build your own customer support chatbot for free
What is customer service? It's more than just a problem-solving conversation. It's an opportunity to impress your customers, and to build loyalty and LTV. With customer service bots, you can ensure your customers receive this kind of high-quality support every time. Chatbots in customer service is a trend that's here to stay, because no brand can afford to lose out on business because of long response times or inconsistent support.
Ready to get started with customer service software for your business? Sign up for a free Chatfuel account to build your first chatbot for support. When you're ready to scale your support bot to unlimited users (and access lots of other perks), upgrade to Pro. Happy botting.