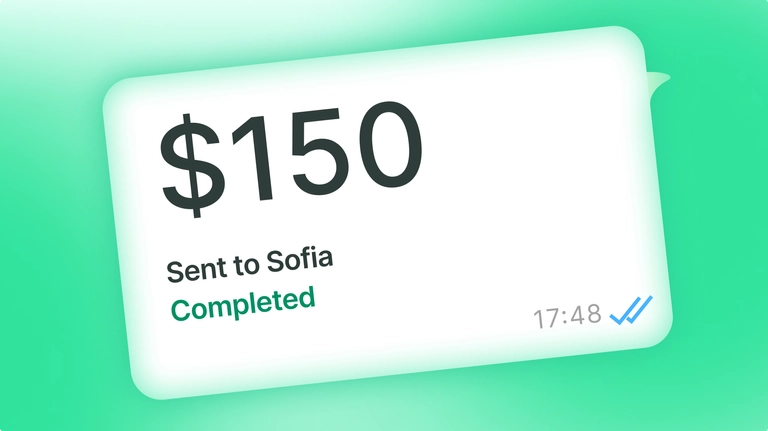 Published July 5, 2023 in
WhatsApp Pay: how to send and receive money
Let's discover what WhatsApp Payments (WhatsApp Pay) is, how it works, where it is available, and more.
With India and Brazil leading the way, WhatsApp is entering the payment processing arena. This new feature makes users' lives easier and enables businesses to operate more efficiently.
In this article, we'll discover what WhatsApp Payments (also known as WhatsApp Pay) is, how it works, where it is available, and more.
Let's get started.
What is WhatsApp Payments?
WhatsApp Payments is an in-app feature that allows WhatsApp users to easily send and receive money from other users and businesses. This payments service lets users transfer money as easily as sending a text message. It is a convenient and secure way to manage money transfers without having to resort to third-party applications. As of May 13th, 2023, the feature is only available in India and Brazil.
How does WhatsApp Payments work?
WhatsApp Payments are powered by financial partners, which are different based on the country that you are in. In India, the feature is enabled by the BHIM UPI platform and processed by payment partners like SBI, Axis Bank, HDFC Bank, and others. In Brazil, the feature is enabled by Meta Pay, and payments are processed by trusted local partners.
The best part about the process is that there are no fees. This applies to money transfers done in both India and Brazil.
WhatsApp Payments in India
The WhatsApp Payments feature was first released in beta mode in India in 2018. It was a soft start, with 1 million users given access to test the feature by early 2022. But after a positive reception and a long regulatory approval process, the Indian government finally agreed to a gradual release of the feature through the summer of 2022.
WhatsApp Pay is now available in ten regional Indian languages, and it can be used by both Android and iOS users.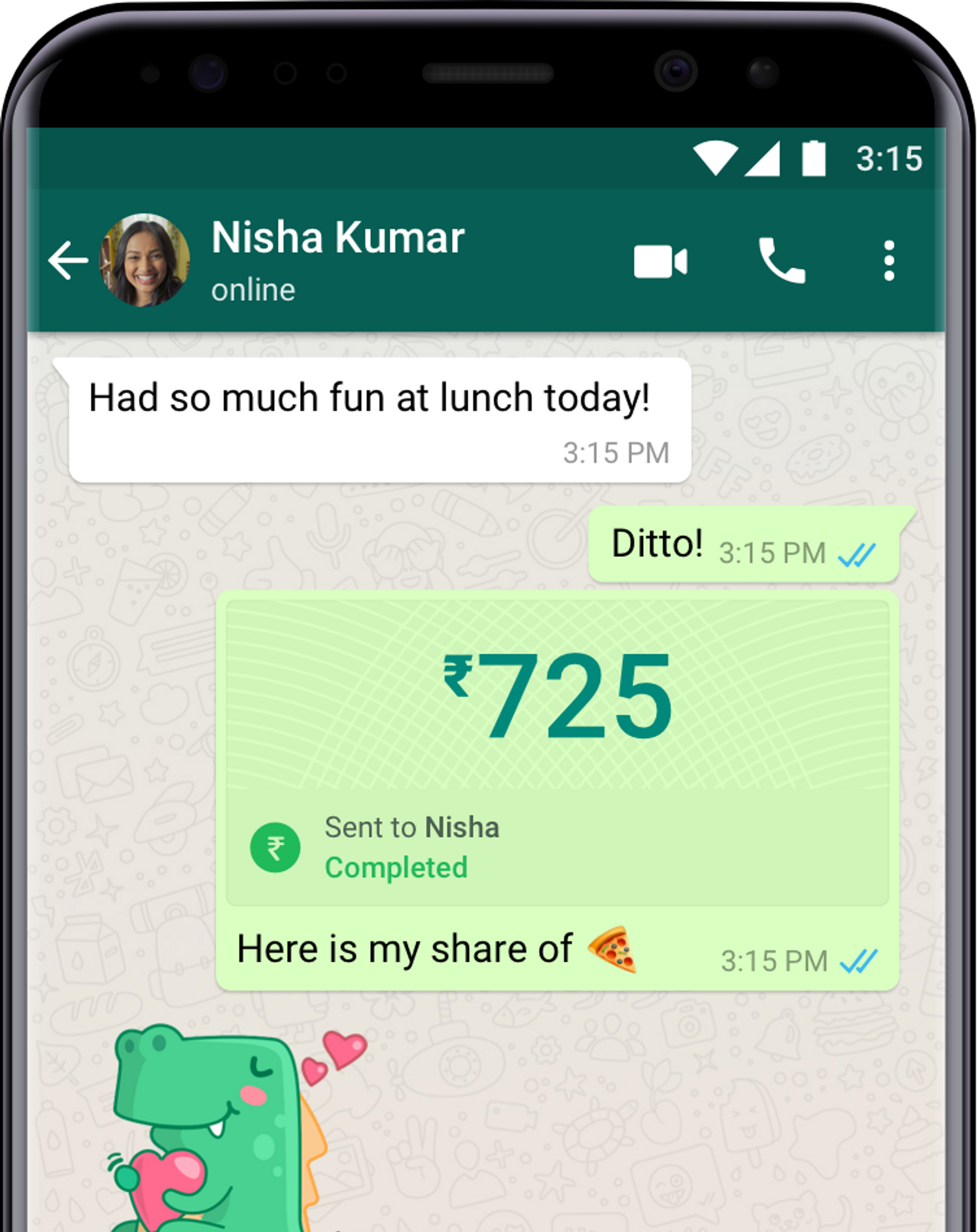 How to send and receive money on WhatsApp Payments via UPI
If you've already signed up for WhatsApp Payments, the process of sending and receiving money is very simple:
Open the chat with the person you'd like to exchange money with and click on the paperclip or the ➕ button.
Select Payment.
Enter the payment amount.
Follow the on-screen prompts to verify your UPI pin.
You'll see a message confirming that the transfer has been made.
Please note that UPI is only used in India.
If you need help signing up for WhatsApp Payments, see below the steps on how to do it.
WhatsApp users in Brazil can now pay merchants through the app
In Brazil, the payment feature has a business use as well. Not only can users pay their friends and family, but they can also pay small businesses directly within the app. This allows companies to quickly and securely collect payments from their customers. And since there are no fees, this is a great tool to accept payment, boosting local commerce.
Pay small businesses in Brazil on WhatsApp
To pay a business on WhatsApp in Brazil, you will first have to set up WhatsApp Pay. Then when the time comes, you will have to search for a company or brand in the WhatsApp business directory. Once you find one, you can browse their goods and services, add them to your cart, and make a payment in just a few taps: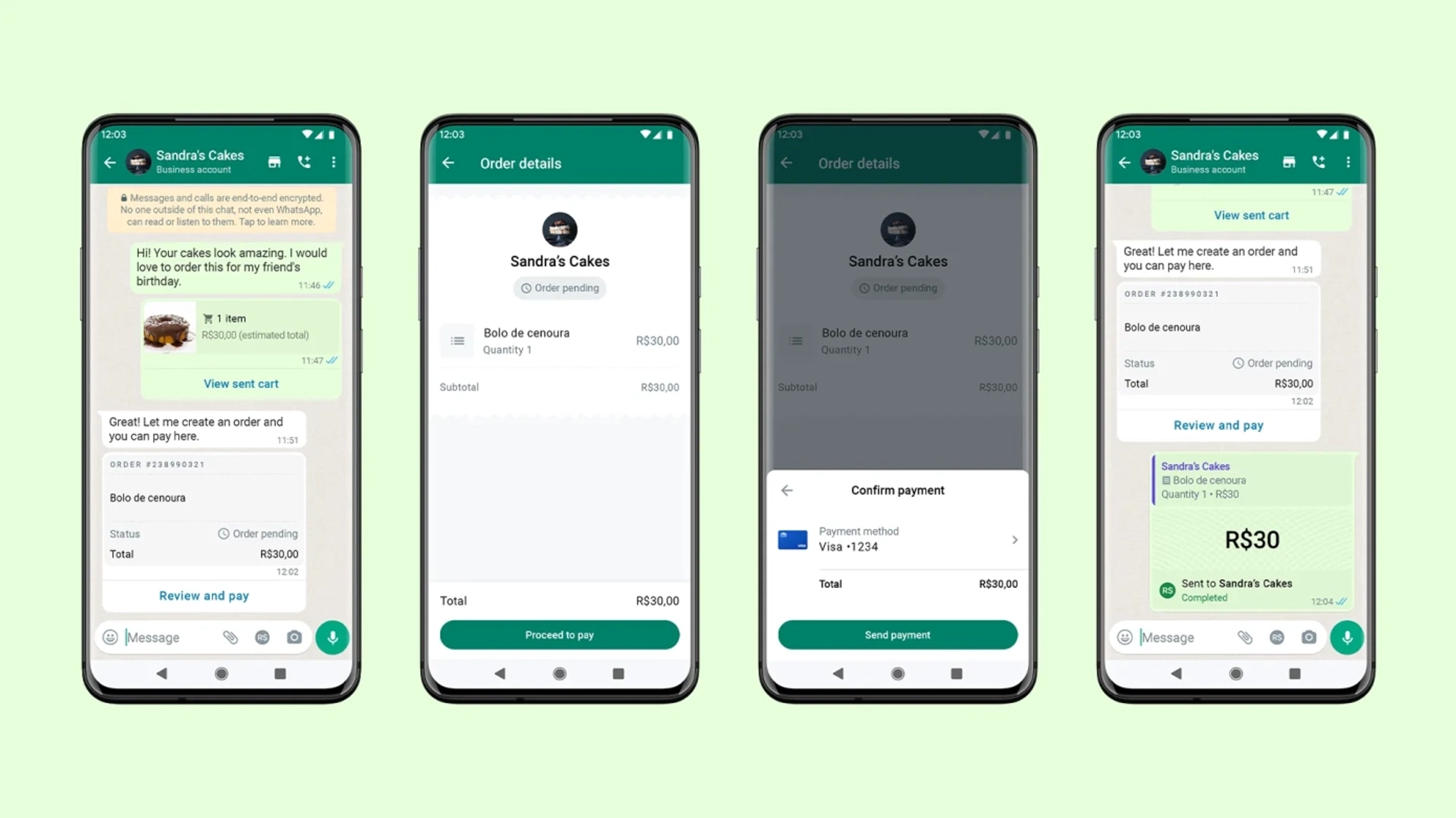 How to set up and send money on WhatsApp Pay (Android)
Here's how to set up WhatsApp Pay in India
Open WhatsApp and click on the three dots in the top right corner.
Select Payments → Add new payment method.
Choose your bank from the list provided.
Verify your phone number.
Once verified, set up a UPI PIN if you don't already have one. If you have a UPI PIN, you'll need to enter it.

Here's how to set up WhatsApp Pay in Brazil
Open WhatsApp and click on the three dots in the top right.
Select Settings → Payments → Facebook Pay → Add New Card.
Enter your card details (debit / credit card number, etc.)
Accept the terms and conditions.
At this point, you will need to verify your card. Usually, this involves a verification code sent via SMS to the phone number connected to your bank account.
Enter the verification code once you receive it.
Create a six-digit Facebook Pay PIN. You will use this PIN in future transactions.

Equip your business to operate more efficiently
If you own a business in Brazil, you absolutely need to take advantage of this new WhatsApp feature. And not only that, but you need to ensure that you leverage the best tools to streamline operations, improve customer service, and maximize efficiency. One such tool is Chatfuel — a leading chatbot platform that you can directly integrate with your WhatsApp business account.
With our Chatfuel WhatsApp integration, your business can provide prompt, automated answers to customer inquiries, process orders, and even handle payments. Chatbots operate 24/7, ensuring your customers always have access to immediate assistance. Also, by letting the chatbot handle routine operations, your employees will be able to focus on more complex tasks.
Don't wait, sign up for your no-risk free trial today and experience the power of WhatsApp + Chatfuel.