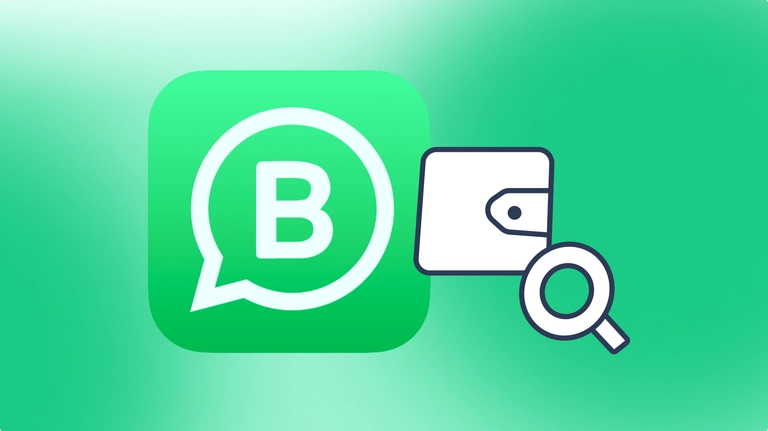 Published August 30, 2023 in
WhatsApp Business pricing: how much does it cost (including API)
WhatsApp is a top popular platform, with 2+ billion users. Explore what WhatsApp Business and API are and how much they cost to implement.
WhatsApp is the most popular communication channel on the planet. With over 2 billion monthly active users worldwide, it went far away from being only a platform for communication with friends and family. Today it is an important channel for businesses to communicate with customers on their favorite app.
WhatsApp Business and API offer several features unavailable in the regular WhatsApp app. So let's dive in and explore what WhatsApp Business and WhatsApp API are and how much it costs to implement them.
What is WhatsApp Business?
WhatsApp Business app was launched in 2018. As evident from its name, it was designed specifically for businesses to connect with their customers and leads. It is a free-to-download app available on Android and iOS devices. It allows companies to create a business profile and communicate with customers using various messaging tools. This includes automated messages, message templates, and quick replies.
WhatsApp Business is an enhanced version of the consumer app designed specifically for small businesses. It allows businesses to add a company bio, opening hours, and a product catalog and use basic automation such as auto-replies and quick replies. However, the app can only be accessed by four users simultaneously, which may make it less efficient for larger businesses with high message volumes.
WhatsApp vs. WhatsApp Business vs. WhatsApp API
WhatsApp is a great free solution for personal use and not for businesses. It allows users to easily stay connected with friends and family through messaging, voice, and video calls. Many people use the app as an alternative to calling or texting loved ones in other countries, ensuring that they stay connected in the most convenient way possible.
Both WhatsApp Business and WhatsApp API are developed for business use.
WhatsApp Business is specifically designed for businesses and has features unavailable in the regular app, such as automated messages, message templates, and a business profile. On the other hand, WhatsApp API is a paid service that allows businesses to integrate WhatsApp messaging into their own applications.
WhatsApp Business API is a valuable tool for improving customer service and streamlining communication efforts. In addition, companies can integrate their messaging system with their existing customer support system, allowing them to manage and respond to customer inquiries efficiently. For example, to send messages in bulk and reach many customers simultaneously to announce new products or services.
In expansion, the API enables verified businesses to integrate WhatsApp with their customer relationship management (CRM) system. So that companies can easily keep track of their customer interactions and use this information to improve their services and tailor their marketing efforts.
Below is a breakdown of WhatsApp Business and WhatsApp API's features: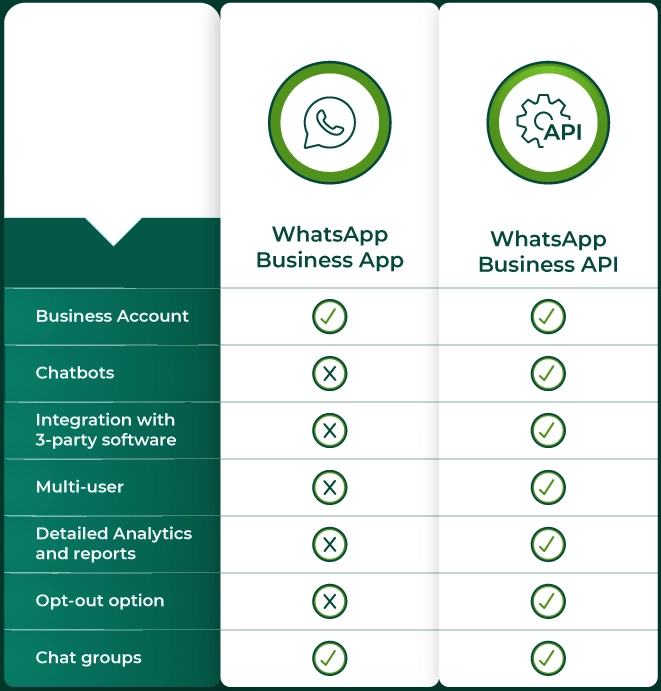 As WhatsApp Business and WhatsApp API have different features, their pricing varies too. Let's look at both so that you can estimate the monthly costs for your business.
WhatsApp Business pricing
WhatsApp Business is a free app, meaning that businesses can download and use it for free. However, there are some costs associated with using the app's features. For example, businesses may be charged for sending certain types of messages, such as session messages and message templates.
WhatsApp Business uses a conversation-based pricing model, meaning businesses are charged based on the number of conversations they have with their customers. Each conversation starts with an initial message, which is free of charge. However, WhatsApp charges brands for their business-initiated messages sent within the same conversation. The cost of these messages varies depending on the message type and whether the user or the business initiates it.
WhatsApp Business API costs
WhatsApp Business API is a paid service that allows businesses to integrate WhatsApp messaging into their own applications. The cost of the service varies depending on the provider and the number of messages sent. Some providers charge a flat fee for the service, while others charge per message.
For example, Meta-approved tech provider Chatfuel offers the latest official version of WhatsApp Business API and pricing as below: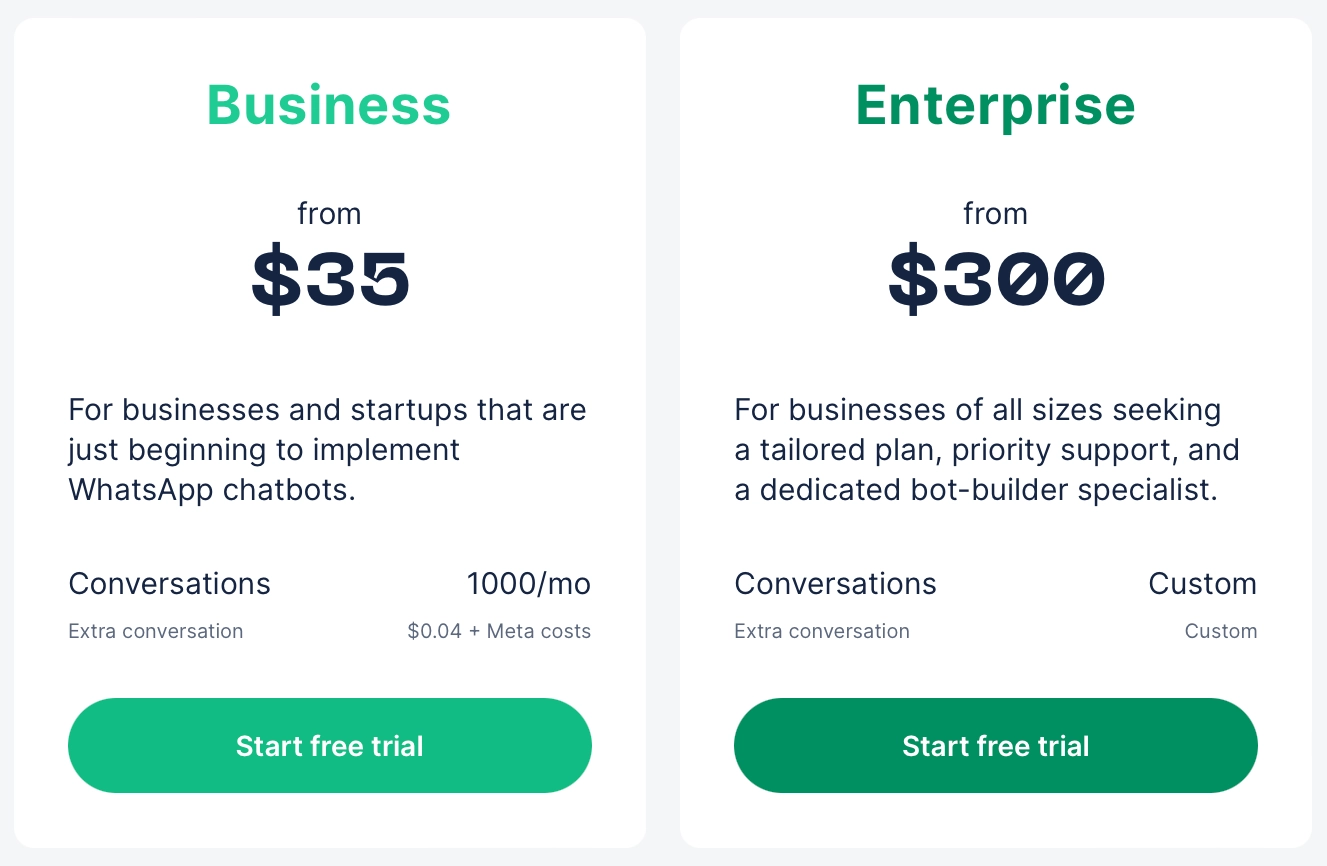 Plus, with Chatfuel, you can get a verified green badge and integrate the latest generation of ChatGPT right into your WhatsApp chats for incredible engagement, customer support, sales, and more.
Use the whole WhatsApp potential for your business
WhatsApp Business and WhatsApp API are great tools that you can use to communicate with customers, enhance and personalize communications, and improve the overall customer experience and revenue.
If you are looking to integrate WhatsApp into your marketing strategy — it's the best moment to do so. Most of your existing and potential customers use WhatsApp multiple hours a day.
So get a free account today to keep in touch with them on a 24-hour basis and take the maximum out of the most popular messaging platform and its features.