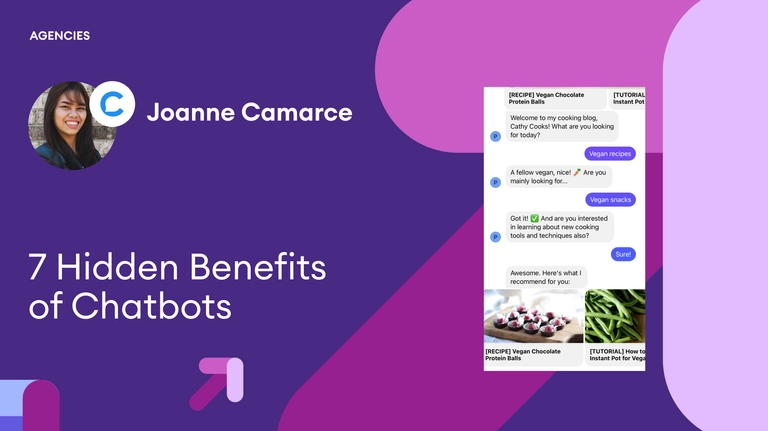 Published July 25, 2023 in
7 hidden benefits of chatbots, from improving SEO to informing content strategy
Chatbots are known for answering questions and boosting sales, but they can also help with SEO, content marketing, ads, and more.
You're probably already familiar with the most common uses for chatbots. They can help businesses do things like:
Answer FAQs instantly, 24/7
Generate and qualify leads
Recommend products
Move shoppers down the funnel
But what many business owners and marketers don't know is that chatbots can help with other areas of your business too. They can help improve SEO, skyrocket digital ad performance, boost customer retention, and lots more. So whether your business already has a chatbot or you're considering building one, scroll to learn about several extra perks they can bring to your brand.
Chatbots can decrease your website's bounce rate for SEO
Bounce rate is the percentage of a website's visitors who only visit a single page on the site before leaving. While these statistics don't count toward your search rankings per se, websites that appear higher on Google do tend to have lower bounce rates.
Website abandonment is a real issue, especially for online merchants. In fact, the average ecommerce site experiences [bounce rates of around 42%. Why? Because typically, websites with high bounce rates have user experience (UX) issues. Their pages often aren't intuitively designed, which makes it difficult for visitors to navigate. And if people have to spend too much time trying to find what they want, they'll simply go elsewhere.
Chatbots can help decrease bounce rates by offering navigation help from the get-go. You can add a chatbot to your website and set it up to ask questions that get straight to the heart of a customer's issue. From there, it can point them in the right direction—whether that's to an information page, a product page, or even to a live agent.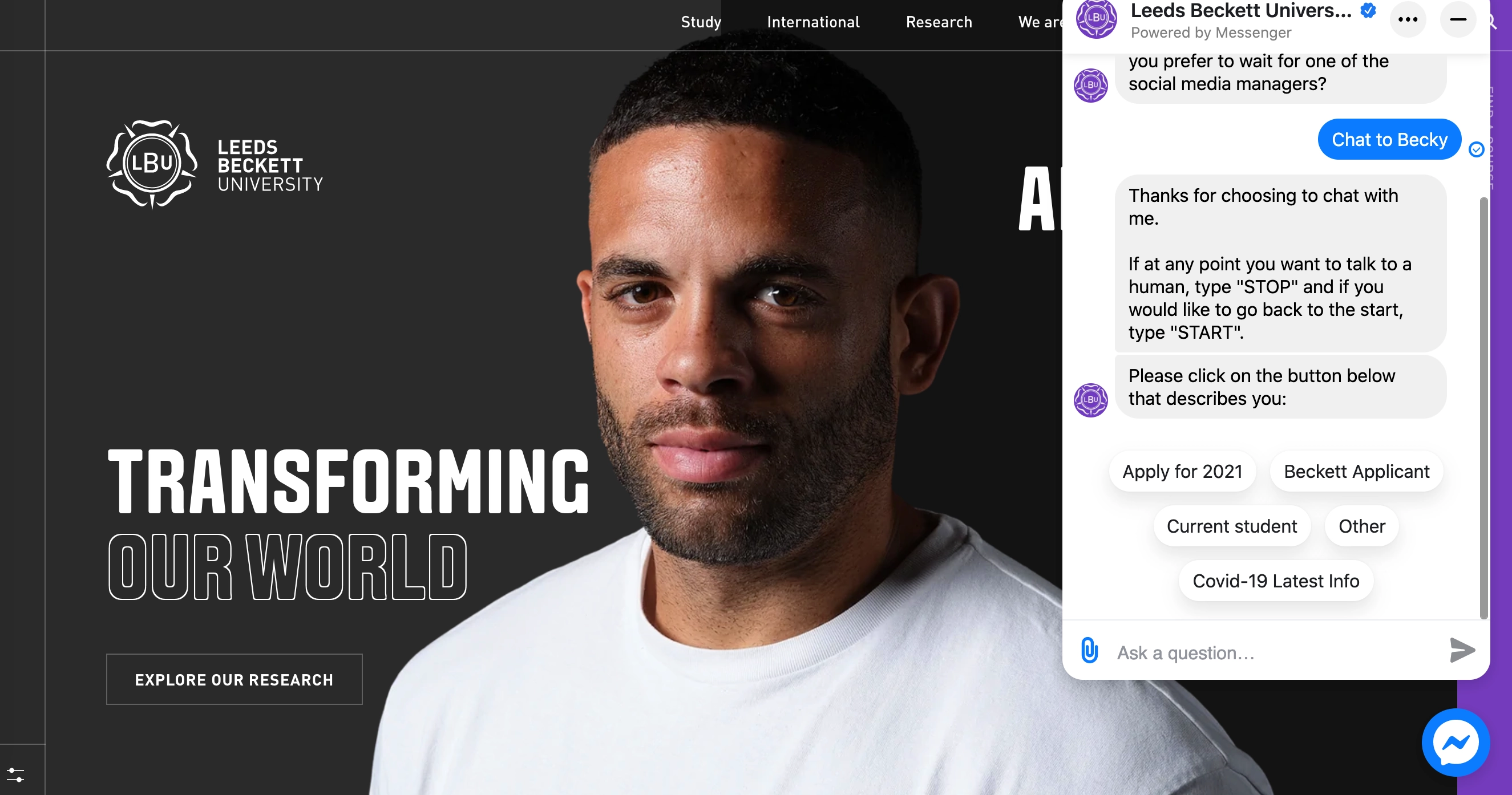 As Nicolina Savelli, Wily Global's Content and Social Media Marketer, explains: "[Chatbots] dramatically decreased our bounce rate to 2%. […] The option forced users to browse longer and ask questions, rather than bouncing off the page."
Chatbots can increase session duration for SEO
Session duration is the amount of time that people spend on your website before returning to the SERP (search engine results page). Google uses session duration to help rank your website. Longer website sessions, for example, show the algorithm that your website's information is relevant to the search that led the visitor to it.
39% of B2B marketers already say that conversational marketing techniques like chatbots will increase the time visitors spend on your website. It's similar to how Messenger bots decrease bounce rate: they can help customers find the information they're looking for more easily (and maybe some extra information they didn't know they needed).
Visitors can ask for help on specific problems and chatbots will provide personalized answers that guide users to the correct information. Or, if the visitor isn't looking to solve a specific problem, chatbots can help increase their session duration by asking them a few questions and recommending relevant content.
Chatbots can improve your customer service ratings
For local businesses, reviews are the third most important ranking factor if you want to make the cut for Google's Local Pack. And even if your business isn't geared toward local services, reviews still feature as a top Google ranking factor since they boost your site's reputation.
Improving the customer experience is one way to get positive reviews on sites like TrustPilot and Yelp as well as on your Facebook page—and the keys to a great customer experience are personalization and speed. 88% of marketers agree that customers have come to expect personalized service. And if it's not available immediately, they're likely to abandon your brand for the competition.
Messenger chatbots can improve your customer service in both of these areas. First, thanks to user attributes, bots can personalize the conversation with everything from the user's name and time zone to preferences they've shared in past chats. And, of course, chatbots are available to answer questions instantly, 24 hours a day. Studies show that they can boost customer satisfaction by a quarter and speed up response times by 300%.
Look at the HelloFresh chatbot, for example. Their "Freddie FreshBot" automatically messages customers who leave comments on HelloFresh's Facebook posts. From there, the bot can answer questions, share coupon codes, and suggest recipes.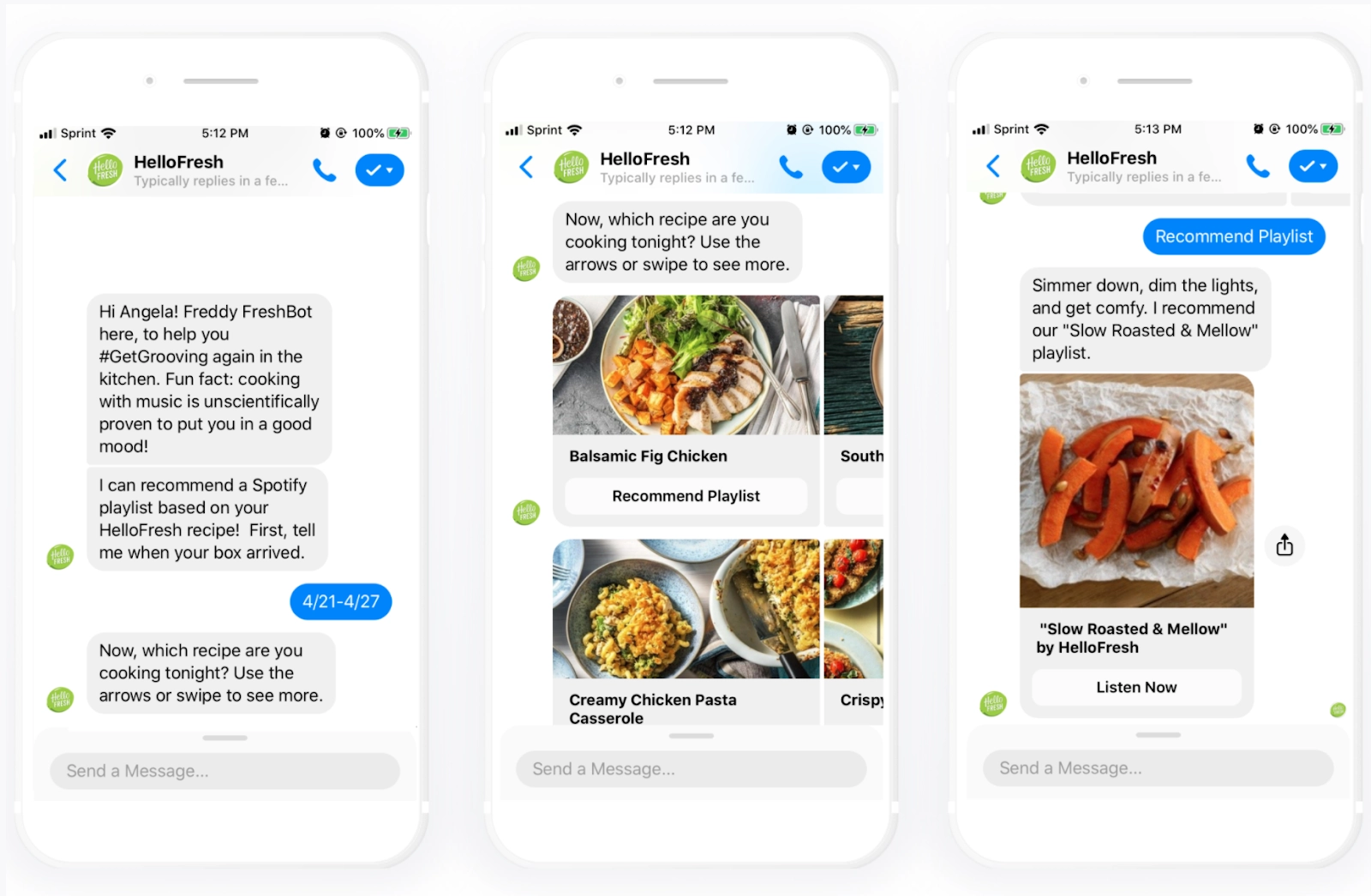 The result? HelloFresh's response times are down 76%, which leads to lots of satisfied customers, as you can see from the 24,000 five-star reviews HelloFresh now has.
Chatbot data can inform your content marketing strategy
Content marketing is one of the most powerful ways to improve your search rankings. By identifying important questions that your target audience may have and answering them through great content, you demonstrate the authority and expertise of your brand. By optimizing this content with keywords related to these issues, you push your site up search engine rankings.
While keyword research can certainly help you find out what your customers are searching for, it's sometimes easier to hear it straight from the horse's mouth. That's where chatbots come in, because they can directly learn more about what users need and are looking for through a friendly back-and-forth conversation or quiz. Right now, only 22% of organizations are using chatbots to collect data. That means 78% are missing a huge opportunity to better inform their content marketing strategies.
By collecting chatbot data, you'll be able to discover the most commonly asked questions and biggest challenges that your customers face. These takeaways can guide your content strategy so that you have a clearer idea of the types of articles, guides, product videos, etc. that your customers will find useful. In turn, you'll end up ranking higher for key search terms that are relevant to solving problems within your specific target audience.
Chatbot data can improve your social media ad performance and ROI
We've already discussed how chatbots are great tools for getting to know your customers better. The good news is that this customer data can also help improve the performance of your social media ads. The more you learn about your audience, the more precisely you can target them.
Take Beauty Player, a Taiwan-based ecommerce shop for skincare products. At first, their ads were expensive and underperforming. But then they launched a chatbot and started gathering data about their users that way. They used that data to create custom and Lookalike audiences for their Facebook ads. The result? The brand reduced their cost per conversion by more than half — from $8.30 to $4.06 —and got a 10x return on ad spend.
Chatbots can encourage social sharing
Your social media strategy should strive to increase brand awareness by encouraging your audience to share your content for you. Known as the "snowball effect," you'll gain more traction when your fans share your posts since your content will then seen by their audiences too. It's one of the most effective ways to build brand awareness quickly.
To get this effect started, build a chatbot that serves a useful purpose to your target audience. Then, encourage them to share the link to the Facebook bot with their friends, who are typically like-minded individuals.
The Taiwanese political party, Can't Stop This Party, used this technique to great success. Founded by young people, the party wanted to urge other young voters to take part in the election. They created a Messenger chatbot that educates voters on the issues and reminds them to head to the polls on election day. The helpful, engaging, and interactive bot was a huge success with its initial user base, so those people shared it. As a result, more than 40,000 youth turned out to vote in the elections! That's the power of social sharing.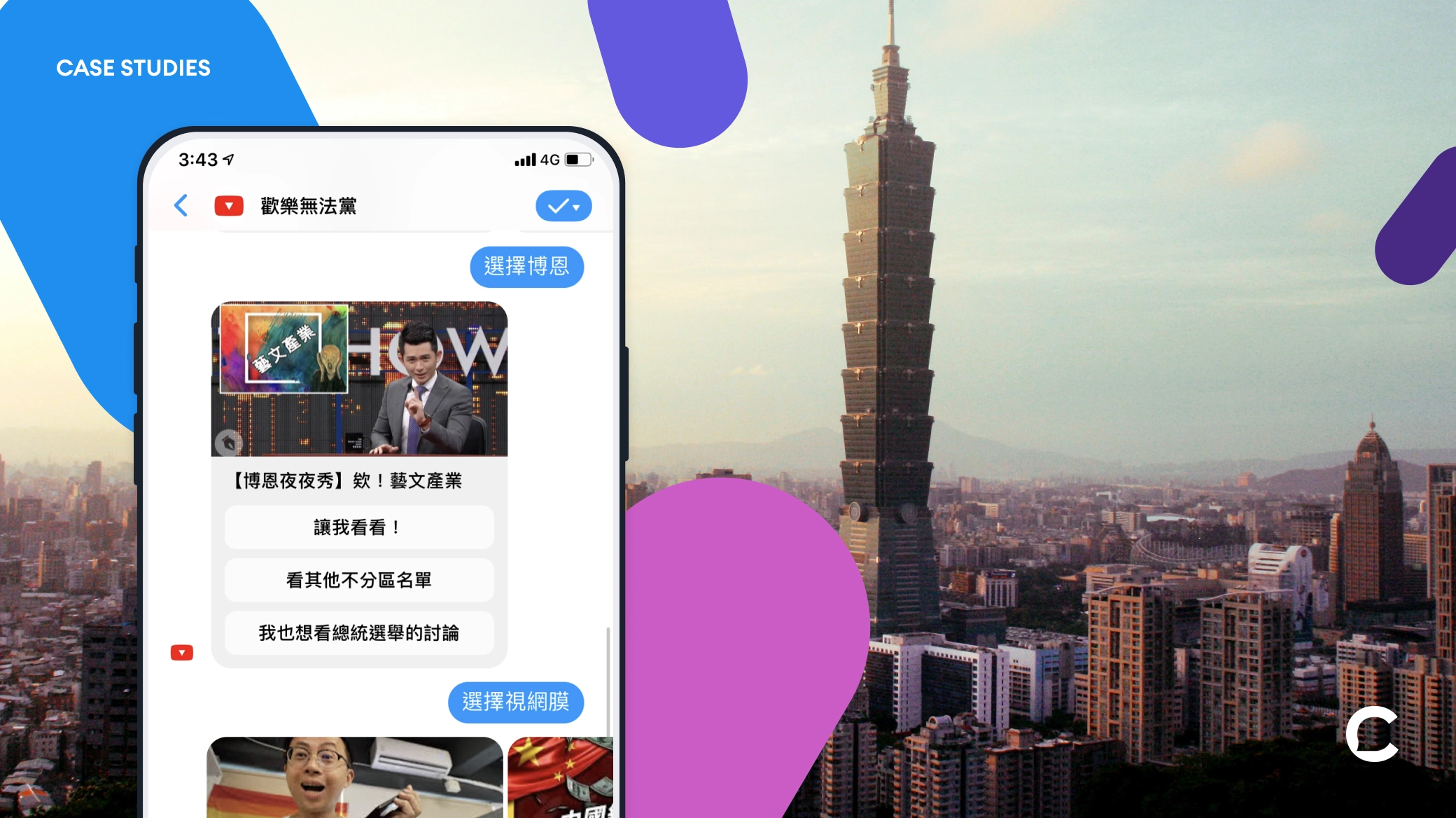 Chatbots can boost customer retention
Acquiring new customers can get expensive, since it's common knowledge that you need eight touch points with a prospect before you'll get the sale. Of course, customer acquisition needs to be a part of every business's strategy. But retention should be too, since it's cheaper and more efficient to focus on recapturing past customers who have already proven they liked your product or service.
Netting return customers relies on a range of factors, including how well you know them, how personalized your services are, and how slick your sales process is.
Let's consider personalization first. Nowadays, most consumers expect businesses to personalize their services. That's why most brands are now using personalization techniques in their customer retention strategies. And, as we've discussed, chatbots are ideal for this. In using more personalized customer service interactions like bots, over half of business leaders have found that they've ended up with more loyal customers.
Secondly, consider the userexperience of your sales process. Is it easy to buy (and buy again) from your brand? Consider that a third of retailers say it's hard to retain customers due to their long sales cycles. What's the correlation? It's simple: Customers don't want to buy from companies who make it difficult to purchase their products. The process needs to be fast, smooth, and efficient for the shopper.
That's where chatbots come in again. Messenger bots have the power to ease friction in the buying process, making it easy for customers to buy again. Check out the story of Photobooth Deluxe, for example. Recognizing that 95% of its customers came through Facebook, the photobooth company switched out its slow, manual ordering method for a super-efficient Facebook chatbot which can handle the whole process. In doing this, the brand was able to automate over $100,000 of orders within a few months, all because their bot made the repeat-buying process easy for customers.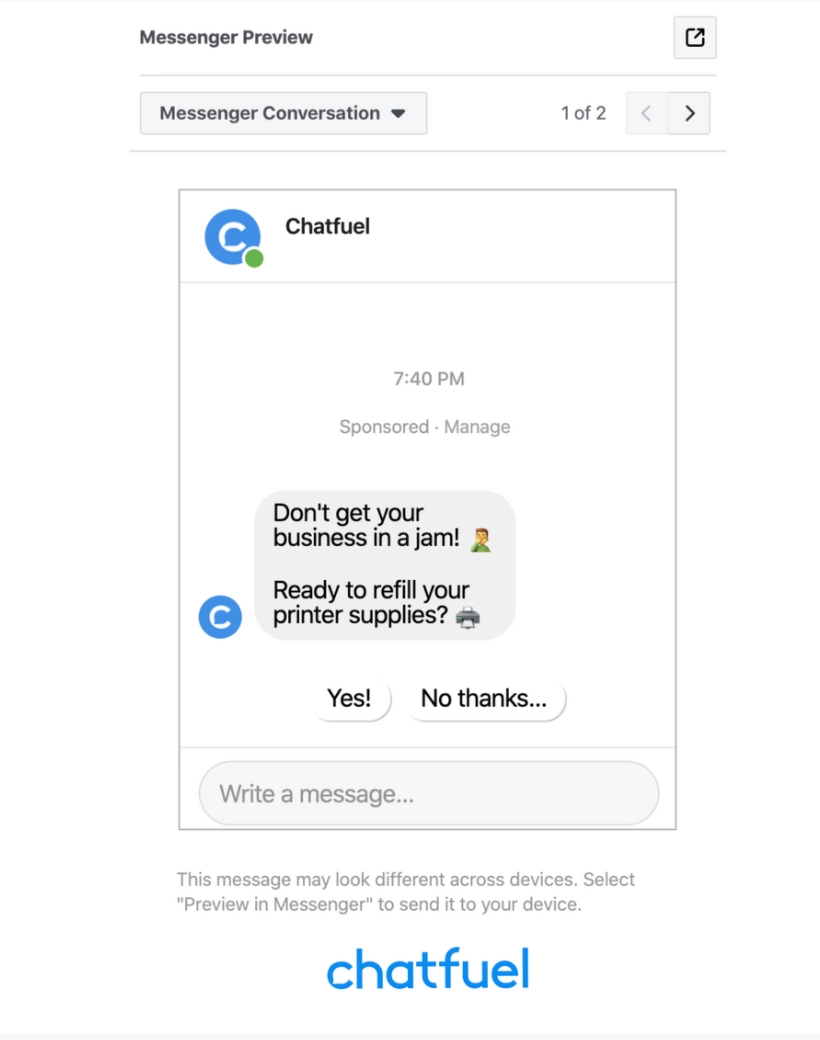 A chatbot is a multi-purpose tool for your business
As you can see, the function of a Chatfuel bot reaches far beyond simple customer service inquiries. Chatbots can now help to inform, shape, and amplify your SEO, content marketing, social media marketing, and more to help you boost brand awareness and drive sales.
Sign up for your free Chatfuel account to start building a Messenger chatbot for your business today.