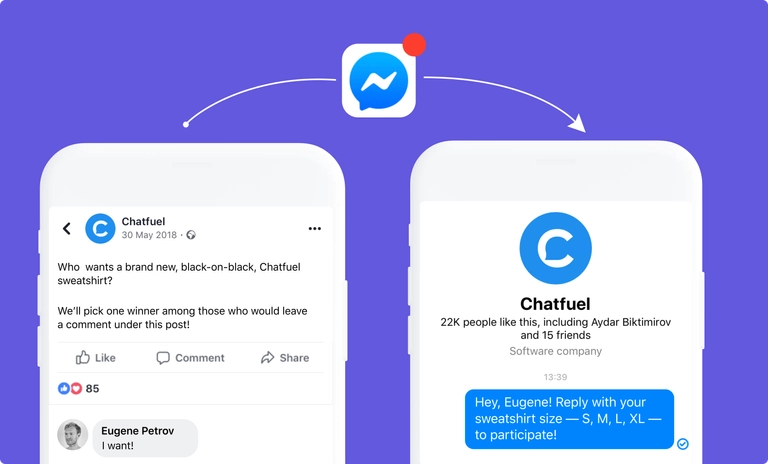 Published June 22, 2022 in
How to turn Facebook comments into customers with automation | Chatfuel
In this tutorial, I will explain how to set up Facebook comments autoreply with your own chatbot and why your business need this feature
Each Facebook user who comments on your Facebook Business Page posts is a potential customer. But manual replying to each person doesn't work as an effective sales funnel for many reasons. If interested users don't get a response about a product on time, they can leave the website and never come back. It might disappoint both sides: unhappy clients and unsuccessful businesses with low sales. But there's a solution.
Businesses can hire more staff to manage comments or post less on social media. However, it will not be as effective as automation is. In this article, we will tell how to use automation to respond to comments, how it can benefit your business, and show you how to set up the whole process in Chatfuel.
Types of users' comments
When your customers visit your Facebook Page, they might leave various comments, depending on what they need. Here are the main types of user comments:
FAQ. What's your location? How to book a table? Are your products cruelty-free? Can I get a refund?
Feedback. Thanks for the t-shirt, it fits me perfectly! However, I didn't like the book I bought from your store!
Contests and giveaways. If you run a promo, users who want to participate will comment on the promo post.
Emoji and others. Out-of-topic, "I'm the first" type of comments, words in other languages.
All the comments are equally crucial for user support and communication with customers. If you respond to your clients quickly and answer their questions on time, most likely, your customers will feel welcomed and valued. And most likely, they will make a purchase.
How automated responses to comments can benefit your business
With automation, you can save lots of resources. You and your team can set up the comment response process the way you prefer. For example, have your bot answer users' FAQs and send them your menu or catalog. Or, thank your customers for positive feedback and send them a promo code. If a user sends a complaint, your bot can redirect them to a Live Chat, where your team can find out more and find a solution.
Our clients from different industries shared some metrics to show how the Comments Autoreply feature benefited their business. For example, a baby-furniture brand DECEN® got its bot to handle 98% of customer inquiries. In addition, a meal-kit company HelloFresh decreased response time by 76% and got 47% more messages on Messenger overall. And there are more happy clients — you can check their cases here.
Setting up Facebook comments autoreply
Comments Autoreply is a feature in Chatfuel. When users comment on your post, they open a conversation with your bot. You can have your chatbot privately message all commenters or only those who used a specific keyword in their comment. Also, you can apply this rule to all posts or only a particular one. To set it up, go to Dashboard and open Automation → Flows.
In Flows, this feature takes the form of an Entry Point. An Entry Point is a channel through which you can bring new users to your Facebook chatbot. With the Comments Autoreply, you can:
Respond to comments (including posts, photos, albums, and videos).
Send a public reply to the user's comment and a private reply in Messenger.
Set a delay for the public, private responses, or both.
Add multiple public reply options and randomly set your bot to choose one each time.
Set up a reply and keyword triggers for existing bot users (different from the reply and triggers for new users).
With these options, you can set AI to answer FAQs, manage contests and giveaways or respond to reviews on your Facebook Page. We recommend setting up simple automation first and adding details later. That way, you can see what's missing and what to add to make your bot more successful.
Before launching, make sure your bot is connected to your Business Page and that you set up to view replies to posts on that Page. Also, you'll get to select and customize:
A Facebook post. Do you want your bot to reply to comments on every post or a specific one?
Rules. Do you want your chatbot to reply to every comment on that piece of content or only those containing specific keywords? You'll have the option to add keyword groups for your bot's replies as rules. You can have different answers for each keyword group if you have multiple or have them all lead to the same response. Or, you can leave the keyword spaces empty to have your Messenger bot reply apply to all comments.
Response. Here you'll decide what your chatbot says in response to user comments. It can be a public reply in comments, a private reply via Messenger, or both.
Time. You can set a time delay if desired or set up separate replies for existing users of your bot versus new users.
Rules
Link to posts published on your Page only
This feature won't work for posts created just for an ad and only existed in Ads Manager (dark posts). You can acquire users for your bot from comments on a boosted post, but only if it was initially published directly to your Page.
Only top-level comments will trigger the response, not replies
And it'll only work on the original post, not shared versions of it. Also, note that your bot will never message the same user more than once, no matter how many comments they may have left on that post.
Stickers and images cannot be tracked
For these acquired users to become bot subscribers, the first interaction must include actual text from both sides. Therefore, your bot's first message should contain text (same for the user's first reply). Stickers and images don't count for this, so use that first message to encourage a text response from users.
No engagement bait. Broad or irrelevant questions like 'Do you like dogs or cats? ' can bring you more comments. But it's not worth it in the long run. Facebook will detect it as an engagement bait and punish this with lower reach.
Tips
For customer's feedback and FAQs
Before setting up Comments Autoreply Entry Point to track your client's feedback, enable users to leave reviews on your Facebook Page:
Inbox → Automated Responses.
Toggle on one or both of the options under Respond to Feedback.
After this, set up two autoreply rules: one for positive reviews and one for negative reviews.
Use the first rule to thank users for their feedback, offer a discount, recommend products, or answer their FAQs. With the second one, you can offer a freebie or discount to users to make up for their experience. You can also use the Live Chat plugin to redirect them to a human agent to resolve the issue and learn what you can do to improve.
For contests and giveaways
First, create a Facebook post that tells users what to comment to enter. Then set up the Comments Autoreply feature, and you're ready to go! Your bot will engage with all participants and can reward the winners with a promo code. That way, your brand can get more leads or sales. Or both :)‍
We recommend avoiding SendandGet Message buttons in your posts. They can confuse users by adding extra call-to-action. So, they may not engage at all.
Start profiting from the engagement on your Facebook Page
If you're not guiding post-commenters into your sales funnel via chatbot, you could be missing out on sales. So instead, turn the commenters into customers with the Chatfuel Comments Autoreply feature and grow your profit. Sign up today to get started.