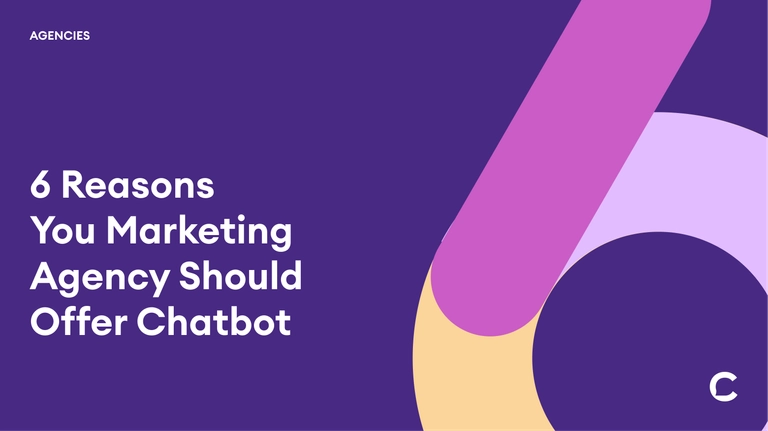 Published July 24, 2023 in
Marketing agencies: 6 reasons you should offer chatbot services
Here's why your marketing agency should offer chatbots and conversational marketing as a service to your clients.
The digital marketing industry evolves fast. With every new development comes the opportunity to create even better results for your clients. So if you're not on top of the trends—whether it's a new social platform, another ad type, a cutting-edge technique or technology—you'll lose customers to your competition.
That's why we're here to let you in on the next big thing in digital marketing: chatbots. Facebook Messenger chatbots, to be exact. They're helping businesses of all sizes, across industries, to automate customer support, lead generation, sales, and more. Here's why your marketing agency should offer chatbots as a service to your clients. (Hint: It's a win-win for you and them.)
Conversational marketing is the future
Here's why:
Messaging is exploding in popularity, especially on Facebook
First, consider the fact that Facebook Messenger was the third-most downloaded app last year, and continues to top charts in 2020. Billions of consumer are already spending time on this app, so it makes sense to meet them where they are. Messenger chatbots are a scalable, automated way for businesses to do this.
Customers expect businesses to be available on Messenger
People want to talk to businesses on Facebook. 63% of consumers believe businesses should be reachable on Messenger. What's more: Over 61% of them say messaging is the most convenient way to connect with brands.
Consumers are already using bots
More than 67% of consumers worldwide used a chatbot for customer support in the past year. The public is already getting comfortable with this technology — your agency and clients should too.
Facebook Messenger chatbots are only going to become more commonplace. They're increasingly becoming the preferred way for customers to have personalized interactions with brands, and they're a scalable solution for companies across industries. This technology isn't going anywhere. Lean in to it now to put both your digital marketing agency and your clients ahead of the competition.
Chatbots are surprisingly easy to build
We say "surprisingly" because people are often intimidated when they first hear of chatbot technology. To many, it sounds like a complicated and highly technical area that takes years of specialized experience. So allow us to be the ones to tell you first: anyone can build a Facebook Messenger chatbot.
When you use a no-code platform like ours, you don't need developer skills or a tech background. In fact, the newest version of our interface makes bot building even easier than it was before. It's a drag-and-drop platform that makes it easy for chatbot marketing agencies to create content elements, and get an overview to see how they should fit together. Chatbot building doesn't get simpler than this, meaning everyone from business owners to marketers and social media managers can take advantage. Take a peek at how it works.
Chatbots are a scalable marketing solution for clients in most any industry
From real estate and beauty to sports and banking, chatbots can benefit businesses in any industry. So no matter what sectors your clients are in, you can build a Facebook Messenger chatbot to help them streamline customer service, lead generation, sales, and more.
If your clients are concentrated in one or two key industries, even better. You can build a few chatbot frameworks that you can quickly customize for each new client. It's exactly what the Tacobot marketing agency did.
👉 Tacobot gets business from companies in two main sectors: real estate and insurance. So their team decided to build four basic chatbot frameworks for clients in these niches. Each one helps generate high-quality, low-cost leads. One bot framework acts as a quoting tool for auto insurance, for example. It shares relevant information and then gathers the user's contact details so that the company can follow up personally later. Learn more about Tacobot's scalable model for selling chatbot services.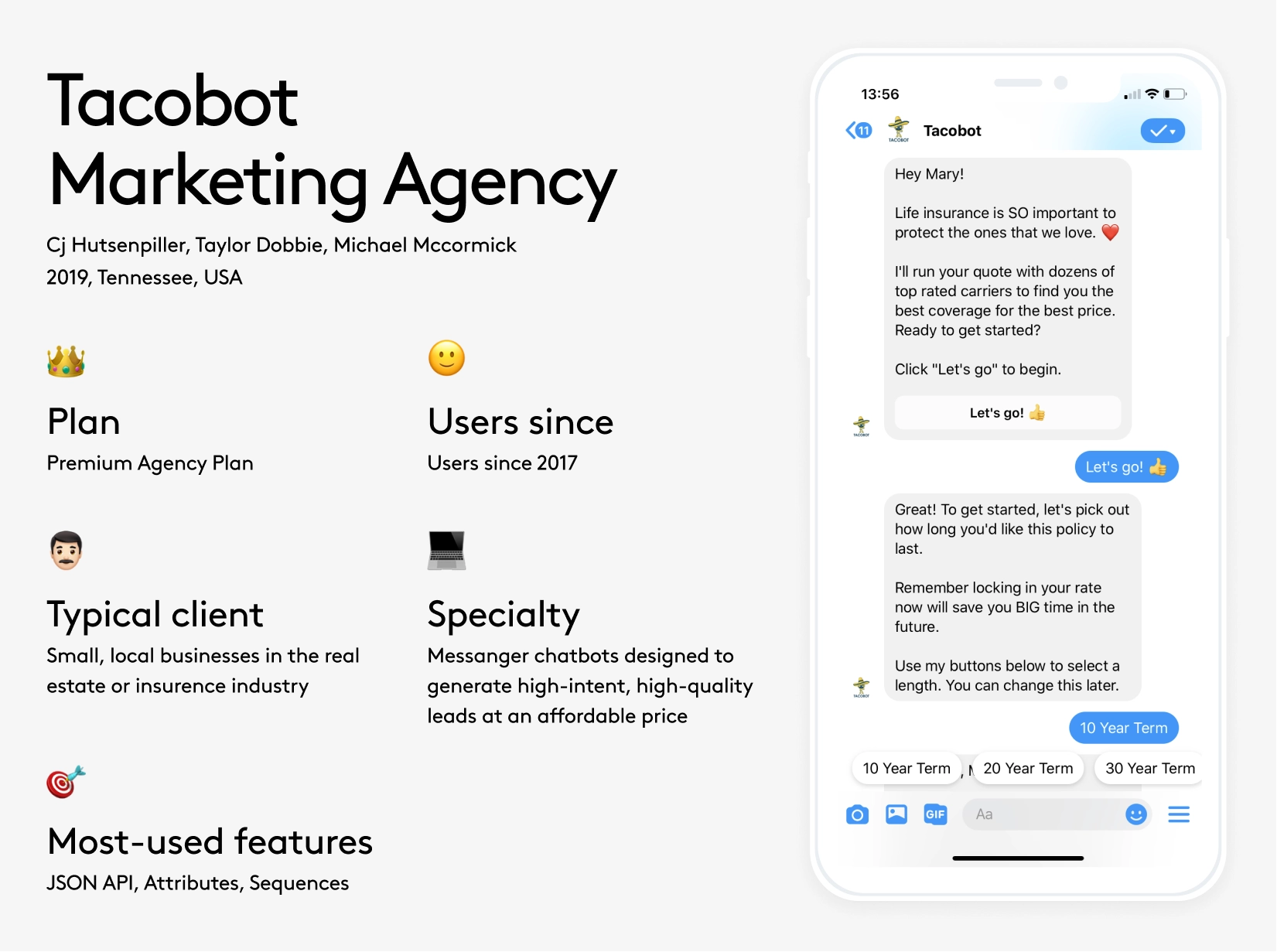 The benefit of selling chatbot services to clients in one specific niche is clear. It all starts with a few basic templates, which you can easily customize for countless other clients. The scalability of offering Messenger chatbot services is a major draw for marketing agencies. You can get better results for more clients with less time, money, and effort.
Chatbots can be a source of recurring revenue for your agency
Facebook Messenger chatbots aren't a set-and-forget tool. It's important for you, the builder, to track their performance and adjust as needed over time. That's one way you can earn recurring revenue from clients with bots (and delight them with excellent results, too!). Set up a package that includes bi-weekly or monthly check-ins and updates. (We recommend using Chatfuel's built-in stats to help you keep track of each bot's performance.)
Another way for a chatbot marketing agency to get recurring revenue is to offer AI as an add-on. Building an artificial intelligence chatbot isn't as complicated as it sounds. But it does involve training the AI over time, which takes regular maintenance. (It's another reason focusing on clients in a single niche is beneficial. That way, you can train a single AI that fits that industry and use it for multiple customers.) That means you can add that recurring fee to AI chatbot packages you offer your clients.
Chatfuel customer and AI expert Josh Barkin shares his tips on how chatbot agencies can pitch AI to clients. Get more of Josh's insights on AI chatbots:
A chatbot can supercharge your Facebook ad campaigns
If you already offer Facebook ads services to your clients, a chatbot is an easy upsell. You can charge extra to integrate a bot into your client's Facebook ads, and it'll help you win them even better results. Just look at the return on ad spend (ROAS) Chatfuel Premium Agency GoSky AI achieved with a bot for their ecommerce client: 999%!

They did it primarily with click-to-Messenger ads, which direct users to a chatbot in Messenger when clicked. Here's why this is such an effective tactic:
These ads can be placed on Instagram and Facebook, two of the most heavily trafficked social media platforms out there. That means you have the potential to reach billions of users worldwide with your client's message.
The click-to-Messenger ad format is underutilized. You won't have much competition in that sense, which means it'll be a memorable new experience for most users.
Chatfuel offers a built-in ads tool to streamline this process. You'll be able to manage and monitor click-to-Messenger ads and other types of chatbot ads all in one place. It makes it easier to manage your Facebook advertising campaigns, and easier to share results and data with your clients.
You can use chatbot-building software designed specifically for agency teams
Finally, Chatfuel has a set of features specifically created to make life easier for marketing agencies. As we mentioned, our platform is already intuitive and user friendly. And when you sign up for our Premium Agency plan in particular, you'll get extra perks designed just for businesses like yours, such as:
A white-labeled dashboard
It's one centralized place where your team can access all the bots you're working on. (That means no more keeping track of dozens of passwords or wasting time logging in and out of different projects all day.) You can invite your clients to this dashboard too, so they can check on the progress or analytics of their specific bot any time.
Synced cloning
This feature lets you sync edits from one master bot to others in a single click. It's ideal if you're using one bot template for multiple clients, or if you handle marketing for any multi-location businesses like franchises.
Shared pricing
Chatfuel plans are priced according to the number of chatbot users. As a Premium Agency client, you can buy a certain number of users in bulk, then distribute them as needed among the bots you manage. It involves just a single transaction for you, after which you can charge each client based on the users you've allocated for them.
Training and support resources
First, we'll run a custom onboarding session just for you and your team to get you acquainted with the platform. From there, we'll invite you to join our exclusive agency Slack group where you can network, ask questions, and be the first to learn about new Chatfuel features. Finally, you'll get priority support, which means answers in one business day or less.
…and lots more! To get additional information about how your marketing agency can use Chatfuel to grow, book a demowith our team.
BONUS: Use a chatbot to get new customers for your agency
What better way to advertise your chatbot agency's new services than with a fully functional marketing bot? You can build a chatbot and embed it on your website or connect it to your agency's Facebook ads. Then, potential customers who chat with it will get to experience the magic for themselves. The bot can answer FAQs about your services, offer Live Chat for those with more complex questions, and automatically gather lead information in the process.
Remember Tacobot, the client we mentioned above? Here's a peek at how they use a chatbot to gain new clients. ⬇️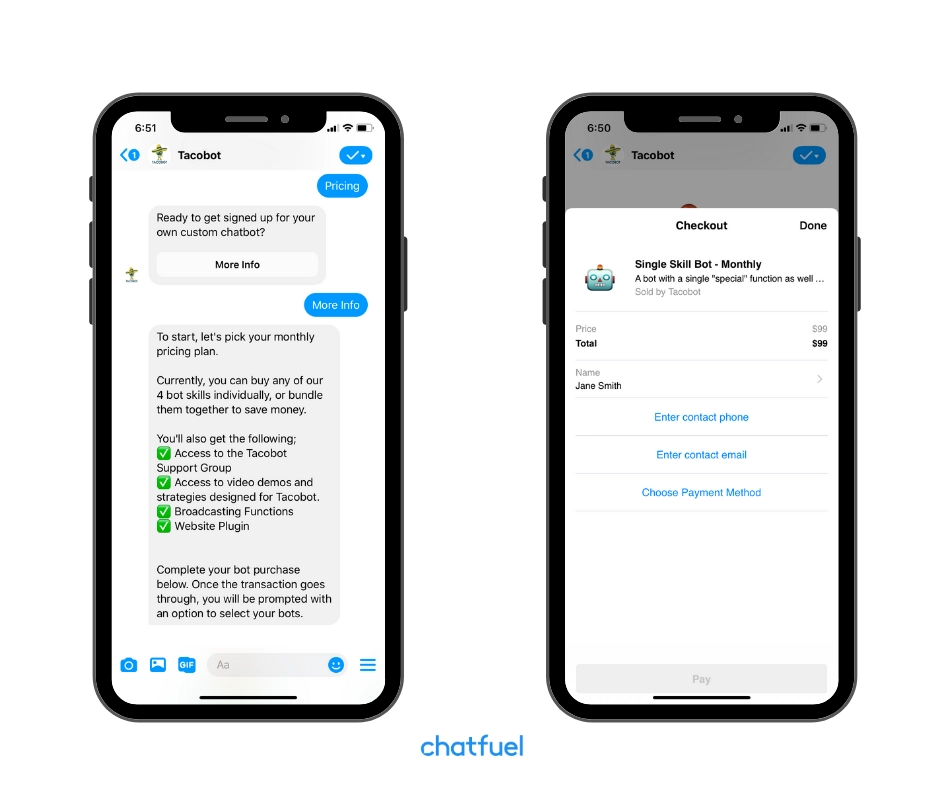 Marketing agency + Messenger chatbots = 💙
Adding Messenger chatbots to the services your digital marketing agency offers is a smart move, especially in times like these. They're easy to build, especially with no-code software like Chatfuel. They have the potential to bring you a new revenue stream, and to create even more impressive results for your clients. To learn more about Chatfuel's Premium Agency program, the one tool your agency needs to get started with chatbot marketing, book a demo with us.