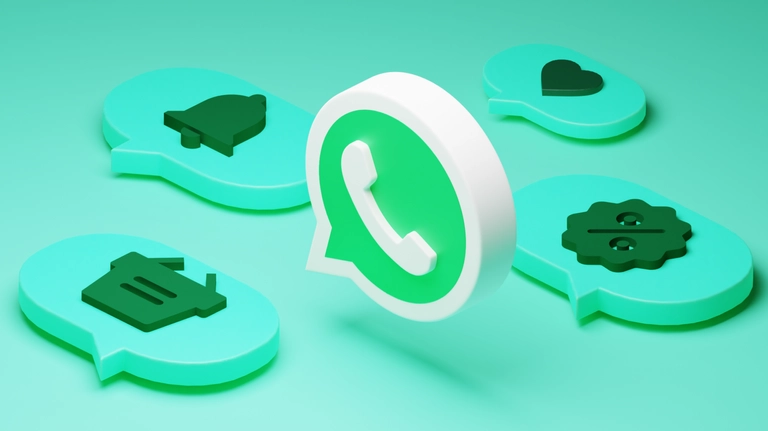 Published March 28, 2023 in
WhatsApp marketing: strategy, tips and examples
In 2022 WhatsApp became the most popular messaging app. Learn about using it for business, a marketing strategy, examples, and tips.
WhatsApp is the most popular global mobile messenger app. It's a messaging platform your customers use to communicate with family, friends, and your competitors. And in 2022, its audience grew to 2 billion active users monthly.
Keep reading to learn more about the benefits of using WhatsApp for business, a marketing strategy, ideas, examples, tips, and more.
What is WhatsApp marketing
WhatsApp marketing is a part of social media marketing (SMM) that small business owners, medium-sized companies, and market giants use to promote their brands, reach out to an enormous audience, build and improve customer relationships, and increase sales.
80% of consumers claim that social media, especially influencer content, significantly impacts their buying decisions. It takes business activities on social media, including WhatsApp, from a 'why not give it a try' thing to a powerful marketing tool for growing audience, brand awareness, and sales.
In 2022 WhatsApp topped the list of the most popular messaging apps, and businesses worldwide keep including WhatsApp in their marketing strategies. It's an excellent platform, enabling people to share text, images, video, and voice messages and supporting voice and video calling.
WhatsApp overview

Let's take a look at what makes WhatsApp marketing beneficial.
Benefits of using WhatsApp marketing
Including WhatsApp in your social media marketing strategy can transform your approach to customer service, lead generation, and communication with existing customers, helping you create a memorable and positive connection with your brand.
Here're the primary benefits for companies that use WhatsApp messaging for business:
Staying in touch with the biggest audience
As mentioned, WhatsApp is the most popular messaging app worldwide, with around two billion users. So you can't overvalue being where your audience and leads are to promote your brand, engage with prospects, send relevant offers, and sell. Plus, WhatsApp's interface is familiar to many people, making communication smooth for both sides — your customers and you.
Improving customer experience and support
Stay on the same page with your leads and customers when you promote and sell products or services — WhatsApp is a convenient platform to do so. Look at user answers about what they value the most about interacting with WhatsApp Business accounts:
Increasing profitability
Customer service is vital and might be costly when not well-organized. On the other hand, its streamlined process cuts operating expenses significantly. According to Gartner, Inc., by 2025, 80% of customer service organizations will have abandoned native mobile apps in favor of messaging for a better customer experience.
These and other benefits take WhatsApp above just sending messages. Therefore, including WhatsApp is the most popular concert for improving business performance. And another impressive advantage for businesses using WhatsApp is the open rate of around 98%.
Let's focus on setting up a WhatsApp marketing strategy so you can get started immediately and implement it.
WhatsApp marketing strategy
WhatsApp lets you build personal connections and long-term relationships with your audience. When there's an emotional connection with the brand, leads convert to long-term customers seamlessly. Keeping it in mind, you can build a strong marketing strategy for WhatsApp:
Set your goals.
Define your target audience.
Download WhatsApp Business App and set up your business account.
Create a contact list.
Set up your business profile, catalog, ads, and messaging in Tools.
Build a communicational flow with automated messages for better results.
While the first five steps are standard for most messaging platforms, the last one deserves a closer look. Today, when we chat, buy, and sell on the go, setting up away, messages is a must. Use them to greet your customers, introduce your business, and let them know you're away.
For your inspiration, below are some ideas and examples of marketing on WhatsApp.
WhatsApp marketing ideas and examples
WhatsApp gives businesses a space for creativity when it comes to marketing. So let's look at some successful WhatsApp campaigns that you can get inspired by.
Omay Foods — building trust and credibility
Omay Foods is an Indian brand that uses an ancient process to create modern snacks for health-conscious eaters. To build trust and credibility from the very first interaction with a potential customer, Omay Foods used WhatsApp Businessfeatures like catalog, business profile, and quick replies to help set expectations and turn questions into purchases.
As a result, Omay Foods got an x5 increase in customer inquiries and an x3 increase in repeat customers via WhatsApp.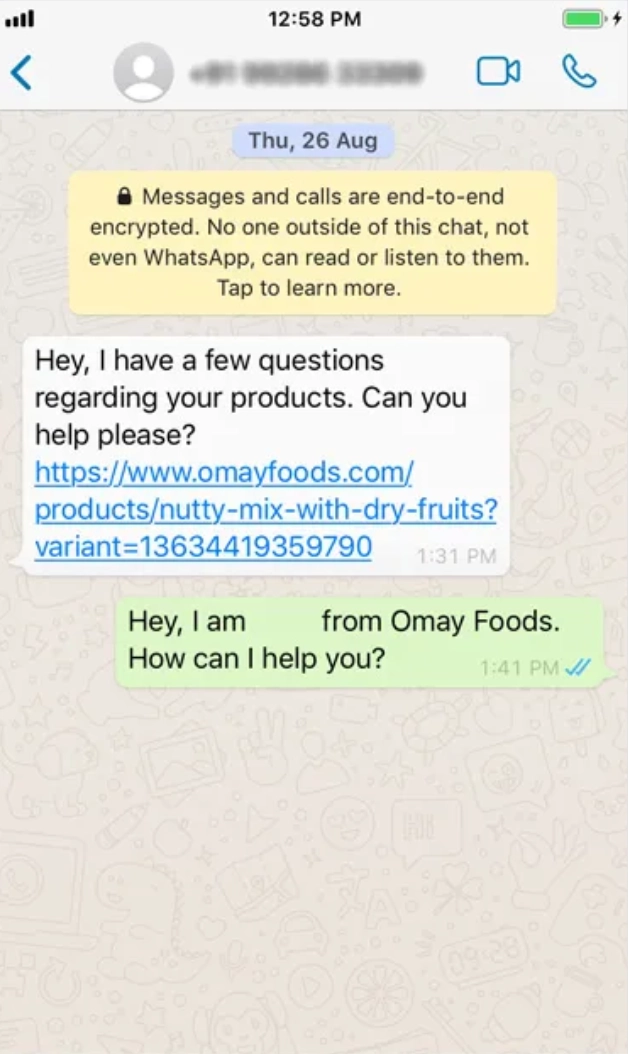 Netflix — engagement and personal recommendations
As a streaming giant, Netflix pays lots of attention to engaging and re-engaging customers even after they cancel their subscriptions. While people can get personal recommendations on the Netflix mobile app, the company took a step toward implementing it on WhatsApp.
Those who clicked "I'm in" started receiving Netflix new show announcements, TV programs and film suggestions, and more. Initially implemented in India, this campaign showed such impressive results that Netflix launched the same one in the UK half a year after.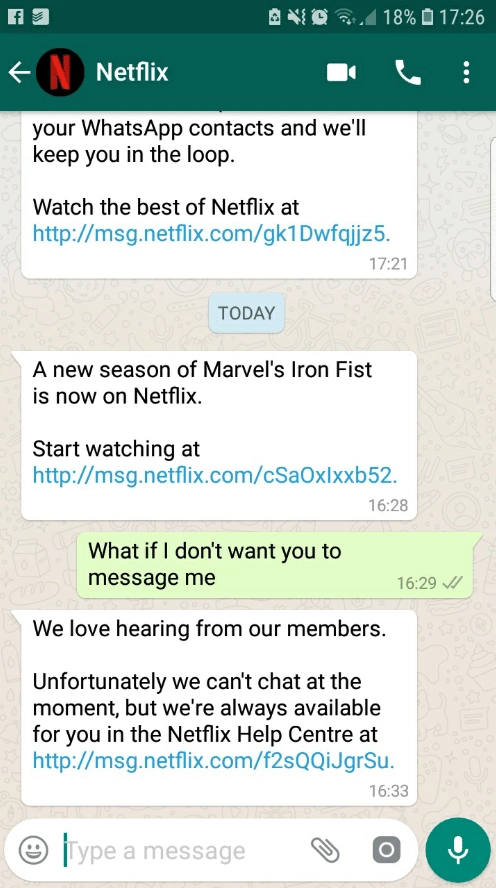 Klook — increasing customer satisfaction and retention
Klook is an online travel platform that built its marketing strategy based on updates and bookings on WhatsApp as the most popular channel among its customers. The company offered the Klook website and app users to opt-in to their WhatsApp notifications to receive reminders and order updates.
The results speak for themselves: 63% higher opt-in rate for WhatsApp than for the app's push notifications. And the customer retention rate grew by 40%.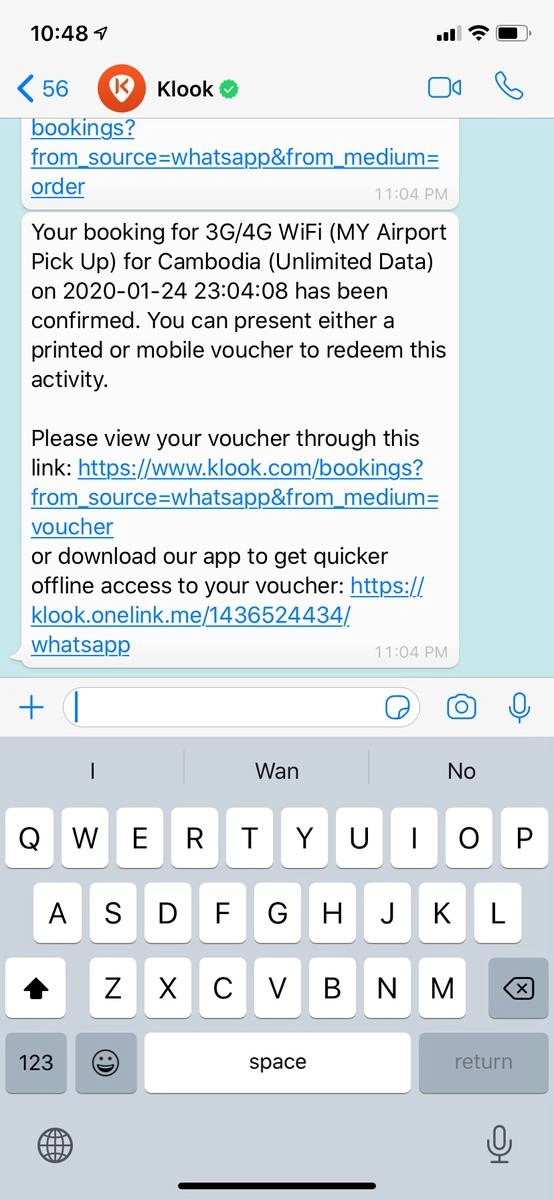 WhatsApp marketing tips
To take the most out of WhatsApp for your business, use some hacks:
Create broadcast lists and group chats
The goal is to simultaneously send the same messages to a certain number of contacts. It saves your time and other resources and brings better marketing results. But there's a difference you should keep in mind while setting up and sending messages to broadcast lists and group chats. Group chat members can see each other, your messages, and other members' opinions on them. In contrast, broadcast lists are a set of one-on-one chats.
Create a catalog of your products or services
WhatsApp displays it on your business profile. You can add up to 500 items in your catalog with the four primary fields for each item: price, description, website link, and product code. Also, your customers can share your catalog items with their friends, which helps you promote your brand and reach more potential customers. As an owner, you can send your entire catalog to existing customers and share it on social media and other platforms to invite more prospects to discover your business and message you directly.
Personalize communication
According to Zendesk, 70% of consumers spend more with companies that offer fluid, personalized, and seamless customer experiences. And WhatsApp is a perfect place to provide all of those to your audience. It corresponds with the primary marketing rules: listen to your audience, learn more about their needs, and provide value.
Unlock the power of WhatsApp for your business with automation
With its built-in features and global audience, WhatsApp is a great marketing tool for companies across industries. And automation lets businesses like yours use artificial intelligence (AI) to manage all messages instantly, providing customers with an outstanding experience. For example, you could take personalization to the next level and use not only customers' phone numbers and other essential info but also their previous answers, preferences, order details, and other specific data.
As an official Meta's partner and a platform for marketing automation with 7+ million users, Chatfuel makes it possible and easy to implement — so get started today.