Published April 19, 2022 in
Engage and navigate users with a Facebook Messenger Persistent Menu
This article will explain what Persistent Menu is, how it can help your business, and how to set it up in a couple of minutes
Persistent Menu is a powerful tool to engage users and help them navigate through your chatbot. Users always see this button in a chatbot so that you can benefit from this feature. This article will explain what Persistent Menu is, how it can help your business, and how to set it up in a couple of minutes.
What is Persistent Menu
Persistent Menu is a button in the bottom right-hand corner of the Messenger menu that users see as a burger or three horizontal lines. Persistent Menu helps users find what they are looking for with ease. It works as a restaurant menu — you give users a set of meals, and they choose what they want.
Adding a Persistent Menu can be challenging. You are to know codes and how to program, as you'll have to put a special code in the right place and launch the program. For lots of businesses, it's not an option.
It's much easier with Chatfuel, a no-code visual chatbot builder. Just use the templates and customize them for your case. No programming and special knowledge are needed.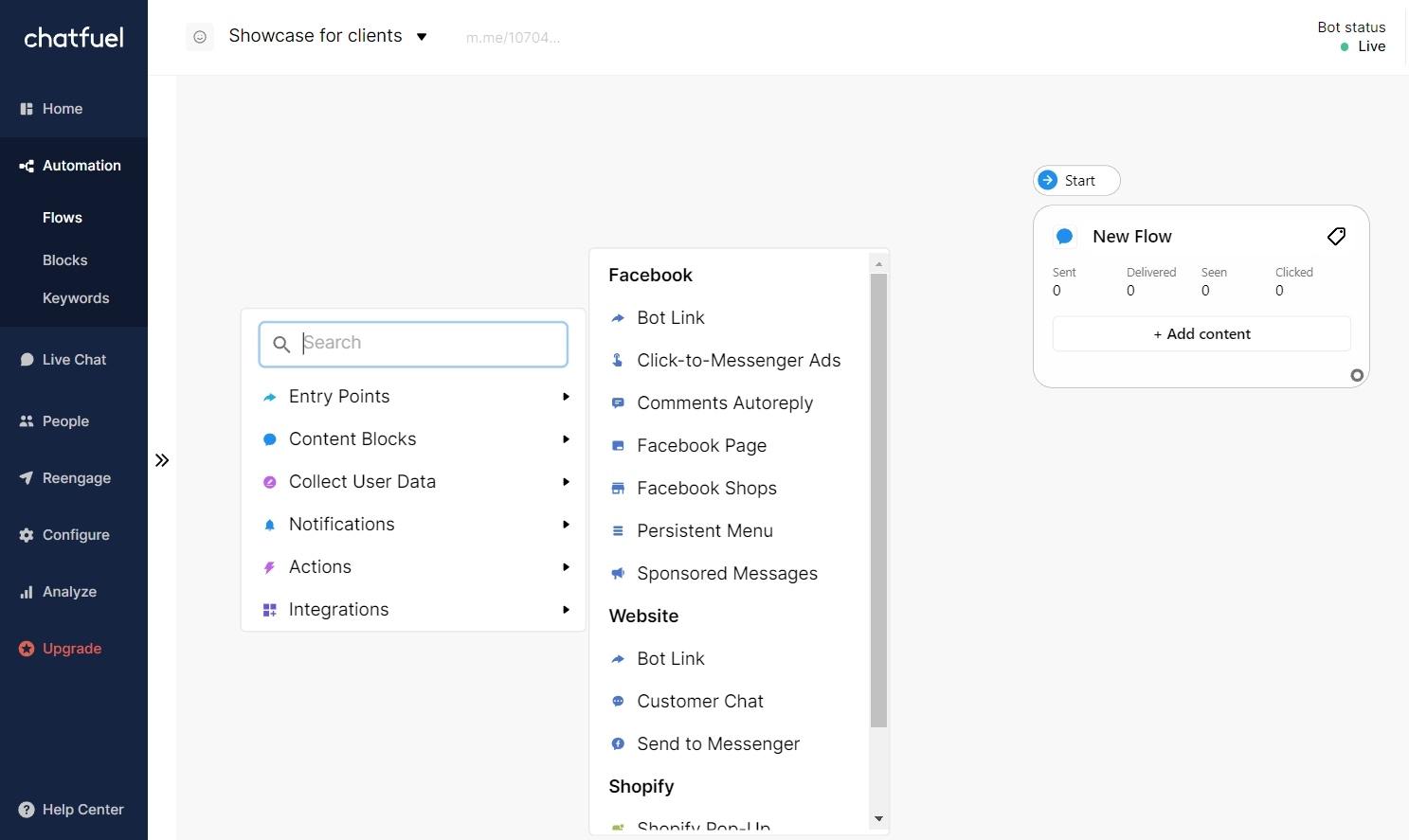 The main use of Persistent Menu — is a core navigational menu. So, let's set it up.
3 must-have buttons in your Messenger Main Menu
You can add up to 3 buttons in a Persistent Menu, so narrow down what're the most important actions for your user. You can set up what works for you, but, based on our clients' use cases, the most useful buttons are:
Restart the bot — so users can repeat their actions or choose other options they need. For example, they booked a table at a restaurant in a bot a month before, and now they want to order delivery from the same restaurant. So they can restart a bot and choose other buttons this time.
Unsubscribe — give users the ability to finish the conversation. Hubspot proved that 9% of email subscribers cancel their subscriptions because the content is no longer valuable. And as to chatbots — users start communication when they have a specific request. Of course, when the request is fulfilled, many users want to stop communication.
Any button useful for you and your clients. For example, a 'Take Quiz' button, if you want to offer clients to take a product recommendation quiz. A quiz helps to increase sales with the help of gamification. Users answer questions like 'What's your favorite animal? ', 'Which film you'd rather watch with your friend? '. And the bot gives a recommendation, which T-shirt to order, depending on user preference. Users feel special, and you engage the customers to your shop more.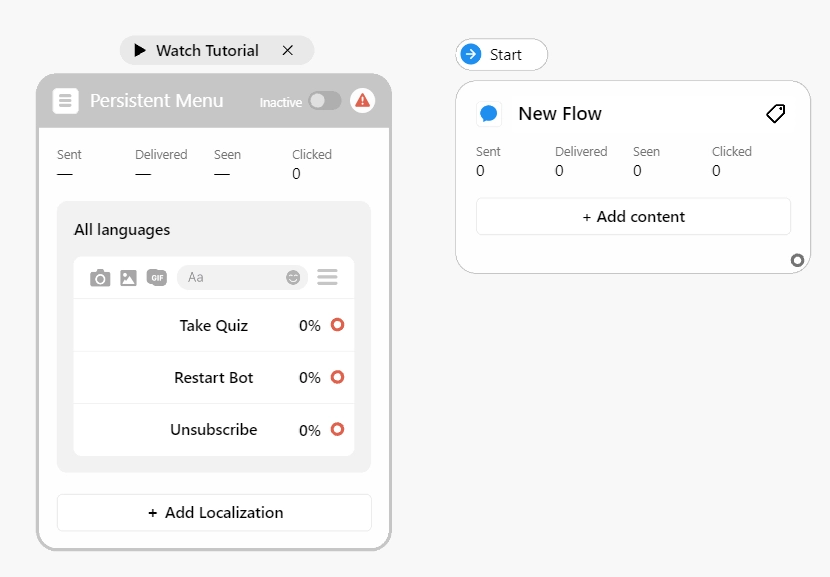 The menu title is limited to 30 characters. You can add emojis or leave the buttons with text only. Instead of text, you can add a link to any block or URL. Learn more about formats in our Help Center.
How to set a navigational menu
Now you know, which buttons to add. Open Chatfuel dashboard to set up your navigational menu.
Open the Flow tab and create a new Flow. Double click the canvas space, then Entry Points → Persistent Menu. Now it's on your canvas.
Add 3 buttons. For example, restart the bot, unsubscribe, and any other button you want. Drag your button to the top — it's the most important action for your business.
To enable your Persistent Menu, tap a toggle on the right top angle.
Note that you can only have one Persistent Menu enabled in a chatbot.
Localize the menu
If your audience is multilingual, localize the navigational menu by clicking on the Localization button in Persistent Menu. After that choose a language, and set the names of the buttons in a chosen language.
Note that it won't localize the whole chatbot, only three buttons in the Persistent Menu.
Read more about setting multiple languages in our Help Center.
Disable user input
If you want to collect user emails, but the user input is disabled, the users won't be able to send you their emails. So make sure you don't have such a goal. But the advantage of disabling the input is that users will be more likely to move through your flow from beginning to end. This is useful if you offer users to take a quiz — they'll just press on buttons and stick to the flow.
To disable user input flip the switch on the top left corner.
Note that if you disable user input, it'll be disabled for the whole chatbot, not only for the flow.
Improve your automation today
Persistent Menu allows businesses to navigate the users through the flows and concentrate them on the main business goal in a messenger. It's time to make your own menu! Start creating a useful Persistent Menu in Chatfuel. Our user-friendly platform helps to do it in a couple of minutes. Just sign up and test your new menu on the first 50 conversations — it's free.