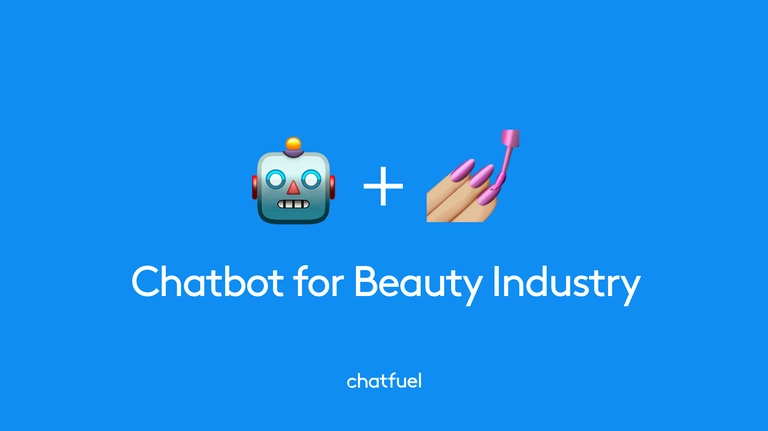 Published July 25, 2023 in
How a beauty business benefits from a chatbot
Read on for six ways a Messenger chatbot can help salons, spas, ecommerce stores, and other beauty businesses.
The beauty industry is a highly competitive space. With so many brands vying for customer attention and dollars, your business has to stand out to be successful. On top of that, clients in this space are savvy and demanding. They've come to expect a personalized, high-quality experience every time, so your brand has no room for error. What's the one tool that will check all of these boxes and give your business that competitive edge it needs for success? A Facebook beauty chatbot.
Not only are Messenger chatbots an ideal tool for beauty businesses, but they're easy to build and launch. Ready to make your beauty business stand out from the crowd? Here's why a chatbot is your best bet, plus helpful tips for building your first one.
Types of beauty businesses that can benefit from chatbots
The benefits of chatbots apply to all players in the beauty industry. Brick-and-mortar businesses like salons, spas, and beauty schools can find success with a Facebook chatbot just as an online business like an ecommerce shop for cosmetics can.
Chatbots are helpful for beauty businesses of any size, too. Larger brands who are inundated with Facebook messages can employ a beauty chatbot to automatically answer FAQs. It can also help them gather data about prospects and customers, and send out newsletter-style message blasts to users.
While smaller brands may not need bots to deal with a full Messenger inbox, they can get rewards in other ways. Their bot can convert users who comment on Facebook posts into leads. It can also function as a mini CRM to collect, filter, and export data about customers who have engaged with the bot.
How a chatbot can boost your beauty business
At the most basic level, a beauty live chat on Facebook can provide important information about your business, but in a more engaging way. It can share details about your products or services, your hours, directions, or prices, and your reviews and examples of your work.
However, that's not all a beauty bot can do. While they were initially used only to handle these simple customer-service inquiries, they've now evolved into savvy virtual assistants with even more robust functionalities. Use them to:
Send news and updates to subscribers. One of the most helpful features of Facebook chatbots for business is the ability to send messages to segmented groups of subscribers to reengage them. You can share information about new products, sales, coupons, and more to engage prospects and customers. You can send these messages within 24 hours of a user's last interaction with your bot, or you can pay to send a Sponsored Message at any time.
Provide 24/7 support. The beauty of chatbots—pun intended! —is that they have no off hours. It doesn't matter which time zone the user is in, or when they try to book an appointment or request information. The bot will always be available to chat with them and offer help, day or night.
Schedule and book appointments. A chatbot makes appointment scheduling for brick-and-mortar businesses quick and simple. Clients can book treatments instantly and at any time, without having to leave the Messenger app or fill out any clunky web forms.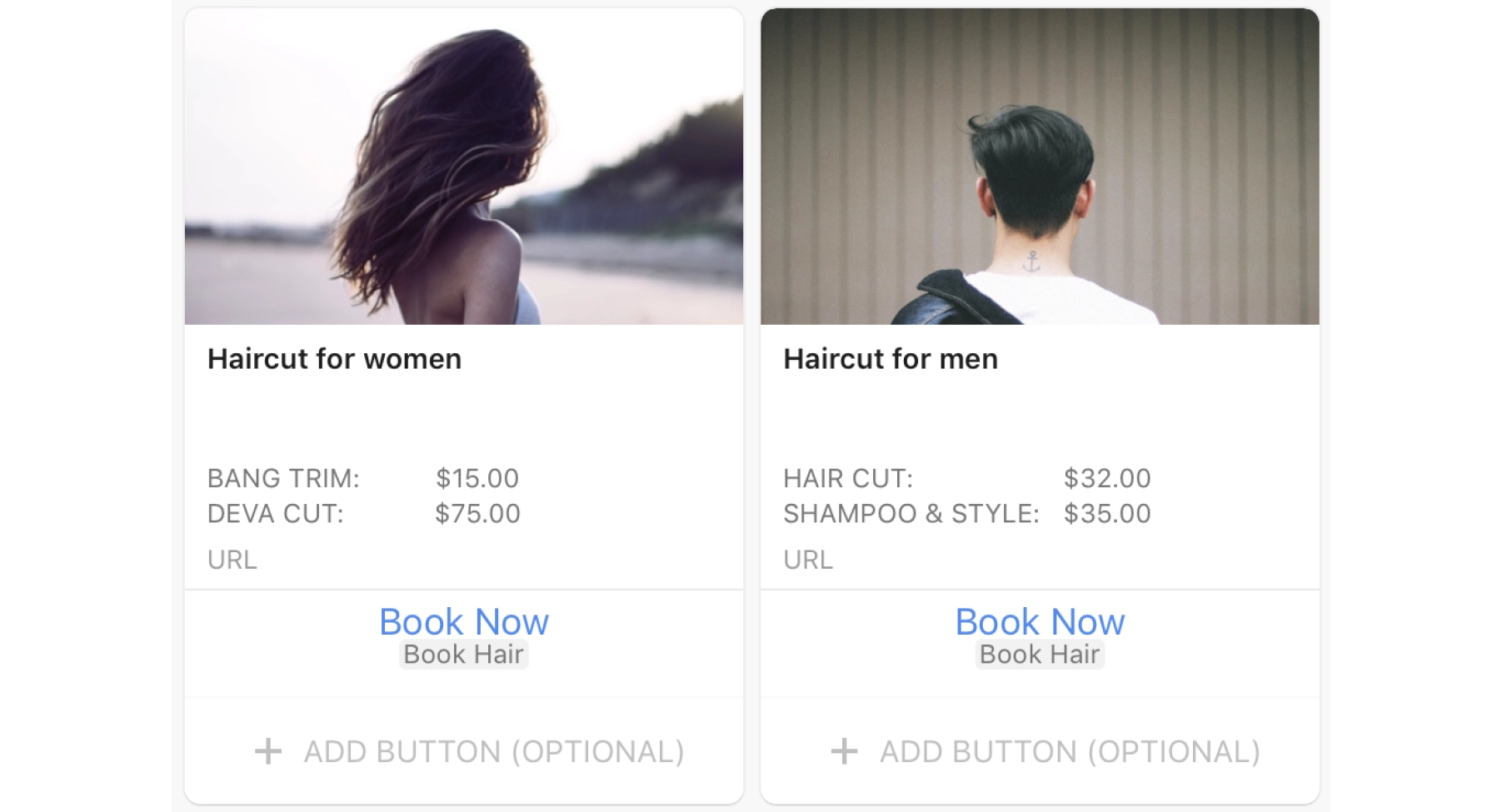 Sell products. A beauty bot makes product sales for ecommerce businesses much easier. Just like with appointment booking, sales can be made 24/7 through the Messenger app. Combine this functionality with a bot's ability to send promotional messages about sales or new products to users, and you've got a streamlined, highly effective new sales funnel in place.
Provide personalized, expert advice. It's in the best interest of any beauty business to position themselves as an authority in their niche—and chatbots are great for this. By pre-loading your bot with helpful tips, tricks, and advice, you can provide users with the useful and engaging experience of chatting with a beauty expert. Questions about the customer's hair type or eye shape, for example, can be used to generate hairstyle recommendations. This can go along with the opportunity to book an appointment, or suggest makeup products with links to buy them. It's a simple but high-value way to promote trust in your brand and promote sales, too.

Entertain, educate, and inspire. Chatbots offer other functionalities to help your brand build credibility with users, too. You can use messages with certain tags to send content designed to entertain, educate, and inspire your users. For example, you could offer a quiz that will recommend a nail color or face-mask type based on mood. Users tend to respond well to this type of creative, engaging content, and it can lead to increased brand loyalty and sales.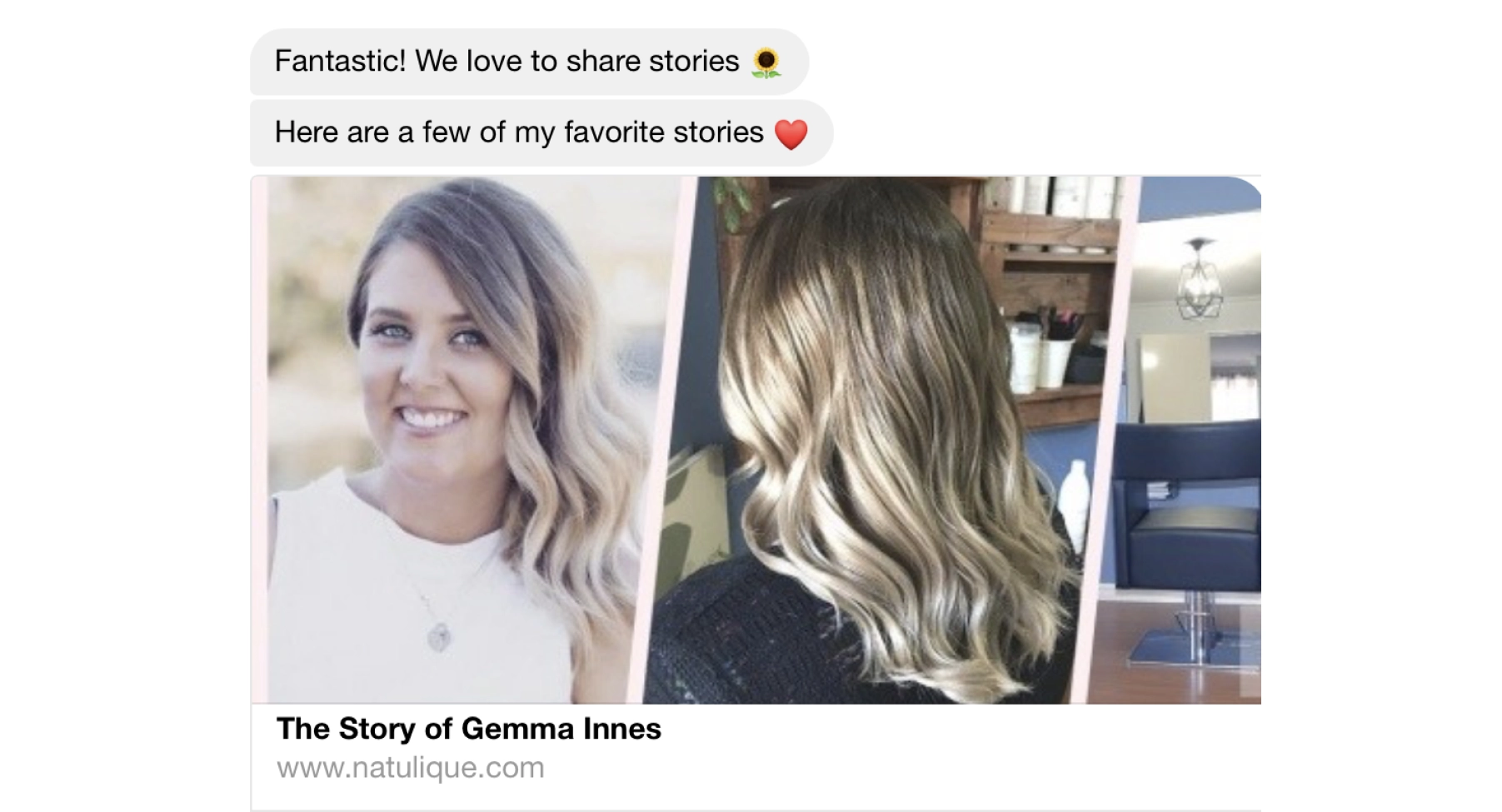 For an example of one of the best beauty bots out there, check out the story of Beauty Player, a Chatfuel client. First, they solved the immediate problem of being overwhelmed with Facebook messages by setting up their bot to handle FAQs. Then, they equipped their bot to offer quizzes about the user's skin type, and then recommend products along with coupon codes. Thanks to these creative functions, they attributed a whopping 40%($250,000) of their next month's sales to their clever beauty bot!
How to build a bot for your beauty business
Fortunately, it doesn't take lots of money or technical know-how to build a beauty bot for your business. It's both easy and free to get started with Chatfuel! Learn how to build a bot from scratch with our how-to articles.
To ensure you're providing the best beauty chat experience to your customers and prospects via Messenger, we recommend following a few best practices.
Craft a great welcome message
First things first; make sure the chatbot for your beauty salon or brand is equipped with a friendly and personalized welcome message. It also helps to create a persona for your chatbot, complete with a name and even a photo to give it that authentic, human touch. The key is to provide an experience that shows your brand truly cares about the beauty needs of your users.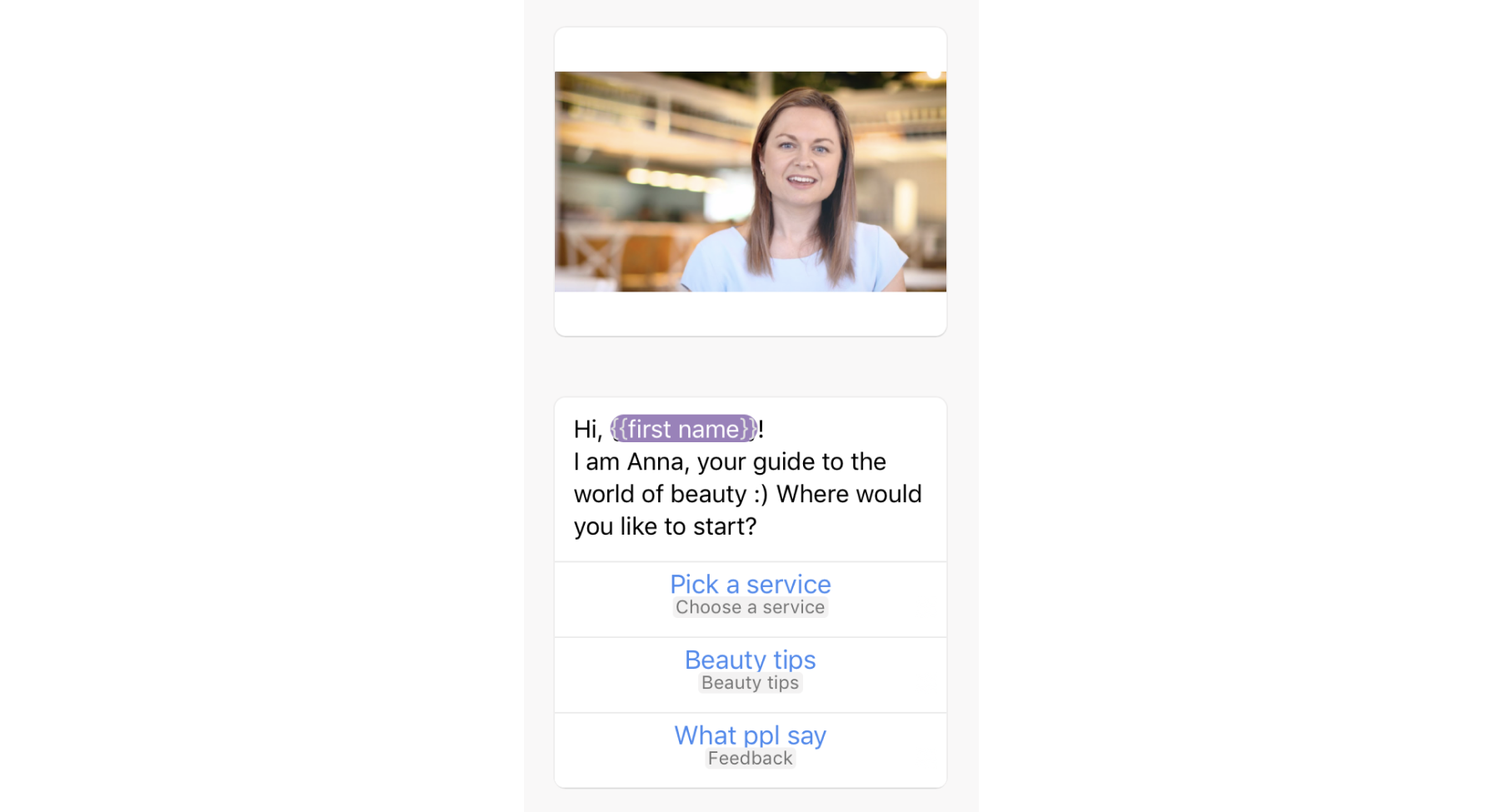 Build your bot to solve a problem
Next, you want to ensure that your bot is designed around the needs of your users. Talk to your customer support team and study your most frequently asked questions to make sure you set up your bot to solve your customers' most pressing questions or issues. A chatbot that's designed to look impressive but doesn't give users what they need won't bring you results.
Use creative conversational design
The beauty of Messenger is that it's a more informal, casual platform—so take advantage of that! Use emoji, pictures, and GIFs. Think outside the box when it comes to content, and stay up-to-date with the latest beauty-bot trends. It'll make your brand memorable, and can promote users recommendations by word of mouth, too.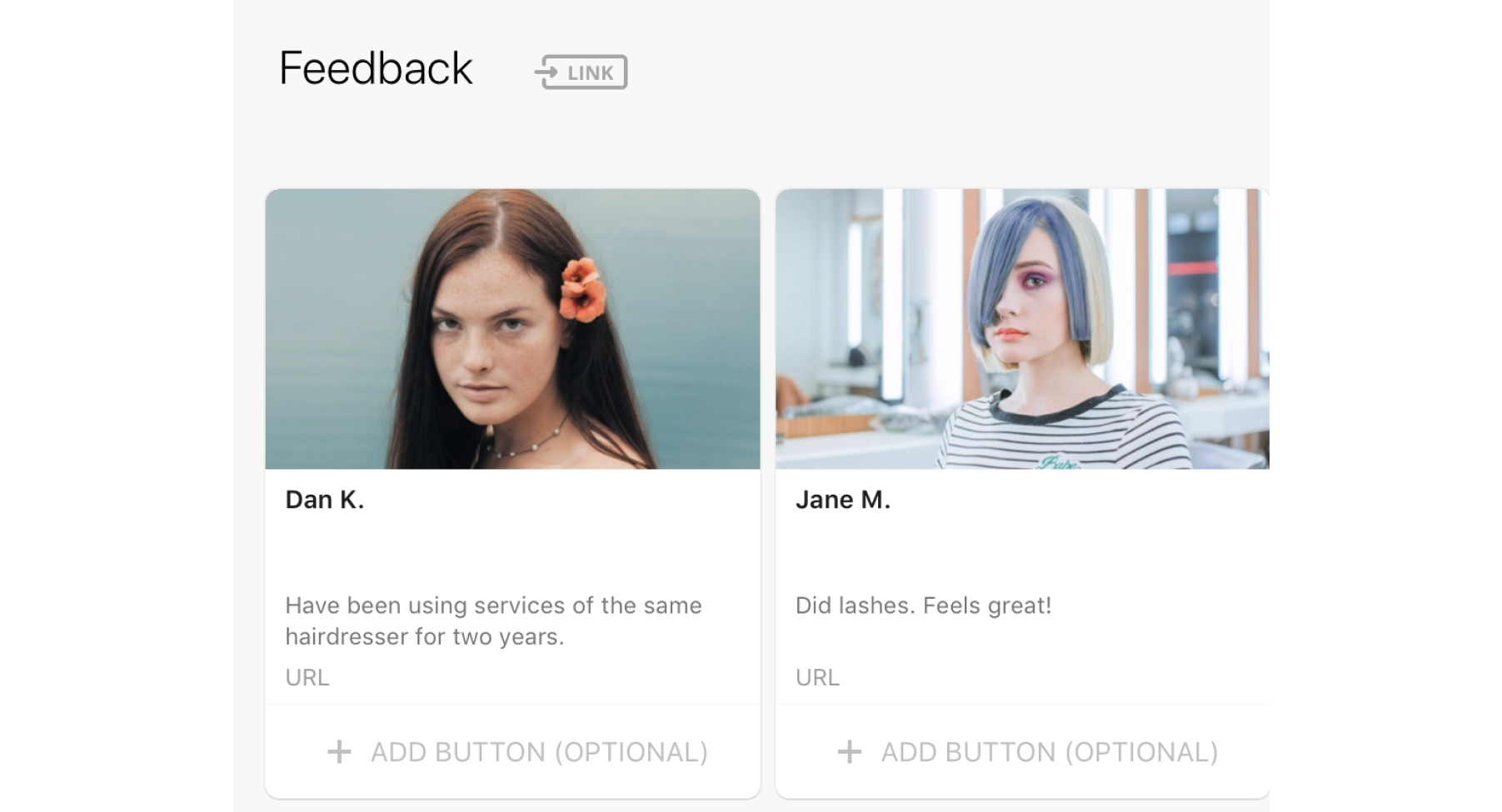 Build trust
Finally, make the most of the more intimate, personal style of the Messenger platform to give users a behind-the-scene look at your business. Offer stories and bios about your team members, and share news about both your successes and setbacks. This insider perspective will make customers feel like part of the family, building trust and loyalty. Natulique, another Chatfuel client, is one example of a beauty brand whose chatbot does this extremely well.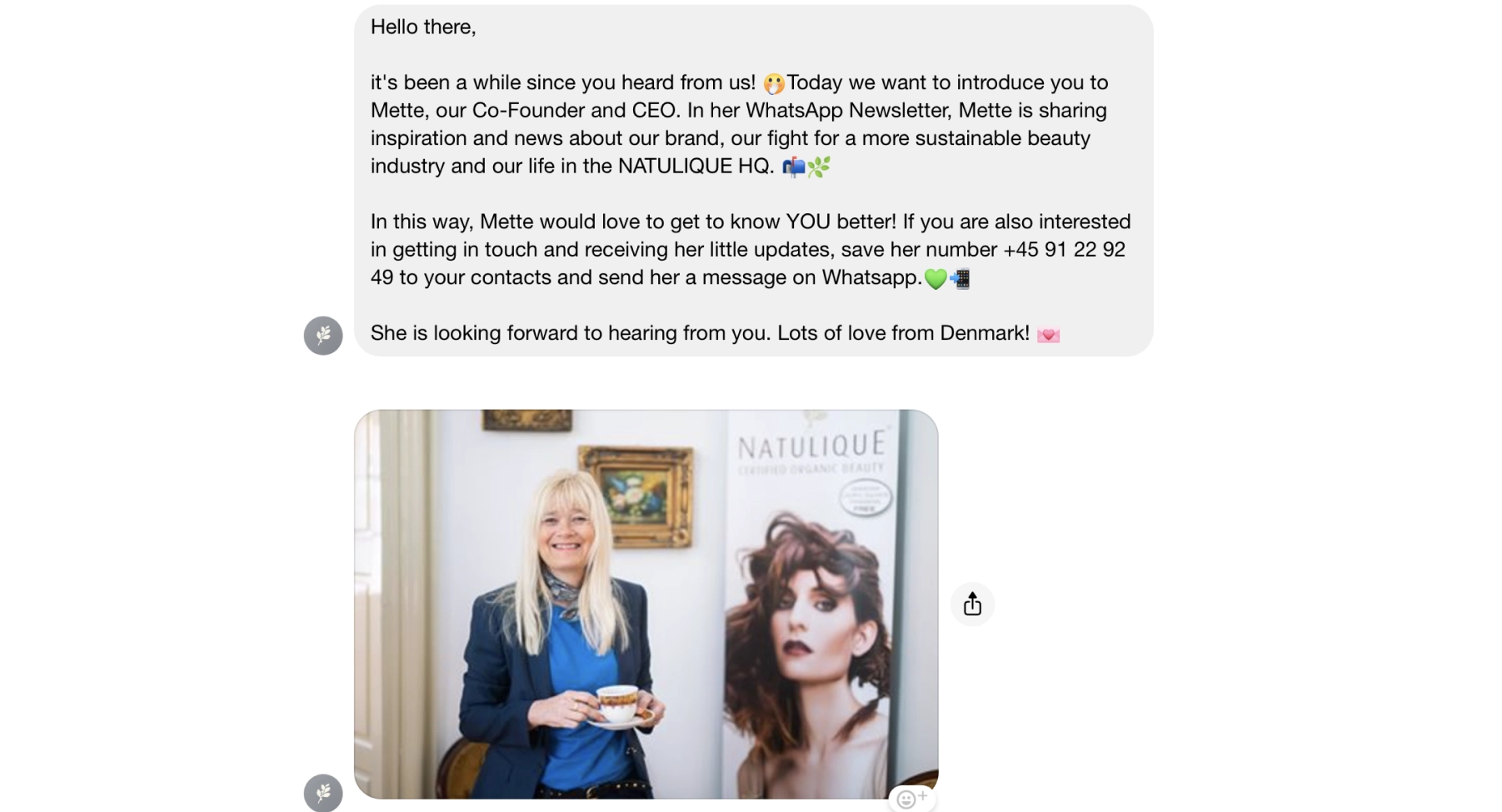 It's easy to get started building your beauty bot
Though Facebook Messenger bots are equipped to benefit businesses across most every industry, brands in the beauty space are especially prime candidates. If you're ready to start improving the customer experience, building brand credibility and loyalty, boosting sales, and more for your business, why not get started with your own beauty bot today?
That's the key function of Chatfuel: To start building your free bot — no registration, coding skills, or credit cards required.