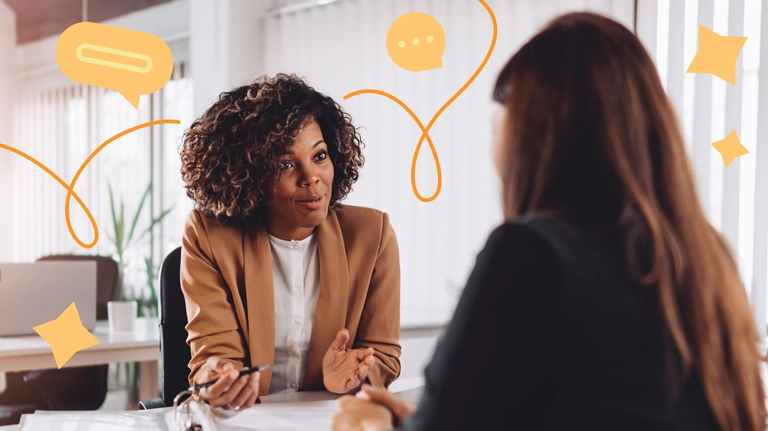 Published March 28, 2023 in
How to use a Facebook Messenger chatbot for recruiting and HR
In this article, we'll look at recruitment Messenger automation, share some tips on building one yourself and show some inspiring metrics
According to the Great Resignation research, 65% of global hiring organizations have lost their preferred candidate because the recruitment process was too long. The main reason is pretty simple: HR managers are very busy. HR professionals spend a lot of time on:
interviewing,
sorting out candidate applications,
responding to their repetitive questions,
finding slots for interviews and rescheduling,
sending follow-up messages.
The good news is that managers can automate some of the routine processes and focus on interviewing and preparing offers for the most suitable candidates. For example, a Facebook Messenger automation can accept and sort applications and schedule interviews. You can even integrate your bot with Facebook Jobs to automatically follow up with applicants.
In this article, we'll look at recruitment Messenger automation, share some tips on building one yourself and show some inspiring metrics from our clients.
Integrating with Facebook Jobs
Facebook has almost 2.5 billion monthly active users. Odds are your next great employee already spends time on the platform, so it makes sense to search for them there via Facebook Jobs. It lets you post jobs on your Business Bage, receives and review applications, and contact prospects via Messenger. Or, your Messenger automation can do it for you.
You can set up different automated responses to candidates. For example, confirm their application has been received or tell them about the following interview. Here's how to set it up:
Turn on the automated response. Go to your Facebook Business Page → Messenger inbox → Automated Responses, then select Messenger. A section called Communicate about your jobs will appear there, and you'll see the option to turn on an application received.
Write a message your bot will send. Keep it brief but helpful and informative. Include details about timelines or next steps, so the candidate knows what to expect.
Add a button (optional). You can include a button to go along with the message. It can link to a URL, like a page on your website where they can learn more about your company. A button can also redirect to a block in your bot, for example, FAQs or a quiz about the company.
Chatbots streamline recruitment process
Facebook Messenger chatbots can simplify the recruitment process for both employees and job seekers. Here's what chatbots can do:
Collect information from candidates. With Chatfuel's Save User Input plugin, your chatbot can accept contact details, CVs, and other materials from applicants. You can store this data as user attributes in Chatfuel's People tab for simple searching and sorting. Also, you can export this data to a Google Sheet for analysis or candidate ranking.
Ask screening questions. Your bot can ask applicants any number of qualifying questions related to experience, skills, or location. You can even have your bot email an applicant's information to an HR manager if they pass all the qualifying questions. Then, the manager can follow up with the most suitable candidates personally.
Answer FAQs 24/7. HR managers no longer have to spend time answering common questions. Automation is excellent at responding to FAQs about the job or hiring process. Plus, bots are available 24/7.
Schedule interviews. In Chatfuel, you can use Zapier templates to integrate your calendar or scheduling system with your bot. It allows users to sign up for an interview, reschedule or cancel it right in your bot. All changes will reflect on your calendar. You can also set up automated reminders, and your bot will notify users when their turn is coming up.
Finally, a recruitment chatbot also creates a convenient experience for the applicants by answering their questions and providing an engaging and instant form of communication. So no matter how big or small your business or department, automation can help you stand out from other companies competing for the same talent.
Tips for optimizing your recruitment chatbot
Follow these best practices to maximize the efficiency of your HR bot:
Get creative.Give it a name and persona and make it friendly. Include GIFs and emojis if appropriate for a more engaging and welcoming experience.
Create different conversational flows for different applicants. Maybe entry-level applicants have an extra task to do before making it to the interview process. Or perhaps senior-level applicants get a direct invitation interview sooner.
Include FAQs. Collect the most common questions from applicants and equip your bot with answers to those. Include as much helpful information as possible, like the office address, notes on team culture, and details about perks and benefits.
Be ready to step in. You may want to have time window each day when a human HR agent is available. With the Live Chat plugin, an agent can jump in to answer complex or personalized questions if the bot ever gets stuck.
Connect your bot to Facebook ads. If you're using Facebook ads to promote your job openings, connect your bot to engage immediately and even qualify anyone who clicks on one. That way, you can get more qualified candidates.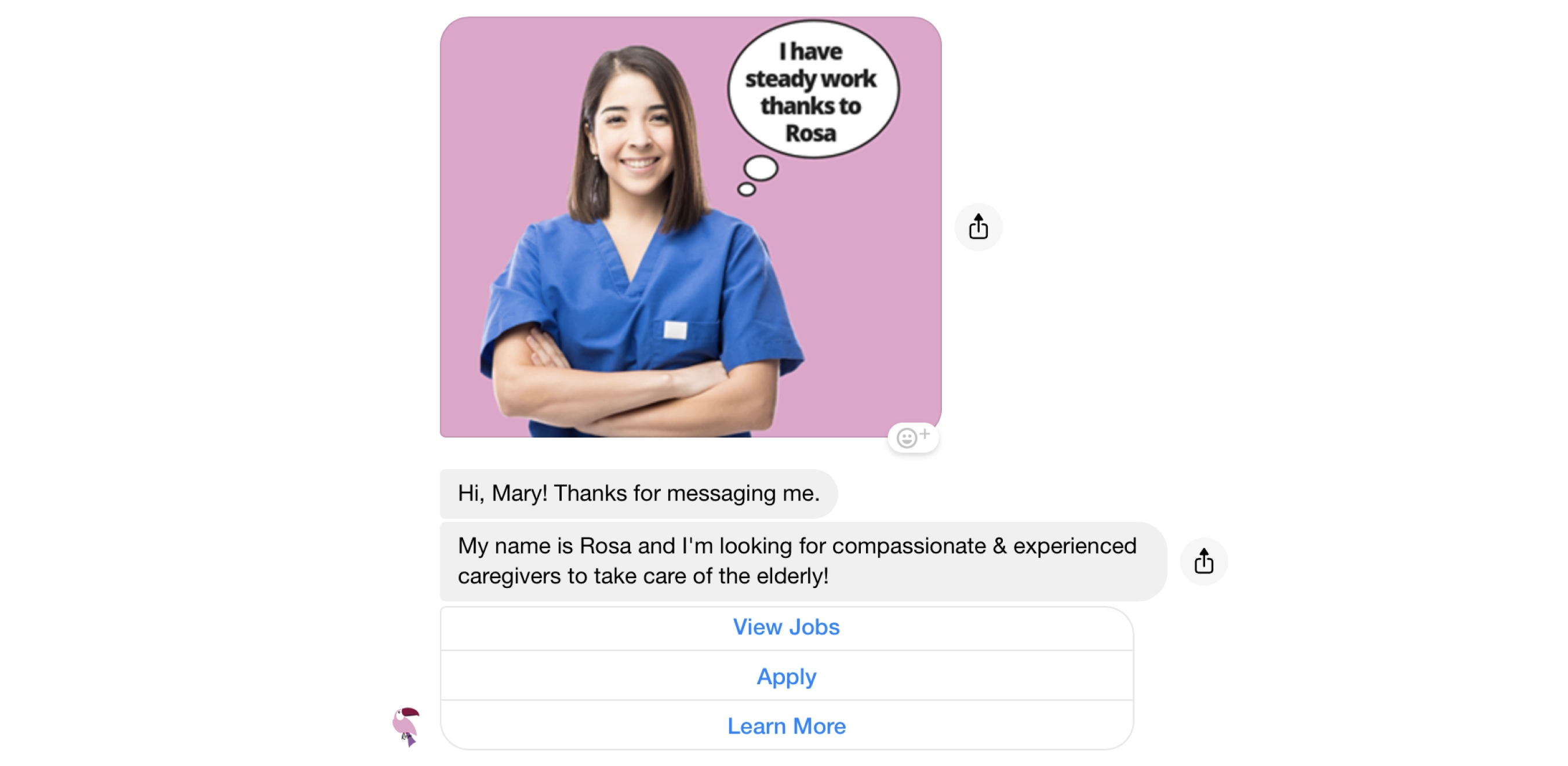 Chatbots are great for recruitment but can be used once employees are hired. A Messenger bot can help with onboarding, training, and employee retention. Set yours up with FAQs about the employee handbook, for example. Or, equip it to send company-wide alerts and reminders about things like holidays and meetings.
Chatfuel bot builders share their experience on HR bots
Let's look at a particular example of an HR chatbot in action. "We set it up for recruiters, so they can save time and streamline to the top leads faster, " says the Social Media Advertising Manager of the marketing agency that built the bot. It's geared towards those looking for truck driving jobs in the US. It answers FAQs about openings and the application process and can search for available positions instantly.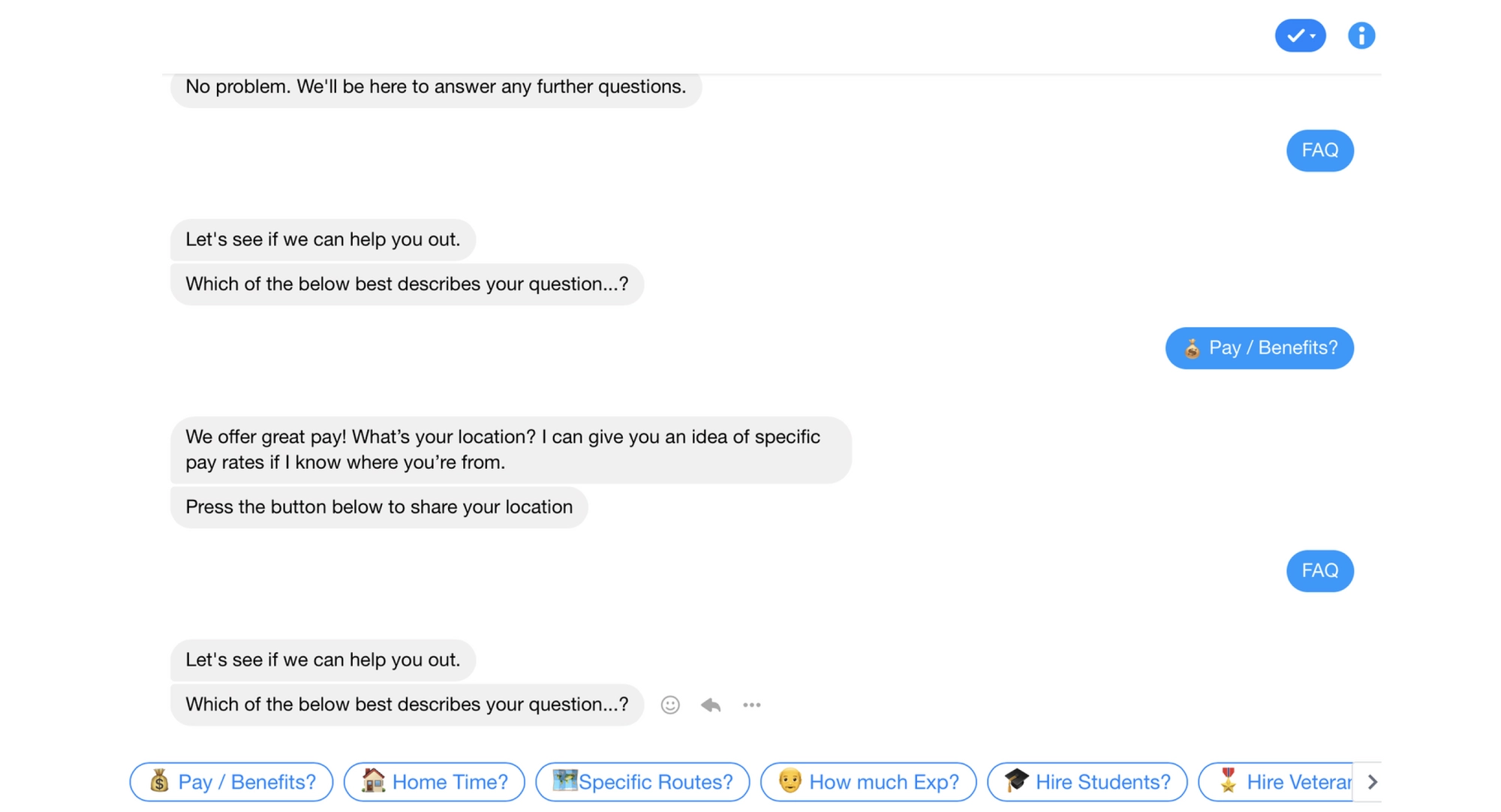 The agency connected the bot to a Facebook ad campaign, and the results were explosive. It helped thousands of candidates find jobs. It also saved the company hundreds of hours in the recruitment process. Check out the numbers for the period from January 1st to March 25th:
1,559 FAQs answered;
1,254 started an application after getting an answer to their FAQ;
81% conversion rate from FAQ to started application.
This agency built an incredibly successful bot for its client. With the automated routine messaging, the team saved about 240 hours and spent this time interviewing the most successful candidates so that people got jobs much faster.
Streamline recruiting process with a chatbot
With Chatfuel, building automation is easy, regardless of your skillset or previous experience. Plus, you won't need any coding knowledge or other special skills. So sign up for your free Chatfuel account today to automate your routine and focus on what inspires you the most.
‍