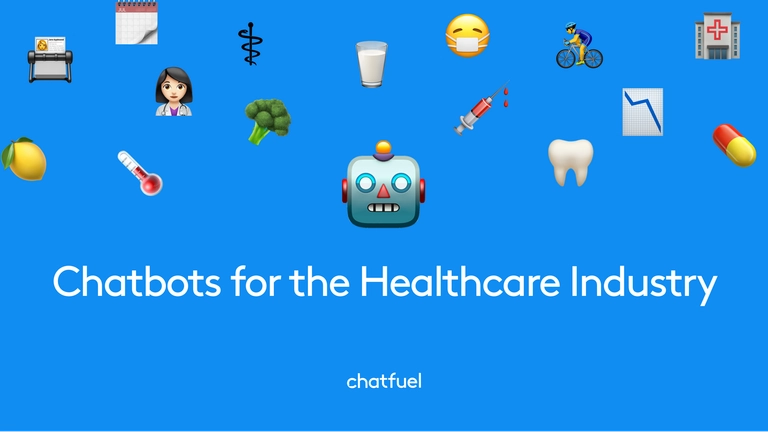 Published July 25, 2023 in
How to save time and improve the patient experience with a healthcare chatbot
Find out how any medical practice or health-related business can benefit from a Facebook Messenger bot.
What can a healthcare chatbot do? If you break a bone or get an infection or have a heart attack, you're not going to turn to a bot (please don't!). They're not intended to be a substitute for in-person care from a qualified medical professional, of course. In fact, chatbots aren't meant to replace human agents at all.
Instead, they're powerful tools that healthcare professionals can use to save time, so they can focus more on delivering great care. They're resources that patients and the customers of healthcare businesses can access to get information, suggestions, and assistance 24/7 to improve their health. Basically, bots facilitate a better healthcare experience overall.
Any medical practice or health-related brand can benefit from a Facebook Messenger bot. That includes everything from clinics to insurance companies to online stores that sell vitamins. First, let's explore why. Then, we'll dive into how you can get started building a chatbot for your own healthcare business.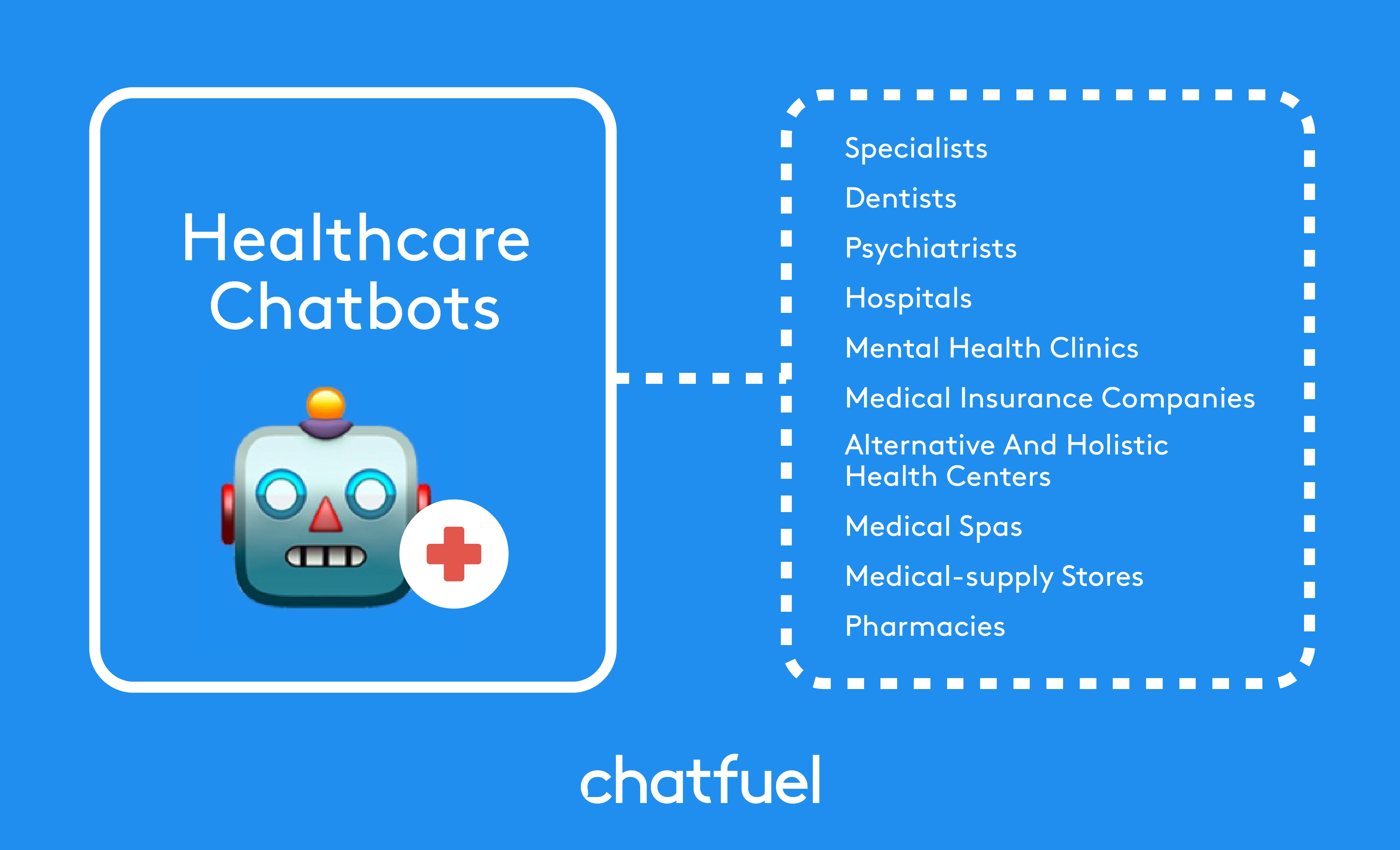 Example use cases for chatbots in the healthcare industry
A Messenger chatbot can converse with users in a back-and-forth style via Facebook Messenger. That means they're great for answering questions, giving recommendations, sharing resources, and automating other routine tasks. Here are a few examples of how different businesses in the healthcare field could utilize Messenger chatbots:
An urgent-care facility could have their chatbot act as a symptoms checker. It could quiz users on the health problem they're facing, and recommend whether they should seek care at the clinic.

A local or national health organization could use a bot to disseminate important details about vaccinations or epidemics. (Many have done this during the COVID-19 pandemic, for example. Get resources on building bots to share important COVID-19 information.)

A psychiatrist or therapist's office could set up an AI bot to act as a listening ear for users who need to talk. It could offer tips and advice between therapy sessions. Or, it could help patients track their moods or feelings so they can discuss them with their therapist at the next appointment. (Check out this case study of a startup that uses an AI chatbot to analyze users' dreams to help them improve their mental health.)

An ecommerce brand that sells supplements, workout gear, or medical supplies could build a bot to recommend products to undecided customers. It can then direct those users to their website to buy, increasing conversions.

A dentist could set up a chatbot to let users schedule their next appointment in a few taps.

A medical insurance company could build a bot to help customers find in-network providers near them based on city or zip code. It could also answer questions about claims and coverage.

A medical spa could use a chatbot for lead generation and qualification for high-ticket procedures. The bot could attract new prospects, then ask them questions to find out if they'd be a good fit for service A or service B. Finally, it could help the best matches schedule a consultation.
All of these use cases would have two benefits. First, they'd free up time for office staff, who would no longer have to handle so many routine questions and tasks. That means they can focus on caring for patients or clients who are at the physical location instead. Second, it gives patients/customers a listening ear and a source of health advice 24/7, no matter where they are. It lets them get information, buy products, or even schedule appointments with providers in a few taps, whenever is convenient for them.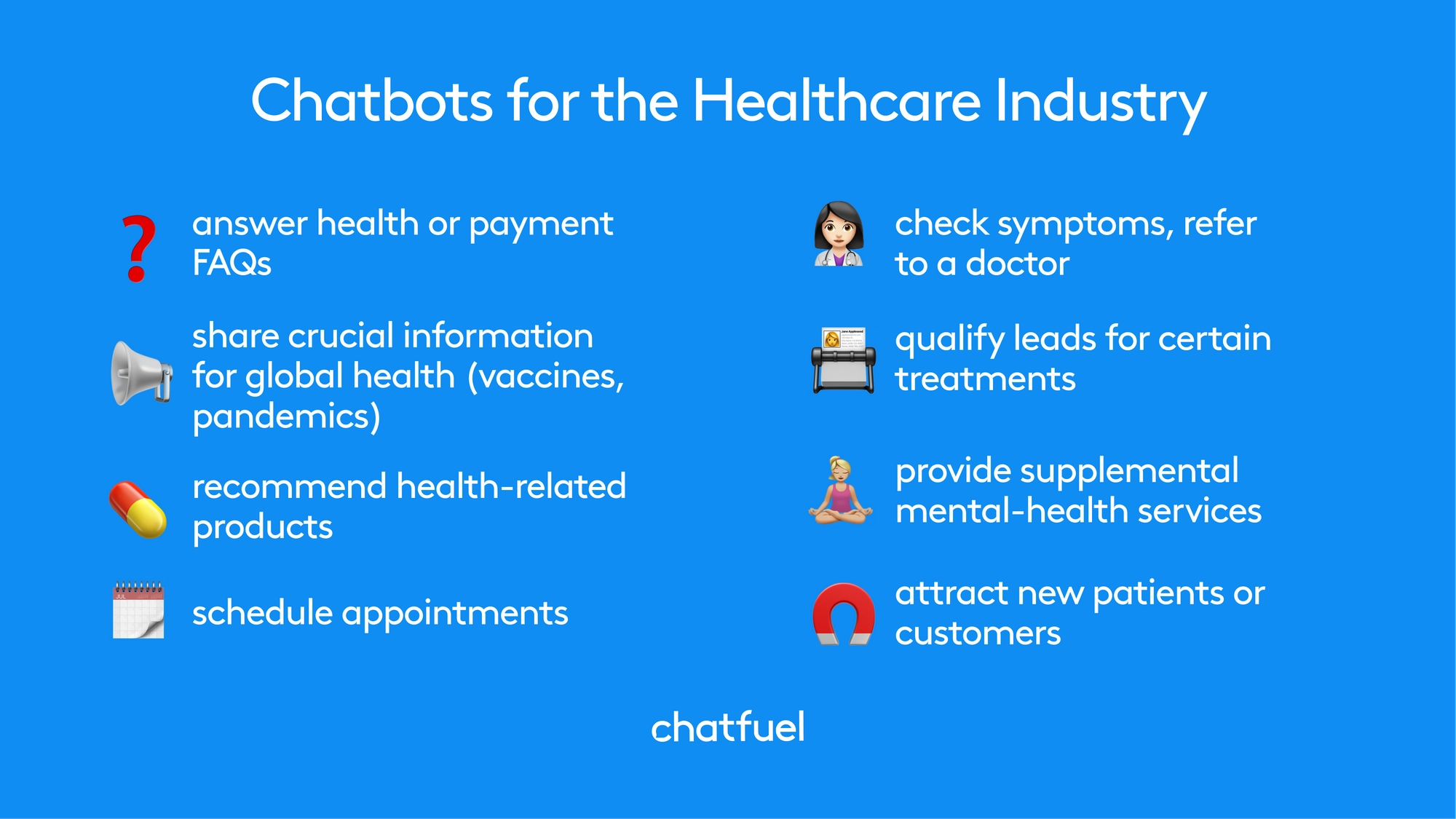 Why chatbots are perfect for health-related businesses
Any type of business can benefit from a chatbot. But businesses in the healthcare field will find them especially useful, because chatbots can give information/advice to patients or customers…
Instantly, 24/7. Let's say a patient wakes up in the middle of the night feeling a bit under the weather, for example. They don't have to wait till their doctor's office opens in the morning to call and get advice. They can use the clinic's chatbot then and there to find out what to do next.
In a friendly, humanlike way. Bots will chat with your users in a back-and-forth style. Getting health information this way—conversationally, piece by piece—is generally rather calming. It can seem less intimidating than reading huge blocks of text on a website. It's one detail that can help make for a better patient or customer experience.
No matter where they're located. Let's say a therapist has a patient who lives an hour from their office, so they can only come in for appointments every other week. The doctor could recommend they chat with the bot during the off weeks to help keep them on track or monitor their moods.
In a personalized way. Personalization is a major chatbot claim to fame! A Messenger chatbot has access to each user's Facebook profile. That means it can personalize the conversation with things like their name, language, and time zone. Plus, bots can gather information by asking questions, and store this data for future use as attributes. So for example, let's say a customer showed interest in men's multivitamins last time it chatted with the bot for a health store. The bot can send them a coupon for 20% off men's joint-health supplements later, for example. It knows that particular product will be relevant to that user.
How to build a chatbot for your healthcare business
The fastest way to get your bot set up is to use one of our free chatbot templates. There are around 100 to choose from, and most are free. Plus, using a template couldn't be easier. Just select one, click Use Template, customize the content, and launch your bot. (Right now, these templates are only available for bots built in the Automation → Blocks tab in Chatfuel. Automation → Flows templates coming soon!) For health-related businesses, there are several templates to choose from (both free and paid), including:
The ecommerce templates. They'll help sell health-related items from a Shopify, WooCommerce, BigCommerce, Magento, or Volusion store.
The Chiropractor template will help gather and retarget new leads, and send post-appointment follow-ups. The Orthodontist template is similar. The Dentist template will share team bios, trivia, and tips, plus maps and info about the office.
The Calendly Appointment Booking template will let users make appointments with your office right within the bot. (Make use of our Date Picker, too!)
The COVID-19 Assistant template was designed to help health organizations share information about the coronavirus pandemic.
Visit your Chatfuel dashboard to see all available templates.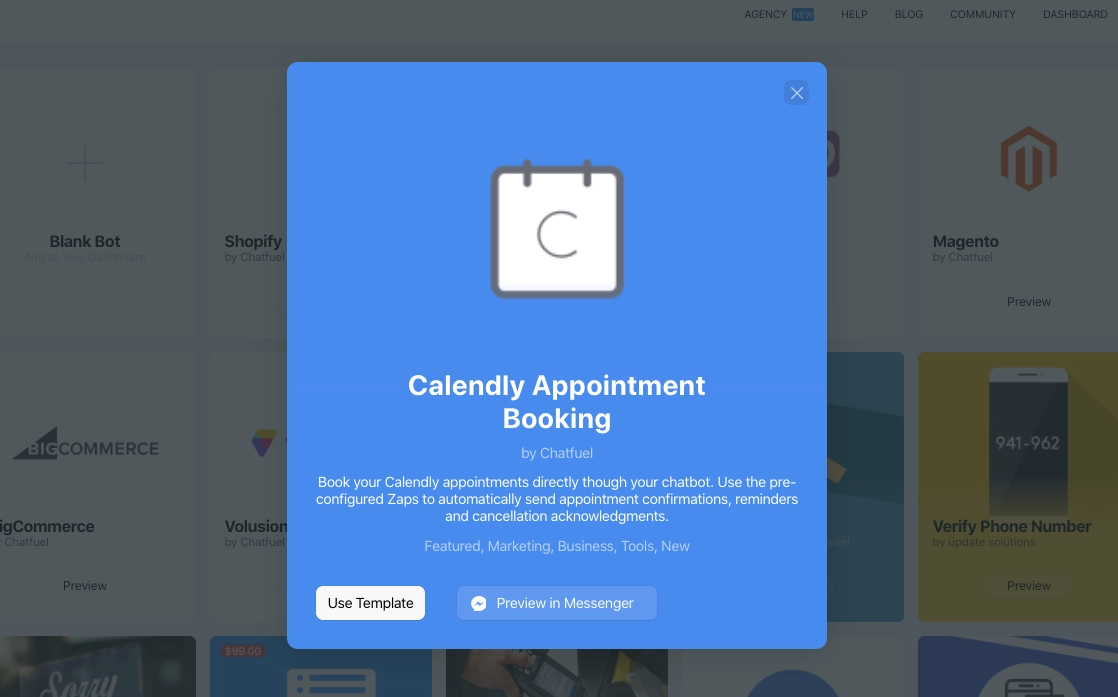 Tips for building an effective chatbot for your healthcare business
Whether you use a template or build your bot from scratch, there are a few things you should keep in mind to make it maximally effective.
Build it to solve client pain points. If you don't know where to start with content for your bot, start here. What do patients or customers complain about, if anything? What's typically the most time-consuming or frustrating part of interacting with a business in your field? What do you receive the most calls or emails about? Choose the most pressing issue, and build a bot to alleviate it. Focus on your patients or customers first, and your business will see the benefits.
Spread the word about your bot. If people don't know about this great resource you've created, they can't benefit from it. Embed your chatbot on your website, since that's where many people will go to contact you. Add the m.me link to your social media pages and email newsletters. Drive those who comment on your Facebook-page posts to your bot. You can even draw new users to your bot with Facebook ads.
Take advantage of sponsored messages. Facebook updated their Messenger policies in March 2020. Now, businesses can no longer send promotional content to users outside the 24-hour window—for free, that is.  But you can send a sponsored message whenever you like. Sponsored messages are paid Facebook ads in the form of a promotional message to inactive users. A dermatologist could send one to announce a community skin-cancer screening day. A nutritionist could send one to advertise their consulting services to help with New Year's resolutions. A vitamin store could send one to announce a sale on supplements. The sky's the limit with sponsored messages for healthcare businesses!
Track performance and optimize. To make sure your chatbot is useful for patients/customers and effective for your business, monitor it. You can A/B testdifferent elements to see which get you the most appointments booked, products purchased, etc. You can see how many people are viewing and interacting with each block with built-in stats. Ecommerce health businesses can use our Send Analytics Events to Facebook plugin to visualize and optimize their sales funnel. Retailers can also use our Cart Reminders plugin to boost conversions.
Examples of real healthcare chatbots
Want to see a Messenger chatbot for a healthcare business in action? Check out these examples. They're all powered by Chatfuel.
Dr. Adam Winter
Dr. Adam Winter is an Israel-based neurologist. He provides unique services for adults and children with rather specific problems. That means he has to ask prospective patients questions to know if his treatments match their needs. Doing this manually was too time-consuming, so he started to look for tools that could help. "I searched for automated answers in Facebook Messenger, " explains Dr. Winter, "and I saw some YouTube videos from Chatfuel and I immediately got hooked. I realized that I found the solution I needed." Now, his bot handles this lead-qualification process automatically. It then sends each patient's information to a Google Sheet so Dr. Winter's secretary can contact them.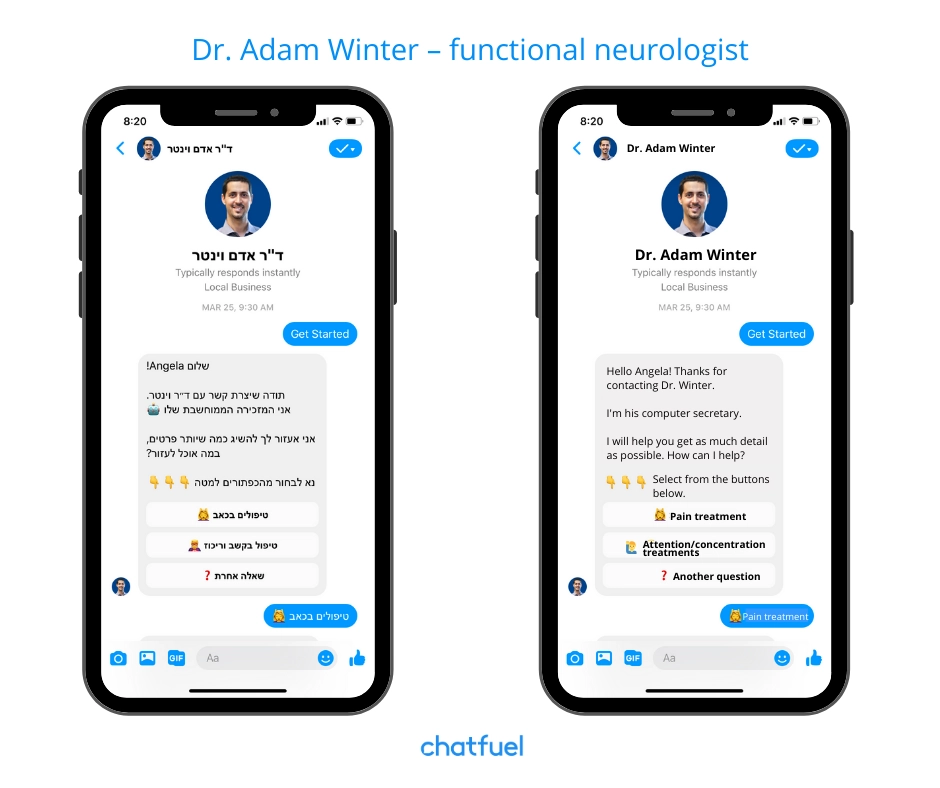 Eva, Bots4Health
Eva is a healthcare-data research project. Cris Santamarina is a product/project manager who built a Messenger bot as an experiment. Her goal was to see how she could use a bot to collect user health data and transmit public-health messaging. The project has been a success, as she continues to add more features to it. It offers goal management for physical health, mental-health check-ins, and a menstruation tracker. Now, her chatbot also shares health information about COVID-19. Finally, Cris also uses it to teach other health professionals about how to use bots. She's a Chatfuel Premium user, a plan she appreciates especially for "extracting analytics and making user segments." One tip she gives to other bot builders in healthcare is to utilize Facebook ads. She explains how they're crucial for attracting new users—even with short, low-budget campaigns. "I can't emphasize enough how important it is for chatbot developers to proactively bring traffic to their chatbots!"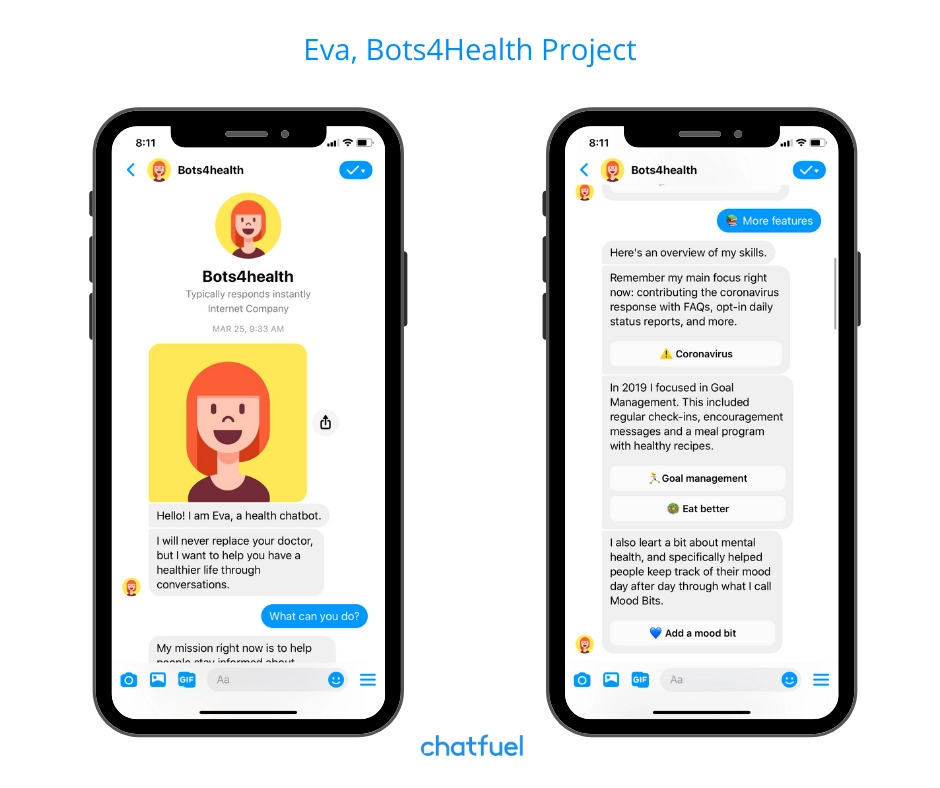 Chemist4 U, pharmacy
This bot handles just one, time-saving task for this UK-based pharmacy. It asks users questions to get them signed up for delivery of their prescriptions so people no longer have to call in or apply by mail. That means pharmacy staff no longer have to spend time gathering data and processing applications, either. It can now all be done automatically via bot in a few minutes.
Therapies With Kim Louise
Therapies With Kim Louise is a medical spa in the UK. They offer what are known as "no-needle treatments" for skin and body. Their chatbot explains the treatments they offer and answers FAQs. It shares pricing details for each one, and lets users book the treatment of their choice.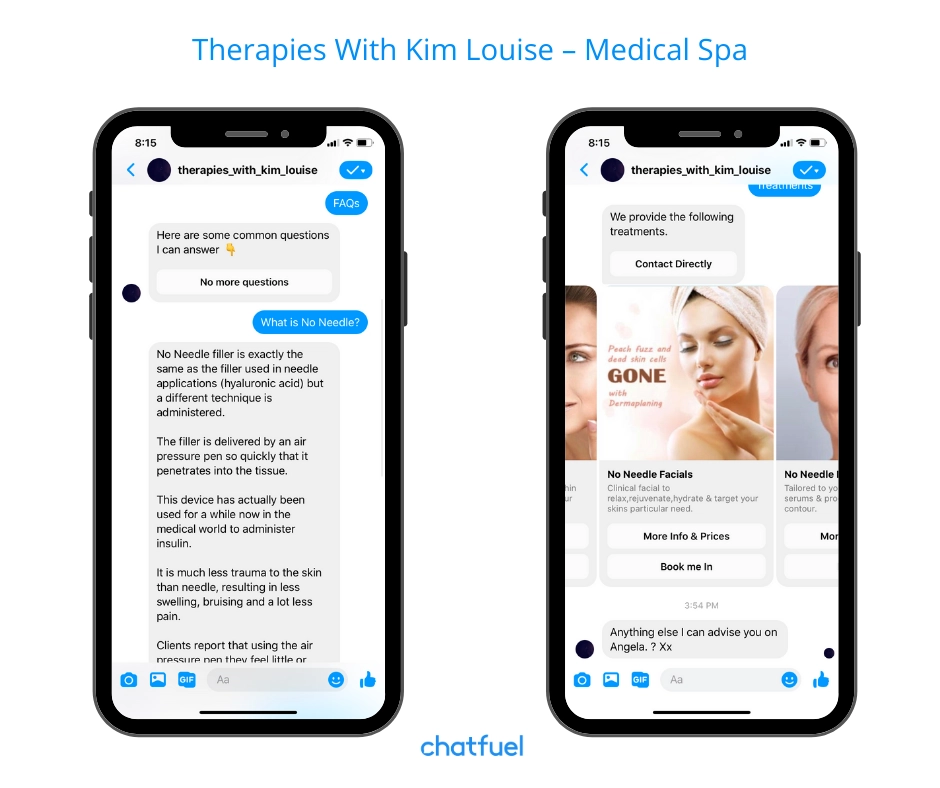 JustNutritive
JustNutritive is a US-based online store for handmade, all-natural health and beauty products. They sell everything from soothing lotions for troubled skin to treatments for thinning hair. Their bot recommends products to users based on their needs. For example, you can choose to browse hair, face, or body products. If you select face, you can browse anti-aging or acne formulas, and so on. The bot is designed to help the shopper find the right product for them.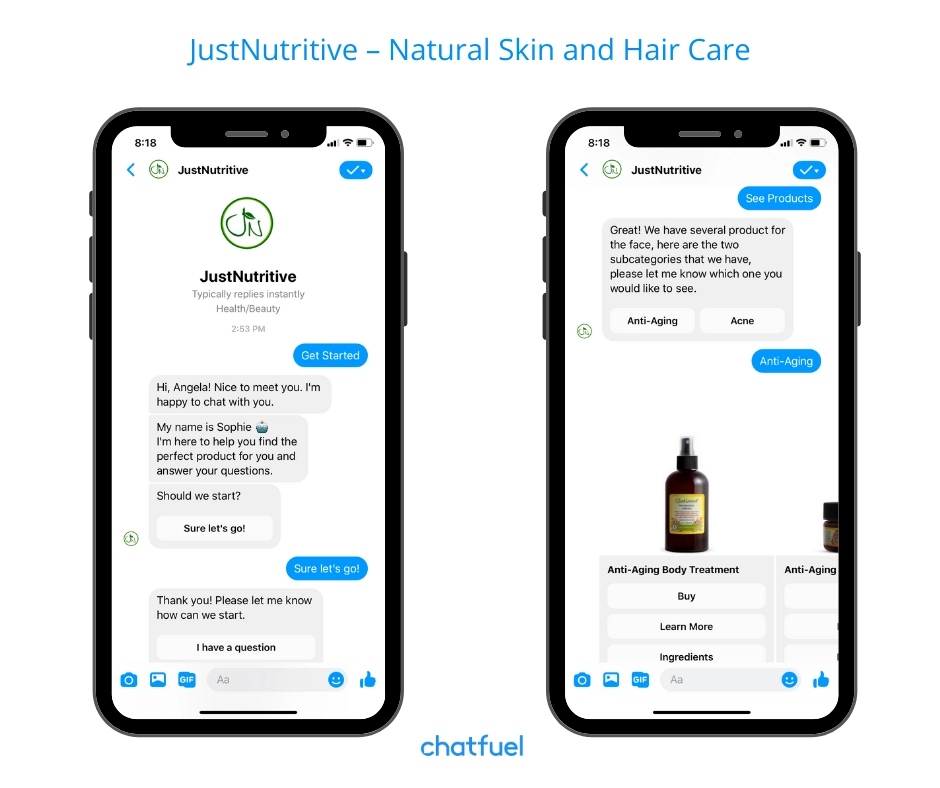 Trijog
Trijog is an India-based clinic that offers counseling for adults and children. Their bot lists prices and details for their therapy appointments. It lets users book their own appointments, or request to be contacted for booking. Trijog's informative chatbot also introduces the concept of therapy to those who are unfamiliar or unsure about it. It explains the key benefits, and how to know when or if you should seek therapy for yourself or your child.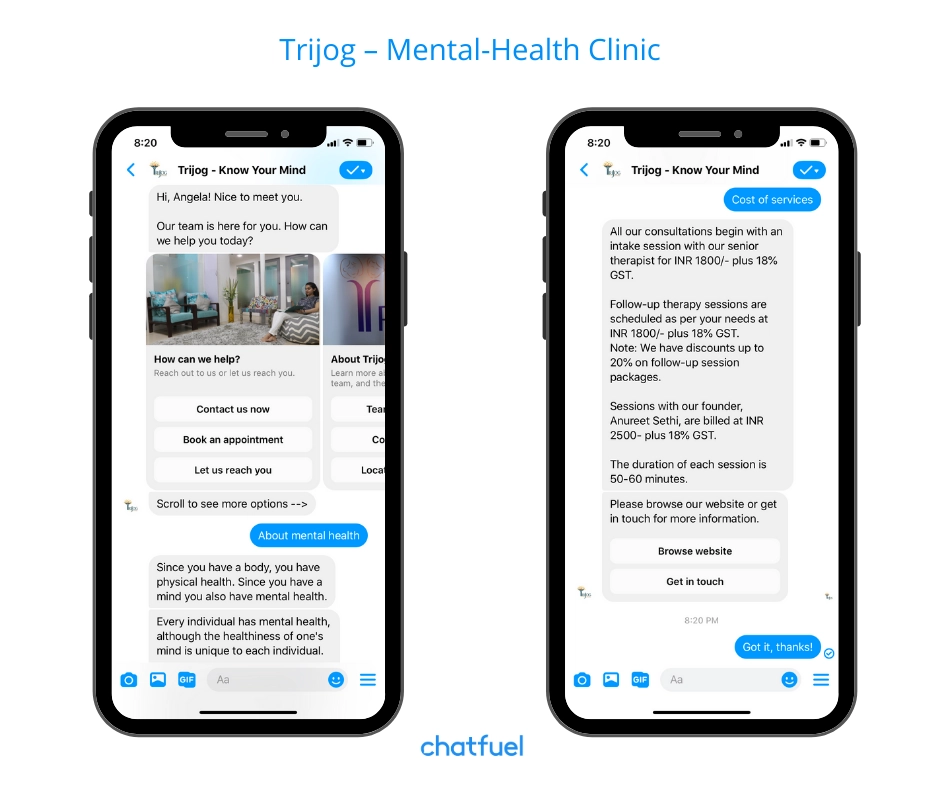 Chatbots for health during the coronavirus pandemic
Since the COVID-19 pandemic began, thousands of organizations have turned to Messenger bots. They're being used worldwide to share important virus-related information. See a list of the resources we're offering to help organizations build bots quickly during this time. Learn more about our partnership with Facebook for this purpose, too. Finally, get instructions on how to load and customize our free COVID-19 chatbot template. 👇🏻
A chatbot a day keeps the doctor away
The best news about bots for your healthcare company is that you can build one yourself—no coding skills or special knowledge required. Get started for free today.