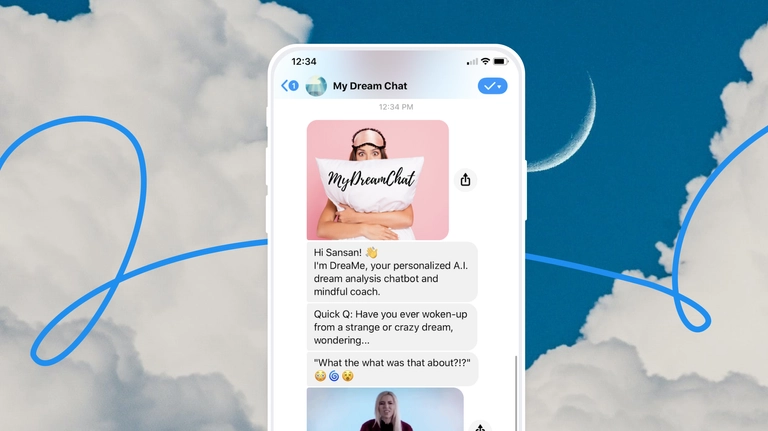 Published June 16, 2022 in
Startup blasts: chatbot analyzes dreams and improves mental health
How e-commerce brand create a Messenger mental health chatbot for dream analysis and increase engagement rate x3
Here's the story of MyDreamChat — a startup that created a Facebook Messenger mental health chatbot for dream analysis. It grew to over 12,000 users in the first five months with under $5,000 in marketing spend. It brings powerful therapy experience as part of a larger project to create a separate app for this purpose. Tackling the minimum viable product creation, they ended up using the Messenger chatbot practically and creatively.
The brand helps to start your mental health improving journey
Sansan Fibri, the founder of the startup, has always believed that our dreams have the power to help us uncover and deal with emotional challenges. However, most of us need the proper guidance to start this mental-health journey. That's where Sansan's AI chatbot MyDreamChat comes in.
It's a guided self-therapy tool that helps users analyze their dreams in a conversational, quiz-like format. The goal is to lead them towards a resolution at the subconscious level for more sound mental health.
While Sansan started on this concept in 2018, it's become more relevant than ever in the COVID-19 era. Sansan and her team surveyed over 10,000 MyDreamChat users a few months into the pandemic. They found that 40% of customers used words like "feeling trapped," "hopeless," or "powerless" to describe their coronavirus-era dreams. But after dream analysis via this mental health chatbot, 82% of respondents reported gaining new insight, which led to feelings of hope and optimism.
The iOS app for the MVP proved to be way too pricey
Sansan explains that "effective mindset change and lasting healing occurs when we become conscious of our unconscious patterns and triggers. Those drive 95% of our decision-making and behavior." Dream analysis is an effective tool on this journey for mental health, which is why she founded a startup called Wakefully in 2018.
However, to build the complete product she dreamed of, Sansan needed investors. And to attract investors, she knew she needed to start with a minimum viable product (MVP). The purpose of the MVP would be to validate market interest and cultivate a motivated and engaged core audience.
So she started by commissioning an iOS app for her MVP in 2018. But "it turned out to be an expensive user interface that was not really usable and most definitely not scalable," Sansan shares, since she was doing all the analysis work behind the scenes.
After that experiment, Sansan knew she needed a cheaper and more automated solution for her true MVP. "That's when I realized that the conversational nature of the app I envisioned and the Q&A in branching logic lend themselves pretty nicely to a chatbot," — she says. "It seemed like a more affordable and scalable solution to test market interest. Thought at the time, I had no clue that I, the visionary/non-technical founder, would be able to build it myself!"
Chatbot has it all
"In the past, I used lead quizzes that would send people to my landing page waitlist. No more! I saw how I could streamline the entire funnel: ad → quiz → landing → dream analysis using a Facebook bot." She was sold when she learned that she could use chatbot marketing to drive traffic, capture leads, retarget, and deliver value. "Our entire value proposition, all in one chatbot!" says Sansan.
She turned to Chatfuel for this project right away. Sansan tells us: "In my research, Chatfuel kept coming up as the platform that can enable someone like me, lacking any coding skills, to build an awesome Messenger bot. Using just Chatfuel and its videos and help docs, I built and launched the first version of MyDreamChat in about two weeks. I continue to learn, grow, analyze, and iterate due to the vast amount of information and tools Chatfuel provides."
Here's how MyDreamChat chatbot for mental health works:
The user selects their dream type (being chased, falling, or feeling trapped).
They take a personalized quiz about the details of the dream they can remember and the feelings they associate with it.
The chatbot generates a personalized analysis of the user's dream. The analysis explains what it "means" or symbolizes in the context of that person's life experience.
"It delivers this dialogue using positive psychology to help reframe their thinking about this and other dreams in a therapeutic, healthier way," explains Sansan.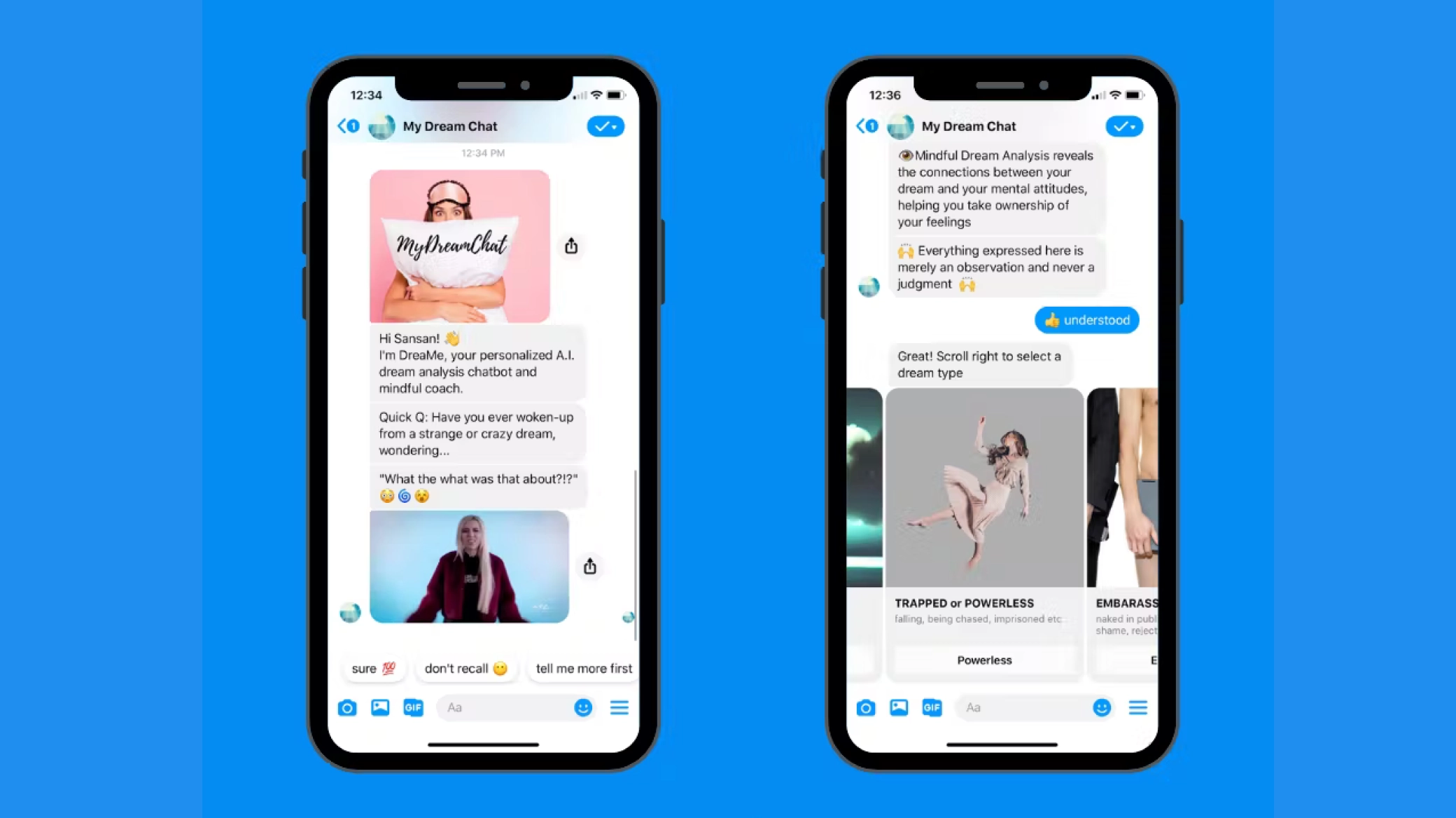 Satisfied customers and high conversion
Sansan originally built her Messenger chatbot as an MVP for her separate app. She intended the Messenger bot to be a temporary solution but now decided to continue using Chatfuel as the top of the funnel with her own app. "The experience is so optimal for customer acquisition," she says.
This decision is based on the incredible results she's seen with her chatbot for mental health and dream analysis so far. Take a look:
The chatbot has an 82% user satisfaction rating based on exit polls seamlessly integrated into the chat after an analysis.
The average engagement rate for users is 3 times more in the first week.
30% of users share the bot, and 25% of page likers share MyDreamChat ads, making for a virality factor potential of 50%.
Sansan and her team identify 53% of users as highly likely to convert (to download their separate app) and 33.5% as likely to convert to paid subscribers in the app.
MyDreamChat illustrates how the use cases for Messenger chatbots are practically infinite. Most any scenario that would benefit from a personalized, back-and-forth conversation can be created in Messenger. It's not just e-commerce retailers or brick-and-mortar businesses. As you can see, chatbots that provide mental health care or guidance work incredibly well in Messenger. They are using no-code technology to help people live better. We love to see it!
Wakefully is currently offering a promotion to their Facebook chatbot subscribers: a pre-order discount on membership once their complete, separate app is released.
If you are ready to build your own project in Chatfuel, get started for free to boost your sales.