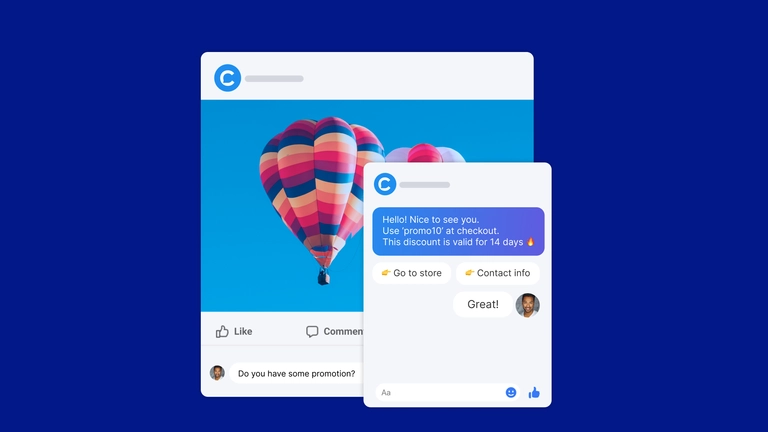 Published November 18, 2022
How to set up auto-comment reply on Facebook
Facebook comments are the busiest parts of your sales funnel businesses often overlook. So let's automate them to boost your engagement.
Whether your Facebook Business Page is underperforming or succeeding, automated engagement is what you need. It's a bold statement, but your customers are proving it to be true day by day.
You must give them a timely and efficient response if it's underperforming. And if it's succeeding, your customer base will only keep growing, making it more challenging for your team to handle the growing queries.
Facebook comments are one of the first points of engagement for new customers. So don't take them for granted.
Let's find out how you can use a chatbot to start automatically replying to Facebook comments on your Facebook Business Page so that your customers keep growing but are never left waiting.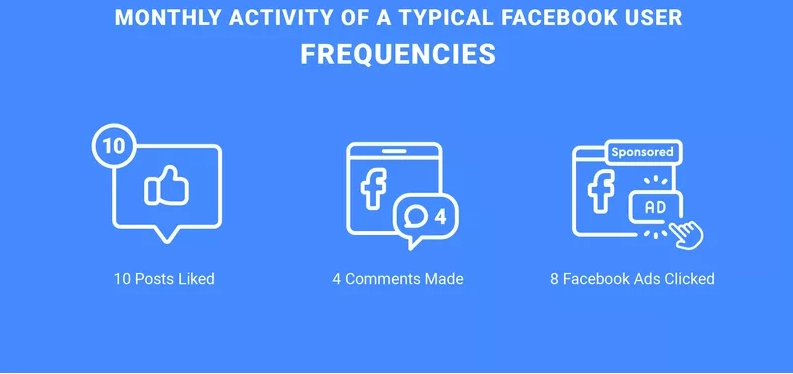 What are automated replies for Facebook comments?
A study revealed that 63% of customers expect businesses to offer customer support through social media channels. But you may be wondering — "How can I possibly reply to comments on all my Facebook posts? How will I find time to do other work?"
You won't have to. That's what automatic replies will take care of. You must set up a chatbot for your Facebook Business Page to automatically reply to user comments.
For instance, if users keep leaving repetitive comments on your Facebook posts, your chatbot can auto-reply with the information requested. It can even direct them to your product catalog for lead generation, thank them for positive feedback with a promo code, or open up a live chat on Facebook Messenger to personally address their complaint.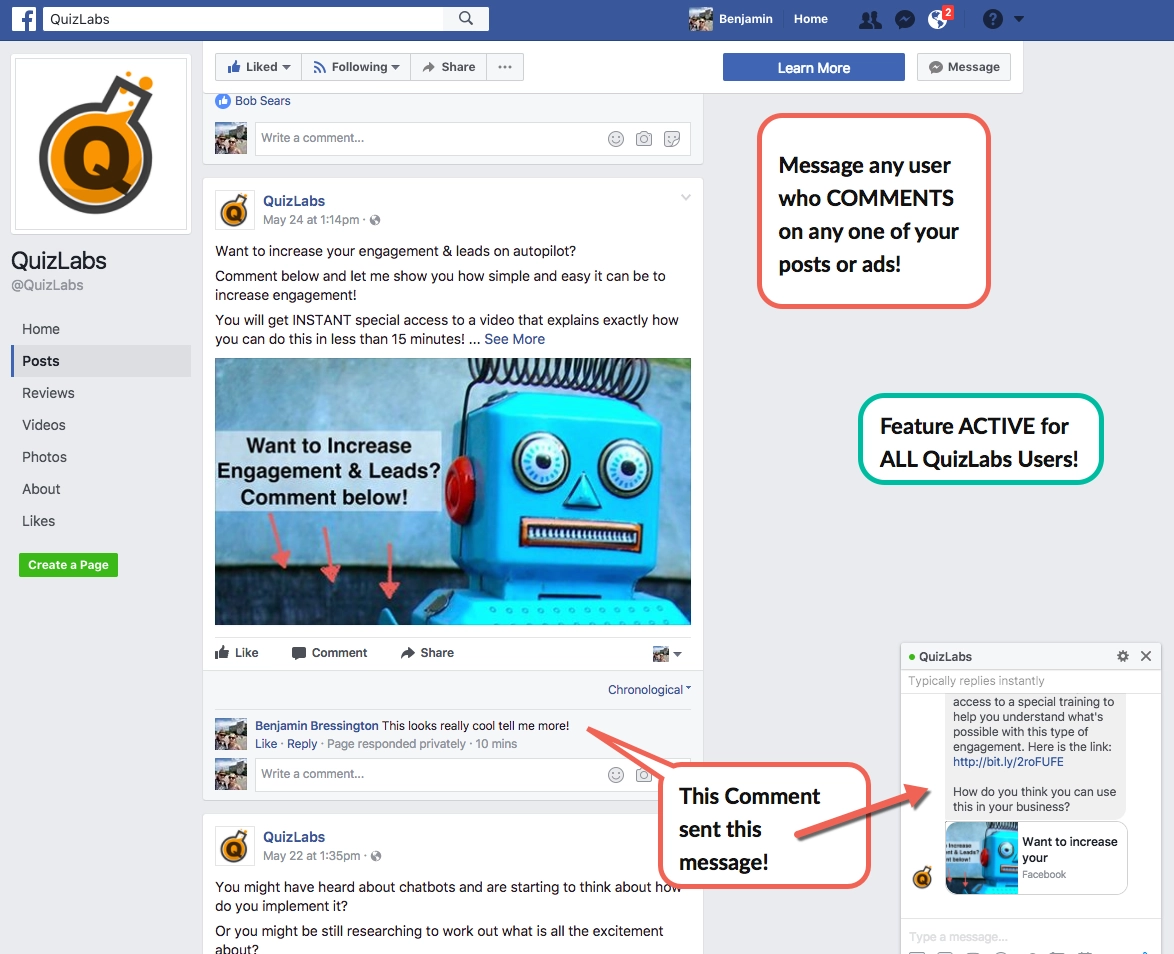 Why use Facebook comment auto-reply
Did you know many users directly scroll down to read the comments on your Facebook posts before even fully reading or watching them? That's where the 'social' part of social media comes into the picture.
Customers love good content, but they also want a good community experience. They care about how others are engaging with your posts and how you respond to them.
Your Facebook comments section is like a free advertisement board for your brand. Your commenters are potential customers, so you have to make every interaction count. However, the only possible way to do that is by automating your comment replies.
Many brands have already achieved great results using the Facebook Comments Autoreply feature on Chatfuel. For example, check out how a baby-furniture brand DECEN® was able to resolve 98% of customer inquiries, and a meal-kit company HelloFresh also reduced response time by 76%.
Benefits of automated replies for Facebook comments
Here are the three top benefits of automated replies on Facebook shared by most of our customers:
Building brand authority
Did you know brands that with an average response time of one hour can get 7 times more leads than their competitors?
The comments section is where customers get their first look at how responsive and friendly your brand is.
Your Facefook Business Page gets a "very responsive" badge if you respond to 90% of messages within 15 minutes. Customers like to see the same level of responsiveness and transparency in your communication, even in your comments section.
Accelerate your conversions
Most of your new customers are looking for some simple navigation guidance. In addition, they want to know about your product details, pricing plans, or special offers.
You can easily set up standard auto-replies for such queries, saving your time and allowing your customer to take the next step faster.
Personalized customer support
You can set up automated comment replies for general as well as specific issues raised by customers. The simple queries can be addressed on the comments section.
For the more specific customer issues requiring more expertise, you can trigger a live chat on Facebook Messenger to privately address them.
How can you set up Comments Autoreply on Facebook?
First, log in with your Facebook credentials and connect your Facebook Business Page to Chatfuel. Next, go to Dashboard and select Automation → Flows.
It's time to pick your Entry Point, which is the channel through which a new user connects with your chatbot. In this case, select Comments Autoreply. We're also launching a similar Entry Point for replying to Facebook ad comments very soon.
Selecting the Facebook Comments Autoreply Entry Point.
Here's what you can do with this feature enabled:
Choose if you want to send automated responses to comments on all posts or specific posts.
Send public replies to user comments or private responses through Facebook Messenger.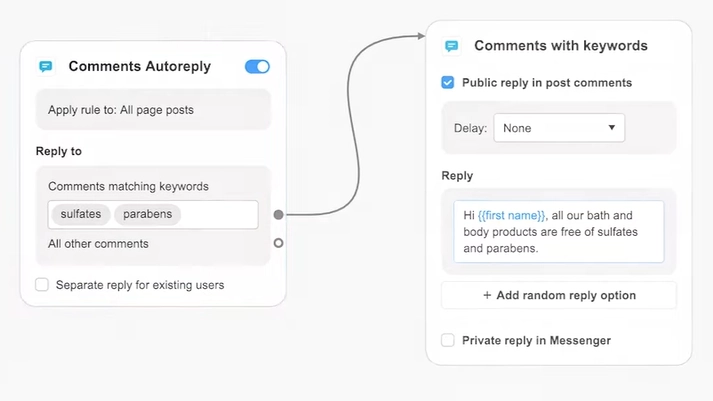 Assign unique replies and keyword triggers to target specific keywords used by your customers in the comments.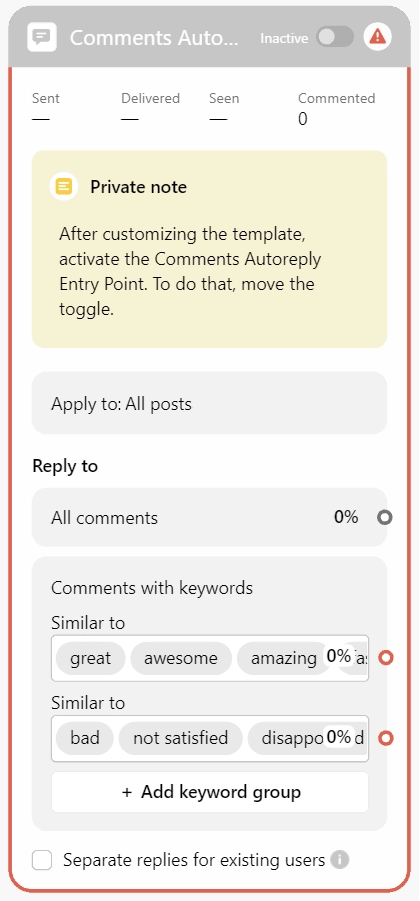 You can choose a preferred delay time for any of your automated responses.
You can also set up automated likes to customer comments under your Facebook posts.
To do that, turn on the 'Like comments' option in the Comments Autoreply Entry Point, and your bot will like the first customer comment before replying to it: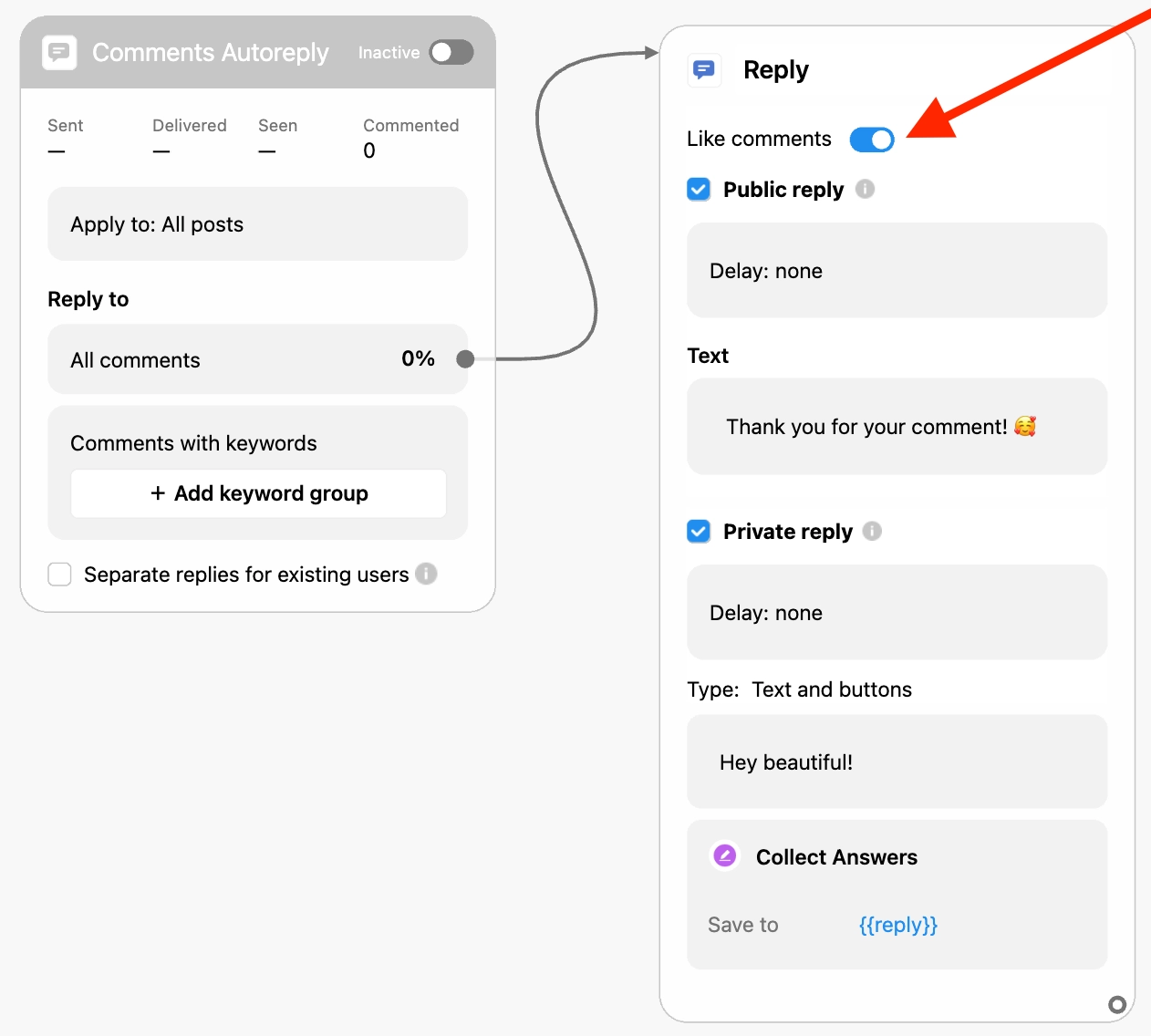 Facebook comment auto-reply best practices
Every comment on your Facebook post is a growth tool for your sales funnel. To make the best use of Facebook auto-reply for your business goals, here are a few pointers you must keep in mind:
Responses to positive feedback should be publicly addressed and even rewarded with promos if possible. It's the best endorsement you can get to win the trust of new customers.

You can acknowledge negative feedback publicly, but detailed discussion should be directed to Facebook messages. It will allow you to keep your comments section better organized and avoid confusing other customers.

You may think broad and irrelevant questions can get you more comments. However, Facebook may flag them as engagement bait and decrease your reach. So it's better to use questions relevant to your services.

Create different public reply options and randomly assign your bot to pick one while responding. This can help keep your customer engagement fresh.

Your chatbot can't track stickers and emojis, so ensure your customers provide a text response to trigger the bot.

It's useful to share the comment you want users to type in to trigger the chatbot into action. For example — "type PROMO2022 in the comments section below to get an exclusive discount."

This way, customers get a clear direction about what they can get from this specific post.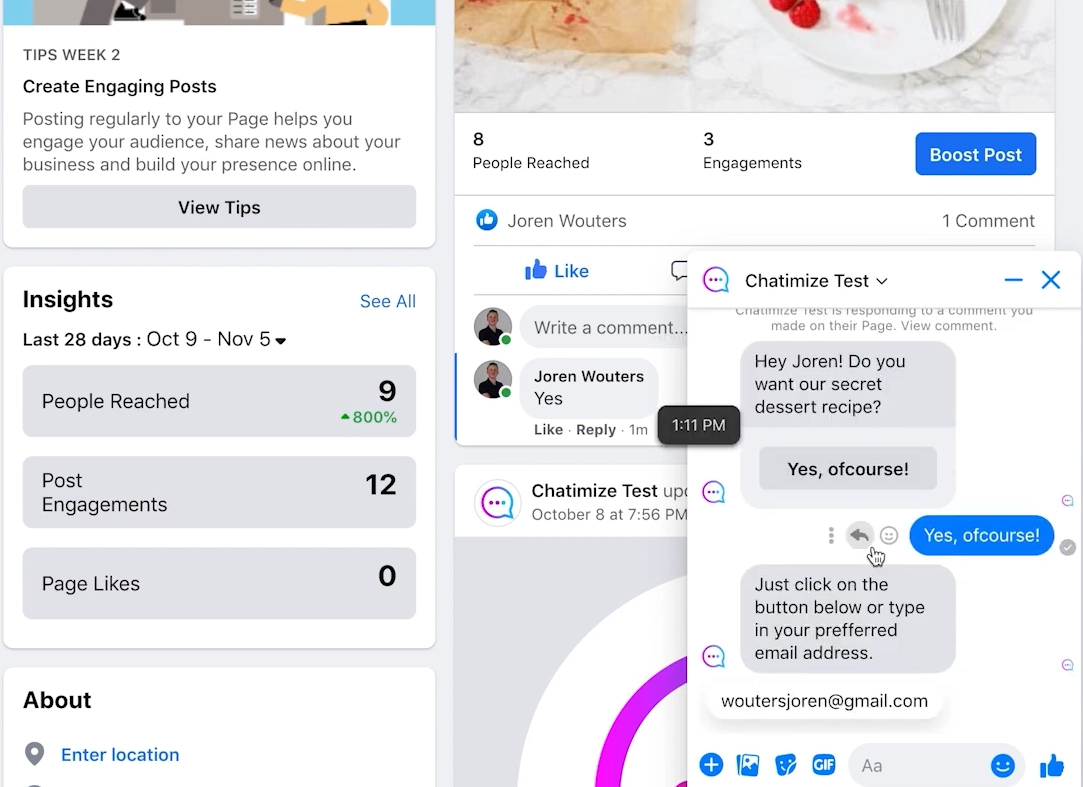 Make your comments convert into sales
It's time to take the burden off your social media team and allow them to focus on creating content and optimizing strategy. A chatbot can make your post-commenters step into your sales funnel in a more naturally engaging way than through other channels.
Sign up with Chatfuel today to automate your Facebook comment replies.