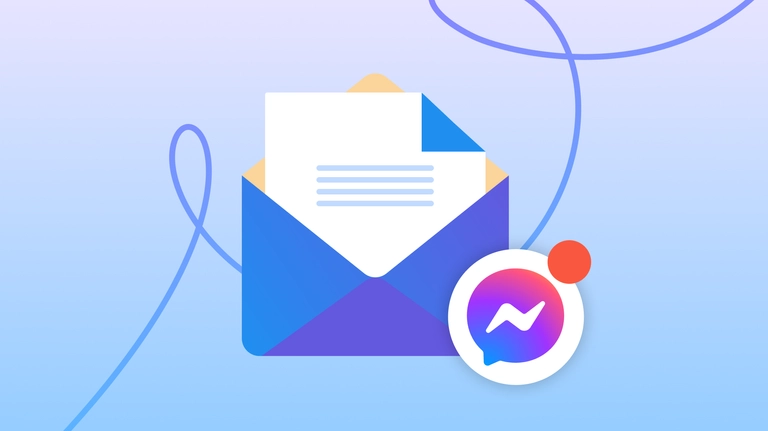 Published July 25, 2023 in
How to create a newsletter in Facebook Messenger
Do you want to get 600% higher engagement compared to email? Then, read about the new Facebook feature—a newsletter right in Messenger.
Newsletters are one of the most effective ways to deliver value to your clients. While emails still remain a tried and tested formula for sending newsletters, their effectiveness falls behind modern messengers like Snapchat, Messenger or WhatsApp.
A marketing industry giant HubSpot ran an experiment to compare email and Messenger newsletters effectiveness. While email newsletters still delivered a decent open rate of 30% and a click rate of 2.1% they vastly underperformed Messenger newsletters with 80% and 13% respectively. That's more than 600% higher engagement compared to email.

Moreover, Messenger newsletters are new. So new, that most Facebook businesses don't know they exist. This gives you a chance to truly stand out and be among the first to unlock their untapped potential.
In this guide you'll learn how Messenger newsletters work, how they are different from email newsletters and how to create your first Messenger newsletter campaign.
What is a Messenger newsletter
Messenger newsletter (officially 'Recurring notifications') is a brand new feature released in 2022 for Facebook Pages. It lets you create daily, weekly or monthly newsletter campaigns and send them out to subscribers right in Messenger chat. This newsletter can contain: product updates, special offers, news or any kind of promotional messages, unless they don't violate Facebook guidelines.
Any Facebook Business Page can use Messenger newsletters. But to access this feature, you'll need to sign up for Chatfuel. It's a no-code tool that lets any business automate day-to-day their routine tasks, like replying to common customer question. In this case you'll need it to create and send out Messenger newsletters.
How is Messenger newsletter different from email
Unlike emails, your whole communication with each customer is in one place — a Messenger chat. So if a subscriber wants to ask a question about what they've just read or contact you for help, they'll just type in a message right there.
A Messenger newsletter offers a more concise, but interactive experience. An email typically has a longer format with title photos, headers, paragraphs and in most cases ends with a CTA (Call-To-Action) button. Due to Facebook guidelines, you are limited to one message per newsletter only, but don't worry, you can still create eye-catching newsletters with multiple pictures, buttons and more.
Your newsletter is also spared of certain email quirks:
it won't get into spam folder;
it will avoid delivery issues;
it will appear as intended on multiple devices.
Let's look at an example. Lets say 1,000 people already receive a weekly email newsletter from your swimsuit store. They read about new arrivals, special offers and then click your CTA and go to your website. With a Messenger newsletter you can use galleries to make the same experience more interactive. Galleries work similar to Instagram posts, where your visitors can swipe through up to 10 cards. Each card has a picture itself, a description and a button. It makes it so much easier for a person to explore each card and decide which one they want to buy.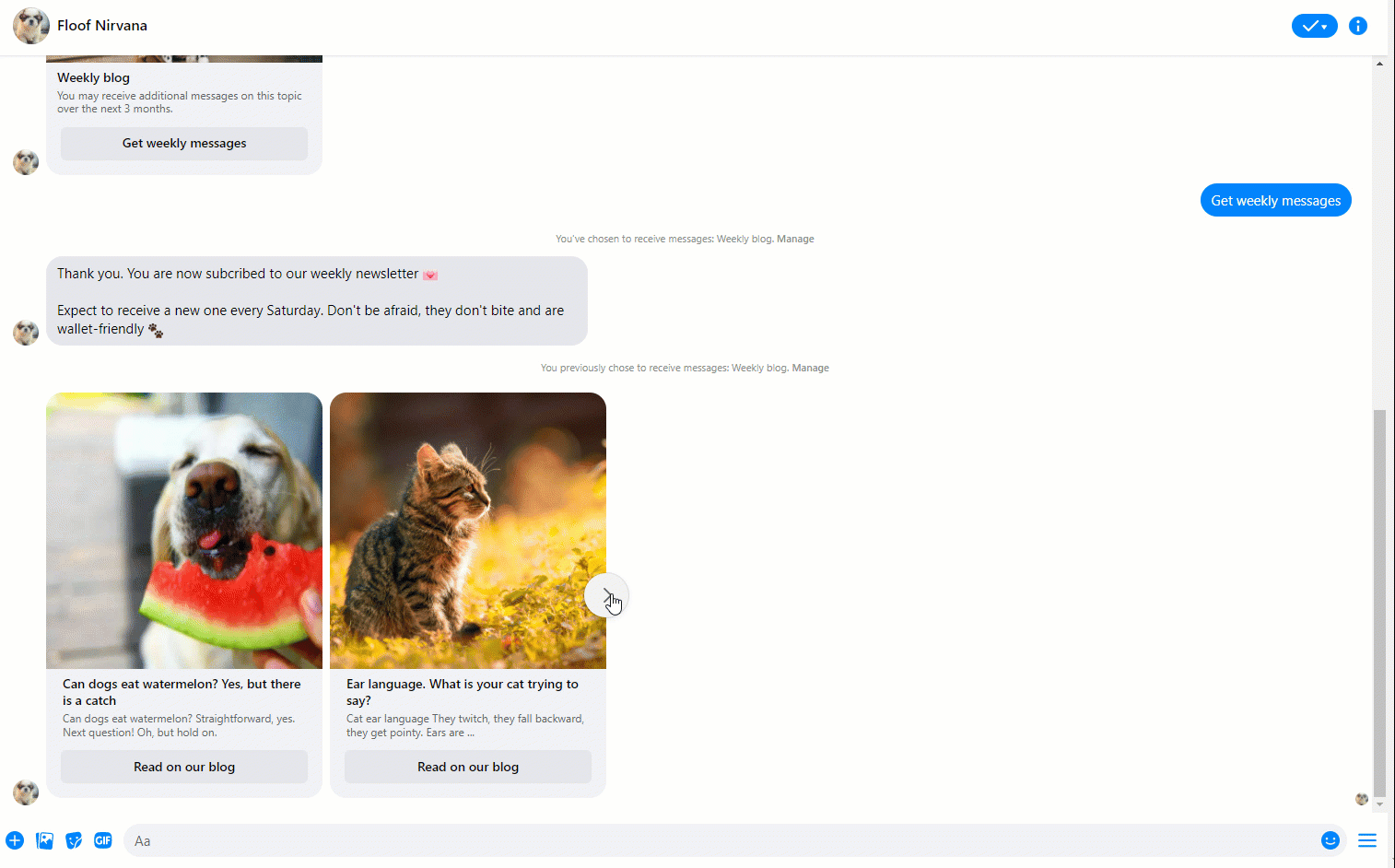 Who can benefit from a Messenger newsletter
Any business that offers services or sells something via a Facebook Page. Some examples:
Creators;
Educators;
Online retailers;
Entertainment;
Health & Beauty;
Restaurants.
How to send a Messenger newsletter
First, get your letter ready. Creating a Messenger newsletter follows the same steps as a regular email newsletter: figure out a goal, gather content and design a template. Next, you'll need to subscribe a visitor or a client to your newsletter. You can subscribe anybody who messaged your Facebook Page or left a comment by sending them a special message with a subscription button. After they subscribe, you will be able to create campaigns and send daily, weekly or monthly messages.
There is only one rule you need to keep in mind. You need to subscribe a person to your newsletter within 24 hours after their last message.
Subscribe your readers
First, you'll need to register at Chatfuel, it's a tool that lets you create newsletter campaigns for Messenger. After you do the initial setup, go ahead and create one or several Flows. A Flow is a conversation logic that is automatically triggered when a user sends a message. It is activated when a user interacts with your page by sending a direct message, leaving a comment under one of your posts, etc. Remember those pop-up chat windows that offer answers to common questions, as if you are talking to an agent? Flows are what's going on under-the-hood.
Next, you need to add a special subscription message. You can add it anywhere you want, but in general the end of the Flow makes the most sense. After you do, your users will be able to subscribe by clicking a button and you can start crafting your first newsletter.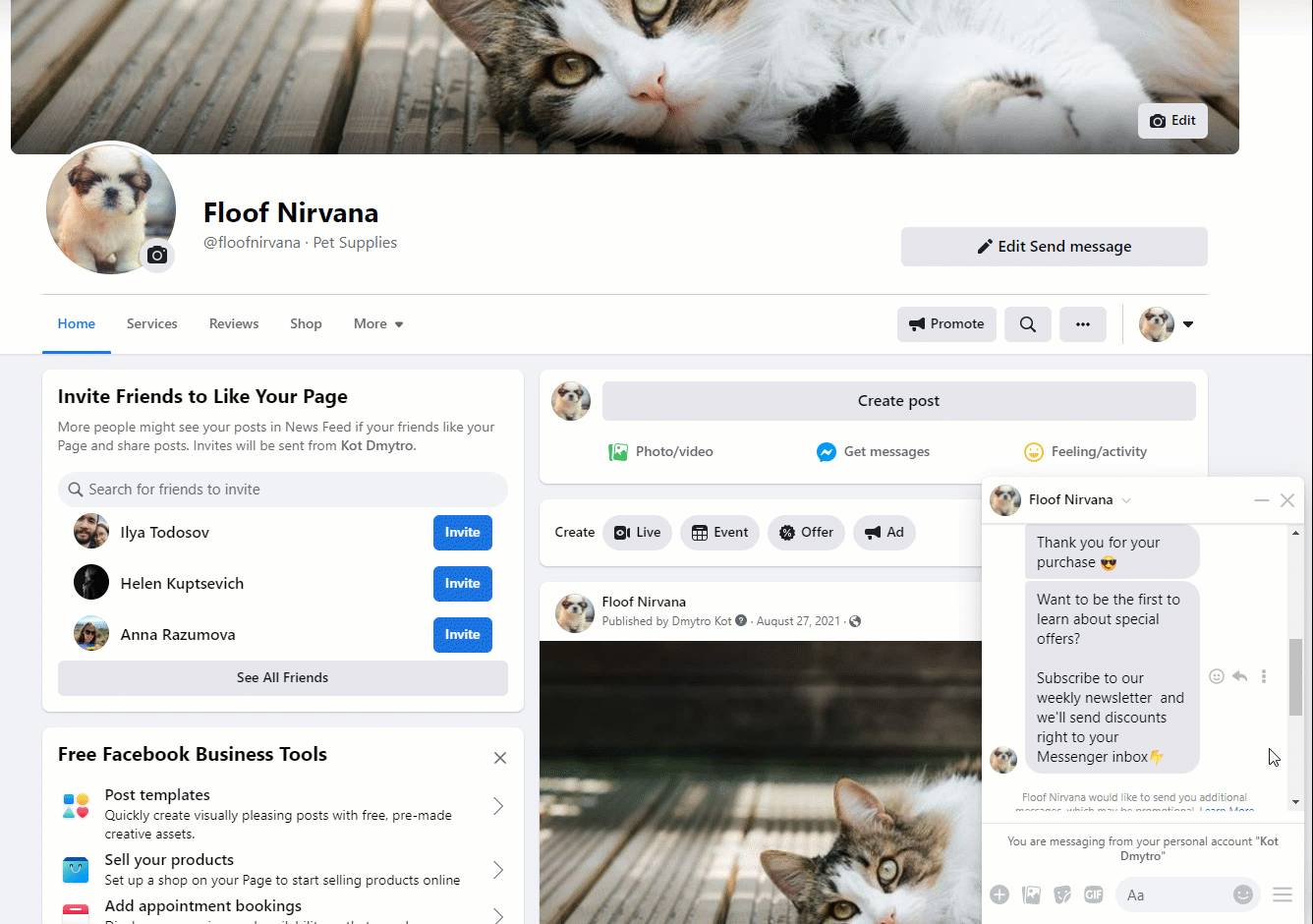 Send your newsletter
Creating newsletter campaigns is done in the separate Reengage tab that works the same way as any email automation platform. First you choose details of your campaign: date and time, topic, segments of your audience. Next, you add your content. Try to experiment with adding photos, using galleries, buttons and spicing it up with emojis. After you're done editing, enable your newsletter campaign.
Create your own Messenger newsletter
Messenger newsletters are available to all Chatfuel users. Try following this guide and create your own newsletter campaign. You can see how it works on your own Facebook Page. First 50 chats are free which is enough for you to get familiar with Chatfuel, try newsletters and other available features.
Newsletters is just one of many features available for Facebook automation. If you enjoyed reading this guide and want learn more about automation, see how you can use FAQ buttons to attract more customers.