Published July 18, 2022 in
How to attract more customers to your Facebook Page with FAQs
Facebook Page offers a powerful Frequently asked questions feature. You can set up FAQs to generate more leads with Chatfuel automation.
Any business wants to grab new customers right away. And if you run a Facebook Business Page, there are several core things you already have in place to do that. You added relevant contact data, so your clients can contact you. You keep your page active by adding new posts regularly. Your clients can ask you questions by sending a message to your business. But what if you could take it up a notch? Your clients could get a response quicker and you could go as far as generating more leads on autopilot. Below we'll show you how to do this by setting up FAQs for your Facebook Page.
What are Facebook FAQs?
Frequently asked questions or FAQs are an efficient tool for Facebook Pages. They let you create a list of the most asked questions with answers on your page. It helps your clients get an answer to their question right away. Let's say you sell toys. With FAQs you can add questions about shipping, payment methods and refund policy. If a client is interested and wants to send you a message, they will see these questions after they open a chat window. When they click any of these questions, they will receive an answer instantly. This lets you start an interaction with a customer before they think about going to competition.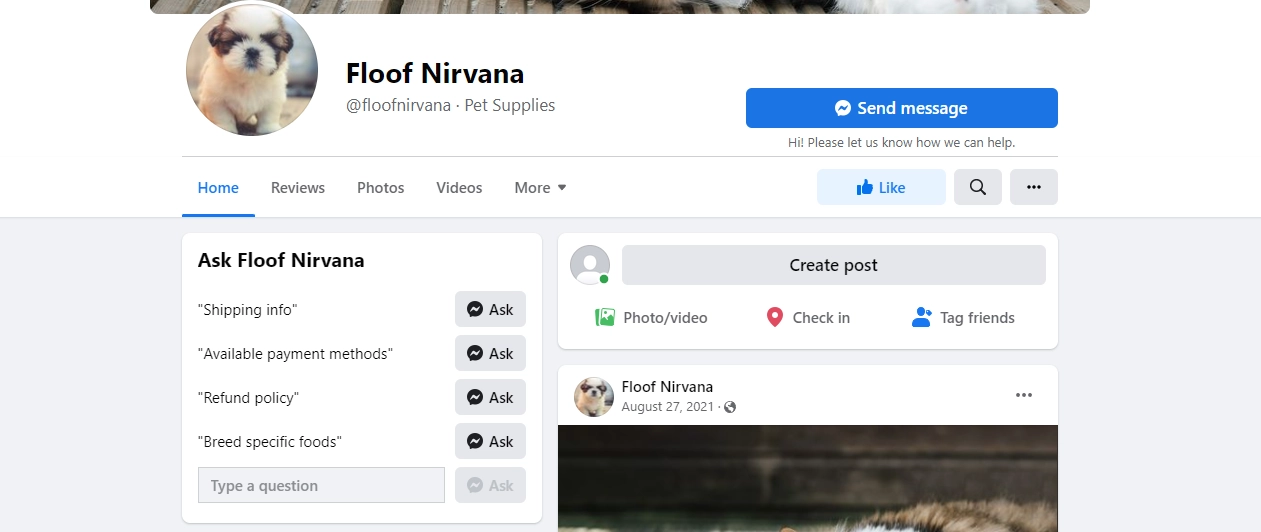 How to set up basic FAQs for your Facebook Page
If you want to set up a simple question-response logic, you need to turn on Frequently asked questions in Meta Business Suite. Open up business settings, select Inbox in the sidebar menu on the left. Click on Automated responses in the top right corner and choose Frequently asked questions. Choose Messenger as your platform and start adding questions and replies. After you added everything, switch the toggle on top to turn it on and save changes. If you find that this is enough for your business, you are all set. Now your customers can get an answer to their question in no time. In the next step we'll show you how to go even further and put your lead generation on autopilot.
How to set up FAQs to generate leads
Simple question-answer logic is a great first step and it will help you attract more customers. But the problem is, it basically works as a knowledge base. It doesn't feel like a conversation with a person. Luckily, there is a way around. Setting up automation. It can help to give your clients more specific info for their case. To make FAQs generate leads for us, we will use Chatfuel. It is a no-code automation platform, which is developed with small and medium business in mind. Before we continue, sign up with Chatfuel and connect your Facebook Page. Read our guide to learn how to do it.
Set up keywords for your questions
After creating an account, you need to set up keywords. Keywords let automation recognize a question a customer sends. Then, AI sends your client to an appropriate conversation logic. Don't worry, you'll set up a logic in the next step. For now, just make sure that your keywords and the questions you set up earlier are identical. First, open Keywords tab in the sidebar menu. On this page you need to duplicate your questions from FAQs you set in Facebook. On the top of the page you can switch between Facebook and Instagram. Notice that Facebook is selected by default. Click Add Keyword and copy your question. Then, set a Flow as response to it. If you have more than one question, do the same for each one. After you finish adding keywords, head to Flow tab.
Build automation in Flows
Next, you need to set up a response itself. Earlier you added one or more Flows. Simply put, a Flow is your conversation logic. If you have more than one Flow, you need to build such logic for each one. First, click Add content to start adding your response. There are several things you can do, but in our case, we want to generate more leads. To do this, add a block called Collect Emails or Collect Phones. These blocks let your customers leave their emails or phone numbers. Chatfuel then saves this information. After you finish adding content, turn on your bot. Your customers now follow your Flow based on the keyword they entered. Play around and improve your Flow. Or if you don't want to start from scratch, use our pre-made template. Sign up with Chatfuel to start using automation.
Bonus tip: You can use a built-in CRM to find customer information like emails of phones. Another option is to use our Google Sheet integration. It's a great way to export data from Chatfuel. Any time a client leaves an email or a phone number, your bot will send this info to a spreadsheet automatically. Add Google Sheet integration to your Flow to connect your account and chose which data you want to export.