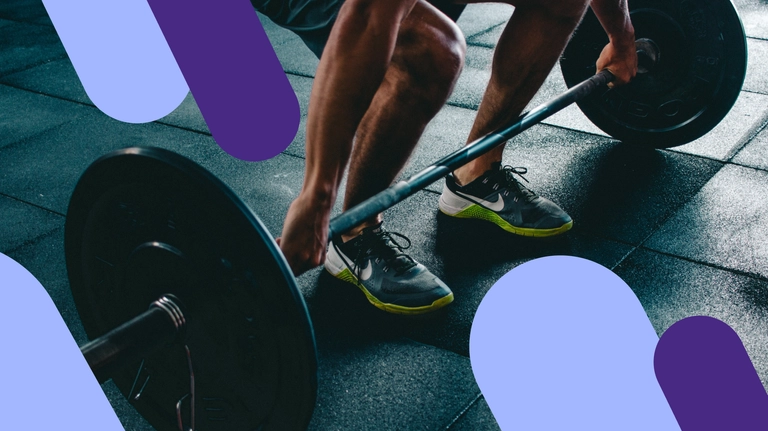 Published July 25, 2023 in
Why gyms should be using Messenger bots during the pandemic
What's the easiest way to convert your gym or studio into a digital operation during COVID without investing lots of time/money? Chatbots!
The goal of any fitness business is to help people stay healthy by providing three things:
guidance
motivation
a sense of community
But the coronavirus pandemic has forced gyms, boxing clubs, yoga studios, and CrossFit boxes around the world to close their doors for the time being. As a fitness-business owner, how can you continue to achieve your goal without a physical space?
After all, there's no lack of demand right now. Many people are feeling stir-crazy at home, and look to physical fitness for stress relief and health more than ever. So how can you continue to provide these three elements to your members at a distance?
The clear answer is to shift to an online model for now. But what's the easiest way to convert your gym or studio into a digital operation—without investing lots of time or money?
An elegant solution to this challenge is the Facebook Messenger chatbot. Bots can offer the guidance, motivation, and sense of community your members are missing right now. Best of all, Messenger chatbots are easy to build with Chatfuel — no coding knowledge or previous experience required.
Let's start by diving into the specifics of what a chatbot can do for your fitness business during these times, and what it can offer your members.
A chatbot can keep your community informed
Your first task as a gym owner or marketer in the times of coronavirus is to keep your community up to date. Information and regulations for businesses during this time change often. It's up to you to keep members informed on how your gym or studio is affected.
Here's the good news: Building a gym bot that shares this kind of information and answers FAQs is easy. Plus, updating it whenever you need to takes seconds! Here's a quick tutorial on how to create a bot like this.👇
Make sure to put the most pressing, relevant information front and center in your bot. Don't start out with About us information that details how your gym was founded. That's not the information most people are looking for right now.
Instead, they want to know if you're open, when you'll reopen if not, and what you can offer them in the meantime. Put these details first; don't make users have to dig to find them. Make your bot a hub for the most up-to-date information about your business right now, and highlight how the latest changes affect members.
A chatbot can provide personalized workouts for users
Get this: Consumers are 40% more likely to view items that are recommended based on personal information that they've shared with a brand. It stands to reason, then, that gym members will be more likely to actually do the at-home workouts you share if they're personalized to them. A chatbot makes it easy for your fitness business to offer this type of customization.
The key is conversation. It's how chatbots communicate with users, via back-and-forth chat. It's also how your bot can gather information about a user's needs or preferences in order to make custom recommendations.
It doesn't have to be complicated to build out this type of functionality, either. Here's an example of how you could set up a personal trainer chatbot to recommend custom workouts for users:
Add a bank of a few key movements to your bot, given in manageable increments, like 10 shuttle sprints, 50 jump ropes, 25 burpees, and 20 push-ups, for example. Create a gallery with videos showing how to do each one.
Set up your bot to quiz the user about their preferences for the day's workout (like duration, equipment they have available, etc.).
Based on their responses, the bot can create a workout for the user, made up of the different movements you've given it to work with.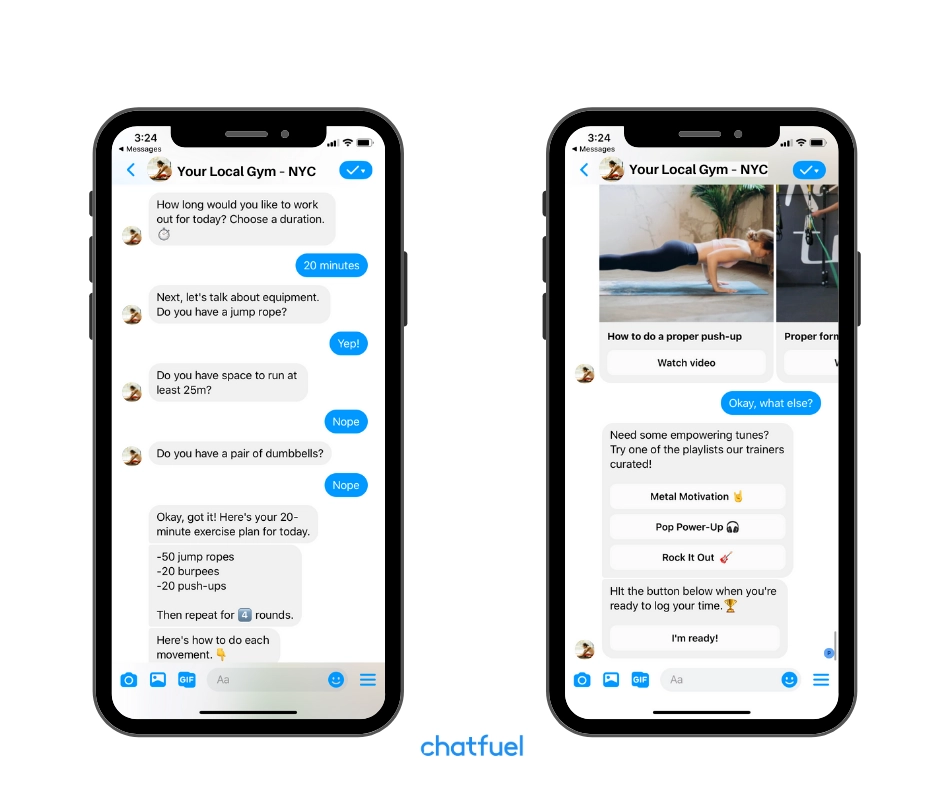 You can equip your bot to put together workouts for users based on their desired duration and the equipment they have on hand.
You could do the same thing with yoga poses or boxing sequences, too—whatever movements your gym or fitness center specializes in. It's minimal work for you and maximum benefit for your users. This is just one of many ways you could use a gym bot to share your online workouts. You could also:
Create a gallery with one card for each day of the week, and have the respective button link to a full video workout for that day.

Ask users what benefit they want that day (relaxation, energy, stress relief, etc.) and have the bot send them instructions for a yoga flow that will help them achieve it.
There's lots of room for creativity when it comes to sharing workouts via chatbot. Think about what format would best serve your users, and go from there.
A chatbot can help you run contests and promotions to boost engagement
One element gym-goers are missing most right now is the sense of community your business provided when it was fully open. Use a chatbot to help promote community engagement still, even while your members can't physically gather together. It can help with:
Contests. You could encourage users to log their workouts in the bot. Your bot can save them as attributes. Then, you'll be able to easily find who had the fastest time or the most reps for that day, and reward them with a gift card or some merch. Or, you could use the logs to track who is most consistent in their workouts over a month, and give them a prize and a social-media shoutout.
User-generated content. Your bot could ask users to submit photos of themselves, their workout space, or the makeshift weights they're using to do your exercises at home. It's an easy way to gather user-generated content to feature on your social media to boost community morale and motivation.
Giveaways. If you'd like the added bonus of gaining new bot subscribers, you could run a giveaway on your Facebook page. Create a post on your business page announcing a giveaway of a prize, instructing users to comment to enter. Set up theComments Autoreply feature so your bot will automatically reply to every entrant. It can start conversations with those who don't win, encouraging them to check out its other resources on Messenger.
A chatbot can sell your merchandise
Does your gym or fitness studio sells merchandise like workout clothing, fitness equipment, or supplements? A chatbot can help you maintain this revenue stream during the pandemic (and beyond!). If your gym isn't set up to sell online yet, check out this quick-start guide to opening an ecommerce store. Once your gym has an online shop ready to go, here are a few ways a bot can help boost its sales:
Answer questions about products. This is where a chatbot's handy FAQ function comes into play again. You can equip your Messenger bot to answer questions about everything from apparel sizing to shipping costs and times. If a customer is hesitant to buy because they have a question, the bot can answer it and close the deal.
Recommend products. Through the same question-and-answer style, a bot can gather information about a user's needs or preferences. Then, it can recommend products that would be the best match. If you sell protein powder, for example, the bot could ask users how many grams of protein they want per serving, what flavor they prefer, etc. Then, it could show relevant products with links to purchase on your store website.
Send abandoned-cart reminders. If a user adds one of your products to their cart but leaves without buying, your Messenger chatbot can send them a gentle reminder. It's important to not be too aggressive with these, especially in these times. But a quick message that simply asks the user if they have questions or offers a discount can go a long way. Use our Cart Reminders plugin to set up these automatic messages in minutes.
Other benefits of using a chatbot for your gym or yoga studio
Now you know what a chatbot can help your gym or fitness center achieve. Here are a few other reasons why using chatbots for fitness brands is a wise move during this time:
They're easy to build. As we mentioned before, you don't need any special skills or experience to build a fitness chatbot with Chatfuel. Our platform is user friendly, and we offer tons of support resources to help you on your way (listed in the last section of this post).
They're part of the Facebook ecosystem. Facebook Messenger has over a billion users, so it's safe to say that most of your fitness clients will be familiar with the interface. That means there will be no learning curve for them to get value from your chatbot, and no need for them to install a separate app. It also means you can get more users to your bot with Facebook ads, if desired.
They can be your business's central hub. A Messenger chatbot can become a one-stop shop for all information related to your business during the pandemic (and after!). You can equip it with all relevant information for members, so they know that it's the place to go when they have a question or want an update about your business. Plus, you'll be able to instantly update information yourself—no need to contact your developer, as you may have to for changes to your website.
They can help you achieve your business goals. Bots can help you provide guidance, motivation, and a sense of community to your members, as we discussed. But they can also help you keep up engagement and even revenue during these times to keep your business afloat.
Examples of fitness chatbots powered by Chatfuel
Boosty.Coach
Boosty is a French website that makes it easy for fitness enthusiasts to find workout videos and live coaching sessions to follow at home. They've generously made their platform free for the duration of quarantine. Their workout chatbot guides the user through the process of finding the right video for them, whether it's about exercise, meditation, or nutrition. The bot makes it easy for users to find workouts and other fitness information that suits them.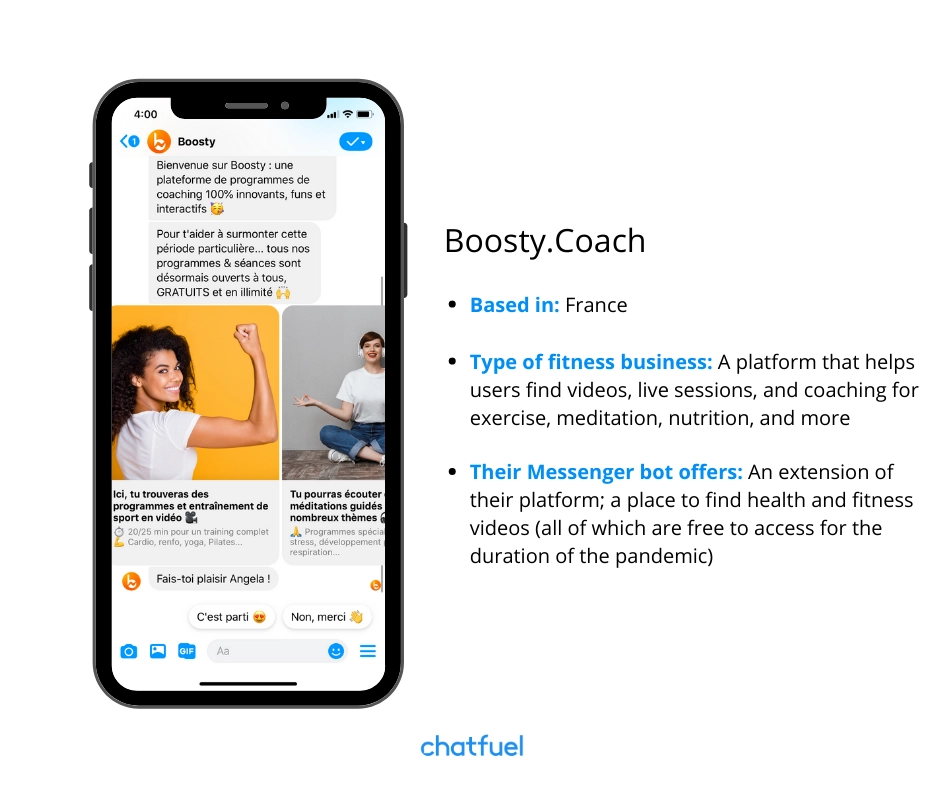 Planet Fitness
In the times of COVID-19, Planet Fitness's Messenger chatbot provides only the most crucial information for members. That includes FAQs about gym closures, and information about the online workouts they're offering. The exercises aren't available in the bot itself, in this case. However, users can click a button and will be directed to the gym's Facebook page where they can join in on live, guided exercises.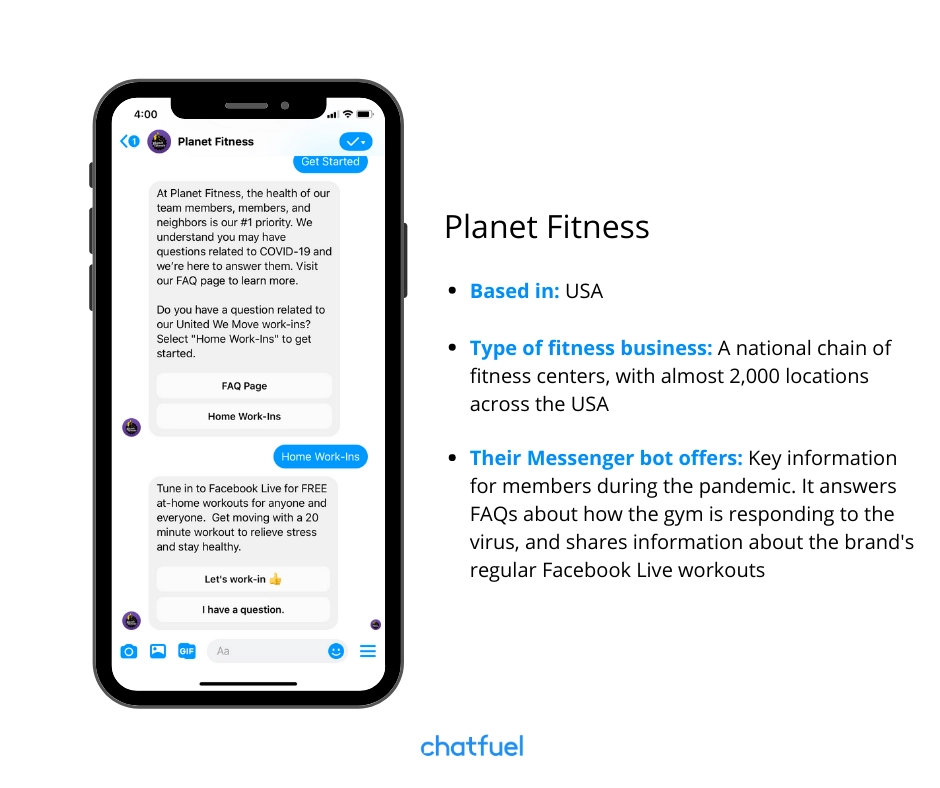 How to build a Messenger bot for your fitness business
To help you learn how to build a gym chatbot, we've collected some resources for you. Your first step is to sign up for a free Chatfuel account. Then, get acquainted with our platform and some bot-building basics:
Connect your Facebook page to Chatfuel.
Build your first chatbot in three minutes.
Use a template to set up a bot to answer FAQs.
Finally, we recommend that bot-builders of all levels join our Facebook community, where you can get advice, find inspiration, and ask questions.