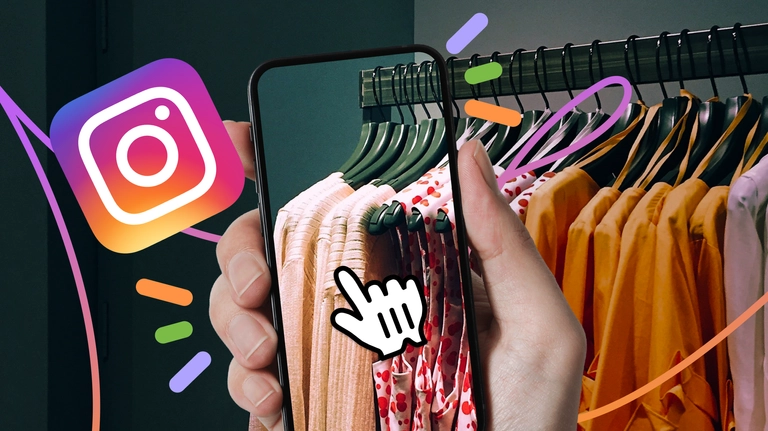 Published September 20, 2022
How to set up Instagram Shopping
44% of users shop on Instagram weekly. And e-commerce stores can take advantage of it and make Instagram an automated revenue channel.
Instagram is great. And I don't just say that because I spend way too much time on it. It's great for awareness, social proof, and of course — sales. And if sales is what you're after, this post is for you.
And of course, Instagram's potential has only gone up since they introduced Instagram Shopping in 2019. According to the Instagram Business Team, an impressive 44% of users use the platform to shop weekly. With new features added constantly, every e-commerce store needs to take advantage of this opportunity.
Keep reading to find out how you can increase sales right in your Instagram, what Instagram Shopping is, how to set it up, and more.
Instagram as a revenue channel — how to boost sales
If used right, many thousands of dollars can be generated from your Instagram account. First, you'll need to grow a following. I won't go into that, but you can read this article we wrote with the help of an expert on how to master the Instagram algorithm.
There are a few important actions you can take to grow your sales:
Sell your products directly on the platform with Instagram Shopping. More on this below;
Engage with your audience. Reply to comments, DMs, tags, mentions, and ask them questions. In the last section of this article I'll go over how you can save time by automating this process using Chatfuel;
Encourage followers to share your posts and products by creating worthwhile Instagram contests;
Instagram is visual, so make sure to post eye-catching images.
What is Instagram Shopping
Instagram Shopping is a free feature used to simplify the buying process for your followers. It allows you to show product names, descriptions, and prices directly in your posts, Stories, and videos. This means that your customer doesn't have to take any extra steps and look for these products on your website, reducing friction. You can also show other information in the app such as shipping and return details.
Instagram Shopping main features
Shops
This is the storefront that your followers see if they click on 'View Shop' on your Instagram profile. It serves as a great intro to what is your brand and story. Users can view your product categories, browse products, and of course — make purchases.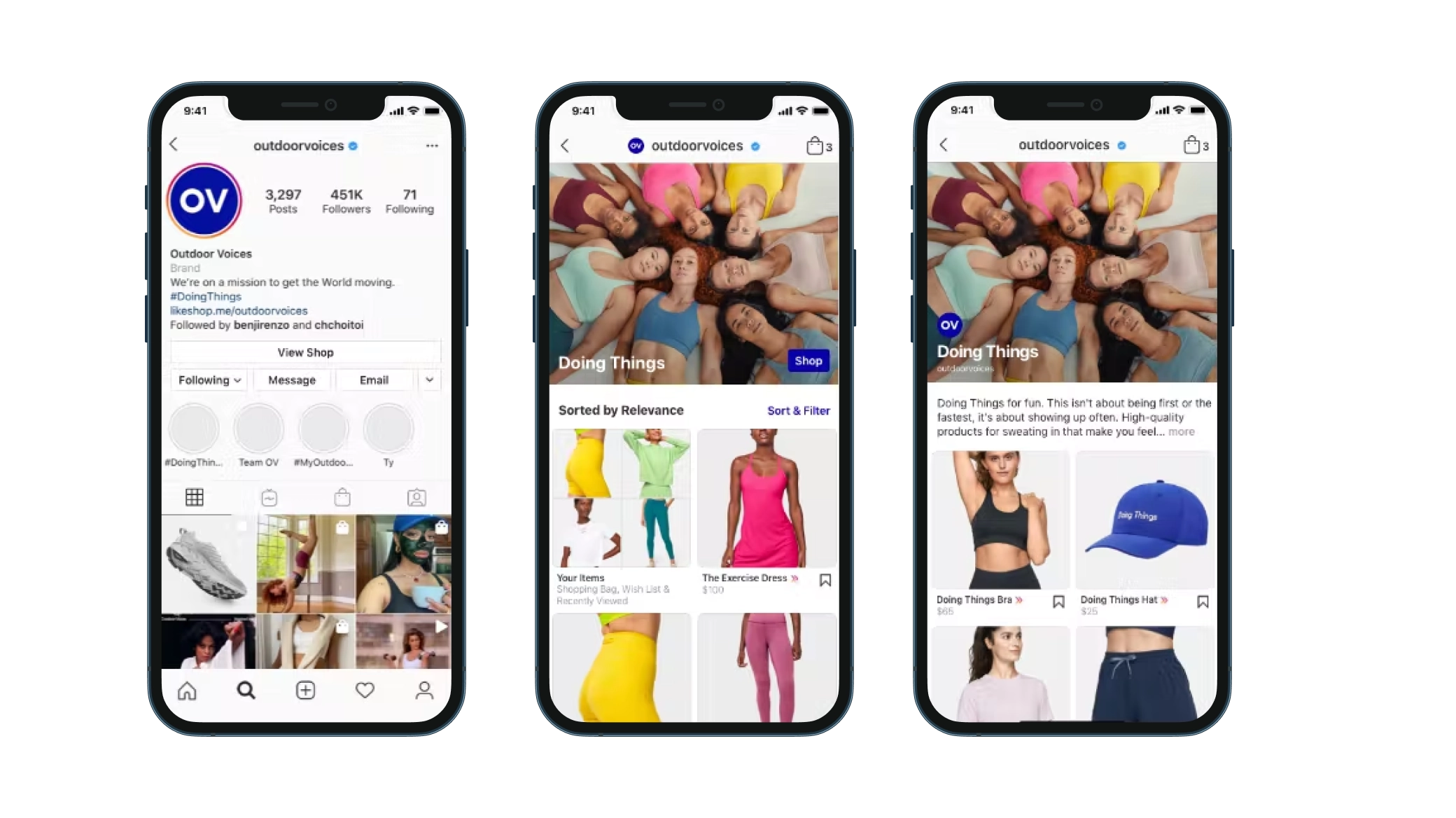 Product tags
Perhaps the most important feature of Instagram Shopping, product tags are used in posts, stories, captions, and even videos. You'll notice that they're no different than normal tags. They only display for a few seconds, after which they disappear so they're not a distraction. If you click on a product tag, you'll land on the product page for that product.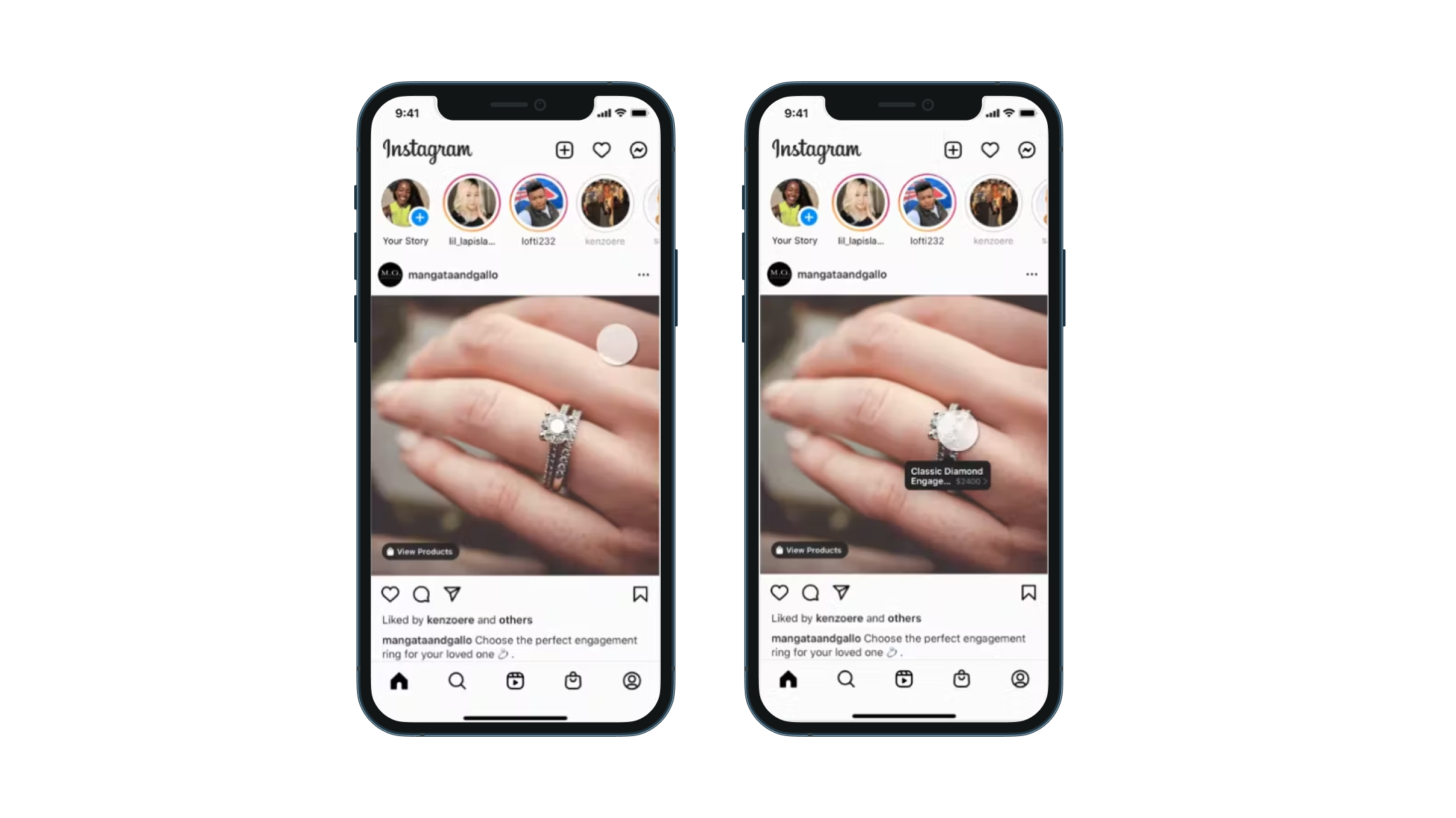 Product catalog
Product catalogs on Instagram are very much the same as Product Pages on your website. They display all the necessary product information: images, price, and description. On the same page, you can also see images that this product was tagged in.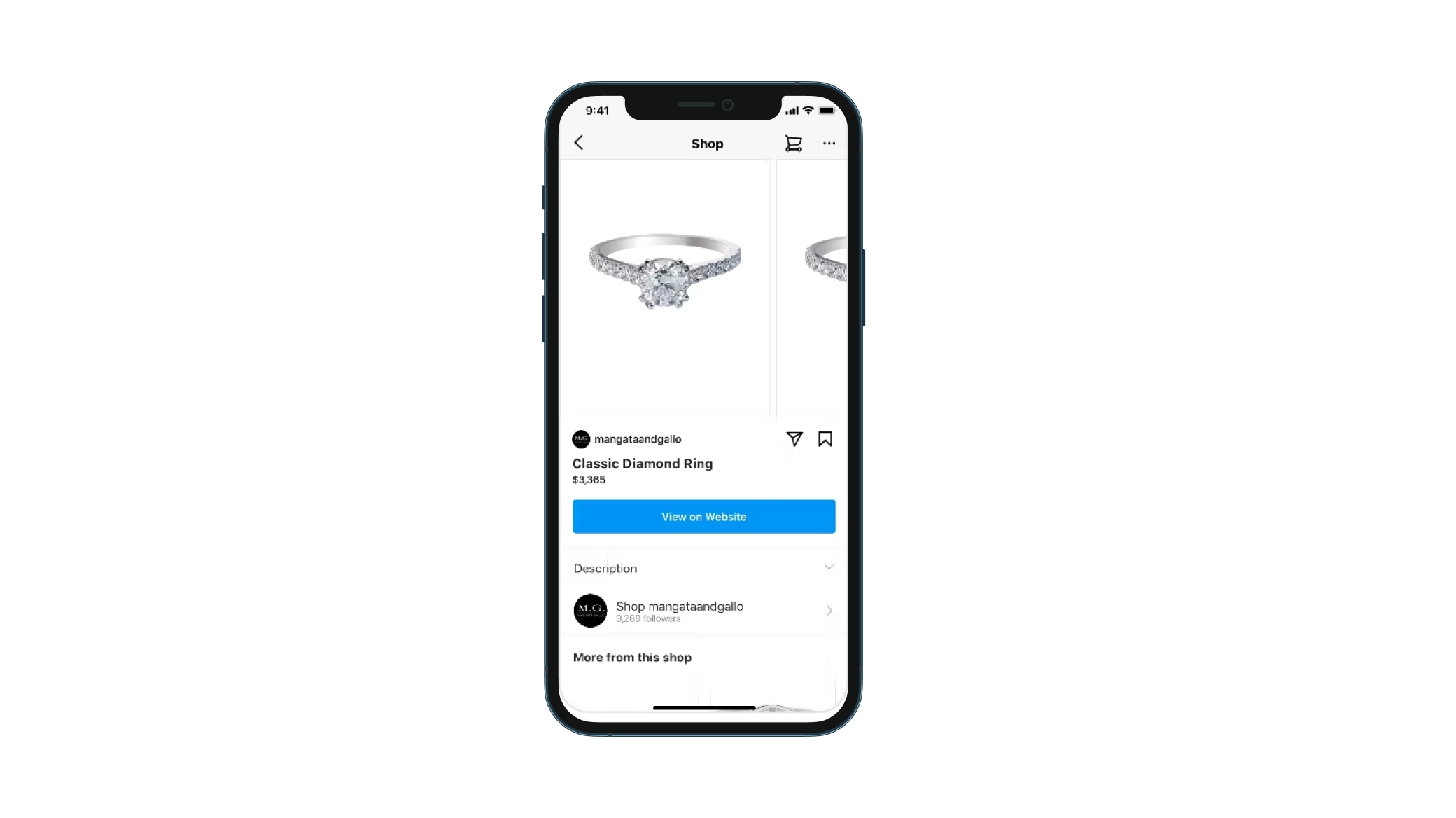 Product Drops
This feature is only available for businesses that have Instagram Checkout enabled on their Instagram Shopping account. It's an amazing way to keep your followers informed about products that will only be available in the future. You can tag upcoming products, allowing your most dedicated followers to preview product details and to set reminders for when the product goes live.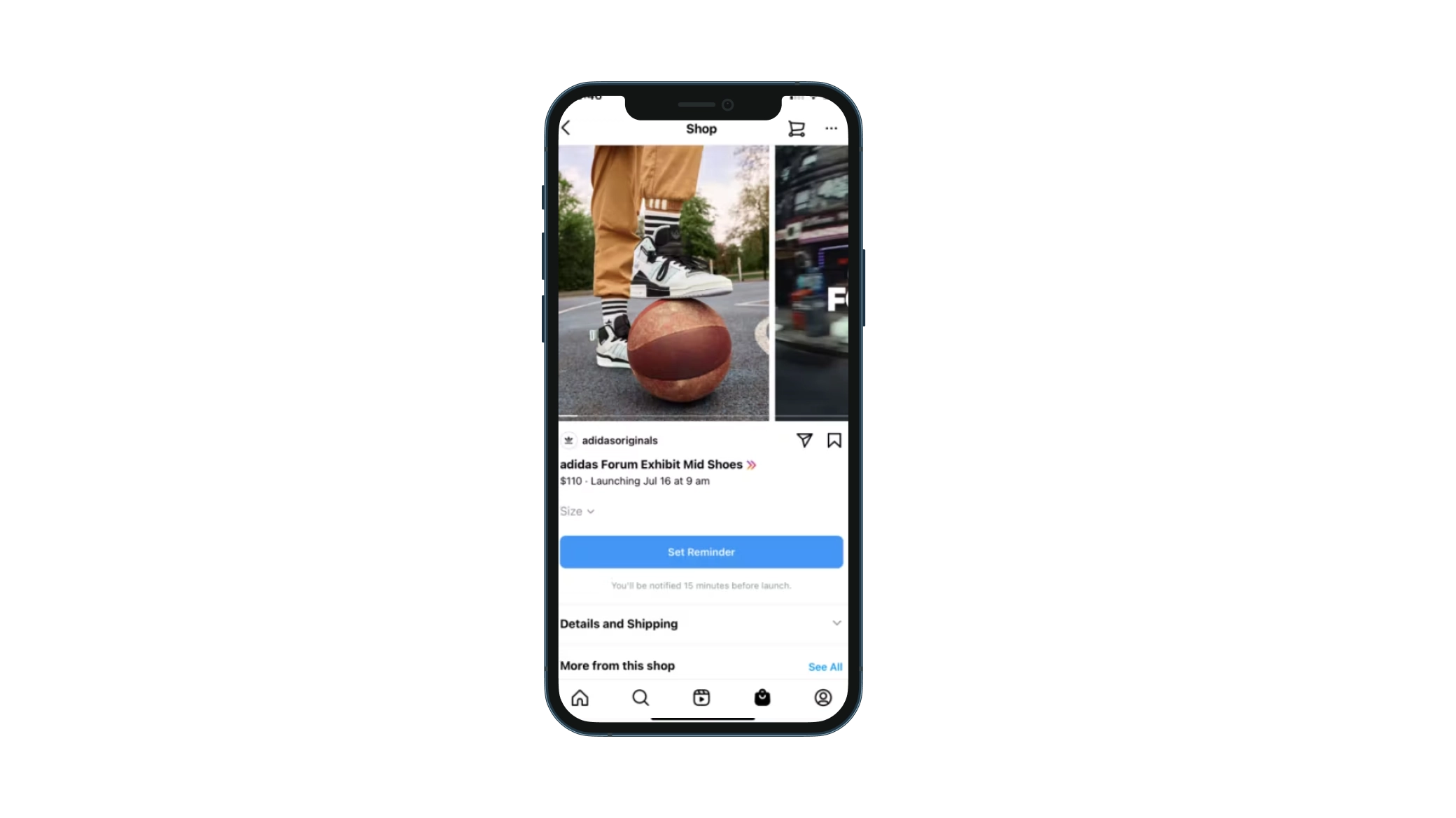 Instagram Checkout
Available only in the US, Instagram Checkout simplifies the buying process for your followers. They can make a purchase without even leaving the app. Not only will you sell more, but enabling this feature means you get access to other features. As mentioned earlier, the Product Release feature is not available unless you enable Instagram Shopping.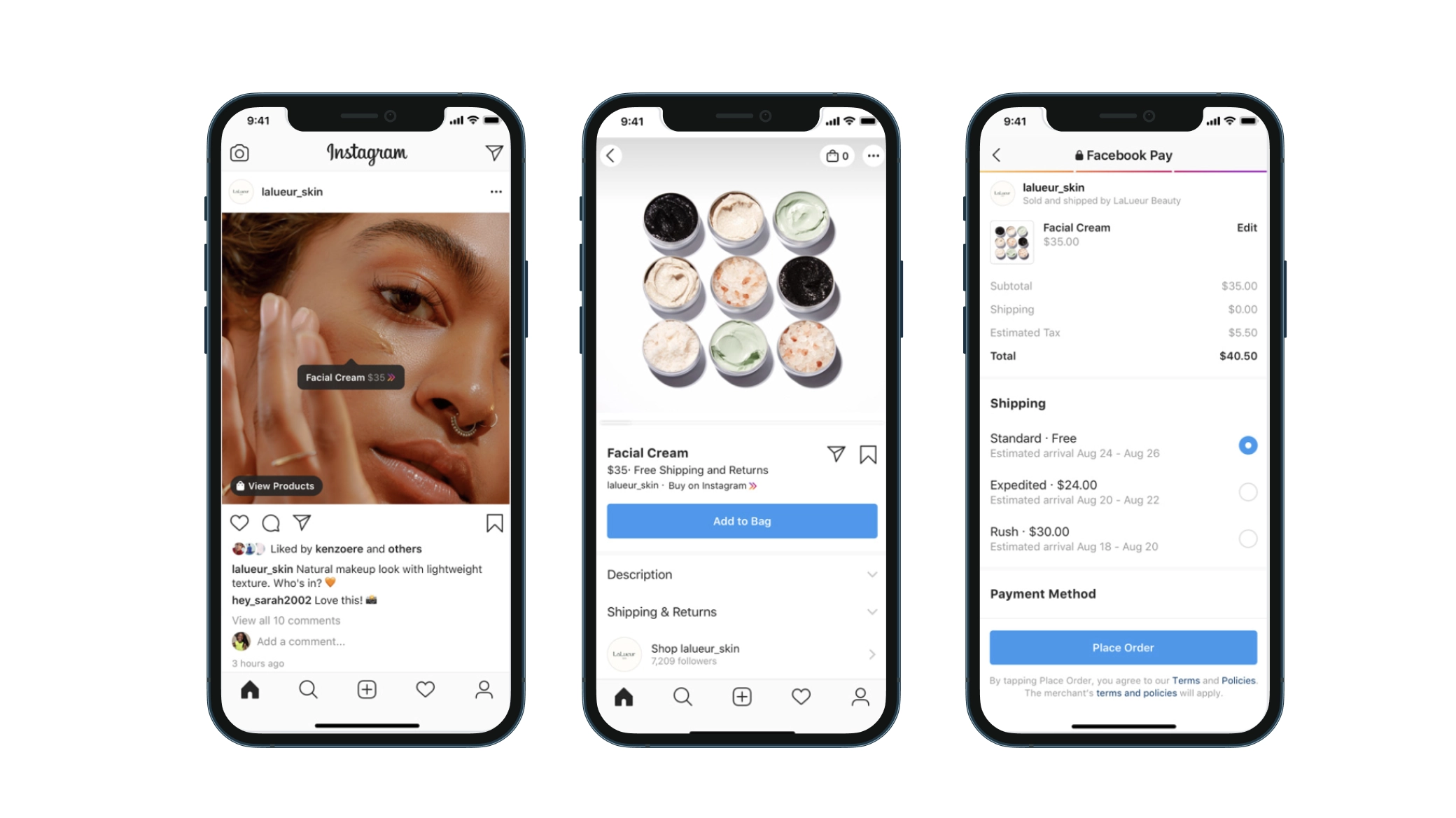 Collections
Collections can be themed around events, promotions, new launches, and more. One or multiple collections can be featured in your shop. They generally contain a name, short description, a cover image, and a selection of between 6 and 30 products.
Ads with product tags
By tagging your products in your ads, you can point your buyers directly to your Product Page. This allows for faster product discovery and deeper consideration. A user can go from discovery to purchase much faster than they normally would (especially if they can also checkout inside the app with Instagram Checkout).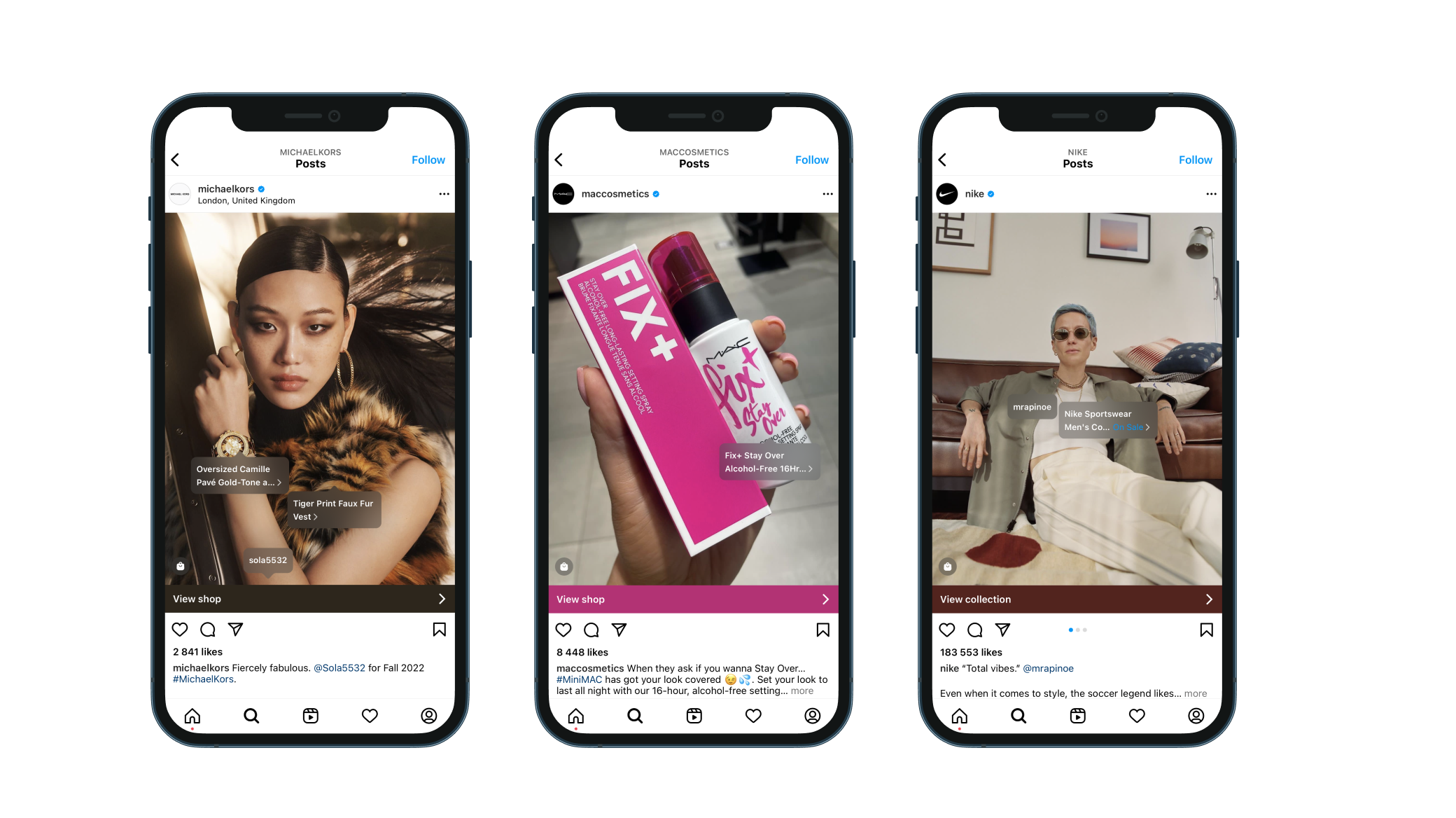 Shopping through influencers
This feature works wonders for organic growth and social proof for your products. Creators can tag your products directly in their posts, allowing their followers to easily learn more about them. However, unfortunately this feature also has Instagram Shopping as a pre-requisite. This means that it is only available to businesses in the US.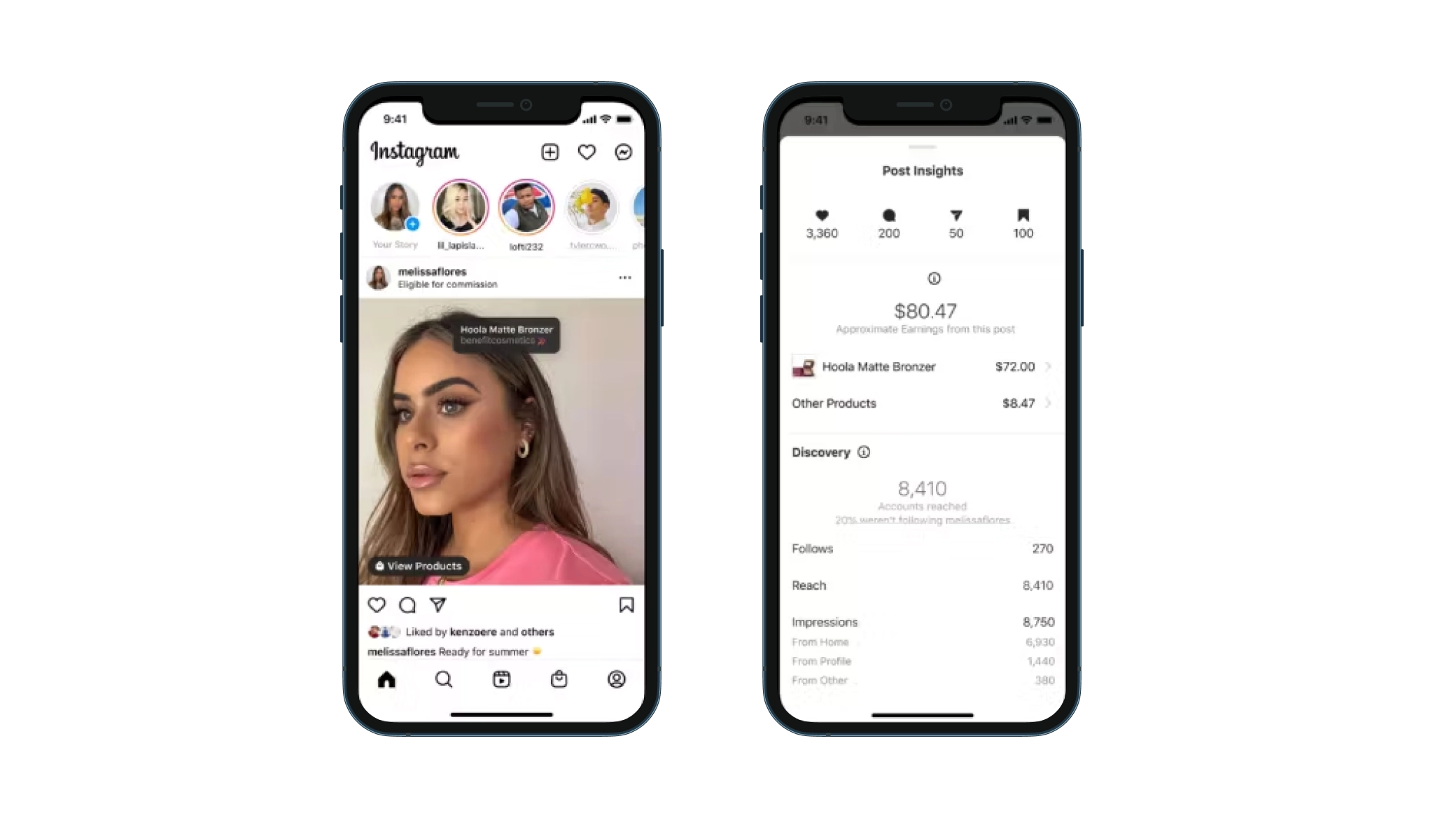 Live Shopping
Live Shopping is as great as it sounds. When a creator goes live, they can choose to tag products in real time. These products are however chosen by them before going live. Viewers can learn more about the products and purchase them with just a few clicks.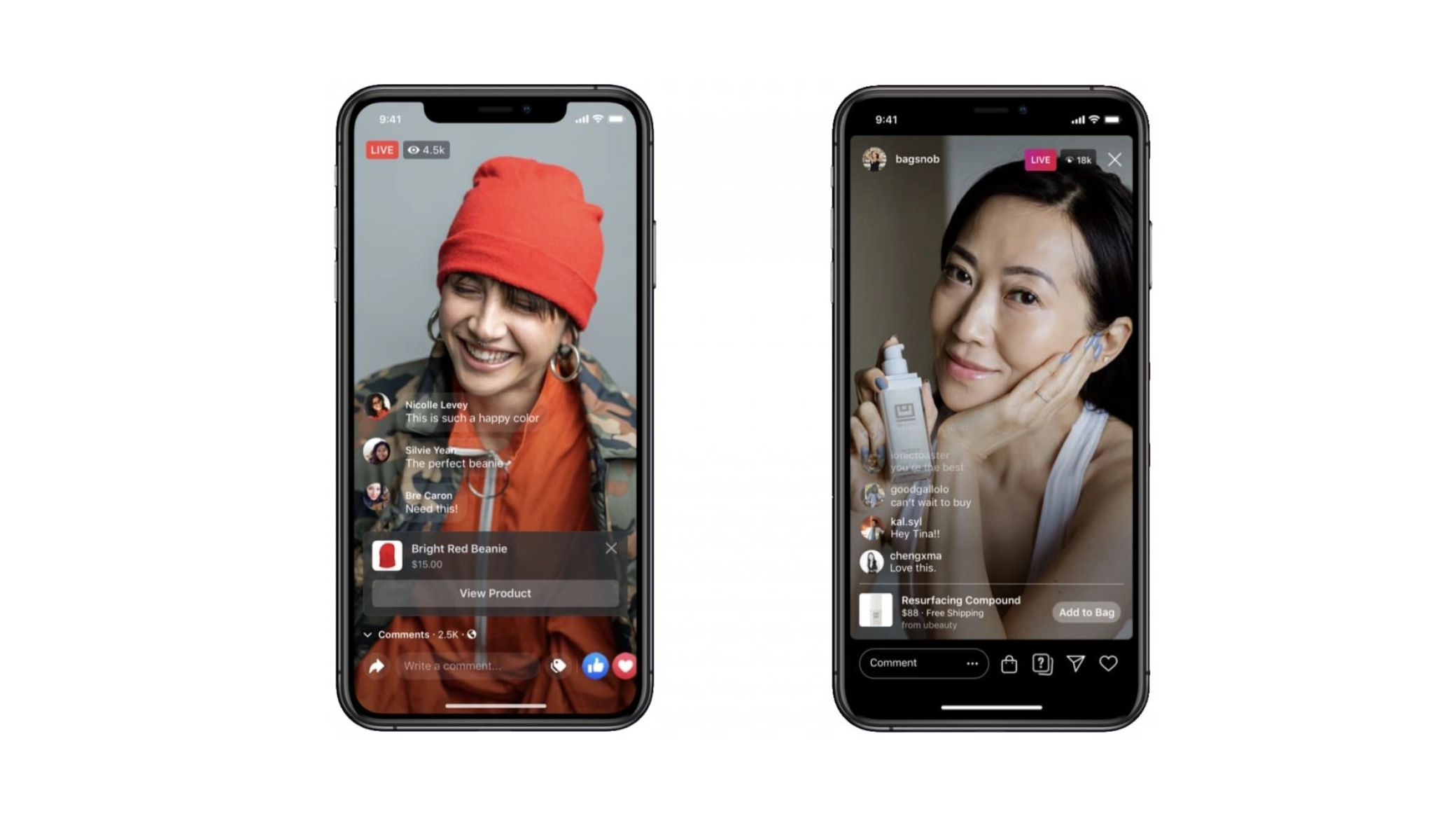 And yes, this is a lot to take in if you've never used Instagram Shopping before. If you're a beginner, we recommend you start with just setting up a shop, product pages, and being able to tag products. These features will bring in great ROI and will be a good introduction to the shopping environment on Instagram.
How to set up Instagram Shopping
By now, you're probably excited to try Instagram shopping for yourself. You can't wait to bring in extra sales, engage with your customers more, and reduce friction from the shopping process. So let's get started then.
Step 1. Set up your Instagram shop. To qualify, you need to:
Comply with Facebook's rules and regulations;
Ensure that the products you want to sell are available for checkout on your domain (or through Instagram Shopping — please note that this is only available in the US as of August, 2022). You might need to go through a domain verification process here;
Demonstrate that your account is trustworthy. Although they don't reveal what the exact factors are, Facebook does state that they look for an authentic, established presence. They may also look at your history of maintaining a sufficient follower base.
Step 2. If you haven't already, you need to convert your account to an Instagram business Account or creator account. That way you can add relevant information such as store hours, address, phone number, and your website.
Step 3. Finally, you can move on to the Shop setup process. Here's how it works:
Use Commerce Manager or a supported platform to set up a shop;
Choose where you want your followers to complete their purchases, on your website or on Instagram;
To choose sales channels, select the Instagram business account you want to be associated with your shop. If you have a Facebook page, you can also check the box next to your account to have a shop on both Facebook and Instagram;
Add products to your shop by selecting the product catalog you want to use. If you don't have any catalogs, you can create one;
Review your information. If everything looks good, submit it to Instagram for review. You'll be notified when it has been approved.
You're finally done! Wait for the approval and you can start using Instagram Shopping features.
A more detailed breakdown of the setup process can be found in this Facebook guide for setting up Instagram Shopping.
How to increase sales by automating your Instagram Shop
Now that you've got your Instagram Shopping set up, you're probably wondering what else you can do to increase sales.
The answer? Engage, re-engage, and turn your followers into customers.
But you're probably busy. You don't have all the time in the world to do all the things you know you should do. We understand that. Our goal at Chatfuel is to make it as easy as possible for businesses to automate the routine tasks. So you can focus on what's important.
By using our no-code tool, you can automatically:
generate sales (directly or indirectly);
answer FAQs;
recommend products or services;
collect feedback;
collect customer contacts and answers;
qualify leads;
keep track of leads;
give out promo codes, and more.
You can use our free template catalog or create your own chatbot from scratch.
Our Facebook-certified chatbots seamlessly integrate with every possible way your customers can engage with you: Direct, Stories, Replies, Comments, or Ads. These are also known as Entry Points. You can use Entry Points to indicate how users enter your flows when you're building your chatbot.
For example, let's say you're building a chatbot that replies to certain direct messages. In this case, the Entry Point you'll be using to build your flow is Instagram Direct.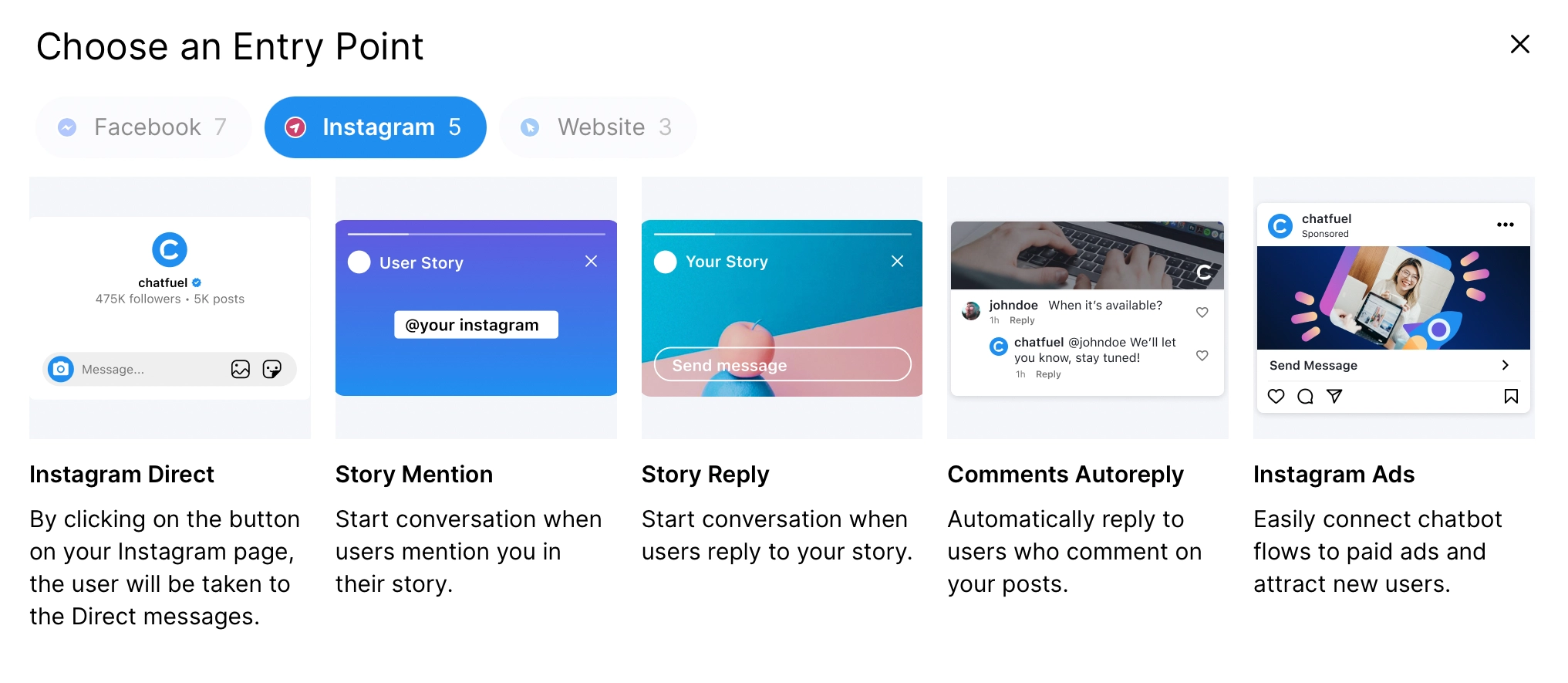 Sign up for a free trial today
Chatfuel customers experience amazing results with our no-code bot: 10x increase in organic sales, 13x more engaged users, 50% increase in virality rate, 3x conversion rate, and more.
Get started now — with the first 50 conversations on us. No credit card required.