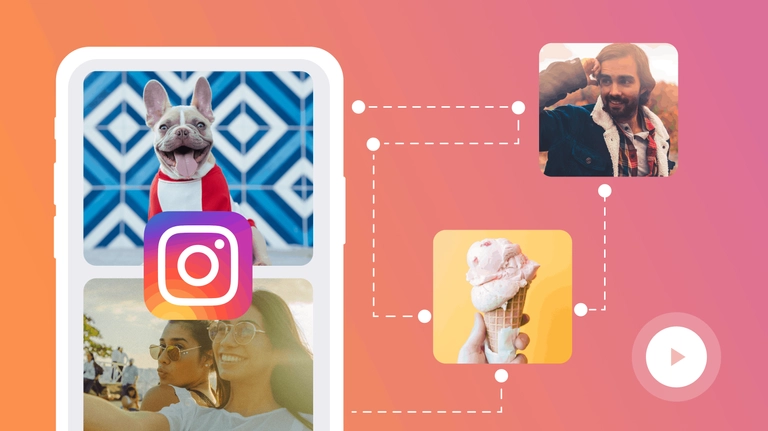 Published July 20, 2023 in
The 5-minute guide to mastering the Instagram algorithm
Get this Instagram expert's top tips to help your businesses decode the Instagram algorithm. Plus, new messaging tools are coming soon.
Missed an episode of Chatfuel School—the podcast where we cover hot topics in the world of bot-building and marketing? Don't worry; we took notes for you.🤓The topic for October 20, 2020 was Instagram expert Jenn Herman's top tips to help businesses decode the Instagram algorithm. Here's the full episode on how to use Instagram for business.👇Keep scrolling for a recap of what you missed.
If you're new to social media marketing, or if you simply don't have much time to spend on it, the word algorithm might send shivers up your spine. It might make social media platforms seem like complex, confusing tools for businesses. But in reality, you don't need to understand every detail of how the algorithm works on a platform like Instagram to be successful marketing there. You really just need to know one key rule: the Instagram algorithm looks out for and rewards content that engages users.
That's the main takeaway from Instagram expert Jenn Herman's appearance on our marketing podcast (video above). Keep reading for our five-minute recap of her strategies on how to create this content that engages users, plus a handful of other simple, easy-to-implement Instagram marketing tips. By the end of it, you'll have all her best advice on how to make the Instagram algorithm work for your business.
👉BONUS: After that, we'll talk about how new messaging tools for Instagram are coming soon, and what Jenn and other marketing experts have to say about how those will make business success on Instagram even easier.
How to show up in Instagram search results
Jenn's first tip for marketing on Instagram is a tweak you can make to your Instagram profile in seconds: changing your profile name (and possibly your handle as well). She shares that Instagram search only looks at your name field and your username/handle for keywords, not the rest of your bio. "So if you want to be found for a keyword, or something specifically relevant to your business, your brand, your niche, your solution, or your product, those words need to be in both the name and username," she explains.
Take a look at Jenn's own Instagram bio to see this tip in action. "If someone goes to Instagram and looks for my business name, my personal name, or an Instagram expert, they're going to find me in search," Jenn says.

So don't waste time stuffing your bio full of keywords and hashtags; they won't make a difference in Instagram search. Instead, use that space to explain what your business does and why prospects should choose you. Save the keywords for your name field and handle.
What type of images to post on Instagram
Now that you've got a search-optimized Instagram business account, what should you be posting to it? Jenn reminds us that your main goal in posting content to your Instagram feed should be to stop people mid-scroll—even if it's no more than a temporary slowing of their pace. Instagram counts both of these as positives algorithmically. So Jenn's number-one rule for what content to upload to Instagram is: Don't post busy images.
"Have simple backgrounds, clear focal points, or a pop of color that draws attention to a specific place," advises Jenn. Otherwise, users won't stop to look at your content. "When they see a busy photo," she continues, "their eyes can't focus, and they're most likely going to keep on scrolling. But if there's a clear focal point, they're more likely to slow down and pay attention." And Instagram will reward that slowing down, stopping, and/or double-tapping with more visibility for your content overall.
You can see a clear example of this principle in the images below. 🍦The photo on the left is busy. There's a lot going on in the background and too many possible points of focus. But the one on the right is crisp, clear, and immediately shows the eye where to go, making it a better choice for posting to an Instagram account.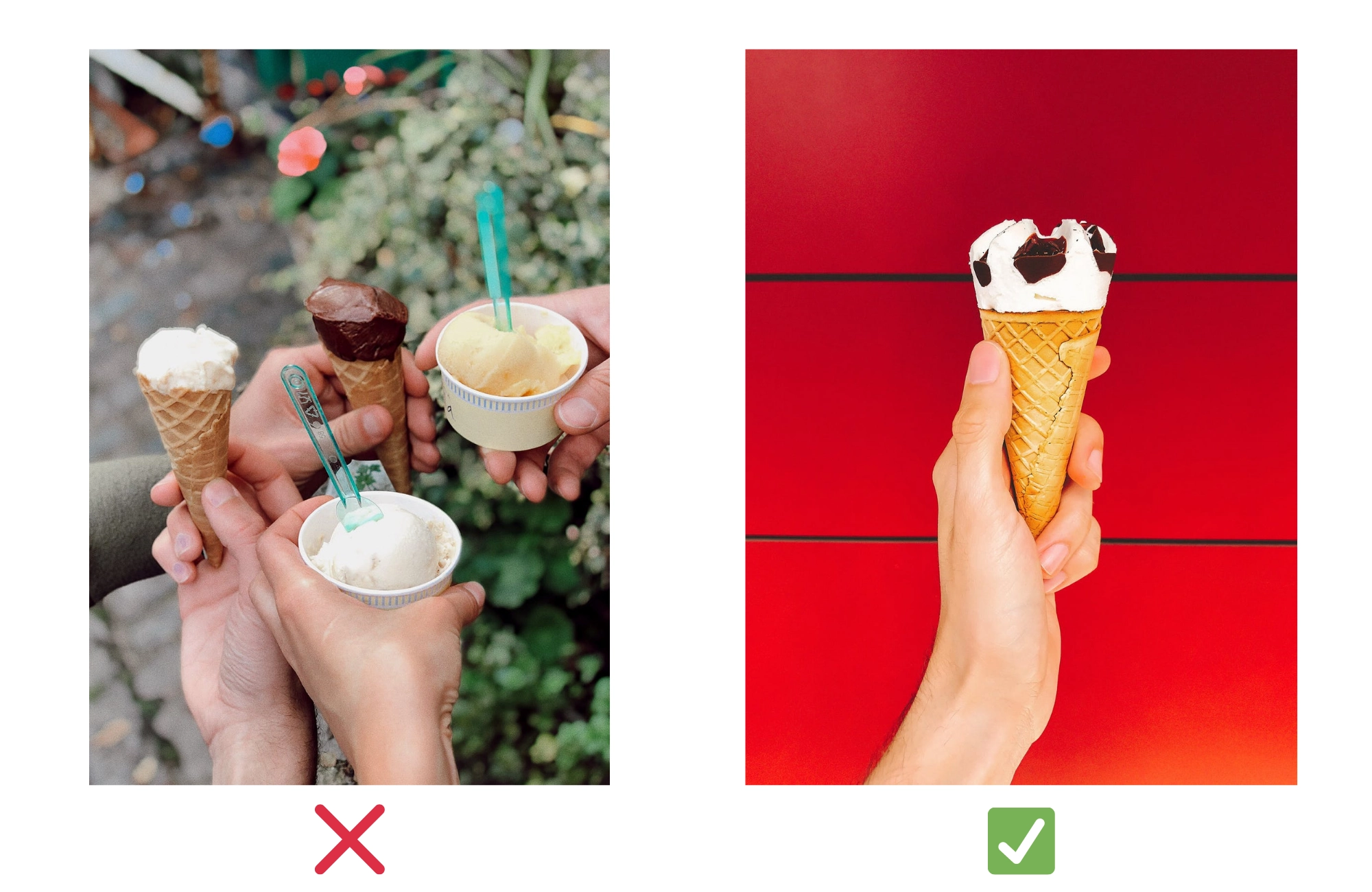 Jenn adds that, if you're going to use text in your images, keep it minimal. A few words is okay, but any more than that and your Instagram followers won't take the time to stop and read. If you have more words to share than what can be read on an image at a glance, put them in the caption instead.
When to post to Instagram
Should brands on Instagram aim to post seven days a week? Definitely not, according to Jenn. "Posting every single day to your Instagram feed is too much," she tells us. "When you post every day, you're actually making your content compete with itself." Why? Because your business's average follower doesn't open the Instagram app every day.
So let's say you post an image every day starting on Sunday, but one of your Instagram followers doesn't log in until Friday. In this case, the Instagram algorithm's not going to show that user all six of your posts. It's going to choose one or two it thinks are most important, and not display the rest in their feed. As a result, your followers may miss important information from you, and your images will all receive lower reach than if you had just posted twice.
So how often should you post to Instagram? "Three to five times a week is usually enough for most businesses," Jenn explains. However, she shares that she only posts to @jenns_trends twice a mont. "If I don't have high-quality content that's relevant to my audience," says Jenn, "I'm not posting to the feed." And that's the bottom line of marketing with Instagram: Post when you have something to say—something valuable or entertaining or otherwise useful for your followers. Don't burn yourself out trying to post more than that for your Instagram marketing strategy just because you think you're supposed to.
"[Posting to Instagram] three to five times a week is usually enough for most businesses." –Jenn Herman, Instagram expert
How to design captivating Instagram Stories
Now you know what kind of content to post to your Instagram feed and when—but what about Instagram Stories? These pieces of content only stay visible on your profile for 24 hours (unless you add them to your highlights), so there's a bit less pressure to create something picture-perfect. (Think of the photos and videos you post to your feed as your stage performance, and Stories as the behind-the-scenes peek.) Instead, Jenn recommends focusing on generating active engagement there. And what's the best way to get audiences to engage with your Stories? According to Jenn: stickers.
There are lots of different types of stickers you can add to your Instagram Stories. Jenn recommends the ones that get viewers to tap right on your Story to engage with it, like polls, questions, and quizzes. It could be a simple question (Are you decorating for the holidays? is one example Jenn gives), or a quiz that teachers users something. Whatever you choose, your goal is to "get people to interact," says Jenn. "That drives engagement, and engagement keeps your content ranking higher."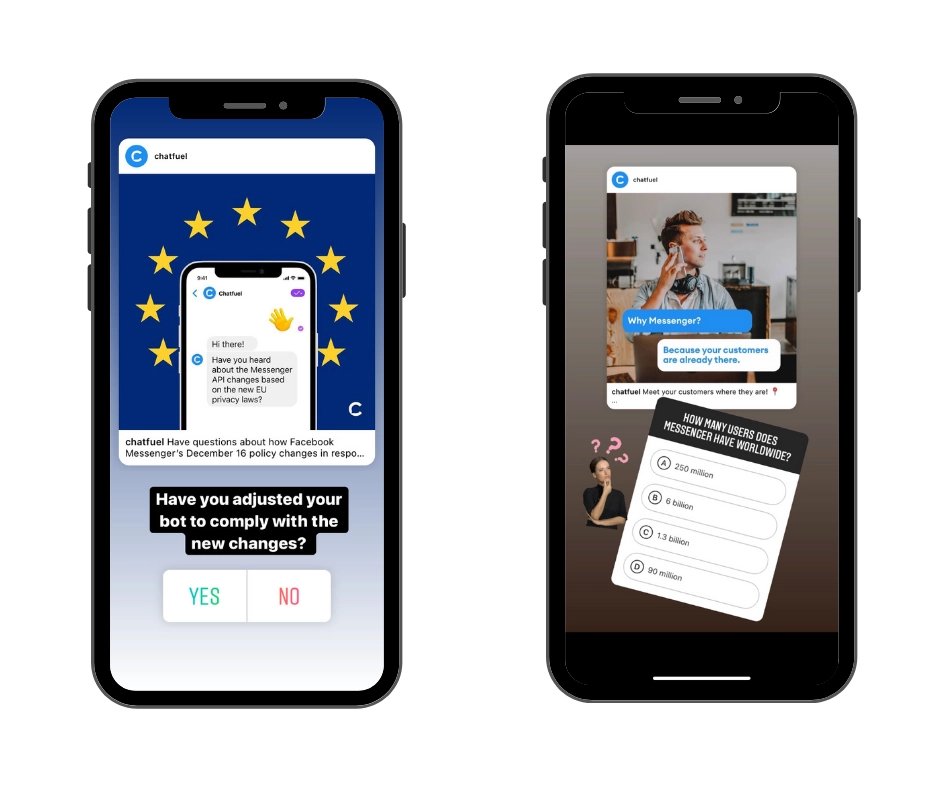 And to help get your Stories seen by more people, Jenn urges brands on Instagram to use hashtags in them. She recommends adding the hashtag sticker with one broad or general hashtag (like an industry, topic, or geographical area: #science, #socialmedia, #sandiego, for example). "Stories are only available for 24 hours, so the chances that someone's looking for something super niche-specific in that time frame: not likely," explains Jenn. "You have a greater chance of showing up in those search results with a broader hashtag," she says, despite the fact that there's generally more competition for those.
The next big thing for brands on Instagram
In case you haven't heard, Facebook announced in October 2020 that it's about to get a lot easier for brands to have one-on-one conversations with prospects and customers at scale, via Instagram messaging. Here at Chatfuel, we're building tools to make this new functionality as powerful and easy-to-use as possible, so you can automate Instagram messaging for your business. Here's what Jenn has to say about this exciting new development in Instagram marketing:
"I'm excited! We've known this was an eventual end goal, and it's good to see this coming to fruition. I look forward to seeing how more businesses can be creative and unique with their use of automated messaging to better serve their customers, build their audiences, and drive sales. From simple customer service needs to contests and more, this is going to open so much more opportunity for businesses on Instagram. If you're not yet familiar with Messenger marketing and chatbots, now is a good time to do some research, find theexperts in the industryto help you learn, and to ultimately start experimenting with these features."
"I look forward to seeing how more businesses can be creative and unique with their use of automated messaging to better serve their customers, build their audiences, and drive sales." –Jenn Herman, Instagram expert
We also chatted with social media marketing expert Mari Smith to get her take on this news. "The ability to reach your audience—whether B2B or B2C—in the inbox of their choice is phenomenal." More from Mari:
Agency owner Harry Bankov of Brave Social Media Marketing also shared some exciting ideas about how this development will change the future of the industry:
"This update will allow social media marketing professionals such as myself to bring the 'social' element back to social media: Creating stronger relationships with our existing community, streamlining our onboarding processes for clients, and expanding our online communities. I'm grateful for this amazing opportunity, as it has the potential to change Instagram."
And finally, digital marketing expert Amanda Robinson of The Digital Gal gives more context on the Instagram automation announcement, and how it'll help businesses to "expand the user experience and have better conversations when it comes to customer service, business transactions, and shopping." 👇
Instagram made easy
Thanks to Jenn's expert tips and the coming of automation tools for Instagram messaging, it's never been easier to level up your business's Instagram presence. Don't forget to sign up to get notified when we launch our Instagram automation tools. Until then, learn how to set up ads to bring Instagram users to your DMs or Facebook bot.
To start automating conversations with prospects and customers on Facebook Messenger today, sign up for a free Chatfuel account. Interested in more digital marketing content like this? Subscribe to our YouTube channel to get notified when we drop more videos.