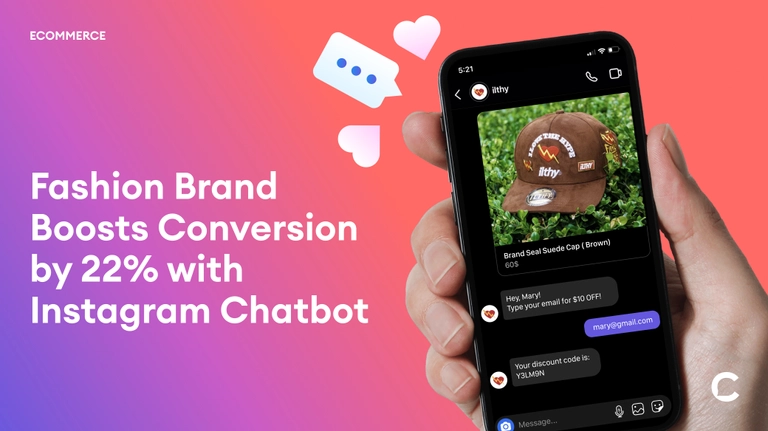 Published July 25, 2023 in
Fashion brand boosts conversion by 22% with Instagram chatbot
The art and apparel company ILTHY increases revenue by using Instagram Automation.
‍The challenge: A clothing brand from Cleveland wanted to acquire new customers ‍ ‍The outcome: They increased the conversion rate by 22% in one campaign and generated $1,075 in another one in 15 hours
ILTHY brand
Cleveland natives Kumar Arora and Glen Infante teamed up in 2011 to create ILTHY (I love the hype). In the last ten years the duo launched distinctive products and joined forces with a wide range of collaborators including Lebron James, Nike, Machine Gun Kelly, Cleveland Cavaliers, and more.
The company sells various apparel including shirts, bottoms, hats and accessories.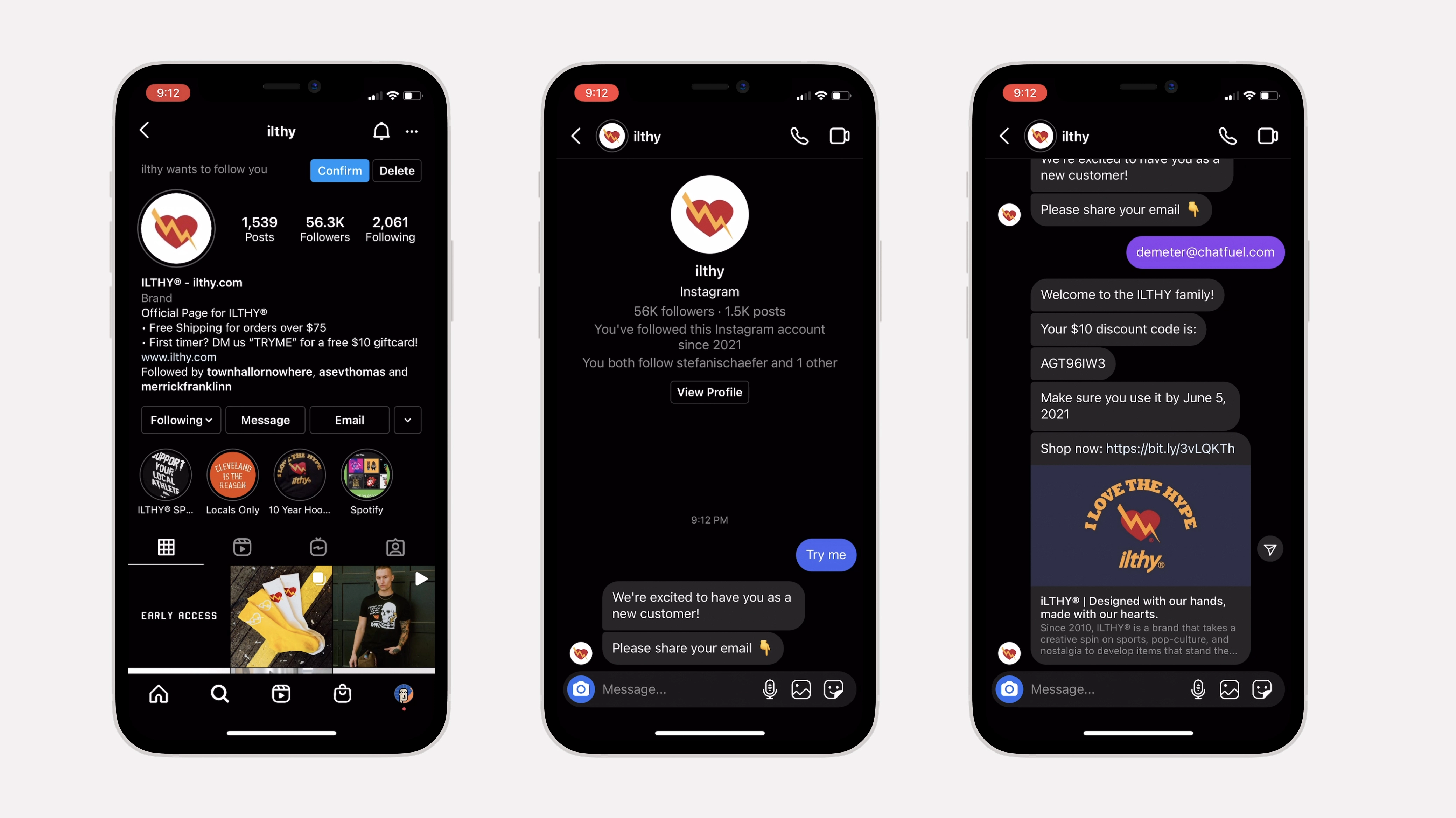 ILTHY was looking to expand their reach and promote their creative venture, ultimately getting more customers. Kumar set a goal of driving sales to see how much time he can actually save with Instagram automation. They decided to try to engage new customers by giving them a 10% off gift card.
"The idea was, if we could get 50-100 people to use the discount code on Instagram, it would clearly demonstrate that there is a demand. The next thing for us then would be to spend more time experimenting with the possibilities that chatbot automation provides.", says Kumar.
The company had no previous experience with the no-code approach, but was open enough to embrace it.
The ILTHY team settled down on launching two campaigns. A one month campaign to see how much client engagement and sales they could generate long term. The second, Memorial Day campaign aimed to show just what they could do with a chatbot solution in under 24 hours.
After going through several ideas, Kumar decided to keep it simple. One word. DMs. Well, two words. Direct messages are one of the top ways customers contact stores and business owners. Add a no-code bot to your Instagram store and you've got yourself instant replies to customers 24/7.
"I was initially concerned that I'd be too confused with chatbot building. JSON, integrations and other technical stuff kind of scared me for a second. I quickly went through the basics like collecting user emails or phones and right off the bat was able to build my first chatbot.", says Kumar.
How it works
A customer DMs the company's Instagram page after seeing a promocode in their bio. Then they send a direct message with a specific keyword to the company's Instagram. For their first campaign ILTHY used a promocode 'TRYME'. A customer then enters their name, email and phone number and instantly gets a unique 10% off gift card.
On ILTHY's side, they had to make sure they could set up a system to check if a person sending their data is not already in their Shopify customer list. Here's how it happens. The bot receives the customer name, email and number then "asks" Shopify using API if such customer is already in its database. Only if the answer is no, the customer gets a unique 10% gift card.
Results

For their first monthly campaign ILTHY was able to increase the conversion rate by 22%, generating $2,303 in total sales. 197 customers engaged with their bot resulting in 43 completed orders with an average order value of $53.
Their second Memorial Day campaign was even more impressive. In just 15 hours, they were able to generate $1,075 in sales after 60 people engaged with the bot.
Conclusion
Launching an Instagram campaign might look like a daunting task, but with the clear plan and the right tools it has never been easier. Staying ahead of competition is a top priority in a modern business environment. ILTHY saw value in utilizing chatbots which in turn increased their sales and expanded their customer base.
If you liked this, read about how a customer service automation slashed HelloFresh response time by 76%. Or see how you can increase sales by improving customer journey with a bot.
Looking for even more advice and inspiration? Join our Facebook community.