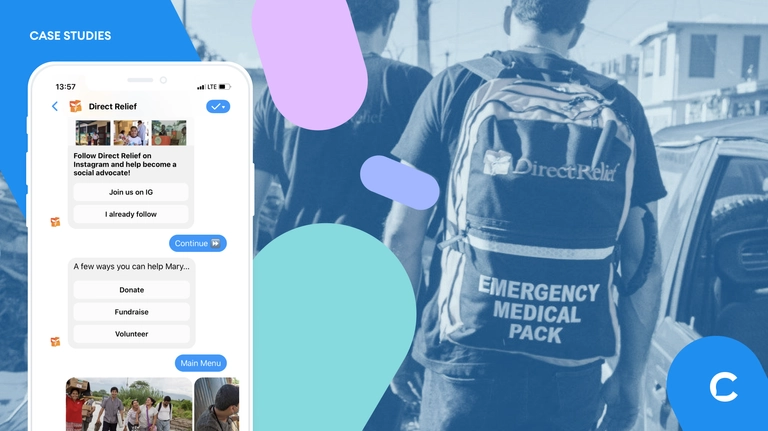 Published July 25, 2023 in
Chatbot helps nonprofit respond immediately to emergency requests
The Messenger chatbot for this non profit organization helps get life-saving aid to people in need.
The brand
Direct Relief is an international nonprofit organization that was founded by William Zimdin, a US immigrant from Estonia. In 1945, Zimdin was starting a nonprofit by sending thousands of relief parcels with food, clothes, and medicine from the US to relatives and friends in Europe, who were rebuilding their lives in the aftermath of World War II. In 1948 he made his project official, registering it as a California-based non profit organization.
Since then, Direct Relief has worked to help people around the world recover from everything from disease outbreaks to natural disasters. They continue to follow Zimdin's tradition of "direct and targeted assistance provided in a manner that respects and involves all people served" to this day.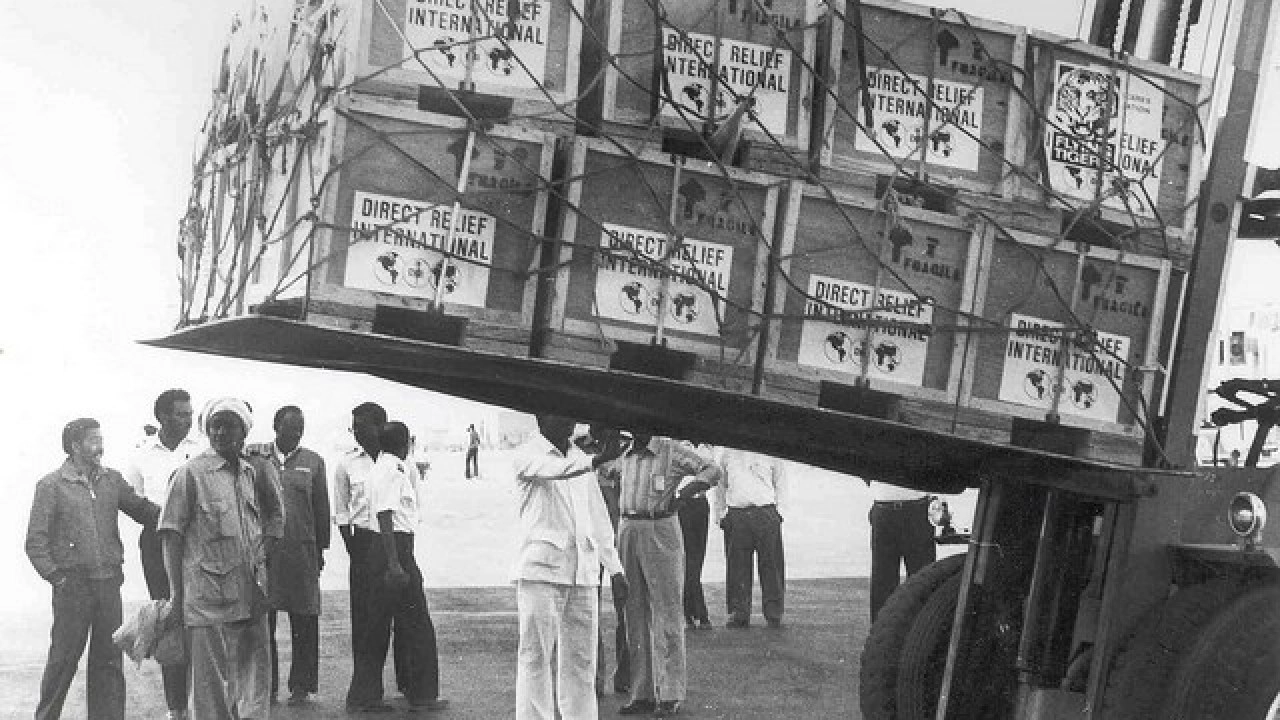 The problem
When people need assistance from nonprofits like Direct Relief, they usually need it immediately—whether it's food and water after a hurricane or crucial healthcare after an earthquake. Fast response times are absolutely critical to this nonprofit business's operations as human lives are often on the line. But when disasters struck in the past, the volume of these messages was often more than Direct Relief's small social media team could handle in a timely manner.
Over the course of the 2017 hurricane season, for example, they received hundreds of messages on Facebook Messenger from people around the globe. Some were wondering how they could rally support for those in impacted communities. Others needed urgent information on how to receive medical assistance. At first, the only solution the Direct Relief team could come up with to handle all the messages was bringing on more people—either temporary staff or training volunteers. And then they discovered chatbots.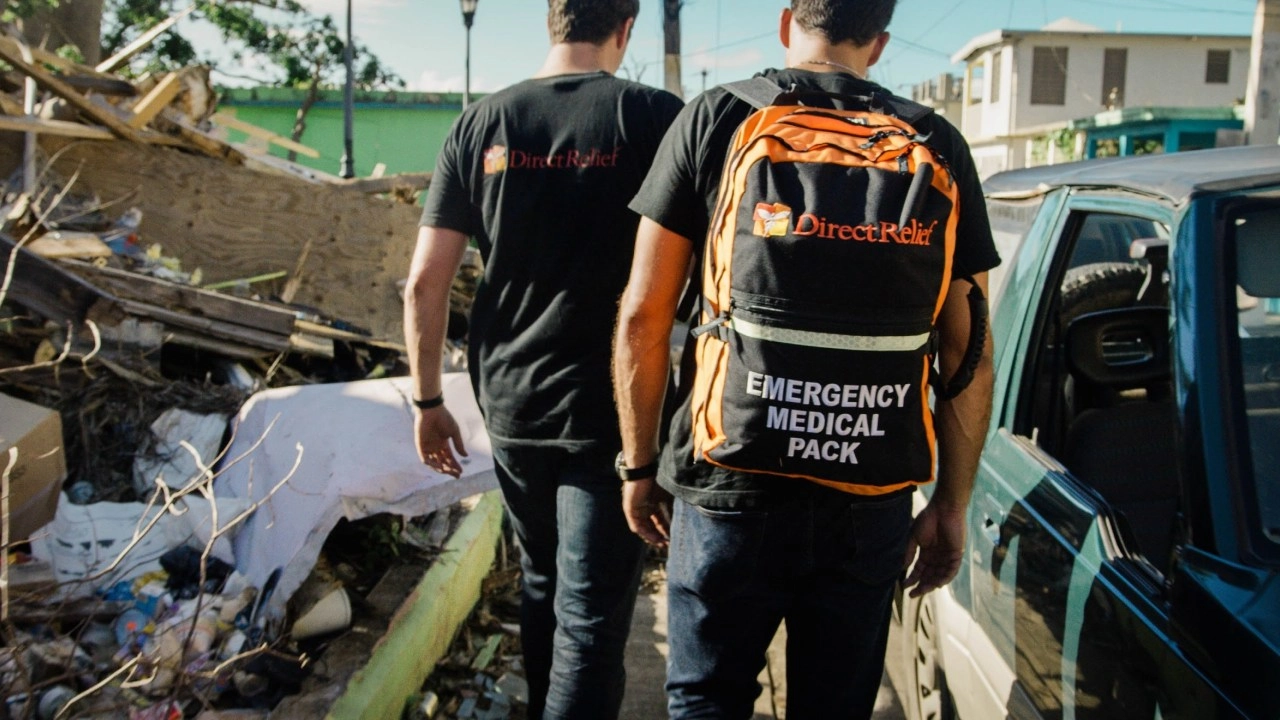 The solution
The Direct Relief team started looking for solutions to the problem of their overflowing Messenger inbox. "As we were weighing options," explains Tony Morain, Direct Relief's VP of Communications, "we reached out to our contacts at Facebook for recommendations. They told us about Chatfuel. We signed up and saw how easy it was to create a working chatbot," he continues, "one that was smart enough to respond to people's needs and guide them to the resources they requested." In just a few hours, a team of two people at the Direct Relief non profit organization built a Facebook Messenger chatbot that was ready for launch.
At first, the chatbot for this non profit organization focused on answering FAQs about their emergency response efforts, and providing information about volunteering, receiving help, and donating. But "the bot has evolved since then," Tony says. "It now converses in a number of languages and routes inquiries to the right internal teams for follow up."
Though the team has made improvements over time, the Facebook chatbot's core purpose remains the same: "to help people at scale," confirms Tony. To make sure the bot is achieving this goal, he explains that its conversations are regularly reviewed by staff members, and that users are also given a live chat option if they prefer. Tony adds that, when it comes to how to market a nonprofit, Direct Relief doesn't spend much on advertising. "That makes it all the more important to maintain relationships with the people who do support the organization, and the chatbot is critical in that regard."
"It's important to maintain relationships with the people who do support the organization, and the chatbot is critical in that regard." — Tony Morain, VP of Communications at Direct Relief

The recipe
The Direct Relief team focused on these Chatfuel tools and features to build their nonprofit chatbot:
Templates
Before they sat down to actually build their Facebook chatbot, the Direct Relief team explored Chatfuel's bot templates "to understand the platform and learn about what's possible," says Tony. Templates are a great way to get familiar with the structure of a well-built chatbot before you dive into the actual building process yourself. Find templates for Automation → Blocks-tab bots by clicking the Choose from templates button when you first log in to Chatfuel. Templates for Automation→Flows-tab bots take the form of links. A collection of these is coming soon. (Join our Facebook community for updates.)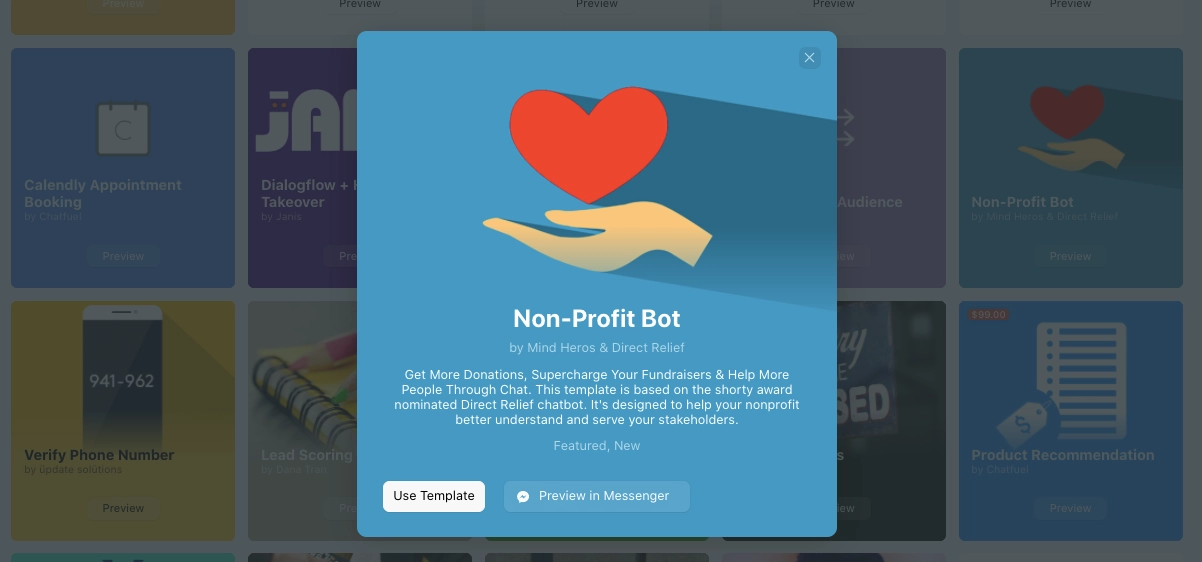 Artificial intelligence (AI)
If a user sends the bot a custom text message (instead of choosing a button or quick reply), artificial intelligence allows it to still respond accurately. To build their AI chatbot, the Direct Relief team used the JSON API to integrate Dialogflow (a conversational AI). As Tony explains, the artificial intelligence helps "expand the bot's contextual understanding and responsiveness."
Live chat
Users who interact with this charity's Facebook chatbot have the option to pause the bot's responses and connect with a live agent instead. This functionality is helpful if the chatbot isn't able to answer the user's question, or if the user simply prefers speaking with a human agent.
Google Site Search plugin and RSS Import plugin
These plugins allow Messenger chatbots to pull information from websites and instantly display it in Messenger for users. The Direct Relief bot gets information from the Direct Relief website and others to share emergency updates with users as needed.
The results
Thanks to their Facebook Messenger chatbot, Direct Relief is now able to receive and respond to requests for help more quickly than ever before. Their response time went from several days to under a minute. As a result, the people they serve are able to get the resources and aid they need as quickly as possible. To date, the Direct Relief nonprofit chatbot has responded to over 10,000 user messages.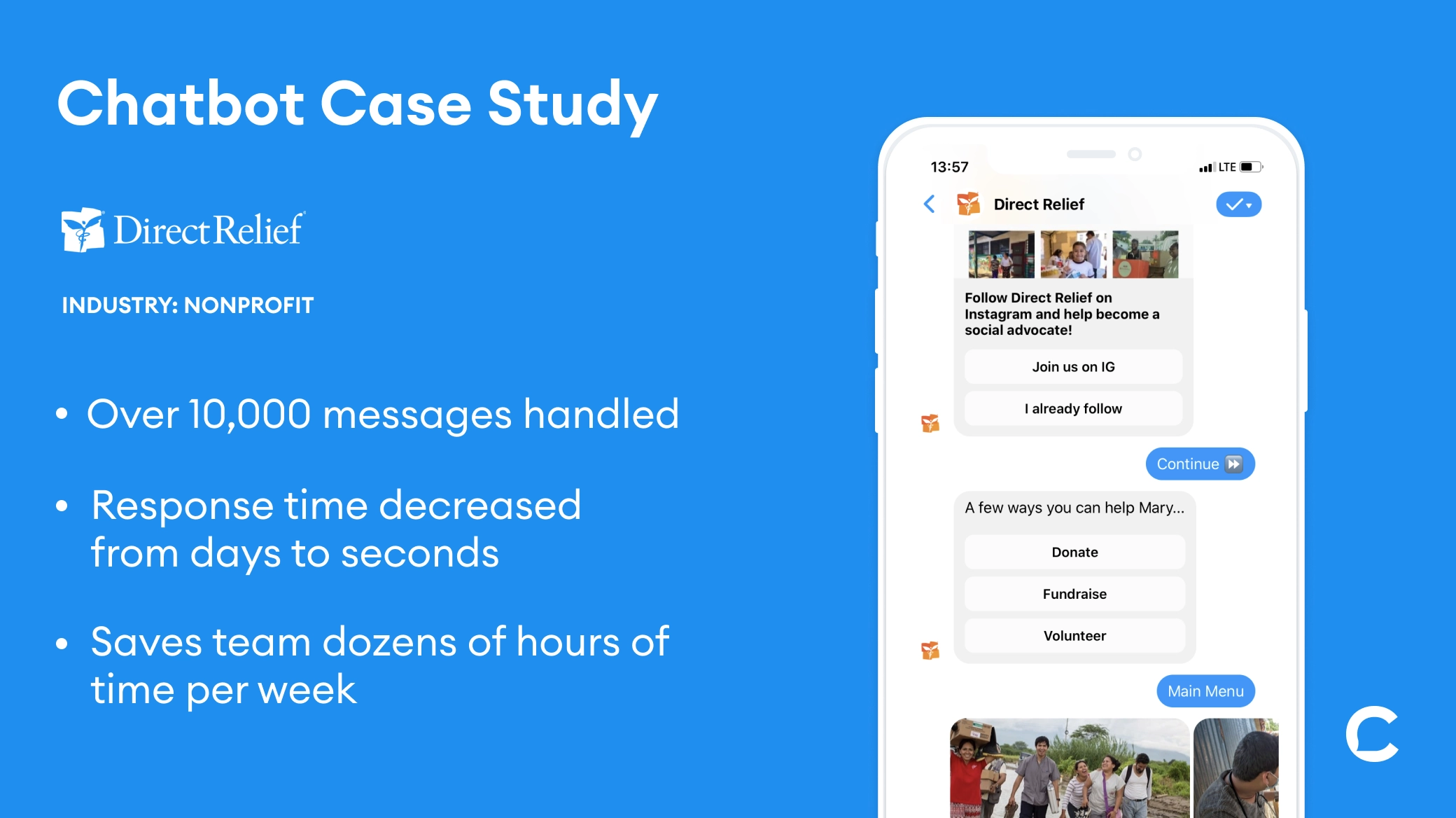 The chatbot also assists Direct Relief with their nonprofit marketing. For one, the bot helps facilitate nonprofit fundraising by engaging those who want to donate and directing them to the right place. Plus, the chatbot saves the Direct Relief team "dozens of hours each week—time that can be reinvested in our mission to serve those in need," says Tony.
Tony shares a specific example of how the chatbot for Direct Relief helped an organization quickly get the supplies they needed to provide aid to others.
Changing the world one chatbot at a time
The Direct Relief chatbot can get users the often crucial and even life-saving information they need immediately. As a result, it empowers the organization to accomplish their mission even more effectively.
Could your nonprofit also benefit from quicker response times, more donations and volunteers, and the other perks of a Messenger bot? Check out this video tutorial to see just how easy it is to build a no-code chatbot with Chatfuel. (After all, the function of Chatfuel is to make bot-building accessible to all!)
Then, sign up for your free account — no credit card, contracts, or previous experience required.