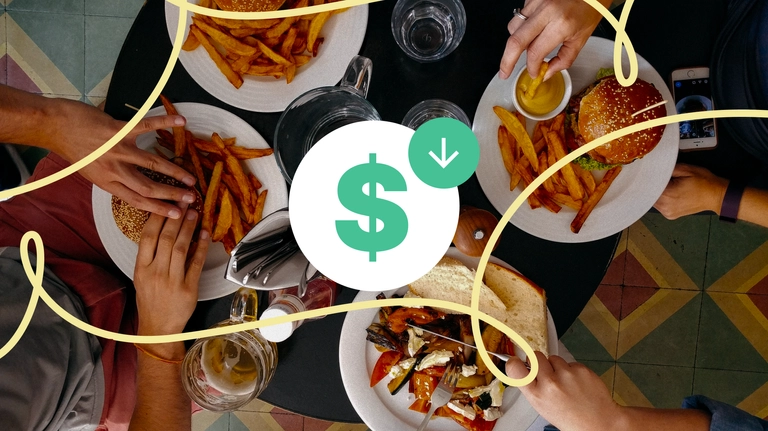 Published July 6, 2022 in
How to reduce operational costs in restaurants with a chatbot
In this article, we'll share optimal solutions for building your restaurant chatbot and ideas on using chatbots for more profit
Running a restaurant has been quite a challenging task for the last several years. Restaurant business owners face various issues: price rise, labor shortage, and different limitations. One of the ways to cope with it is to optimize the processes.
In this article, we'll share optimal solutions for building your dream business and ideas on using chatbots for more profit.
Make your bot answer questions for you
According to a research of 3,200 consumers, 46% expect companies to respond faster than 4 hours. So, you can't ignore direct messages and spend hours a day answering the same questions manually. But a chatbot can do it automatically.
With FAQs automation, you can improve office productivity by giving your staff more time to focus on other goals. In addition, the brand's response rate and customer engagement improve because people feel more valued when they get quick responses.
A well-designed chatbot answers up to 80% of routine questions in your restaurant, bar, coffee shop, food truck, or food-delivery business. It can do this based on pre-defined questions and answers or using artificial intelligence to handle free-form inquiries. So naturally, the easier and friendlier you make the process of learning about your food-industry business, the better the customer experience will be
Catch all comments and re-engage your clients
People expect to get discounts as they used to during the pandemic as a reward for using online resources and apps. Comments Autoreply Entry Point is a great option to reach new people with a coupon or a special offer. Apply it to a specific Facebook post on your Page. Then, those who comment on it will receive a message from your bot with the discount or a coupon. Those people can now visit your restaurant and redeem it. Plus, you can re-engage them via bot with more offers in the future.
You can also re-engage inactive bot users. By Facebook Messenger policies, you can send promotional content for free within a 24-hour window since their last interaction with your chatbot. After that, you can pay to send a sponsored message to re-engage inactive users — reopening that 24-hour window. For example, you can announce a new menu item, a new location, or a promotion, like a special Valentine's Day dinner or a "kids eat free" deal. Use our Segment Sync feature to manage your bot audience so that you can send relevant messages to particular target groups.
Automation plus optimization
Let your staff be more efficient and make your chatbot deal with constant phone calls and emails from people who want to make a reservation. If you offer multiple services, like event spaces or catering, your bot can gather lead information from users looking for information on related topics.
Your chatbot can ask questions, save and export all responses to a Google Sheet, and email you all data about new leads. Once you get detailed lead information, you can reach out personally to seal the deal.
These solutions leave you much room for maneuver and lower the operational costs. And these are only a tiny part of a plan. The significant advantage of Chatfuel is that we collect detailed statistics with our automation, which helps you deal with the most extensive catering issue — optimization.
Fred Kirvan of New Jersey Kirvan consulting shares:
"Now more than ever, it's vital that you analyze the data available to ensure your business is fully optimized. For example, valuable information exists within your point of sale to help determine what changes could streamline your menu offerings. Streamlining your menu offering could result in improved profitability, the need for less staff, and fewer items from your distributor, so you're using more of what you do use. But, I often find that business owners aren't using the data to drive the decisions that could help them navigate these challenging times."
Restaurant owners and operators will have to continue to expand their digital presence. Chatfuel offers the tools that will allow you to deliver instant rewarding, seamless customer experiences. Sign up to get started with Chatfuel today.