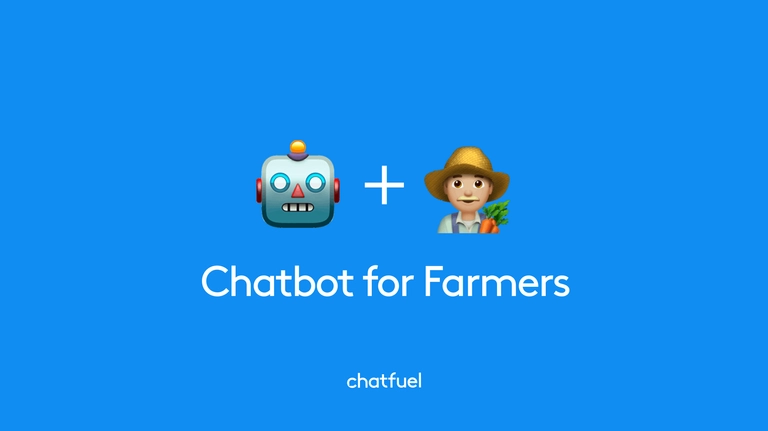 Published July 21, 2023 in
Why farmers and agriculture businesses should use chatbots
Learn more about how a Messenger bot can boost your farm or agriculture business, and get tips on optimizing a farming chatbot.
The world of agriculture business is becoming increasingly competitive. In today's market, producing a high-quality product is only the first half of the equation. The second is effective, impactful marketing, a now-necessary component of the recipe for success for most any farming business.
One tool that's been making waves in the marketing world most recently is artificial intelligence. AI is changing the way businesses operate across a wide variety of industries—and agriculture is no exception. If you've ever wondered about the potential applications of this type of technology for farming businesses, it's time you looked into Facebook Messenger chatbots. We've collected our best information, tips, and case studies about chatbots for farmers, so you can use this powerful new tool to help build your agriculture business.
How a chatbot can boost your agriculture business
Although AI and chatbots may sound intimidating, the reality is that bots are an extremely accessible form of AI technology. A Messenger bot is just a piece of software businesses can use to communicate with potential customers via Facebook Messenger. For busy farmers who want to do everything they can to build their business, a chatbot is the ideal solution.
A chatbot in Messenger can act as a virtual assistant for your business. They use a conversational, relatable style to interact with customers, allowing agriculture companies to improve customer service, productivity, and operational efficiency. Bots are incredibly useful in data-intensive industries like farming, because they can help streamline and automate tasks that were previously only performable by strict counting and old-fashioned human analysis. A Facebook bot for farmers can:
Save time ⏱️ With a bot, you'll no longer need a human agent to spend their time responding to the same inquiries from customers over and over. It's easy to equip a bot with helpful answers to all the frequently asked questions your business receives, related to your farm, your products, or any other information.
Engage potential new clients 👥 Chatfuel's bot-building platform has a feature called user attributes, which allows you to gather information about prospects who engage with your bot. Using that information, you can then have your bot segment these potential new customers to make future outreach efforts more targeted and effective. For example: If a prospect asks your bot about your cheese products, the bot will remember that. So next time you release a new cheese product, you'll easily be able to reach that user and others who have already expressed an interest.
Easily communicate with customers and prospects 💬 People already feel at ease communicating via Facebook Messenger. It's a platform where they're used to chatting with family and friends, and this casual, intimate atmosphere is precisely what makes Messenger bots so powerful for businesses. Using the same informal, conversational style, a bot can make your customers feel comfortable as it answers their questions, gives them information, and promotes offers. Plus, it can gather customer information in an easy and painless way, because the user's profile with their full name, language preference, time zone, and gender is immediately accessible to the bot when the conversation begins.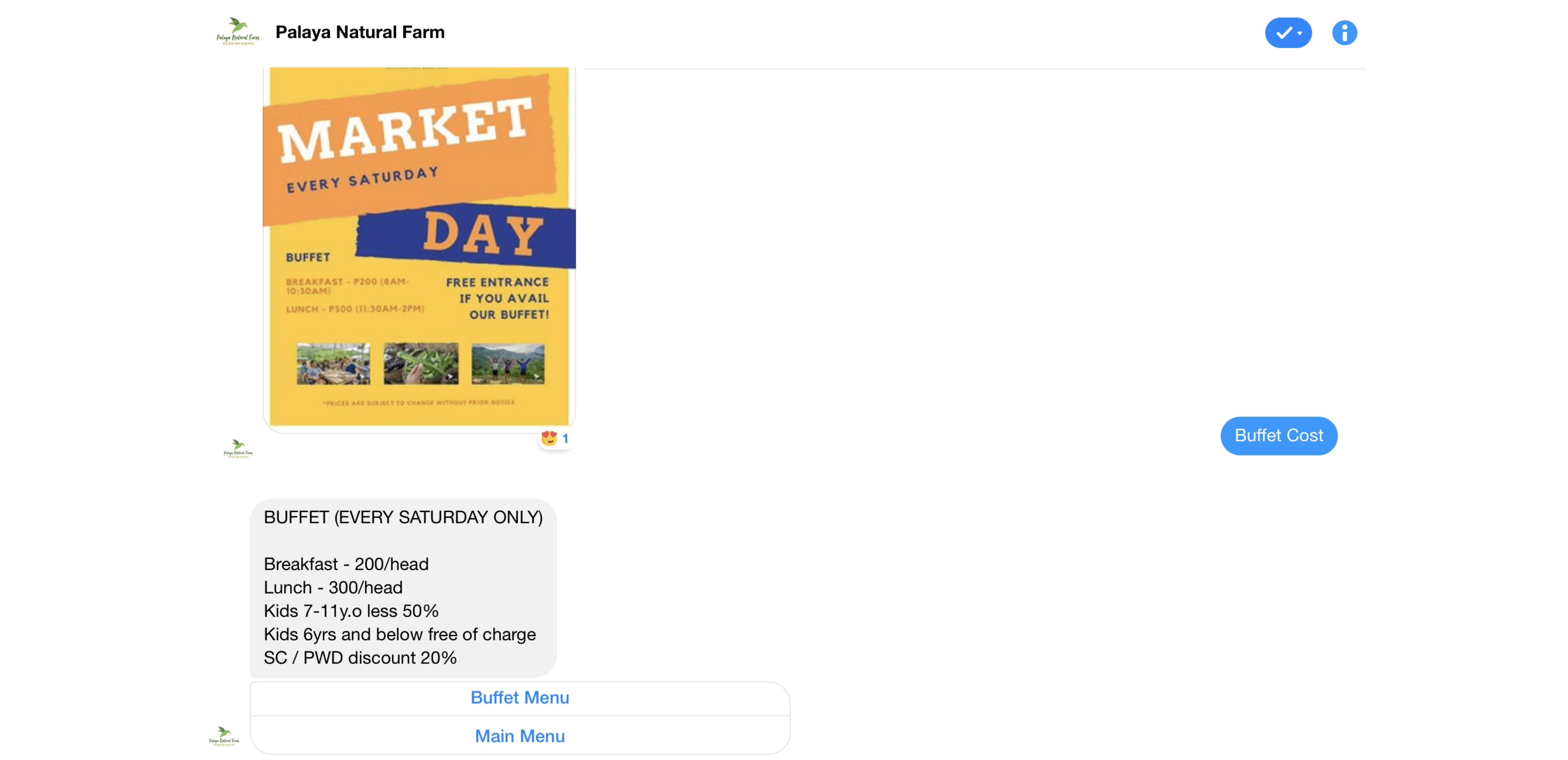 How to build a bot for your agriculture business
The function of Chatfuel is to make chatbot-building easy, even if you don't have any coding knowledge or tech experience. Farmers or agriculture-business owners can get started with building a bot by checking out our intro video, or browsing our helpful how-to articles. Once you begin, you're never alone, either—Chatfuel has an active Facebook community where you can ask questions and get help, and you can always reach out to support at [email protected].
Tips for optimizing a chatbot for your farming business
When deciding what information your bot will share with users, it's important to put yourself in the customer's or prospect's shoes. Analyze the inquiries you already receive most frequently, and make sure your bot is equipped to address all of them. Set it up to offer as much information as possible about the products so that customers can make an informed decision and enjoy an engaging, interesting experience. Make sure to:
Share your information and your story 📝 It's easy to equip your bot with key information prospects and customers would want to know about your business. Not only can you use it to share details about your hours, location, products, and pricing, but you can design it to tell your story, too. Have your bot offer details about the history of your farm and your mission, along with bios and photos of your team. Use it as an opportunity to draw people in and make them a part of the narrative of your company.
Educate 💡 Another useful tip is to design your bot to educate prospects and customers about what you do. If you offer organic products, for example, have your bot explain exactly what that means. Share how it affects your customers' lives, and why they should invest in organic foods for themselves and their families. You should also share all details about the products you offer and make it simple to browse them, so customers can easily learn, shop, and discover new items they may be interested in.
Notify subscribers about news and updates 🔔 Have a new product release coming up, the latest blog post to share, or a community event, promotion, or sale you're planning? With a chatbot, it's easy to let users know what's new with your business.
Personalize the experience 🙋🏽 The sky's the limit when it comes to how you can customize the bot experience for your customers! One example would be to ask questions about the customer's preferred diet or food allergies. Using a quiz-like style is an engaging way for you to gather information about the user's preferences, which will then be stored in Chatfuel's People tab for your future use. Then, you can use the responses to recommend specific products that will meet their needs, all in a style that's interactive and fun.

Agriculture bot success stories from Chatfuel clients
Whether you're a farmer with a small operation or are working in a rapidly growing agriculture company, a bot can have a big impact on your business. Ready to see some farming chatbots in action? Visit the Sweet Eats Fruit Farm bot, or try chatting with the bot for Palaya Natural Farm. They're both great examples of what a bot can do for businesses in the agriculture industry.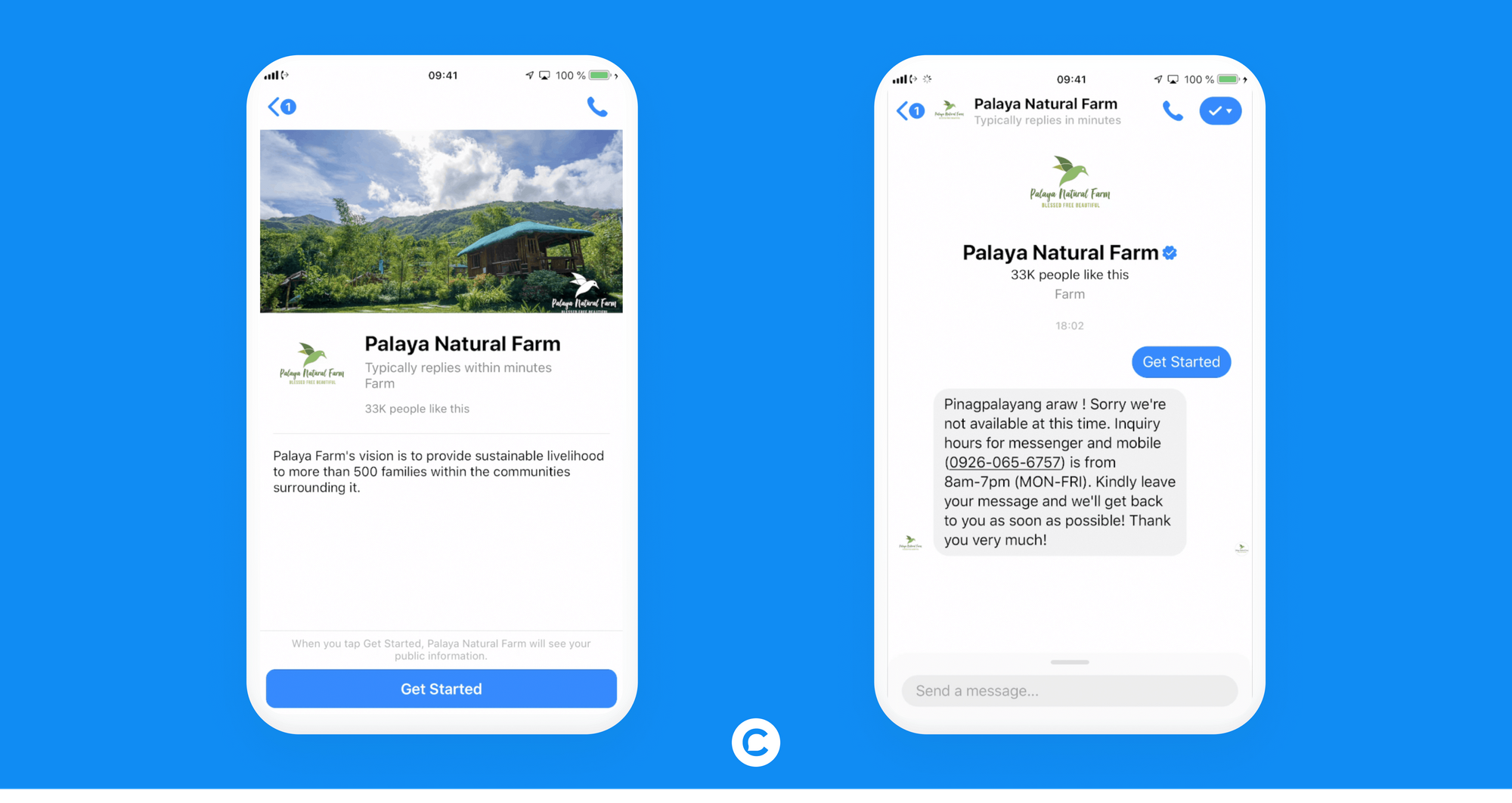 Create a bot for your agriculture business today
We hope we've made it clear; there's no experience or coding skills required to build a bot! Farmers and other agriculture business owners can easily get started with Chatfuel today. No credit cards, no special skills, no commitments—you've got nothing to lose. Sign up with Chatfuelfor free now to start designing a chatbot for your agriculture business. When you're ready to enjoy unlimited bot users and priority support, upgrade to Pro.