Published November 6, 2023 in
How to automate eCommerce sales by using ChatGPT
Learn how to leverage WhatsApp for your business with a step-by-step guide, a case study of a brand already doing this, and more.
With Black Friday and Cyber Monday only a month away, eCommerce managers and marketing specialists are scrambling. There's so much to do. So much to prepare. For many, this is the biggest revenue month of the year. Luckily for you, we're here to help.
In this article, we'll show you how to increase eCommerce sales for your store by using sales automation with Chatfuel and ChatGPT.
We'll show you how to leverage WhatsApp for your business, a case study of a brand already doing this, and even a step-by-step guide on how to set it all up. The goal is to get you prepared for an influx of customers, making sure that you maximize your sales while reducing the workload on your team at the same time.
Let's get started.
How do you automate sales with ChatGPT?
The great thing about ChatGPT is that it can be integrated into other tools, such as chatbots. And Chatfuel, one of the biggest chatbot platforms in the world, did exactly that. That means that you can have a customer visiting your website, and when they click on the 'chat' button, ChatGPT talks to them about your products and tries to sell them. It acts as a product expert and salesman, all in one.
To make this work, all you have to do is feed it some training data. You can provide information about your products, details on your sales and promotions, information about your store, and anything else that is relevant to your business. The best part is that this integration is simple and completely safe. In just minutes, you can have a completely automated sales machine working for your business.
It might sound too good to be true for some, but many stores are already using this tool. In the case study below, we'll show you how a Colombian brand is leveraging Chatfuel and ChatGPT.
Case study: how a clothing brand automates sales with Chatfuel and ChatGPT
Deliiro, one of Chatfuel's many customers, is a Colombian clothing store. They've realized that leveraging sales automation with ChatGPT is something that they absolutely had to try. And to make that happen, they turned to Chatfuel.
When you land on their website, what you'll see in the right corner is a WhatsApp chat widget. Customers can click on it and ask questions about product features, product selection, placing an order, and much more.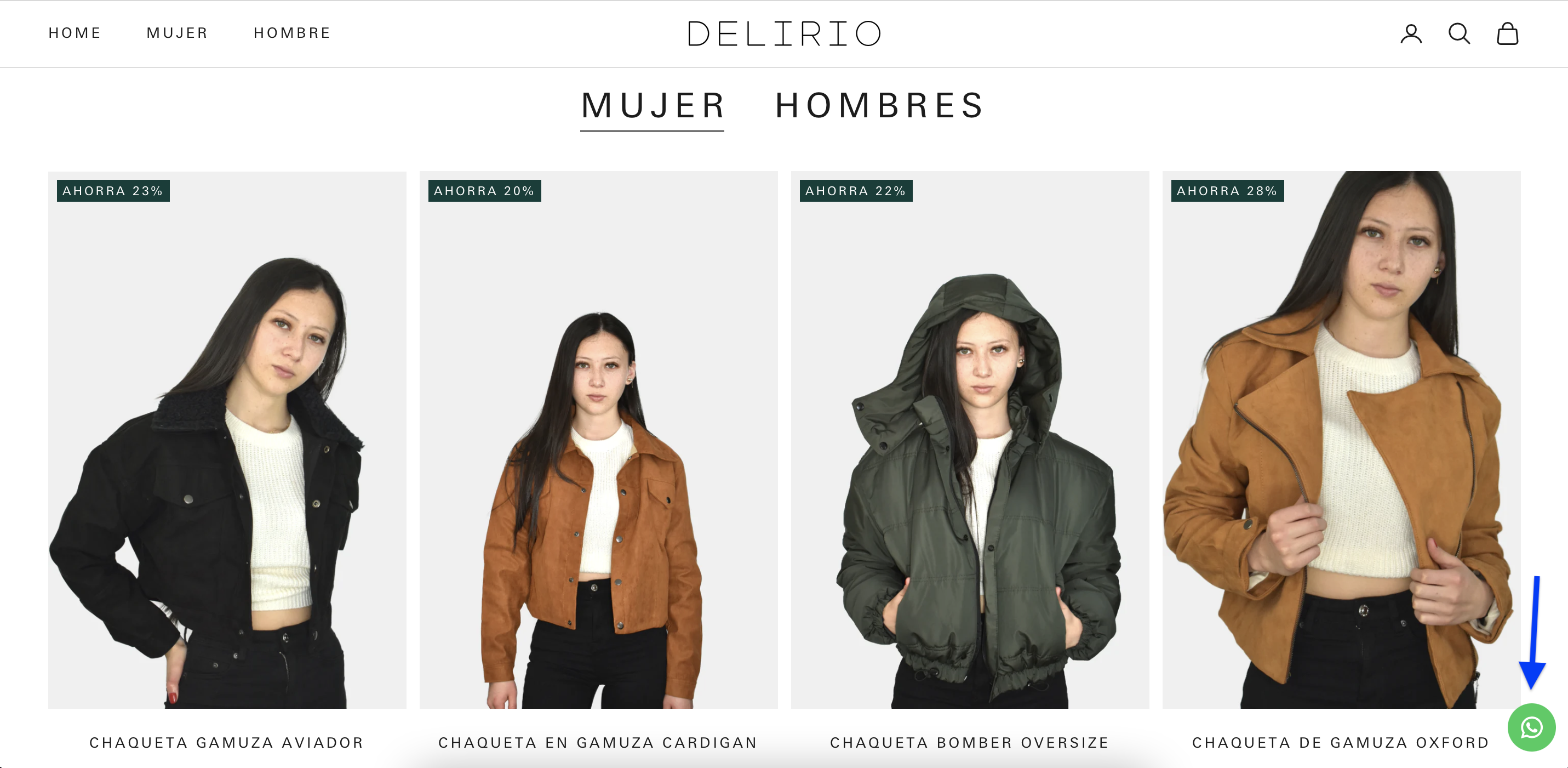 Not only that, but Chatfuel also works as a lead-generation tool for Deliiro. They efficiently automate the collection of customer information, which they can then nurture and engage with.
If you're ready to get started with Chatfuel and do the same for your own brand, keep reading to learn how to get set up. Or, if you prefer figuring things out on the go, you can sign up for your free trial here.
How to set it all up
Follow the steps below to set up Chatfuel on your website:
Register at Chatfuel
Go to our website and create an account for free.
Connect your WhatsApp number to Chatfuel
To do this, you will first need to log in to your Chatfuel account.
We strongly recommend using a new number for the WhatsApp + Chatfuel integration. This is because a phone number connected to Chatfuel can't be already in use in other WhatsApp Business accounts, the WhatsApp application, or with the WhatsApp Business application.
Once you're in your dashboard, go to the 'Home' section from the left-side menu.

Scroll down to the WhatsApp Business section and click on 'Connect.'

Choose the option 'Use your number' and click 'Next.'


Follow the steps in the pop-up window to log in to your Meta Business Account and verify your phone number.
Copy the template
Do it by following this link and then clicking 'Save to Chatfuel' in the bottom right corner.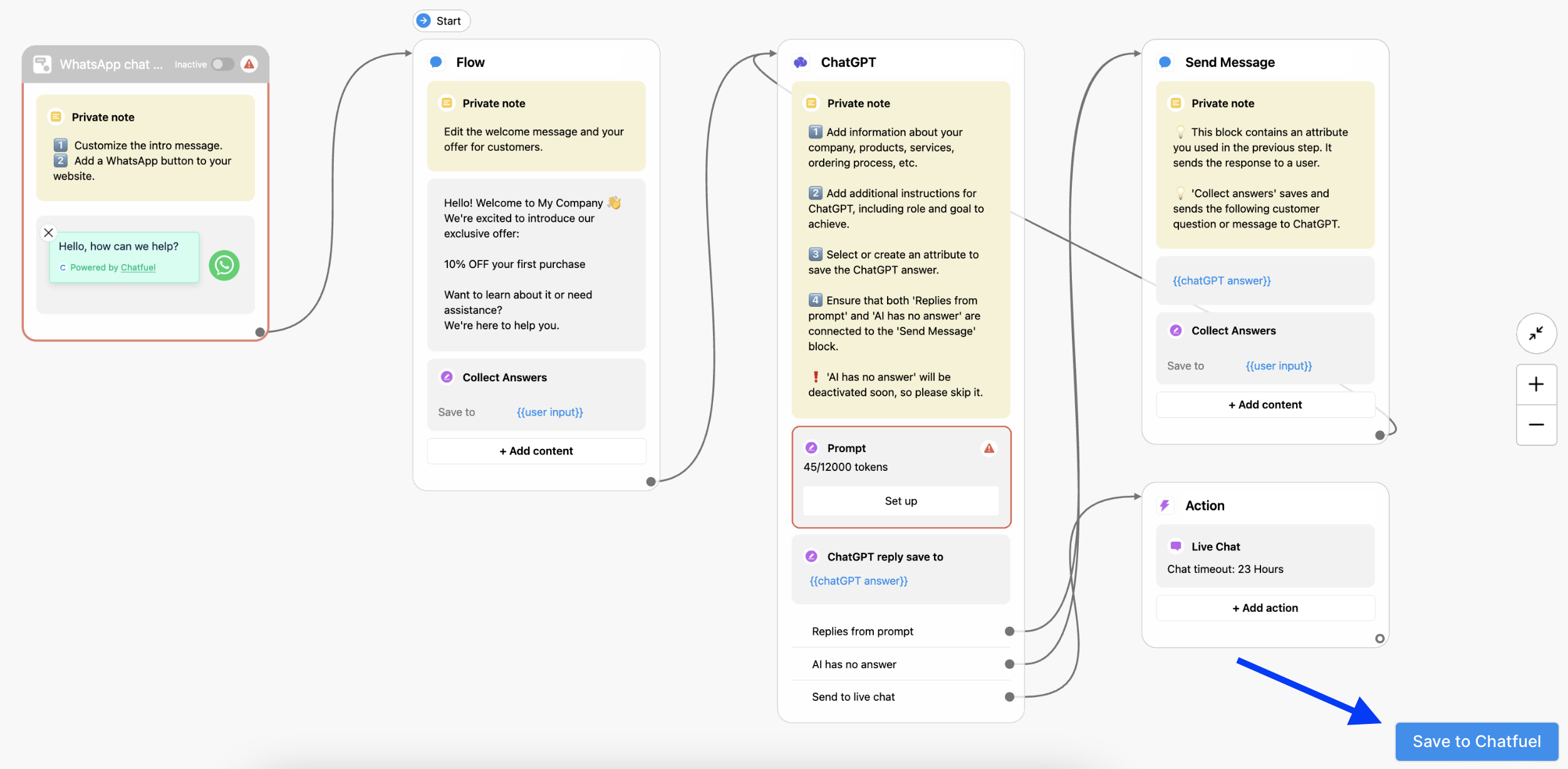 Add your business details to the flow
Once you copied your template, open it and click on the 'Set up' button in the ChatGPT block.

Here, you can add information about your company, such as the name, phone number, address, offerings, and more. We recommend adding all relevant information in this section so that ChatGPT knows how to help your customers.

Once you're done, click on 'Test this flow' in the bottom right corner to see how your flow is working.
Add the WhatsApp button to your website
This is what we call an 'Entry Point' at Chatfuel. It's the way that users enter your flow. Or, in your case, how users enter the ChatGPT-powered template you duplicated above. Follow the steps below for this final stage of the setup.
Click on the WhatsApp entry point in your template.

Open the settings by clicking on the content in the block.

In the top left corner, copy the code, which you can paste into your website's HTML.
If you have a WordPress website:
Login to your admin panel and select 'Appearance' → 'Theme File Editor.'

In the upper right corner, select your current theme in the drop-down menu (usually assigned by default).

Under 'Theme Files,' select 'Theme Footer/footer.php.'

In the text area, add the Chatfuel embed code right above the closing tag.

Click 'Update File' to save your changes.
If you have a Shopify website:
Click on 'Online Store.'

Go to 'Themes' → 'Actions.'

In the drop-down menu, click 'Edit Code' to open your Shopify store theme editor.

Locate the 'theme.liquid' file in the menu and paste the code after the body tag. Save the changes, and you're done.

If you are not comfortable with the code part, we recommend that you ask your webmaster for support.
Note. If you are having trouble with any of the above steps, such as connecting your WhatsApp phone number to Chatfuel, check our WhatsApp guides for more detailed instructions and information.
Your setup should now be done, congratulations. In under 30 minutes, you equipped your website with an automated sales tool that will help you boost your sales this season.
Leverage sales automation this season
The future of commerce is automation. And as you can clearly see from this article, sales are certainly no exception. By tapping into the power of Chatfuel and ChatGPT, you're getting a leg up on the competition. Our tools are designed to streamline your sales process, reduce the workload on your team, and ensure that every customer interaction is productive. You will not only be able to respond to your customers quickly but also ensure they are well-informed about your best products and promotions.
Whether you're a seasoned eCommerce manager or just starting out as a marketing specialist, this guide makes setup a breeze.
Don't wait — the time to act is now. Boost your sales this season with Chatfuel.