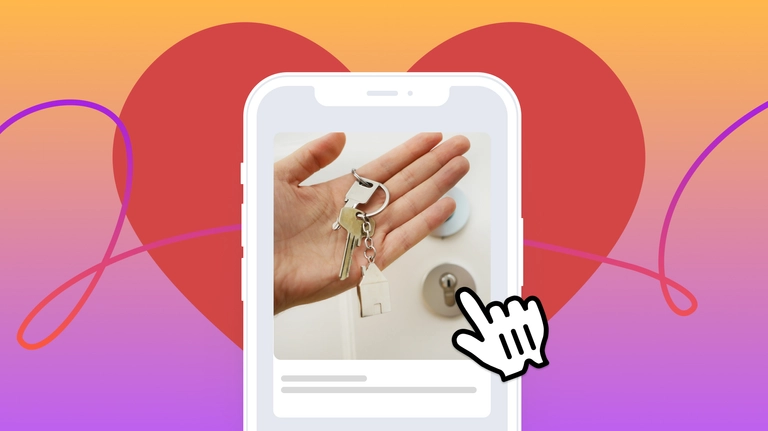 Published July 28, 2022 in
Top 5 social media ideas for real estate
Raise credibility, gain social proof, get more comments and generate more leads with these 5 social media ideas for real estate
Social media is the second lead generation channel in real estate. It brings 44% of new leads and only falls behind referrals in #1 place with 82%. Since most real estate work is done offline, keeping socials active comes with a bit of a challenge. Below are 5 ideas for social media put together with real estate in mind.
Showcase local businesses
Gayane is "Denver's Most Charismatic Real Estate Agent". She mostly posts listings, expert advice, home constructions videos and more. Another thing Gayane does are 'local business review' stories and videos. Such posts not only make her relatable, they also raise her credibility as a real estate expert in her area.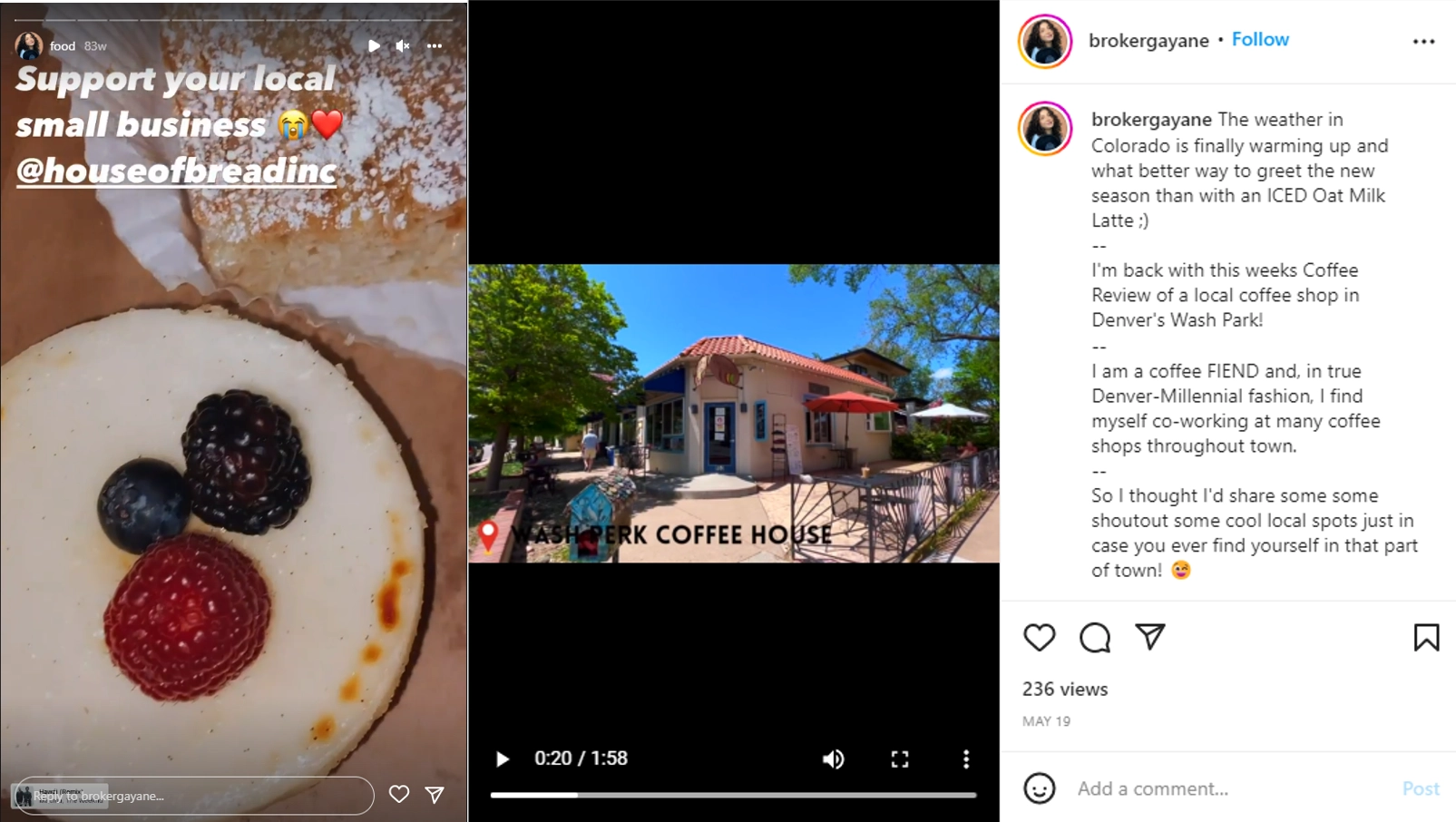 A story and a video example from Gayane's Instagram
To adapt this idea to your business:
Think of both popular and lesser known coffee shops or restaurants in the area of your listings.
Pick a place you want to showcase.
Make a short video or a story about the spot you picked.
Remember, these reviews are a way to gain some social proof and show that you're relatable. So, don't overthink it. Talk about the food and service, the location and neighborhood the way you'd tell it to a friend. Reassure homebuyers (40% end up regretting location choice) that the location they're picking is a good one by showing the neighborhood yourself.
Ask what your audience thinks
An active discussion in comments improves your engagement rate and shows Facebook algorithms that people are interested in your content. Look at how Etsy, an e-commerce platform, uses questions to encourage people to comment.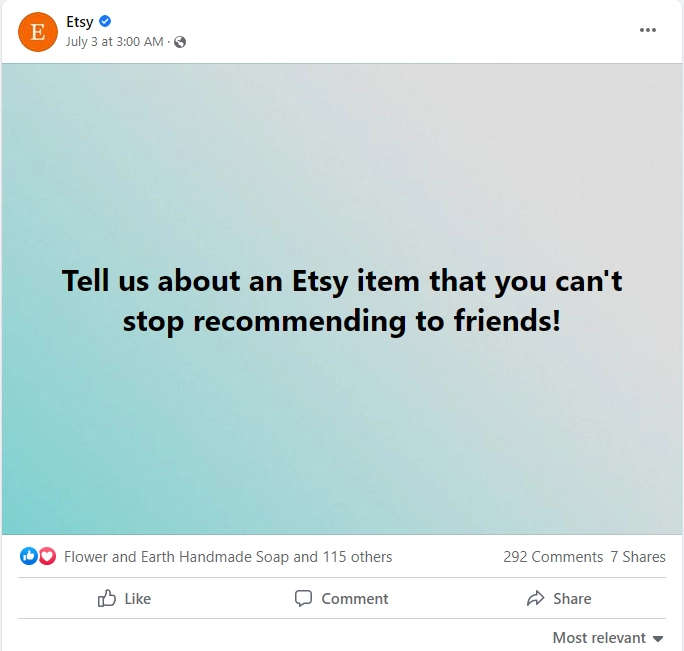 To start using this idea, come up with a list of questions related to real estate. Here are some examples to get you started:
Home renovation: Which cabinet style do you prefer? Which exterior style do you prefer? What kind of kitchen do you look for?
Home buying: How much does an average home sell for? What common mistakes first-time homebuyers make? Can you buy a home with a bad credit score?
Asking opinions: What state is the most popular among homebuyers? Is it worth buying a fixer-upper? How many rooms do you look for in a house?
Use and expand on these examples and if you get stuck, don't hesitate to google some more. You can go one step further and set up automated lead generation from the comments you receive.
Generate leads from comments
Automated lead generation is when a preconfigured bot responds to comments instead of you. Don't worry, this is a bot compliant to Facebook rules. Here's how it works, you sign up with Chatfuel, connect your Facebook or Instagram page and create a conversation logic. You then connect a single or multiple posts to this logic and set automation live.
To generate leads from comments, use Comments Autoreply functionality. It lets you leave a public or a private reply to a new comment. Go to Flow Builder and choose Comments Autoreply, select your posts and add your response.
The response can be a simple message saying 'Thanks, we appreciate your comment! Do you want to learn more about our products? ' with a button to your website under it. Or the logic can be more complex. For example, a survey with multiple questions where the results and contact data are automatically sent to your email address.
Sign up with Chatfuel to try lead generation from comments yourself.
Share your expertise
Educational posts address questions and concerns of your followers. These include obvious ones and the ones that your audience is not aware of. Zillow has a good example of a short, informative post.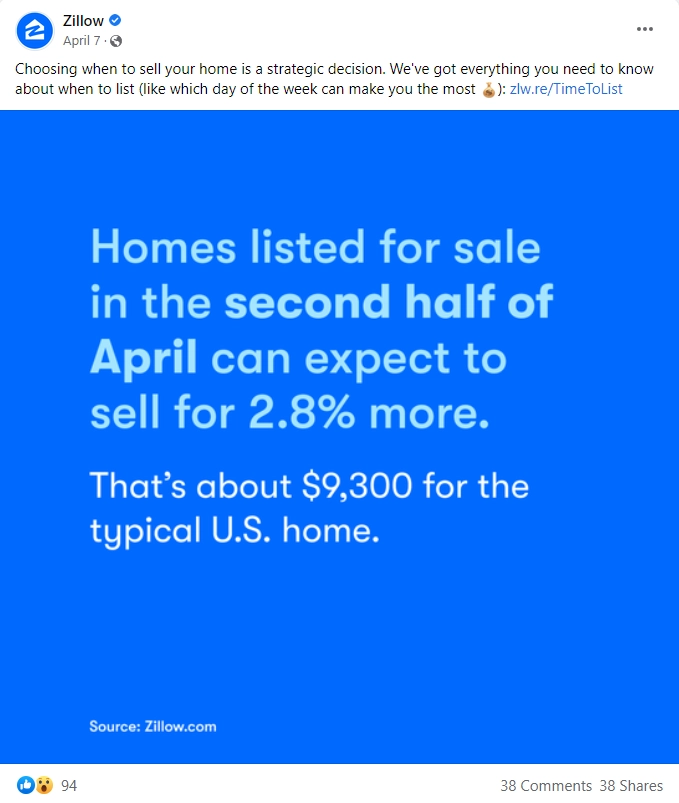 Don't be afraid to experiment with the format of such posts: long or short, images or videos, expert opinion or industry news (more on this later). Here are some things you can talk about:
Finance: mortgage, lender, market prices;
Home improvement: planning, renovating, furnishing;
Rules and regulations: legal, pre-approval, income and employment.
Come up with a few ideas for any of these topics. Get into homebuyers shoes and think of some of their questions and concerns, then address those with an educational post. If you're low on creativity, check out this list of 100 before-you-buy questions.
Post industry updates
New Mexico realtor Eli Nevarez shows a good example on how to keep your audience well informed. Keeping up with the industry news highlights your expertise on the market and awareness of the trends.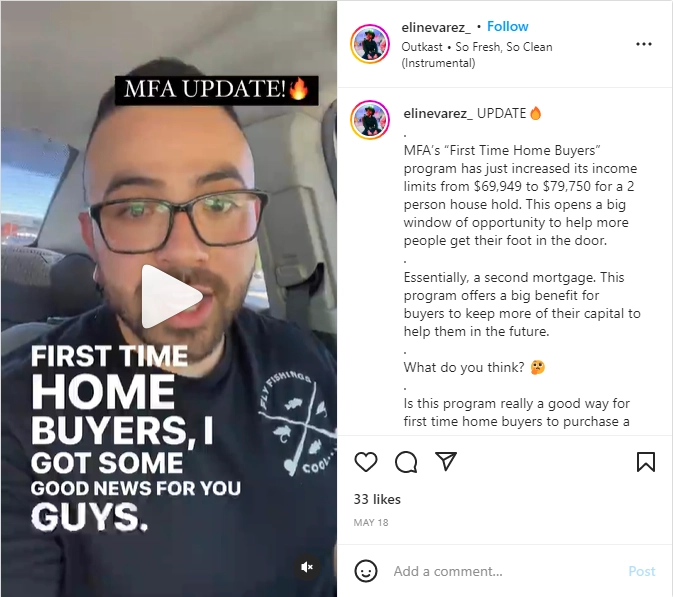 Such posts are very similar to educational ones, except they focus more on:
Industry news;
Market updates;
Changes in regulation;
Changes in mortgage programs.
If you're looking for some solid sources for industry news, check out: realtor.com, inman.com or housingwire newsletter.
Add testimonials
In real estate, public opinion matters, with as much as 43% of real estate agents investing their extra marketing budget in referrals. To build up your reputation, include posts with the sales you close and show former homebuyers become now homeowners. For example, look at Bianca Morrison from Chicago, who includes videos with happy clients in their new home after closing.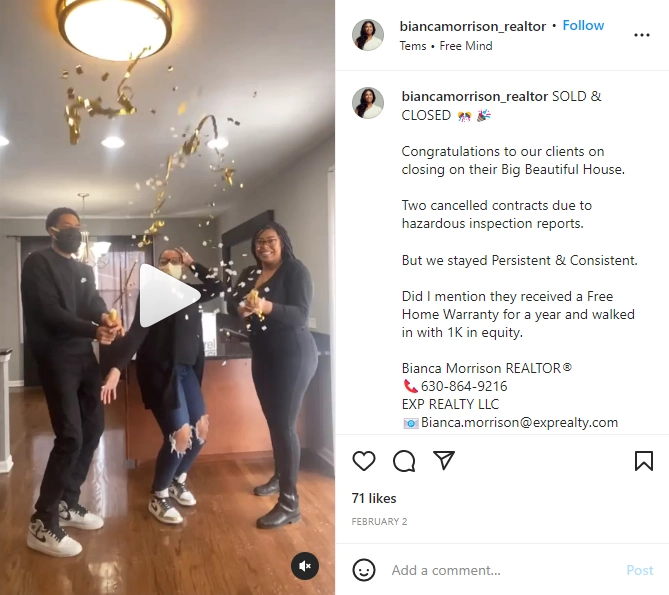 Take several photos or make a video after closing the home, make sure to include your clients, interior and exterior of the home itself. For the description, provide details about: your clients' story, how and why they chose that property, how your services helped them.
Do more with your leads
Applying these ideas should bring you more leads. Why not put qualifying and nurturing them on autopilot? With Chatfuel you can automate up to 98% of requests: responses to FAQs, replies to comments, booking appointments and calls. All done right in Messenger chat or Instagram DMs. Try Chatfuel yourself, first 50 chats are free.