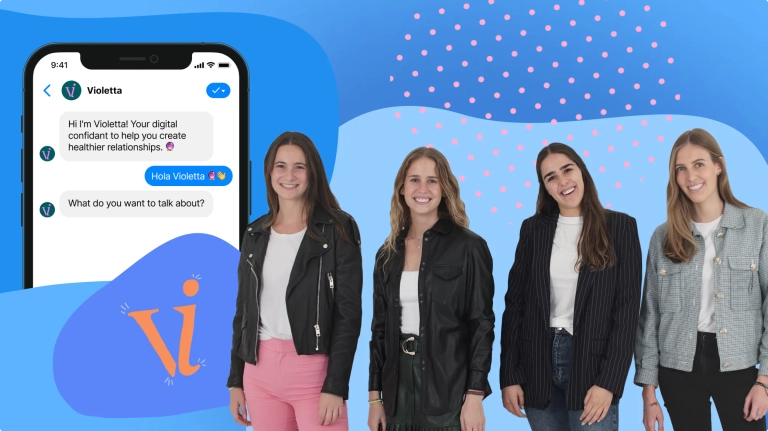 Published December 5, 2022
How 4 founders raised $350K by offering psychological help via chatbot
Bot Violetta shares valuable information, gives relationship advice, shares tools, and connects users to professional psychological help.
I spoke with Sasha, one of the founders who made Violetta. A chatbot that provides a safe space for people to determine and talk about possible violence in their relationships. She told me how they came up with Violetta and raised $350K in funding, how their work impacts people's lives and how a chatbot helped them reach way more people than they expected.
Can you describe your project for us? What does Violetta do?
Violetta is a mental health chatbot that helps people create better relationships and prevent violence. It has become a digital confidant for more than 62,000 people around México. By using an automatized conversation, Violetta can share valuable information, give relationship advice, share tools, and connect users to professional psychological help.
Violetta has received more than 62,000 unique users. 45,000 of which have been re-directed to receive professional help.
Violetta is meant to give an empathic and fun experience while talking about sensitive topics. She offers relevant content, mainly focused on psychological violence, the one that is often "invisible".
What was your motivation for launching Violetta? Tell us about your journey so far
When the pandemic began, we realized that there was a tremendous need for a safe space where people could discuss their relationships and identify if those things that kept them uncomfortable were, in fact, violence.
We saw that the demand for psychological help regarding gender violence was way bigger than the number of available psychologists. So we created a solution that could optimize the process of identifying violence and provide sound advice to many people at the same time.
We are 4 women founders, who want to create a safer space for everyone going through a situation of psychological violence.
What brought you to Chatfuel? How did it help you reach your funding goals?
After extensive research of low-code / no-code chatbot builders, we went with Chatfuel because of its integration with Messenger and its intuitive interface. We wanted to prove the hypothesis that people would open up to a chatbot to talk about their deepest concerns and ask the intimate questions.
Chatfuel helped us build an MVP (minimum viable product) that helped us raise around $350K to operate, grow and build a new product.
Why did you chose to use a chatbot instead of phone calls or other tools?
We wanted to optimize the process of providing help. We understood 3 things:
People are way more honest with the stuff they share online rather than with other people;
There is a need for fact-checked information about violence, gender, and mental health topics online;
We could optimize the process by providing psychological help via a chatbot that segments every user by their needs.
When did you know Violetta was a success?
When people started texting: "Hey Violetta, I'm feeling this way", we saw that they truly see her as a friend. Also when we saw that people would come back plenty of times to ask more questions and get validated answers.
Are you happy with the results that you've got? Can you give us an overall look?
Definitely, but we are working daily on improving it.
Providing free help to more than 62,000 users is huge for us. I can't think about how much it would cost to provide psychological help to this many people at the same time.
Did you and your team have a background in this? Did you run an NGO before?
It's funny, but we didn't have a background either in the tech or NGO (non-governmental organization) world. We had to learn everything from scratch.
But it is going really well. We've learned that there is no single aspect that you can't learn from experts or by browsing the web.
Are you going to incorporate chatbots into your future strategy?
Yes, Violetta as a chatbot is just the beginning. It is a great way to create empathy with the users and give us valuable information, feedback and data.
What would be your one piece of advice to someone who wants to incorporate a chatbot into their business?
Be clear on the problem you are trying to solve. Focus on a single thing. And start building the solution for it.
To have a successful chatbot, you'll need to have a solid understanding about your business and its processes.
Also, a chatbot is just the way you solve a process and not the solution itself.
What's next for your team?
We are about to launch a new chatbot in Whatsapp, we're expanding to other LATAM countries and Spanish-speaking communities in the USA. We've trained the first AI algorithm that detects psychological violence using NLP (natural language processing).
We are offering Violetta as a solution for companies, governments, and educational institutions so we can impact more people at the same time.