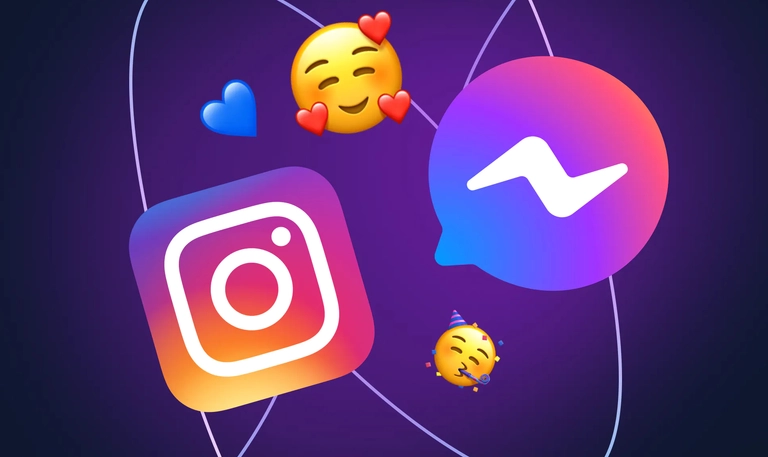 Published October 25, 2022
What is Instagram messenger and how it could boost your business
Instagram has many ways of keeping people engaged. See how you can use DMs to give one-on-one attention to each customer on Instagram.
In 2022, Instagram has become a powerful tool for business communication. Using features like Instagram direct messages can help you get more opportunities to connect with the audience and motivate them to do the target action.
Let's look closely at the Instagram messenger and its features for your business.
What is Instagram messenger
This robust social media platform has many ways of keeping people engaged. One of those features is Instagram Messenger (or direct message, DM for short). Private messaging on Instagram allows users not just to message and share photos and videos but to have an all-in-one experience while never leaving the app.
With Messenger for Instagram, your business can now give attention to each Instagram user.
‍Instagram messaging features
Instagram's Messenger is full of exciting ways to interact. You can share posts, gifs, pictures, videos, host a video chat and even have a group conversation. Leveraging your Instagram messenger is a fun and easy way to build rapport with your customers.
For example, suppose a customer is unsure how to use a product. In that case, you can send instructional pics or videos directly to the customer via Messenger. Then you can help users find which product is best for them.
Plus, with messaging on Instagram, you can send payment requests right from the DM.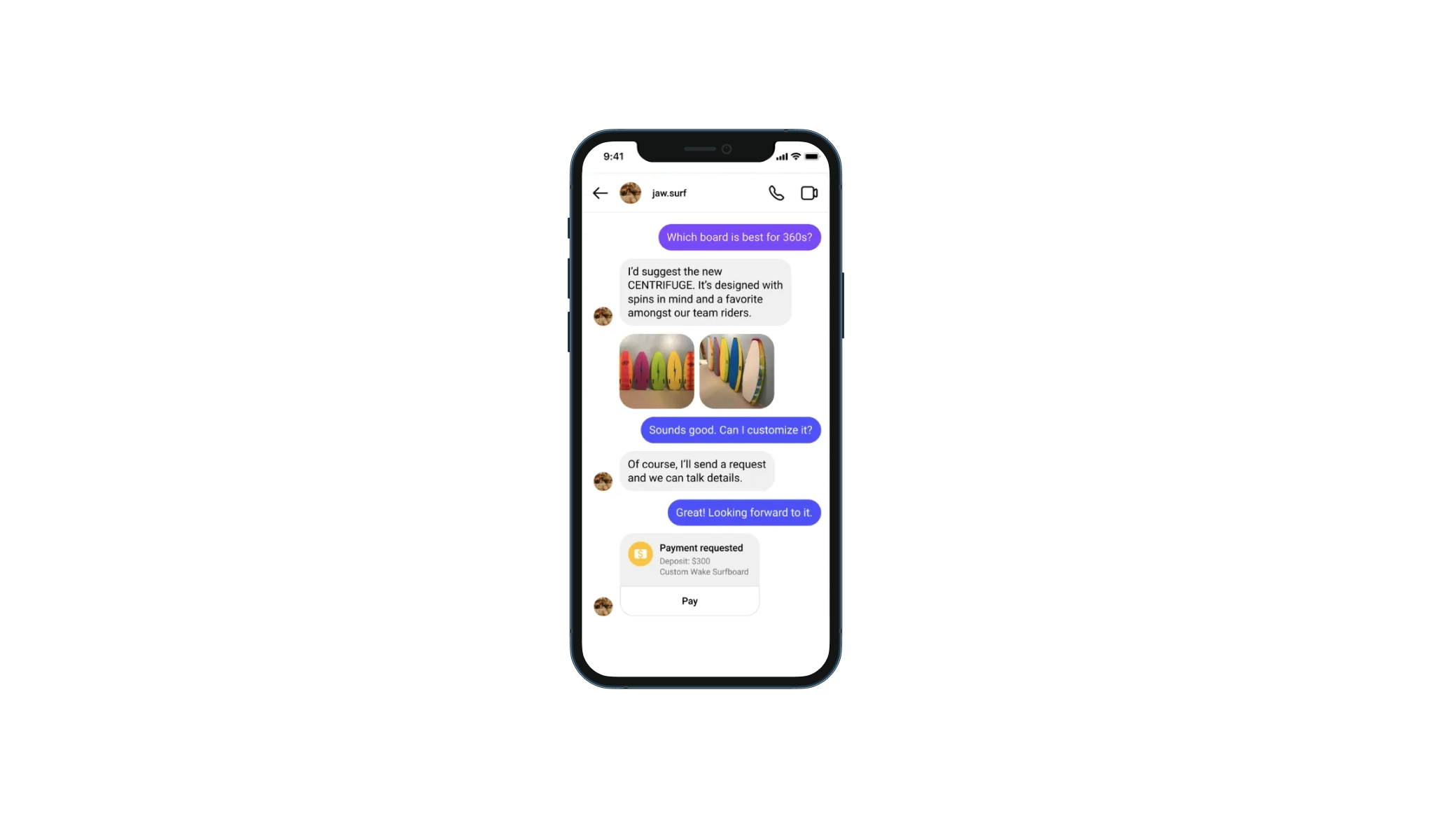 Now businesses can answer questions, confirm purchase details, and request payment without leaving Instagram messenger. You can also process payments while in the app with Meta Pay.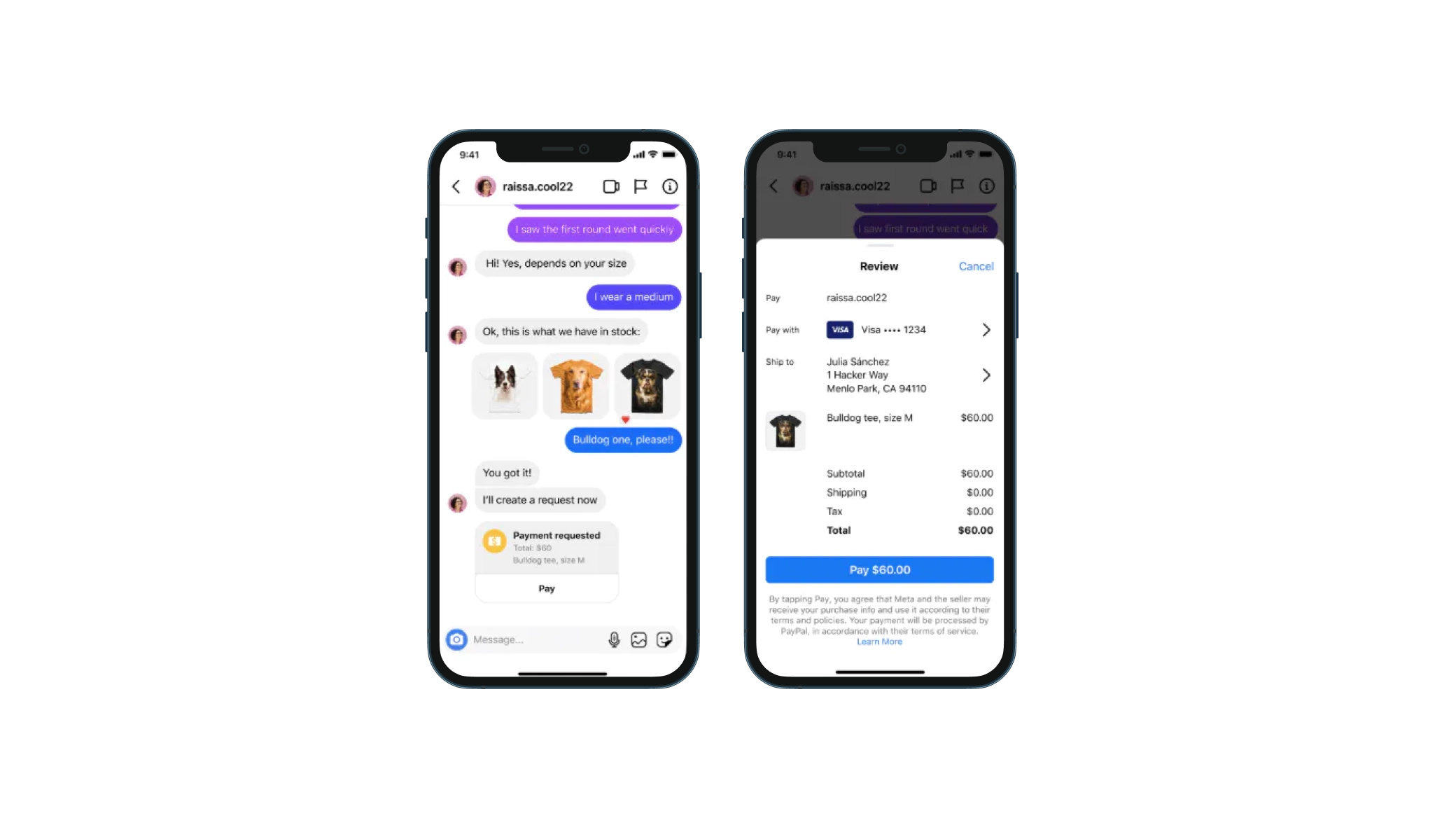 All of this is possible by users sending a chat on Instagram to your inbox.
How to set up Instagram direct messaging
Setting up an Instagram messenger chat is super easy. Because it comes integrated into the app, all you have to do is log in.
When you open your Instagram app, look at the top right of your feed above your stories. You should see a quotation bubble with a bolt in the middle. Clicking on that message icon will take you to your Messenger inbox where you can send a post or receive messages from users.
Now let's explore how Instagram messenger can benefit your business. We'll also show you how to use your messenger features best to keep customers coming back to your Instagram account.
How businesses use Instagram messenger
That's why skincare beauty brand Arts&Fact decided to let chatbots do the hard work for them.

Mary, a Product Manager of Arts&Fact, shares the issues that the team had with responding to customer questions in DMs:
"We get lots of very similar questions: 'Is it better to buy serum or cream? ', 'What products are good to use in the winter? ', 'Are your products safe for my skin? '"
Mary and her team wanted to launch a promo that offered a skin consultation. It was important for the skincare line to keep customers on Instagram.
To do so, Mary designed a bot that would respond to important message requests, for example — when customers send an 'I want a consultation' comment. This is called an Entry Point: a simple way to bring users into your bot's flow.

Art&Found started sending an Instagram DM to their potential customers, which included a survey where potential customers could answer a few questions. Then they could schedule their appointment right in their inbox.
Mary concludes, "The setup process wasn't as difficult as I thought."
With a chatbot, Arts&Fact could secure 100 applicants within 2 hours and attract many more customers to their Instagram feed. Even better, 86 of those 100 leads turned into paying customers. That's an 86% conversion rate.
Let bots boost your business
Increasing engagement and sales using Messenger on Instagram has never been easier.
With Chatfuel's free chatbot templates, setting up your own automated conversations is easy. After picking your template, all you have to do is customize it.
‍Sign up with Chatfuel and get your first 50 conversations for free.