Published October 6, 2022
Instagram chatbots: what they are and how to make them
Learn all there is to learn about Instagram chatbots. Follow our guide and build your own in minutes.
Chatbots are taking over the internet. If you're not using them yet, you're missing out. They require no coding yet provide an amazing return on investment (ROI).
Keep reading to find out what Instagram chatbots are, how they work, how to create one, and how your business can benefit from them.
What are Instagram chatbots?
An Instagram chatbot is an automated conversation tool. So instead of you talking to your customers, a bot does it for you. Through automation, you can boost sales and conversion rates while cutting costs at the same time. They're your little helpers that are always working and keeping your followers engaged.
Note: Please keep in mind that when we're talking about chatbots, we're not talking about bots that are used to 'gain followers'. Those are against Instagram's terms of service. We're talking about legitimate chatbots like Chatfuel. Completely above board and partnered with Meta (Instagram) to provide this product to users.
How do Instagram chatbots work?
Instagram chatbots are directly embedded into your Instagram account. They can save you time by doing almost everything that you already do manually.
Here are just some examples of what a chatbot can do:
Respond to comments;
Reply to DMs (even answer to FAQs);
Reply to story mentions;
Give out promo codes;
Boost Instagram ads;
Collect customer info and answers;
Recommend products or services;
Book appointments and calls;
Collect feedback;
Export data.
Generally, all chatbots follow the same process:
A user triggers the chatbot (Ex: By commenting) > The chatbot interacts with the user (Ex: Sends them a direct message) and goes through the flow that you set up.
A flow is a no-code interface that you use to build your Instagram chatbot.
It consists of straightforward 'if/then' rules. So if the customer does A, the chatbot does B. If the customer does X, the chatbot does Y.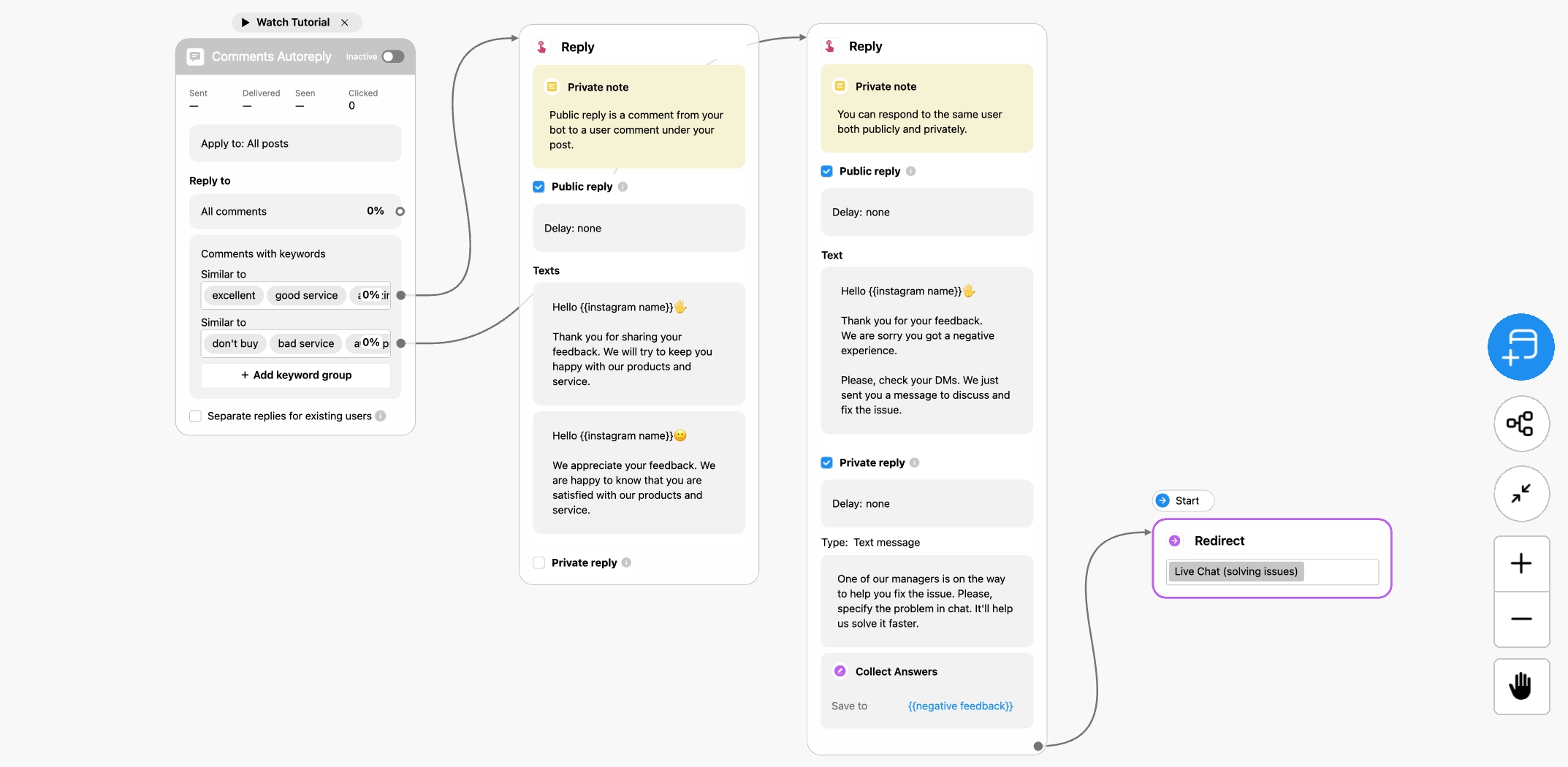 How to create a chatbot for Instagram
Let's use Chatfuel to build an Instagram chatbot that automatically replies to Instagram DMs.
Sign up for Chatfuel. Go to dashboard.chatfuel.com and click on 'Sign up.' Follow the on-page instructions.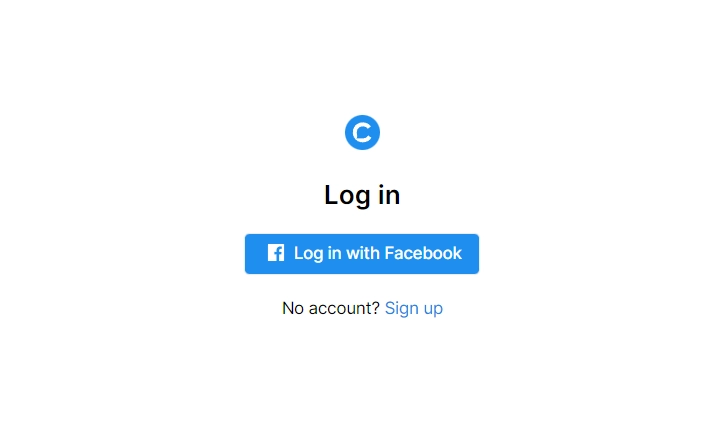 Create a new flow. To do this, first, click on Automation on the left side. Next, create a new flow by clicking the button in the middle of the page or the plus sign at the top. Then, choose 'Add Instagram flow.'
Choose an Entry Point. Entry Points are simply the different ways that a user can start a conversation with a chatbot. In our case, we want our chatbot to reply to DMs. So the Entry Point we choose is Instagram Direct.

Build the flow. Now, let's tell the chatbot to reply to DMs and let customers know that we'll get back to them within 24 hours.
First, you need to connect the Entry Point with another block. To keep things simple, we'll just make the connection through the 'All first messages' section. But you can later set up FAQs and keywords as well.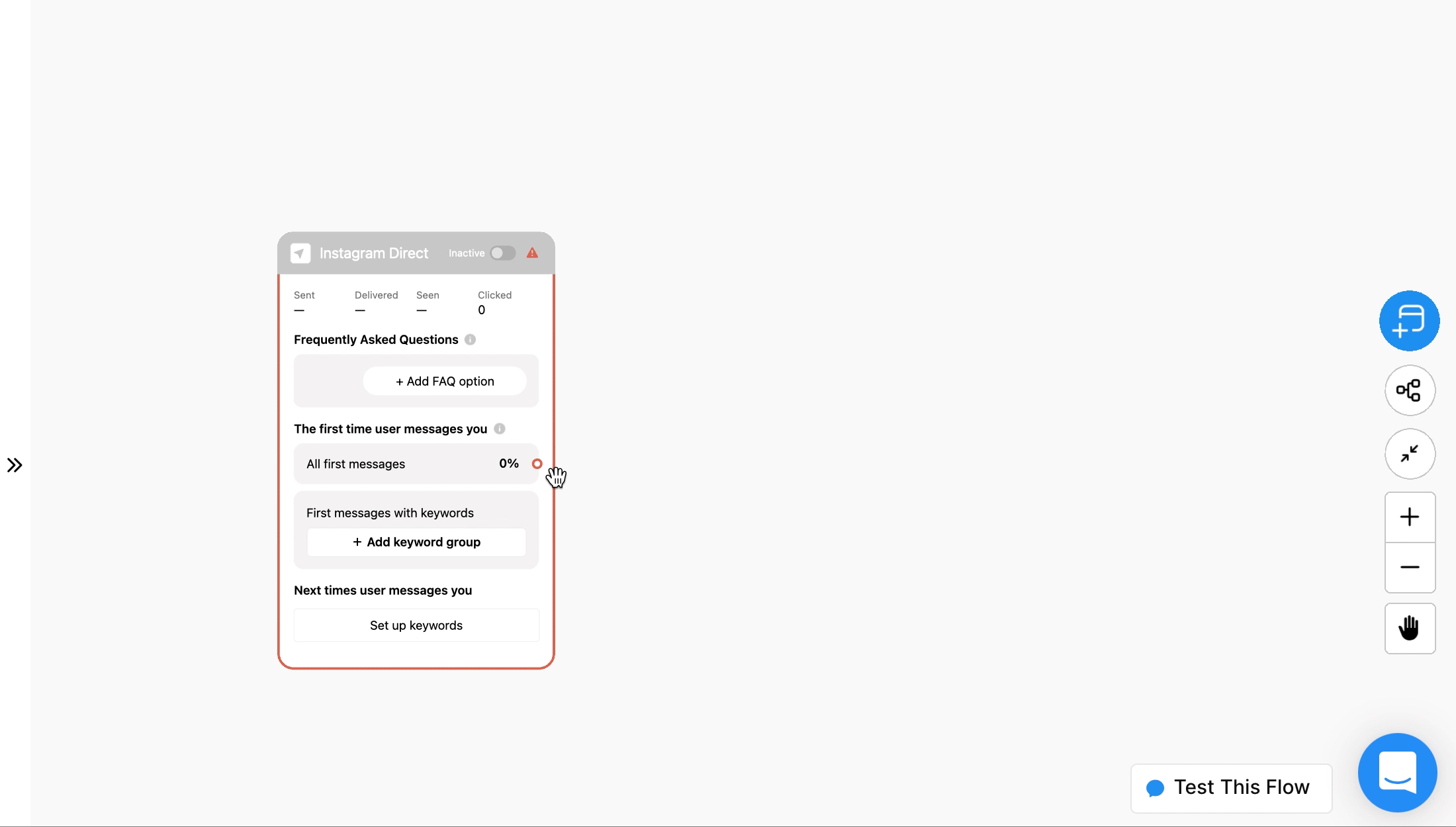 Let's add a content block with text and add a reply that your chatbot should send followers when they DM you.
And finally, activate the Entry Point to enable the chatbot. You're done — this is how it should look like:

Types of Instagram chatbots
From a technical standpoint, all Instagram chatbots are the same. But we can group them by their use cases and features.
The different types of chatbots are the following:
Customer support chatbots;
Feedback chatbots;
FAQ chatbots;
Keyword-based chatbots;
Lead generation chatbots;
Booking chatbots;
Product recommendation chatbots.
And there are many more, but the above list covers the most-used ones.
Benefits from Instagram chatbots for business
Instagram chatbots are some of the highest ROI-generating tools out there. To better illustrate their benefits, let's look at some case studies.
First, we've got TheCultt, a fashion brand that used Chatfuel to give out promo codes to their followers. After three months, their results were the following:
+47% conversations;
170 sales out of 450 coupons given out;
<$2 cost per acquisition (CPA);
Response time decreased by two hours.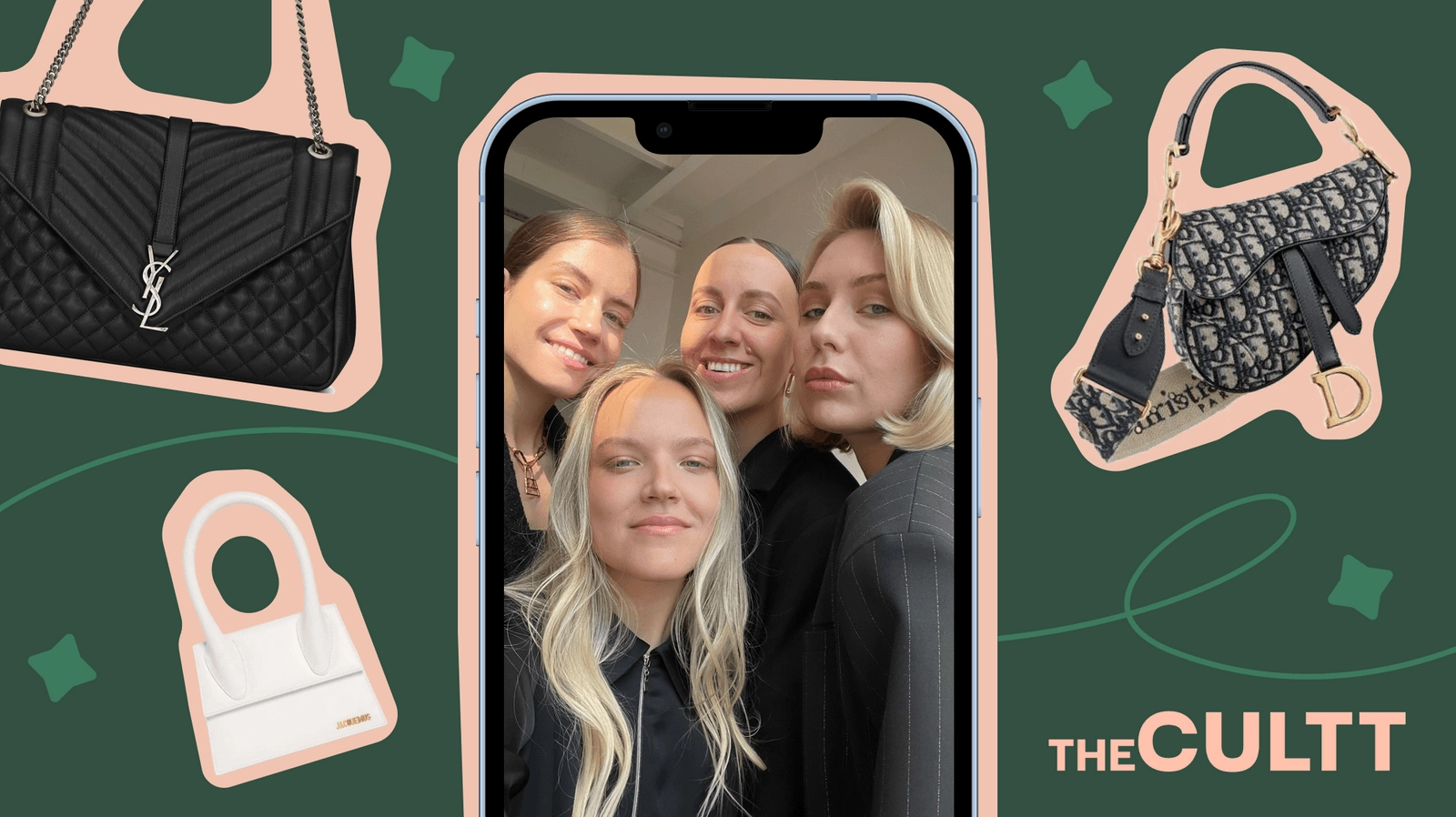 Next, let's look at Art&Fact, a fashion brand that used Chatfuel to validate a new idea. Their goal was to use a chatbot to book online consultations automatically. They would then help customers pick the best skincare product for their needs. The brand's results were the following:
100 consultations booked within two hours;
86/100 made a purchase right after the consultation;
An additional 200 coupons were given out (for those that didn't sign up in time).

So, to summarize, some benefits of Instagram chatbots are faster response times, lower CPA, higher conversion rates, and lower labor costs (by automating otherwise manual tasks).
Instagram chatbot examples
Let's look at some of the most popular types of Instagram chatbots in action.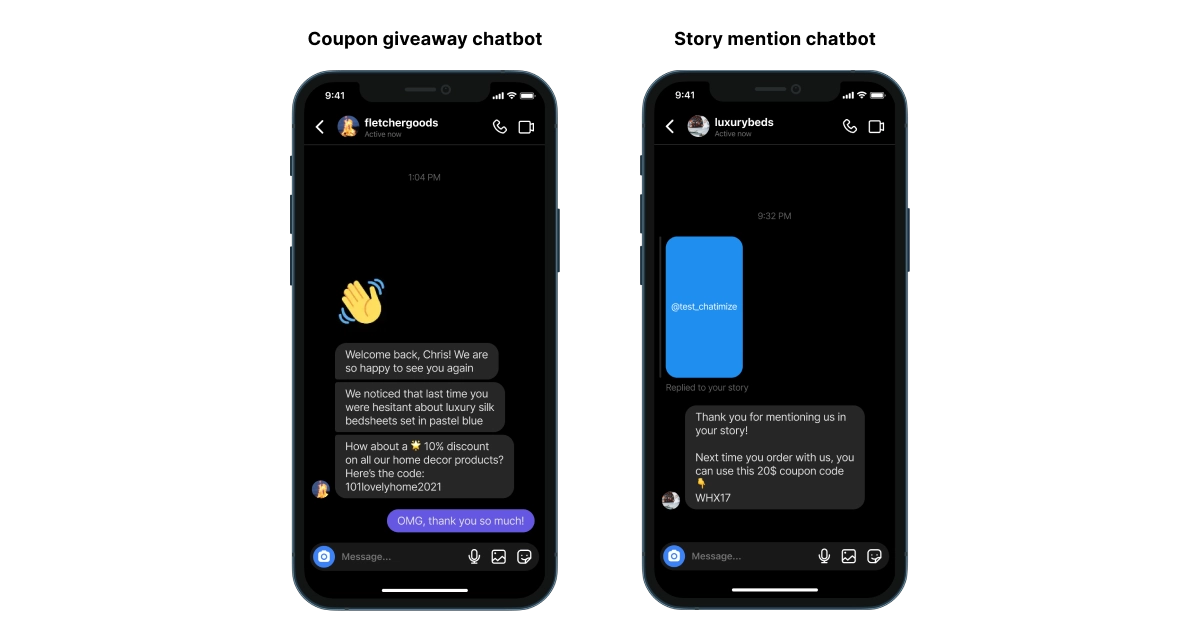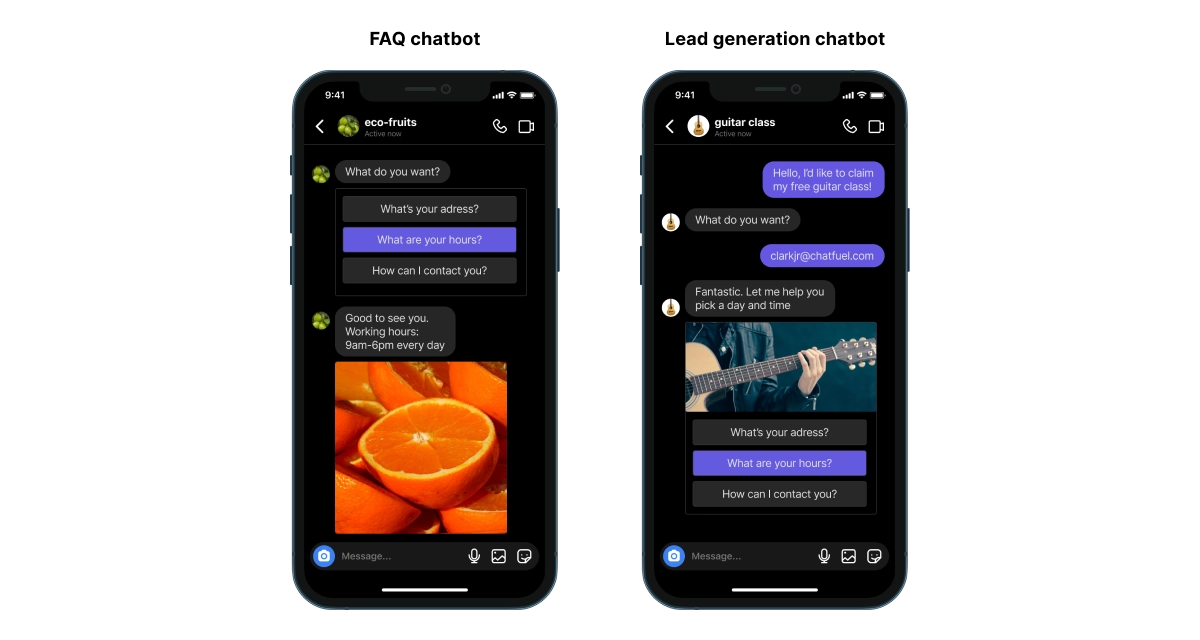 For more examples, check out our catalog of free chatbot templates. You can also save time by using those in your own business.
Build your own Instagram chatbot
Ready to build your first Instagram chatbot? Chatfuel is here to get you started. As the largest no-code chatbot platform in the world, you're in good hands.
There are many benefits from leveraging automation, and they only compound over time. Expect to experience lower CPAs, higher conversion rates, better engagement, and lower labor costs.
Sign up for free on Chatfuel now. The first 50 conversations are on us. No credit card is required.
‍