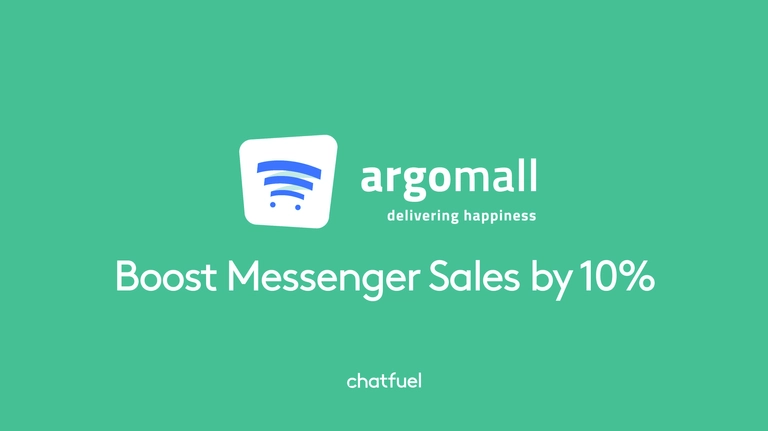 Published July 25, 2023 in
Ecommerce retailer boosts Messenger sales by 10% with Messenger bot
Learn how this ecommerce store increased Messenger sales by 10% and got a 25% higher ROI with chatbot marketing.
The brand
Argomall is one of the top ecommerce sites in the Philippines, selling authentic consumer electronics. The company has a catalog of 3,000 products, ranging from TVs and smartphones to tablets and laptops. They also have a broad customer base, which is "anybody in the Philippines who is willing to buy a smartphone or other devices online, " says Argomall's Chief Argonaut, Karel Holub.
The problem
In 2017, the Argomall team began to realize that people wanted more information about their brand and products—and they were requesting it through Facebook more than any other platform or channel. The team knew they needed a way to interact with these customers there in real time and at scale.
"Since Argomall values personalized convenience, " Holub explains, "our prime interest was not to replace our customer service team, but to offer temporary yet immediate assistance to customers." He also wanted to take advantage of all the traffic the Argomall Facebook page was now receiving, and make it easier and more enticing for those visitors to convert into customers.
The solution
The Argomall team had been toying with the idea of chatbots for a while. Once they started noticing the increased activity on their Facebook page, they knew it was the perfect time to actually create one. The bot they designed has three main functions:
Answer FAQs. The first aim of the chatbot for their retail store, according to the team, was to "answer generic questions about things like product availability, pricing, etc., so as to allow our customer service representatives to spend their time on more complex issues instead."
Guide users through the shopping process. The second purpose of the bot is "to guide our customers throughout their online shopping journey at Argomall." At the start, the chatbot greets the user with a gallery of new and popular items and offers. It can also provide information on any product or type of product a prospect may ask about. As a result, the user receives a customized shopping experience they wouldn't get if they were simply browsing the Argomall website on their own.
Allow users to complete a purchase within the Messenger app. Finally, the chatbot streamlines the sales process by letting users place an order without leaving Messenger. It's a crucial feature for this online electronics store based in in the Philippines, because Facebook is free to use, whereas surfing an ecommerce storefront there is not. Argomall uses a COD (cash on delivery) system, so the bot doesn't need to accept payments. It simply collects the user's order and shipping information and provides a delivery estimate and an invoice. If the customer has any questions or issues along the way, they always have the option to request to speak with a live agent.
"The aim of our bot was to answer generic questions about things like product availability, pricing, etc., so as to allow our customer service representatives to spend their time on more complex issues instead." –The Argomall team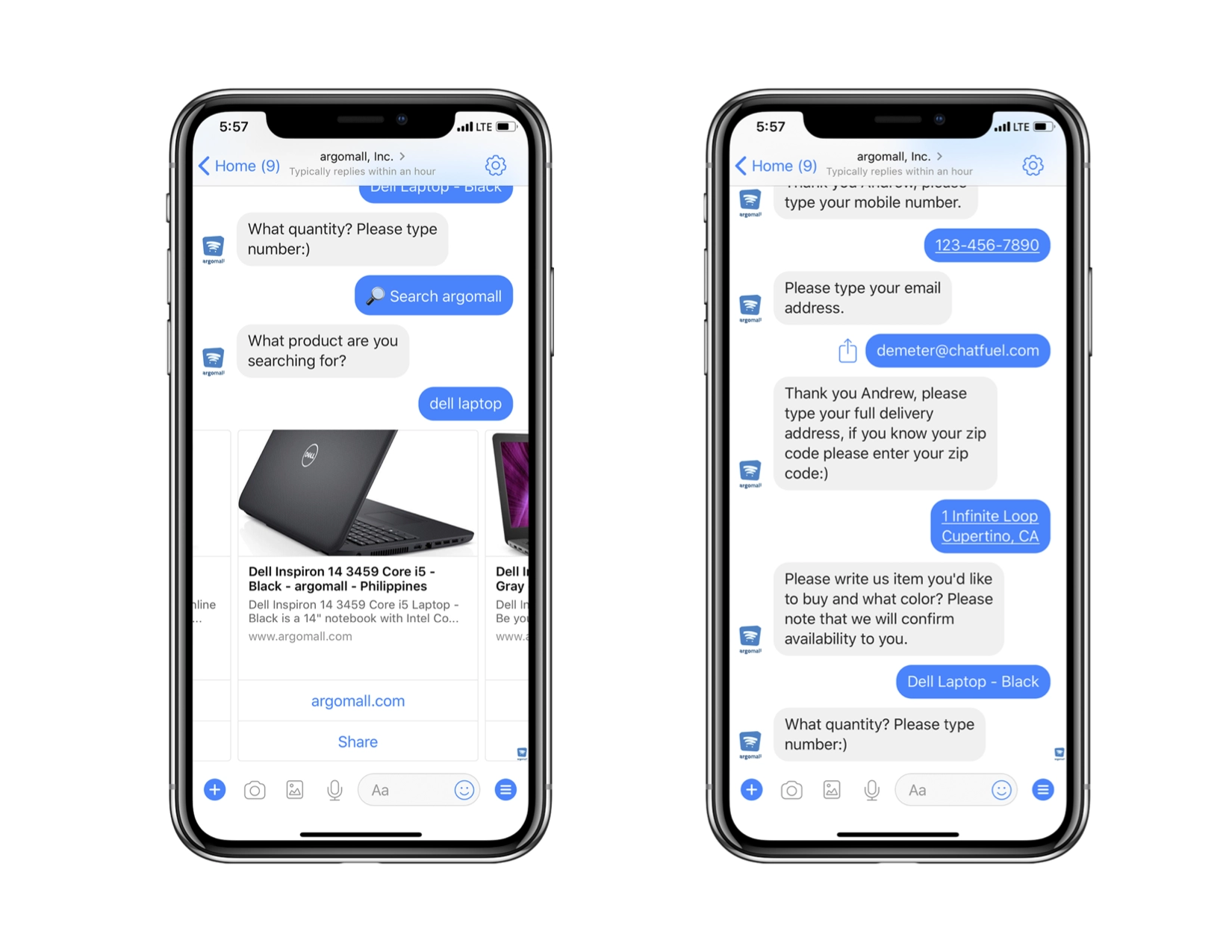 The recipe
The following Chatfuel features and integrations were key to Argomall's success with their Facebook chatbot:
Google Site Search plugin
This plugin is activated by user input, which can be as general as I would like to buy a computer, or as specific as Dell XPS 15 laptop. The bot searches the keyword (s) on the Argomall website, and returns the results to the user instantly in Messenger. This feature makes the product discovery process even easier for prospects. It allows them to get suggestions for an item in a particular category, or specs and availability for a specific item in seconds—all without leaving the app.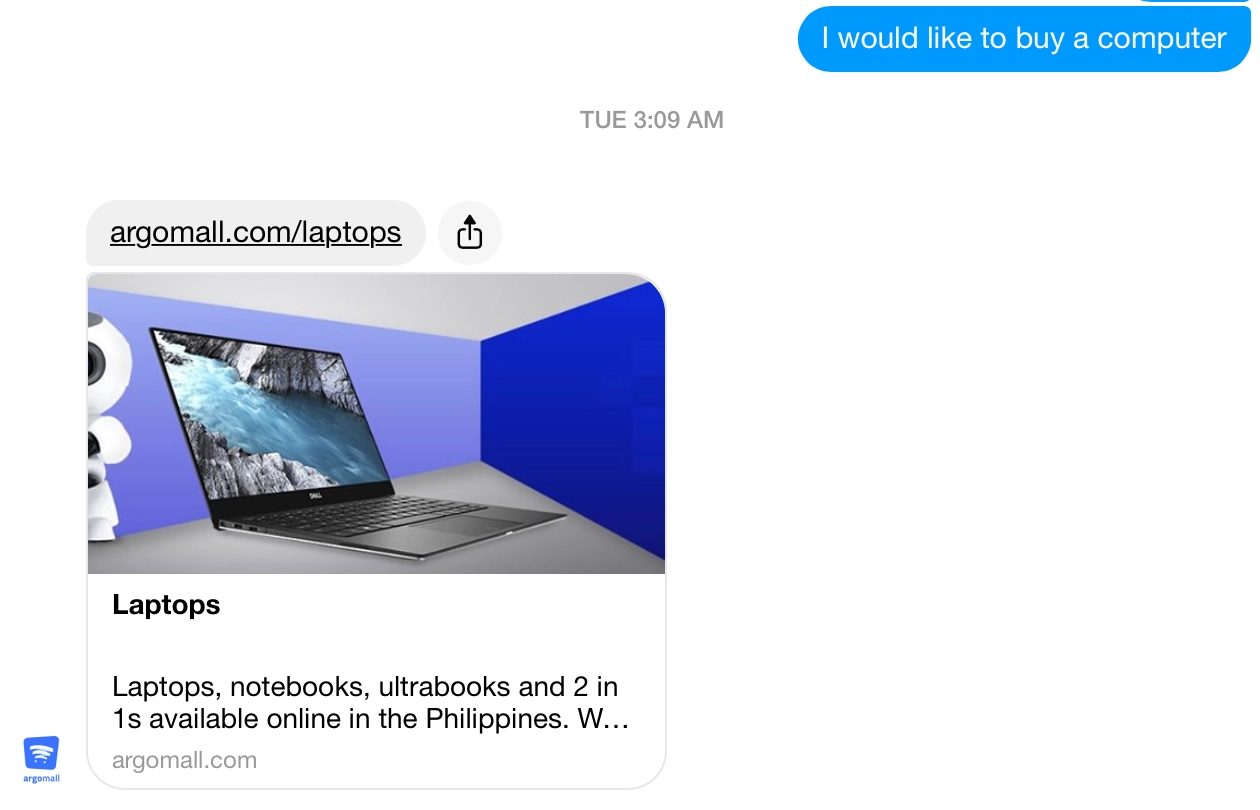 Save User Input plugin
This plugin allows the Argomall bot to capture user data, such as a buyer's shipping address. When a user shares their address, the bot will automatically save it as a user attribute. Then, when the company is ready to fulfill and send out the order, the address will be available in Chatfuel's People tab . It's a smooth and streamlined way to make user input in the chatbot accessible later.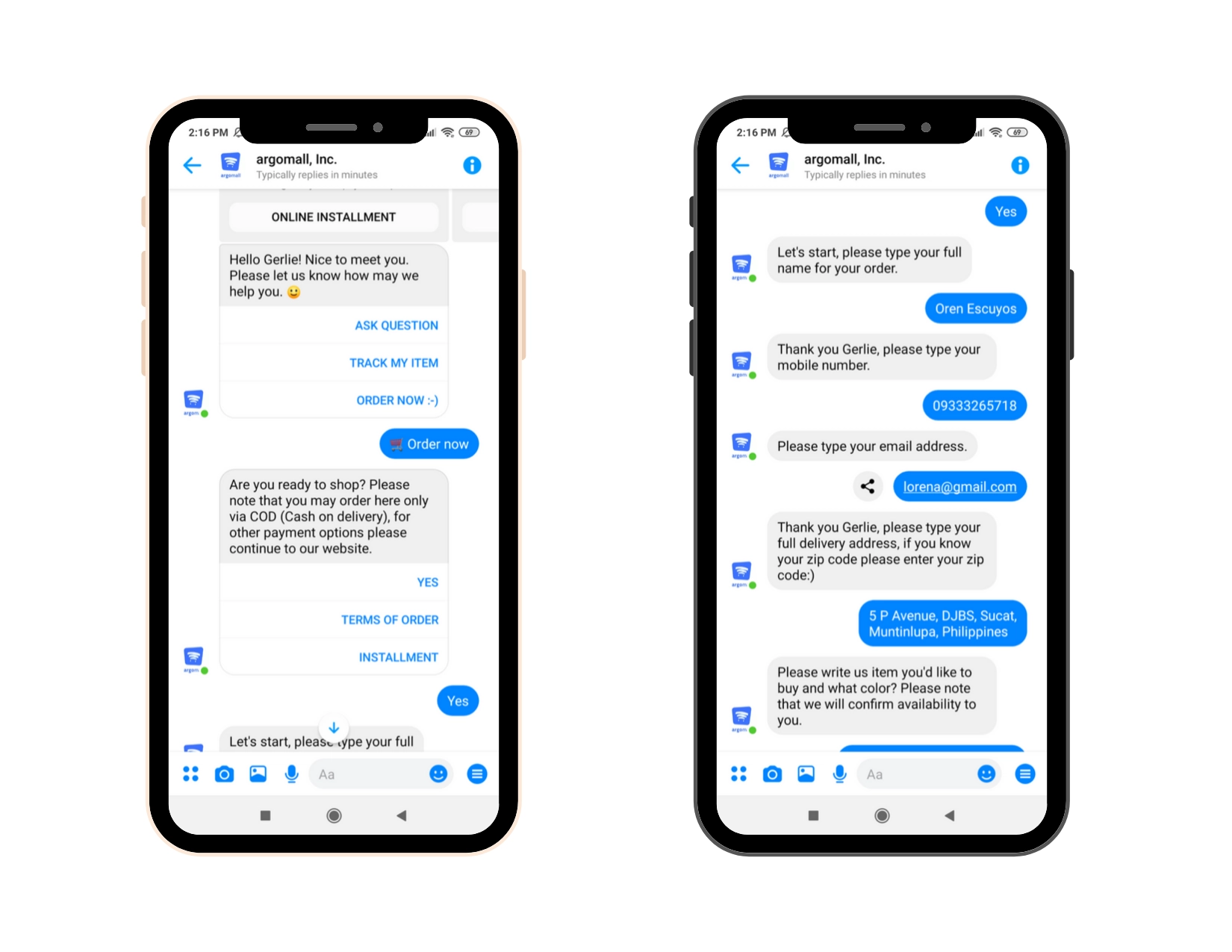 Live Chat plugin
The Live Chat plugin allows Argomall's human support agents to interact with users one on one at any time, without worrying about the bot interrupting their conversation. The retail live chat allows prospects and customers to get their questions resolved by a human agent at the click of a button.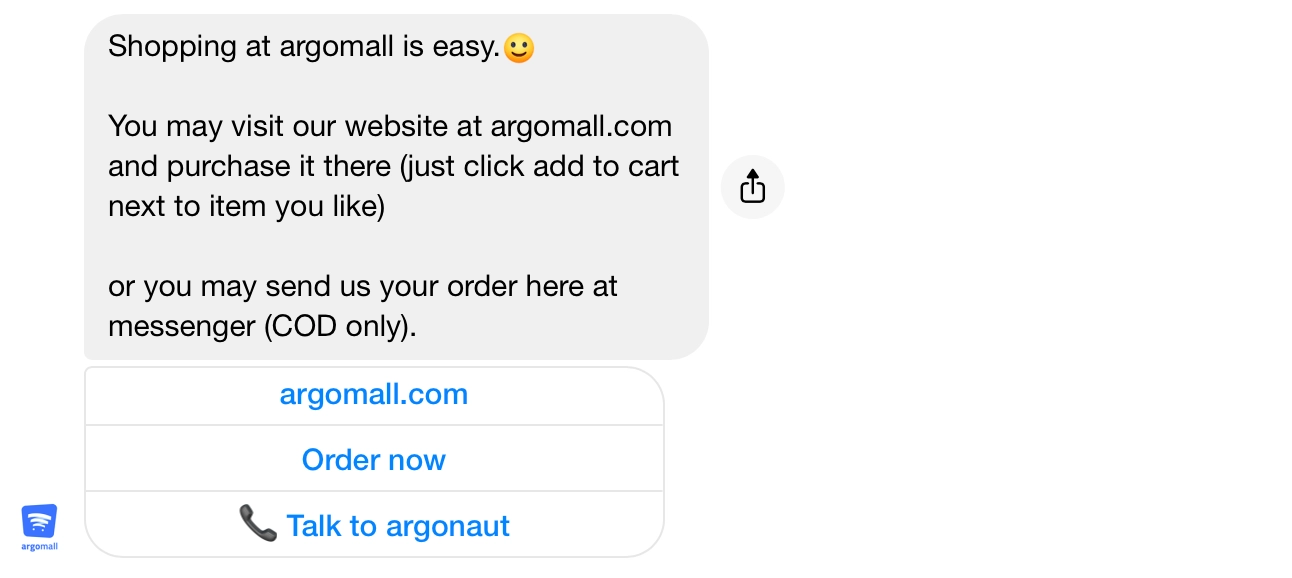 The results
"We have seen immediate growth in revenue [from our Chatfuel bot], " says Karel. In fact, product sales from their Messenger bot conversations have increased by 10%. The chatbot makes it easier than ever for Argomall's prospects to convert to customers, and the metrics reflect this.
These customers have also been receiving even faster service since the Messenger chatbot for their online retail brand was launched. Argomall's support agents are no longer tied up replying to the same routine inquiries again and again. With the chatbot now giving instant answers to user FAQs, the team has bandwidth to provide focused, timely support to customers with more advanced queries.
Finally, Argomall experienced a 23x increase in ROI in the first few months after launching their chatbot, which is "unparalleled compared to our other tools we use, " according to the team. The brand is growing 40% year over year, and looks forward to continuing that trajectory with conversational commerce.
"We have seen immediate growth in revenue [from our Chatfuel bot]." –Karel Holub, Argomall's Chief Argonaut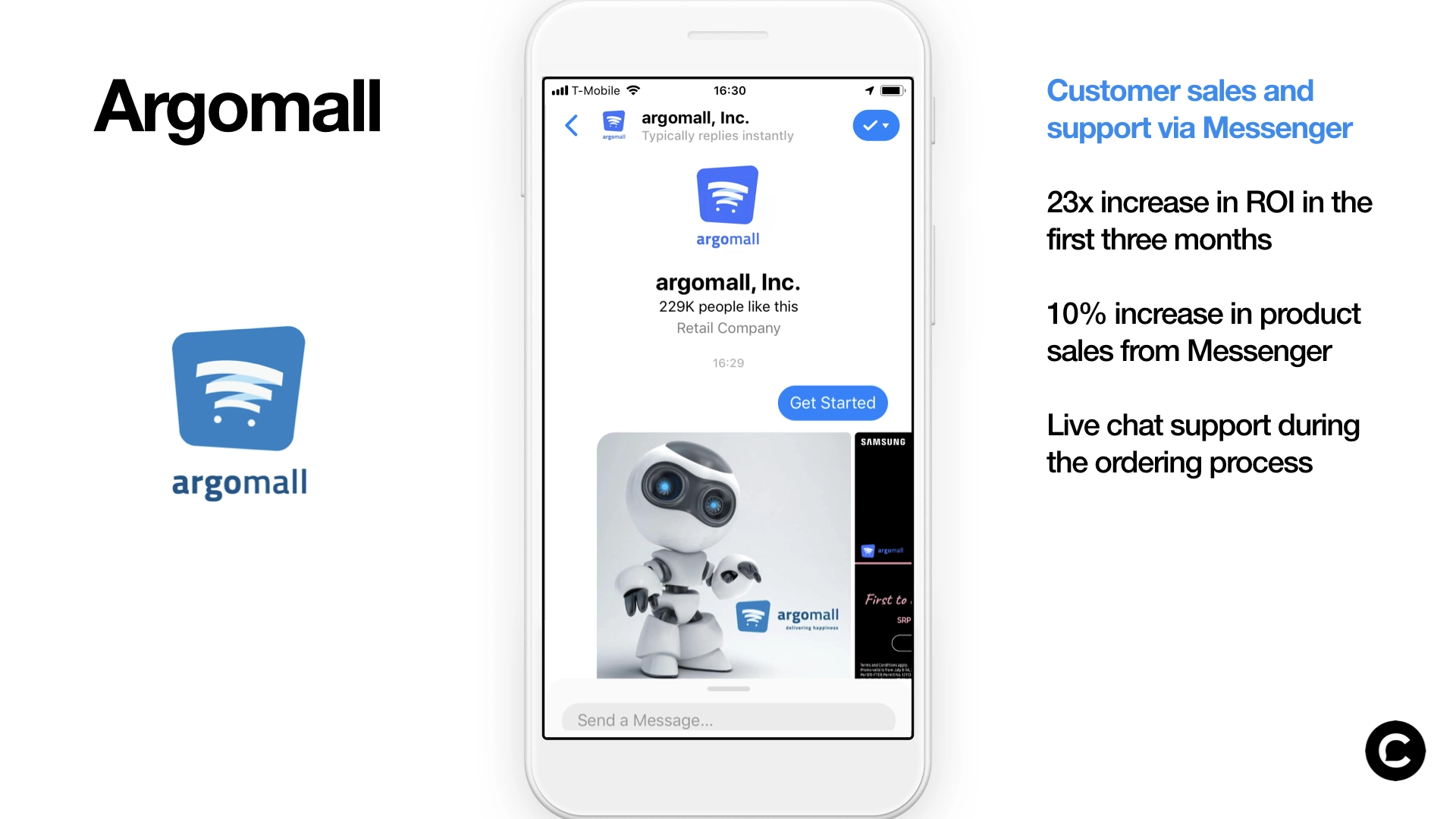 Boost sales, service, and ROI like Argomall
Just imagine what more efficient customer service, 10% more sales from Messenger, and a 23x increase in ROI would mean for your business! Chatbots put results like these within reach for all kinds of brands. Ready to explore what they can do for yours?
It's free to get started creating chatbots for retail and ecommerce (and more!) in our platform — no coding or special skills required.