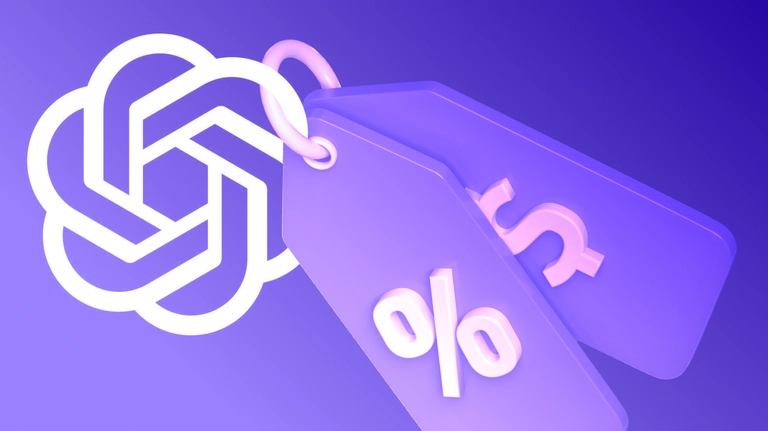 Published October 3, 2023 in
Cost of ChatGPT Pro and Plus plans: how much is ChatGPT
Learn more about ChatGPT's free and paid plans and their differences.
ChatGPT is so ground-breaking that it broke the record for the fastest-growing application in history. People loved it so much that ChatGPT amassed 100 million users in just two short months with free access. The reason is that it's a first-of-its-kind Artificial Intelligence (AI) chatbot that can understand language and even talk back to you as a human would. It can explain complex topics, summarize text, organize data, brainstorm, be creative, and a million other things.
So, given that it is so useful, it was no surprise that the company that made ChatGPT, OpenAI, developed a paid version of the product. But how much does the paid version cost? What are the different plans? What's the difference between them? This is what we will delve into, so keep reading to find out.
Is ChatGPT free?
Yes, ChatGPT is free. They offer a free plan that you can use without paying a single dollar. However, with this free plan, you only have access to GPT-3.5, the second-best Large Language Model (LLM) that ChatGPT has been trained on, with the best being GPT-4. An LLM is essentially the 'brain' behind the chatbot. GPT-4 is larger, more powerful, and better at conversing like a human with faster response times.
But don't worry, with the free version of ChatGPT, you can still do amazing things and make your job easier even in peak times. ChatGPT is at capacity and is great for everyday tasks, even in the free version.
ChatGPT price plans
Here's an overview of each ChatGPT price plan and what each one offers.
ChatGPT free plan
As mentioned earlier, the free plan is easily available to anyone who creates an account with OpenAI. You'll only need a phone number to verify your identity.
Here's an overview of the features available with the free ChatGPT plan:
Access to the GPT-3.5 LLM model.

Understand and respond in text format.

Solve simple problems and perform simple creative tasks.

Summarize information.

Translate text in multiple languages.
ChatGPT Plus plan
The ChatGPT Plus plan costs $20 per month. Features in the Plus plan include everything in the free plan plus the following:
Faster response speed.

Access to GPT-4, the fastest and most capable model available.

The chatbot can understand both text and images.

Advanced data analysis capabilities include the capability to write and execute Python code and work with file uploads.

Access to third-party plugins. With these, you can do anything from accessing internet links, shopping, reading and editing PDF files, and even interacting with other applications. The plugin store has hundreds of 3rd party plugins available, with more added daily.

Priority access to new features.

Please note that as of September 1st, 2023, with the Plus plan, the GPT-4 model and plugins usage is capped at 50 messages every three hours.
ChatGPT Enterprise plan
Released on August 28, 2023, the enterprise plan is for large organizations worried about data protection, privacy, and security. The plan has no fixed price so it will vary case-by-case. You can contact the OpenAI sales team for a quote.
The features available to enterprise customers are all those of the Plus plan, plus the following:
Unlimited, high-speed GPT-4.

Longer inputs, with a 32k token context, for 4x longer inputs, files, or follow-ups.

Internally shareable chat templates.

Dedicated admin console.

SSO, domain verification, and analytics.

API credits that allow you to build your own applications and solutions.

Customer prompts and company data are not used for training OpenAI models.

Data encryption at rest (AES 256) and in transit (TLS 1.2+). Certified SOC 2 compliant.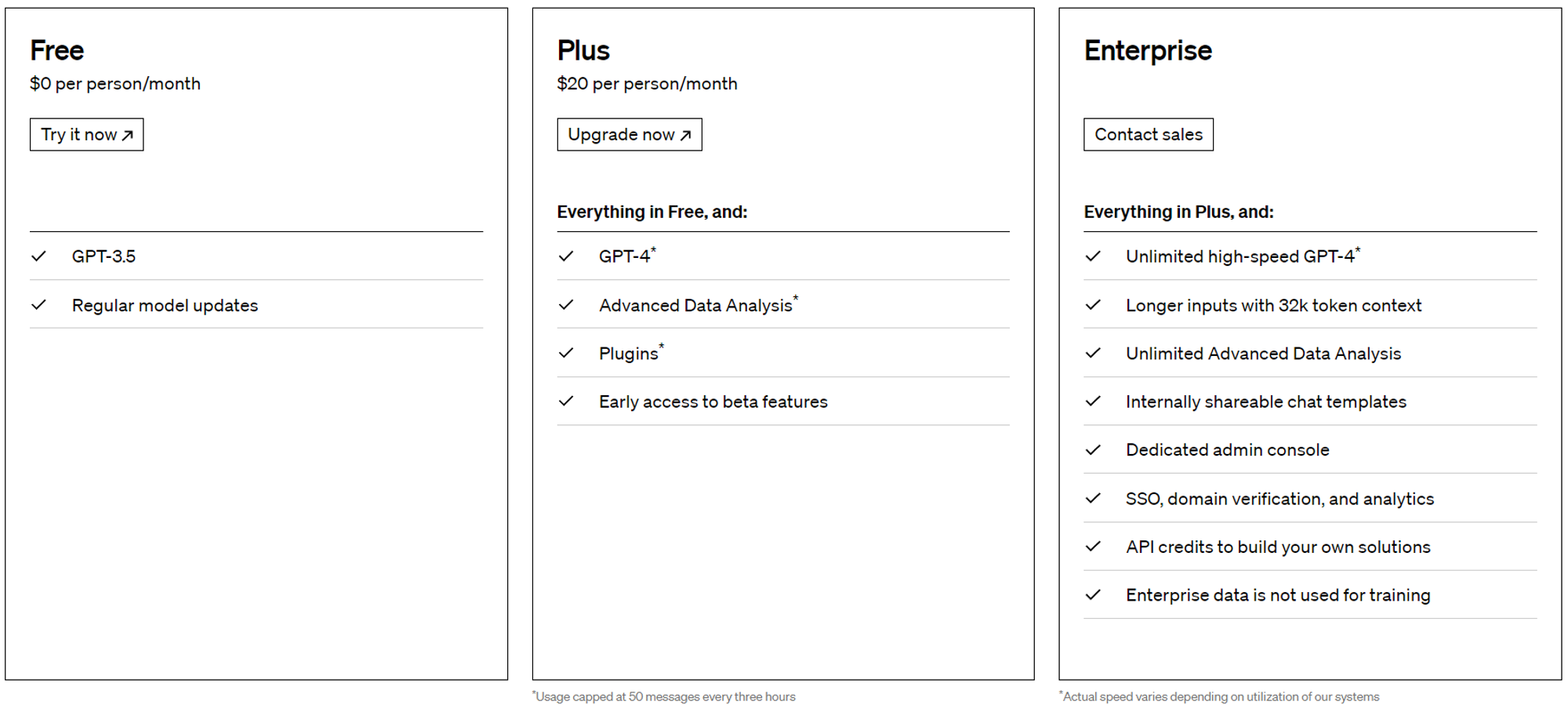 Is the ChatGPT API free?
No, the ChatGPT API is not free. However, OpenAI offers a free $5 credit, which you can use to test their product.
After your free trial, the price will vary based on which model you use, as well as how much you use it. Their pricing works on a token model, where they are calculated at increments of 1,000 tokens. Tokens are like pieces of words, where 1,000 tokens equal to about 750 words. This paragraph is 76 tokens.
This is what the pricing looks like for OpenAI's GPT-4 and GPT-3.5 models:


Visit the OpenAI API pricing page directly to learn about the other models that they offer.
Let Chatfuel handle your customer support
While the power of ChatGPT is evident, it's worth noting how other companies are now leveraging their capabilities. For example, did you know that Chatfuel's no-code chatbot platform is directly integrated with ChatGPT here? That means our customers can train their chatbot on their products and company information in just minutes. Equipped with all the information it needs, the AI-powered chatbot can answer customer questions, recommend products and services, and even boost conversion rates by as much as 33%.
Chatfuel can help you reach customers where they are: Facebook, Instagram, Telegram, and Line. And we're trusted by brands like Netflix, Visa, Nissan, and Lego, so you can be sure you're in good hands. Don't wait — automate your customer service and sign up for a free Chatfuel trial today.