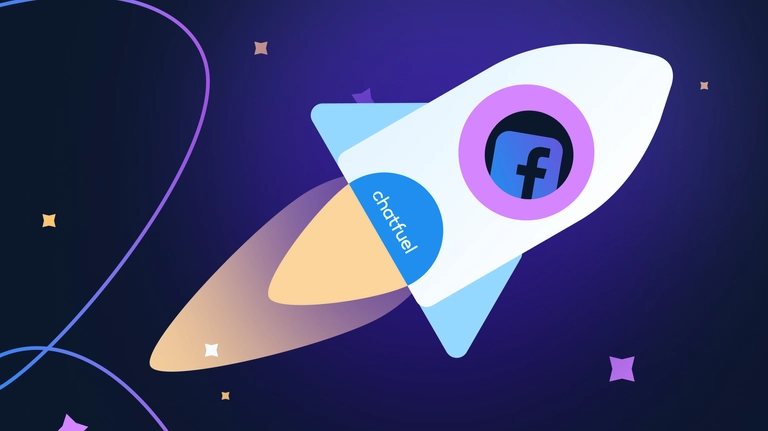 Published November 9, 2022
Top Chatfuel tools and features for Facebook
Learn about the top Chatfuel features for Facebook and generate more sales. Find detailed use-cases and how to use Chatfuel and Facebook to
With over 7 million users, Chatfuel is the biggest no-code chatbot platform in the world. Our chatbots are used both on websites and on Facebook. As an official partner of Meta, Chatfuel is directly integrated with Facebook, Instagram, and Messenger.
But as you would imagine, there are many ways to take advantage of this tool. In this article, we'll go over the top Chatfuel features for Facebook and how to use them to boost engagement, re-engagement, and generate sales.
How to boost engagement with Chatfuel
Let's say you're an e-commerce store and want to automate FAQs through your Facebook Page. Why? Because customers mostly ask the same questions. And these questions are simple. Examples include customers asking about your shipping policy, refund policy, account settings, etc.
The process of answering these can be easily automated so that you can save time and also cut down on customer support costs (by an estimated 30%). And your customers get their answers faster. A win-win situation for all.
So how do you do it? You open the Chatfuel dashboard and start a new flow (Automation → Flows → Press ➕ to add a new flow). Then, you'll need to get started by indicating an Entry Point. In this case, that is Facebook Page Entry Point.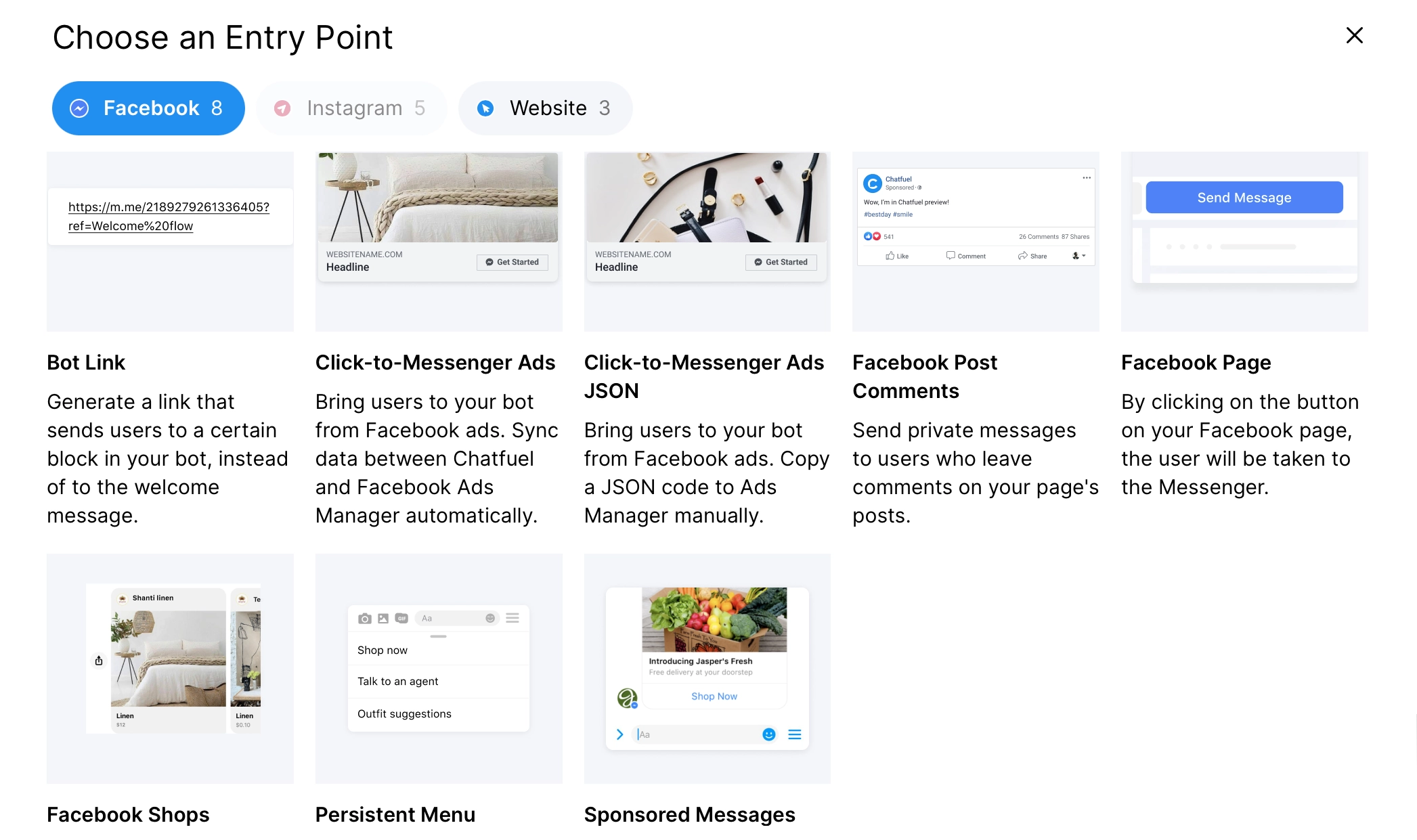 Entry Points are always needed when building a chatbot. They are simply the different ways a user can start a conversation with you. Other Entry Point examples include direct messages, comments, ad clicks, story replies, mentions, tags, and direct links.
So, we've got our Entry Point. Now, we need to tell the chatbot what to say when the customer messages your Facebook Page. The best approach is to set up Quick Replies with customers' most common questions.
Quick Replies are the buttons below the welcome message (see image below). Customers notice them quickly so they can quickly receive the answers they're looking for. Instead of typing, they just have to click on the right button.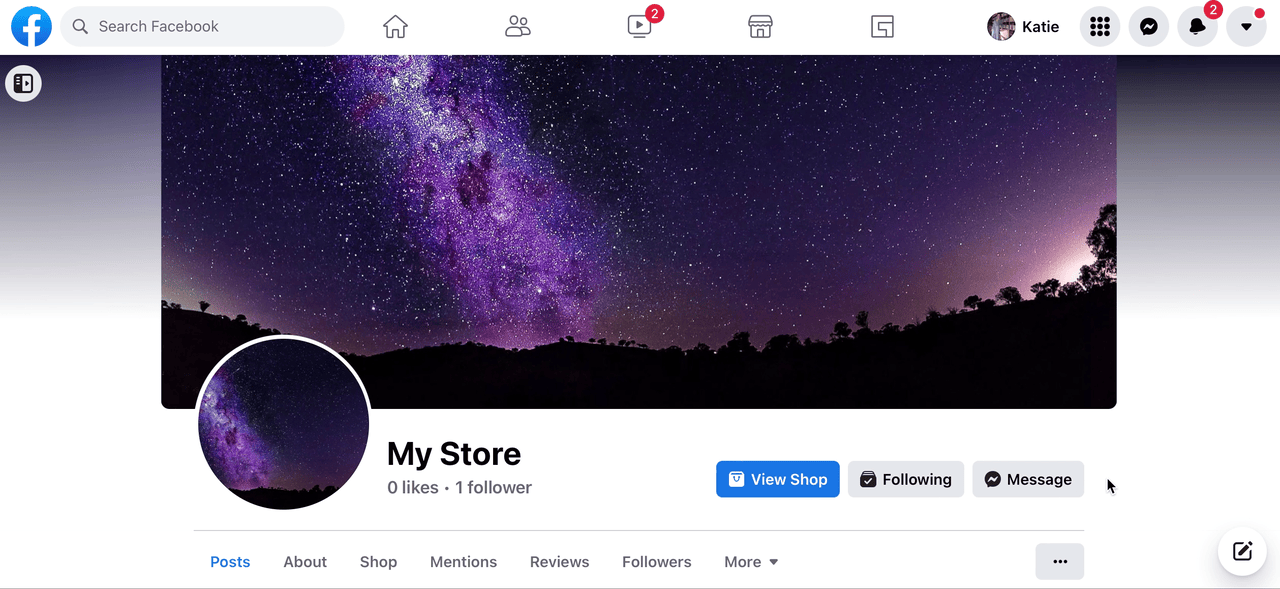 The buttons can be 100% customized to your needs. You can even integrate certain media assets. Examples include Gallery Cards (best used for displaying products or services), Videos (engagement and re-engagement, promos), and more.
For each button, you can indicate what the chatbot should do. Let's say the customer clicks on 'Talk to a person.' You can then redirect them to Live Chat with someone on your staff.
But let's say the customer clicks on 'Account settings.' You can build a flow that asks what exactly they need help with. And then, another flow responds to each possibility the customer can choose. Here's an example: Customer clicks on 'Account settings' → Chatbot offers a few options → Customer selects 'Change password' or 'Change settings' → Chatbot sends a message with details on how to change a password.

If you're looking to save time, you can also take advantage of Chatfuel's free chatbot templates. If you go to the 'eCommerce' category, for example, you can find a ready-to-use FAQ chatbot that can be integrated with your Facebook Page. Just customize it to your needs, and you can have it live in less than an hour.
Another great way to engage with your customers is through comments. So, let's say you wanted to build a chatbot that automatically replies to specific comments. In this case, the Entry Point you would use is Comments Autoreply.

A great way to take your chatbots to the next level is to train them to recognize what the customer is messaging about. You can do it with the Keywords tab in Chatfuel.
Let's say you're building your FAQs chatbot, and one of your Quick Reply options is 'Something else'. This would let the customer type in their question. Typically, you will have to reply to these messages manually. But, with the keywords feature, you can train your chatbot to understand what the customer is asking and to respond to them.
To set this up, go to Automation → Keywords. You can then add new groups for different types of questions. For example, if you're running a clothing brand, you might want to make a group that covers clothing care. That way, any question the chatbot identifies as related to clothing care is answered accordingly.

In the image above, the match type we used is 'Similar to.' There are 3 match types you can choose from:
Similar to: The bot will react to exact or very close matches to your keywords.
Contains: The bot will recognize a keyword if it appears anywhere within a sentence. It checks messages for exact matches of the keyword.
Matches: The bot will react to exact matches of a keyword. Automation won't recognize the keyword if there are any extra words, characters, or missing letters.
With the right set-up, you can use keyword groups to automate most of your inbound questions. The long-term benefits of spending time on the right keyword groups cannot be understated.
The key is to keep monitoring their performance. When you see that improvements should be made, adjust the groups as needed.
And don't forget that you can also use this feature for purposes other than answering FAQs. Other use cases include collecting feedback, lead-gen, managing subscriptions, and more.
You can read our guide on a detailed breakdown of the keyword feature on Chatfuel.
How to re-engage your customers
Once you've engaged with a potential customer, it's essential to maintain that connection, especially if they haven't converted yet.
So how do you re-engage and convert them into repeat customers? Chatfuel has a few features that can help with this.
First, let's talk about One-Time Notifications and Recurring Notifications.
These notifications are built on top of Facebook's 24-hour rule on promotional messages. The rule states that you can only message customers if they've messaged your page in the last 24 hours. The window resets each time the user sends a new message.
You can use One-Time Notifications to send users one follow-up message after the 24-hour window has passed. This is only possible if the customer subscribes to receive this follow-up message. For example, by clicking the 'Notify me' or 'Subscribe' button in your flow.
Recurring Notifications allow for sending of several messages on a daily, weekly, or monthly basis. It helps you keep in touch with your customers for an extended period. Similarly, these notifications are only possible if customers opt in for them.
For a One-Time Notification, the process typically looks like this: A user finishes Flow → bot waits for 12 hours → bot sends a message asking to subscribe to one more message → user opts in → bot can now send a single message outside the 24-hour window.
See below an example of a fashion brand using the One-Time Notification feature to inform a customer when an item is back in stock.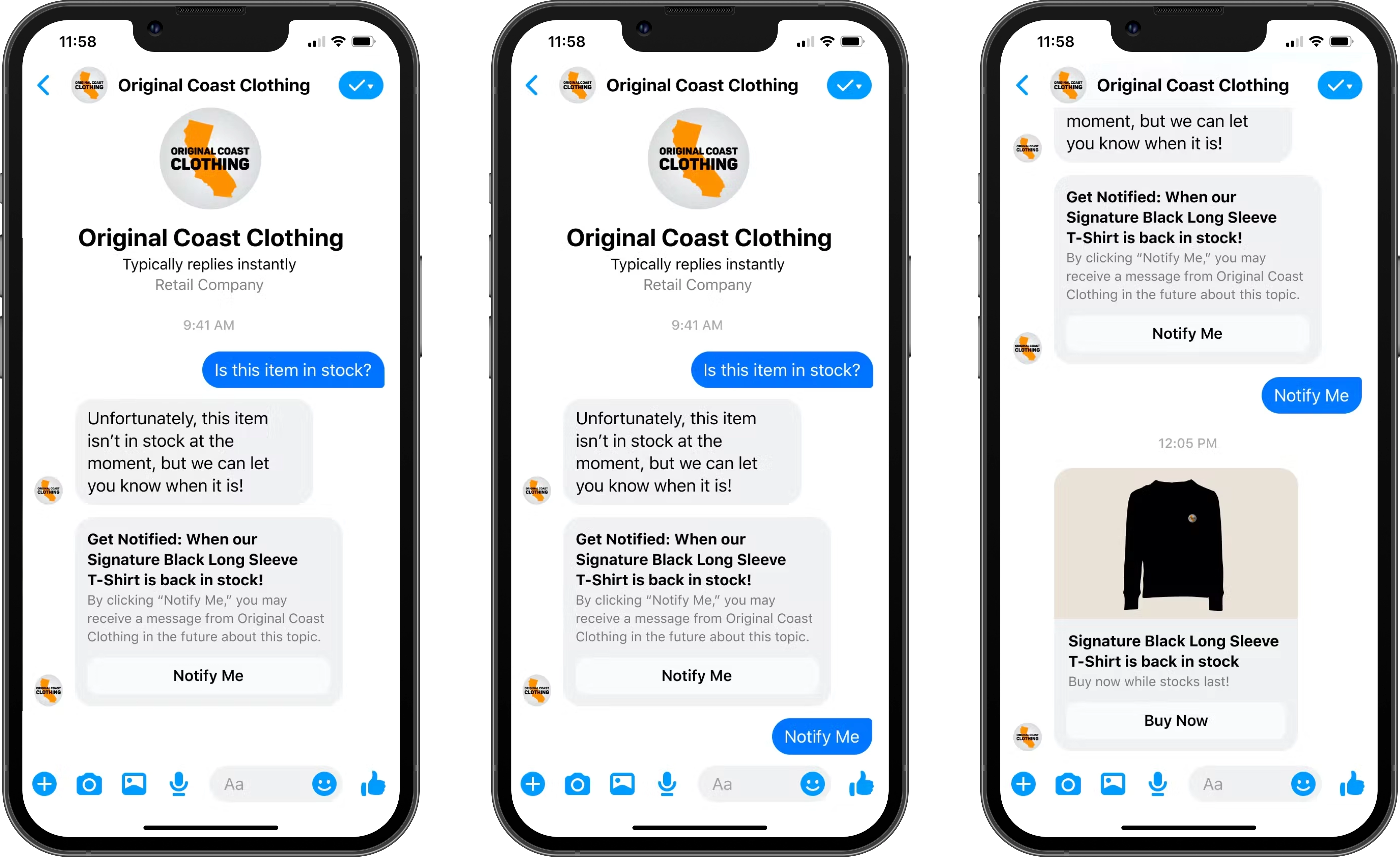 You can find out more about these re-engagement Chatfuel features in our guide.
Chatfuel also has two Entry Points that can only be used for re-engagement: Persistent Menu and Sponsored Messages.
The Persistent Menu Entry Point can be used for FAQs, lead generation, and customer support. It serves as a core navigational menu that is always available to customers who've already interacted with you.
Sponsored Messages can be used after a user has already communicated with your business through Messenger. You can then show highly targeted messenger promotions directly to these customers.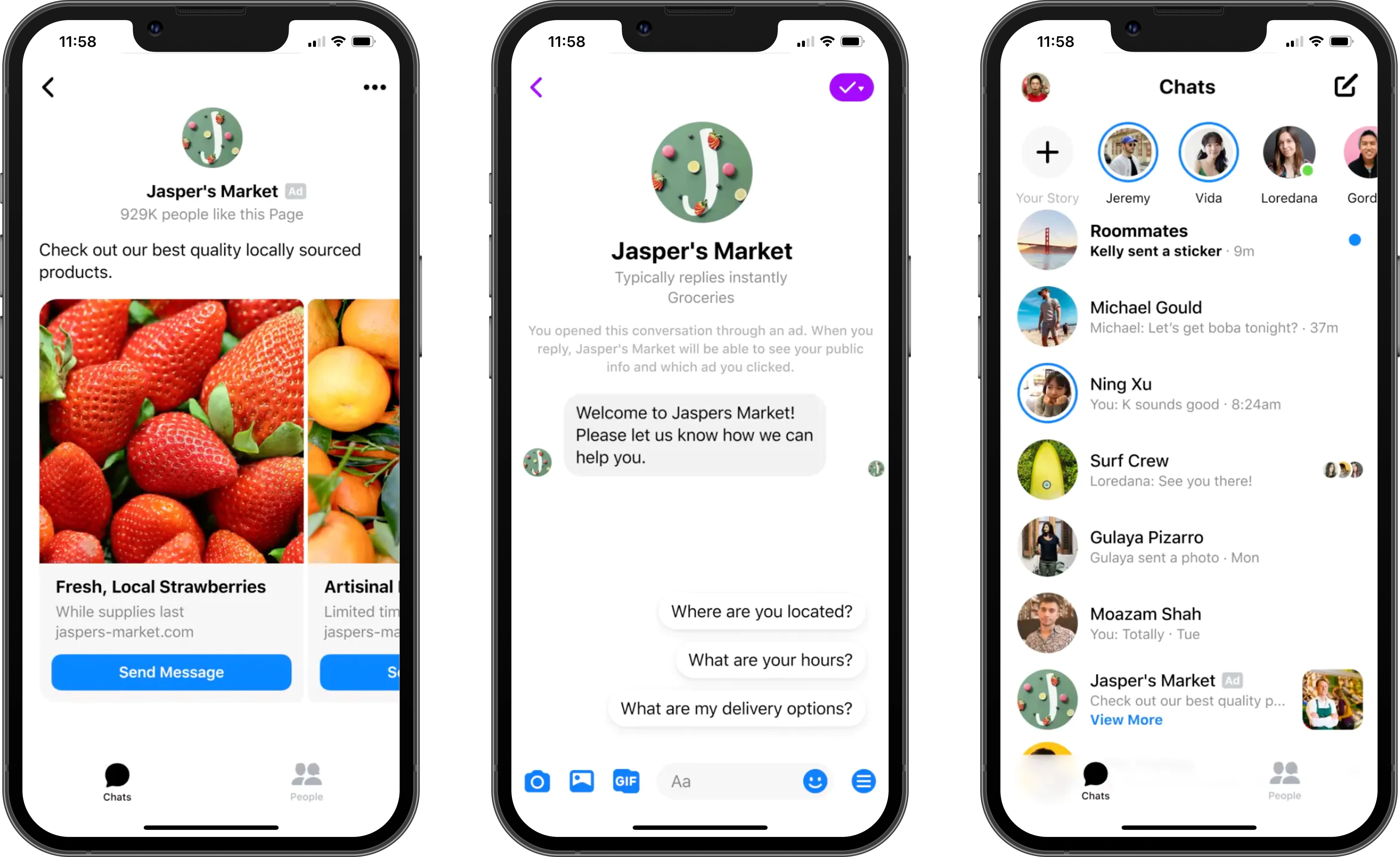 So now that you know how to re-engage your customers, let's go through some more Chatfuel features, you can take advantage of.
How to use Chatfuel features for e-commerce and lead generation
Let's say that you are running an e-commerce store. You'll probably want to advertise your products on Facebook. But once your customers visit your shop, they might have questions. This is where the Facebook Shops Entry Point comes in.
You can use it to build a chatbot that replies to users who message you about products in your catalog. Besides answering product-specific questions, the chatbot can generate extra revenue through up-sells and cross-sells.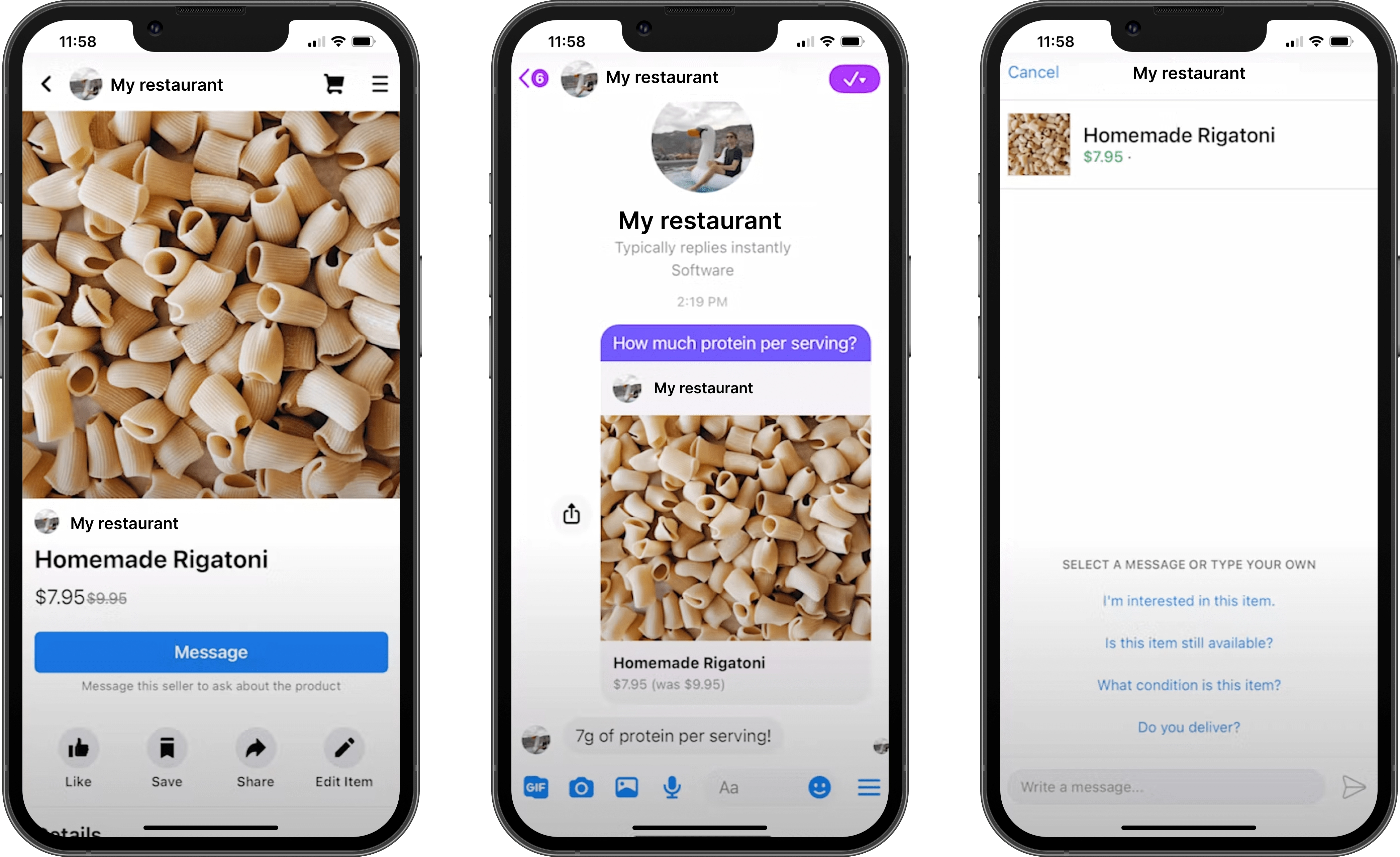 But what if you're a more traditional business? A driving school, for example, or a real estate company. You can build a bot that does lead gen for you. In this case, you can use the Click-to-Messenger Ads and Click-To-Messenger Ads JSON Entry Points.
Click-to-Messenger Ads send the customer directly to a conversation with your business. They're great for starting conversations with your customers, lead generation, collecting feedback, and more. Use this entry point to build a chatbot that automates this process and saves you time.
The Click-To-Messenger Ads JSON Entry Point is a new tool from Chatfuel. It was made to simplify creating Facebook Ads and connecting them to Chatfuel. This is how it works: you simply set up a greeting and click Copy greeting as JSON code. You then paste this code into your Ads Manager. Please refer to our guide for more detailed instructions on this process.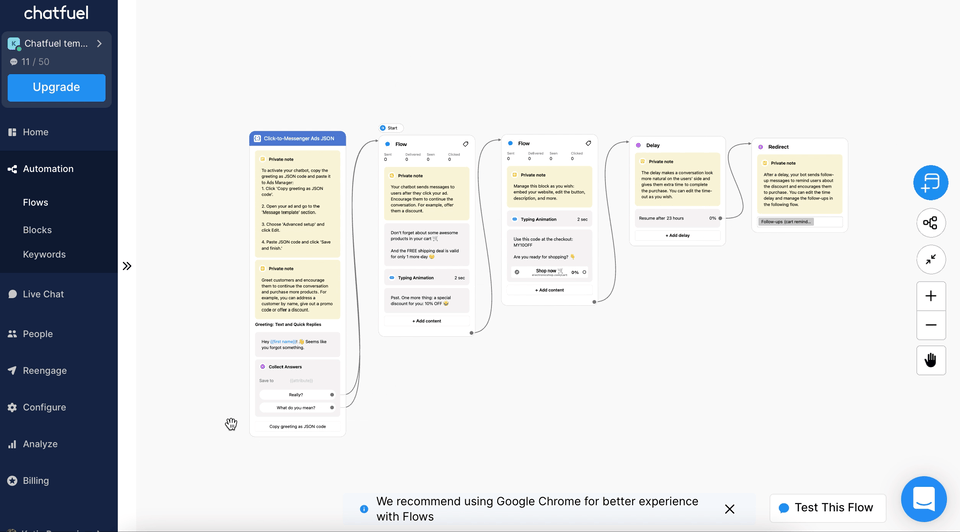 Sign up for a free trial with Chatfuel to try these Entry Points yourself.
What else can you do with Chatfuel?
The great thing about Chatfuel is that you can have an almost unlimited variety of different flows. Here are some examples for inspiration:
Give out promo codes,
Make product recommendations,
Handle complaints,
Locate closest store,
Send recurring newsletters,
Send promotion alerts,
Send stock alerts,
Book calls,
Qualify customers/leads,
Register for events,
Run a personalized quiz,
Up-sell and cross-sell products.
You're probably already coming up with ideas for your own business. We encourage you to get creative and build new flows that your business can benefit from.
And there are also other features worth mentioning. One of those is our analytics dashboard. You can use it to discover valuable insights: user metrics, sources, popular blocks/buttons/URLs, and more.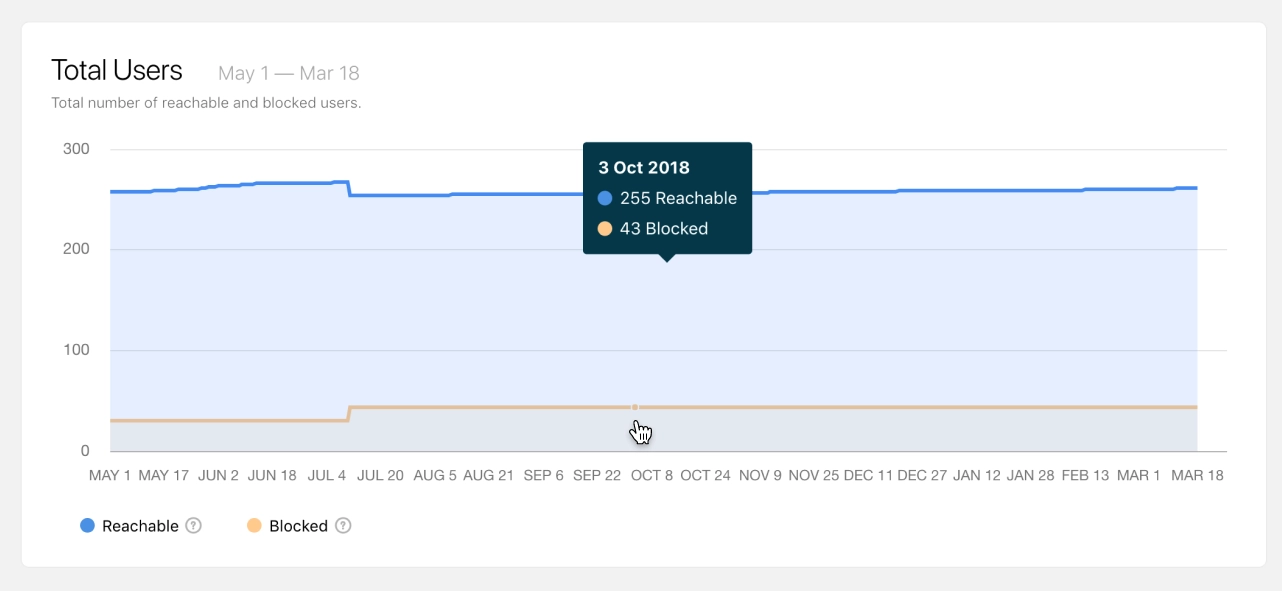 Take advantage of automation
To recap, in this article we've gone over the top Chatfuel features for Facebook. We've discussed Entry Points, keywords, notifications, flows, Quick Replies, and more. We hope that you're ready to take advantage of chatbot automation yourself.
Now is your chance to put what you've learned into practice. You'll boost your sales, customer experience, and conversion rates for your business. Sign up on Chatfuel for free — the first 50 conversations are on us.