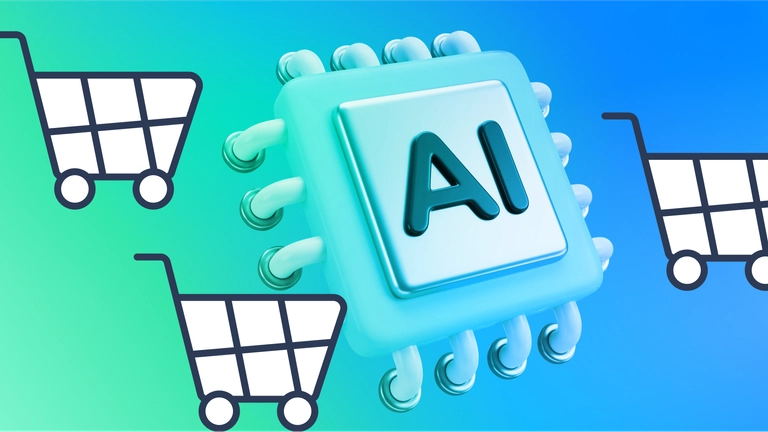 Published November 21, 2023 in
9 AI sales tools for 2023
Learn how AI sales tools improve efficiency with CRM tools, AI assistants, hyper personalization.
There is a common challenge in sales. Your strategies may connect with many customers, but the changing market conditions can often leave sales professionals struggling with outdated tools and manual processes. How do you keep up with the competition and guarantee a smooth sales process?
A clearly defined sales approach that employs artificial intelligence (AI) tools such as lead scoring, sales forecasting, and generative AI can help you overcome this challenge. Here's an overview of AI driven tools your sales team can try.
What are AI sales tools?
AI sales tools are your go-to software that helps improve various aspects of the sales cycle. They come packed with features like predictive analytics, CRM data handling, communication automation, and enriched customer interactions. With AI, you can hyper personalize customer interactions, forecast sales trends, and adjust strategies with ease.
Commonly used types of AI sales tools include:
Predictive analytics tools

CRM tools

AI assistants

Automated email marketing tools
Why use AI sales tools?
A strong sales strategy can help your business stand out in a crowded market. Even if your products are similar to others, a good sales process can make a big difference to customers. This is where AI driven sales tools can really make a difference in the following areas.
Efficiency. AI sales tools take care of routine tasks like managing qualified leads or answering common customer questions, so your sales team can focus on more important tasks and save time
Better decisions. These tools analyze CRM data to provide useful insights, helping you make informed decisions to improve your sales process.
Team collaboration. AI sales tools help your sales team work together by providing a shared intelligence  platform for tracking and managing customer interactions.
These benefits can lead to a smoother sales process, helping you stay ahead of the competition.
Selecting AI sales tools
When looking for an AI assistant for sales, consider the following elements.
Integration support. Look for AI assistants that promise effortless compatibility with your existing CRM and marketing platforms, providing a streamlined experience.
Accessibility. The ideal AI tool should feel intuitive to use and easy to navigate, ensuring faster adoption and minimal interruption to your current sales activities.
Flexibility. Go with a tool that promises scalability and the flexibility to adapt to evolving business strategies and market needs.
Analytics. Ensure that your chosen tool offers deep analytics, complete with customizable dashboards and updates in real-time to help make better decisions.
Security. Your chosen AI assistant should follow data protection standards and meet necessary compliance regulations, securing sensitive customer and corporate data.
These key features will help you to choose an AI sales assistant that not only serves your immediate needs but also supports your long-term sales objectives.
Top AI sales software tools of 2023
Chatfuel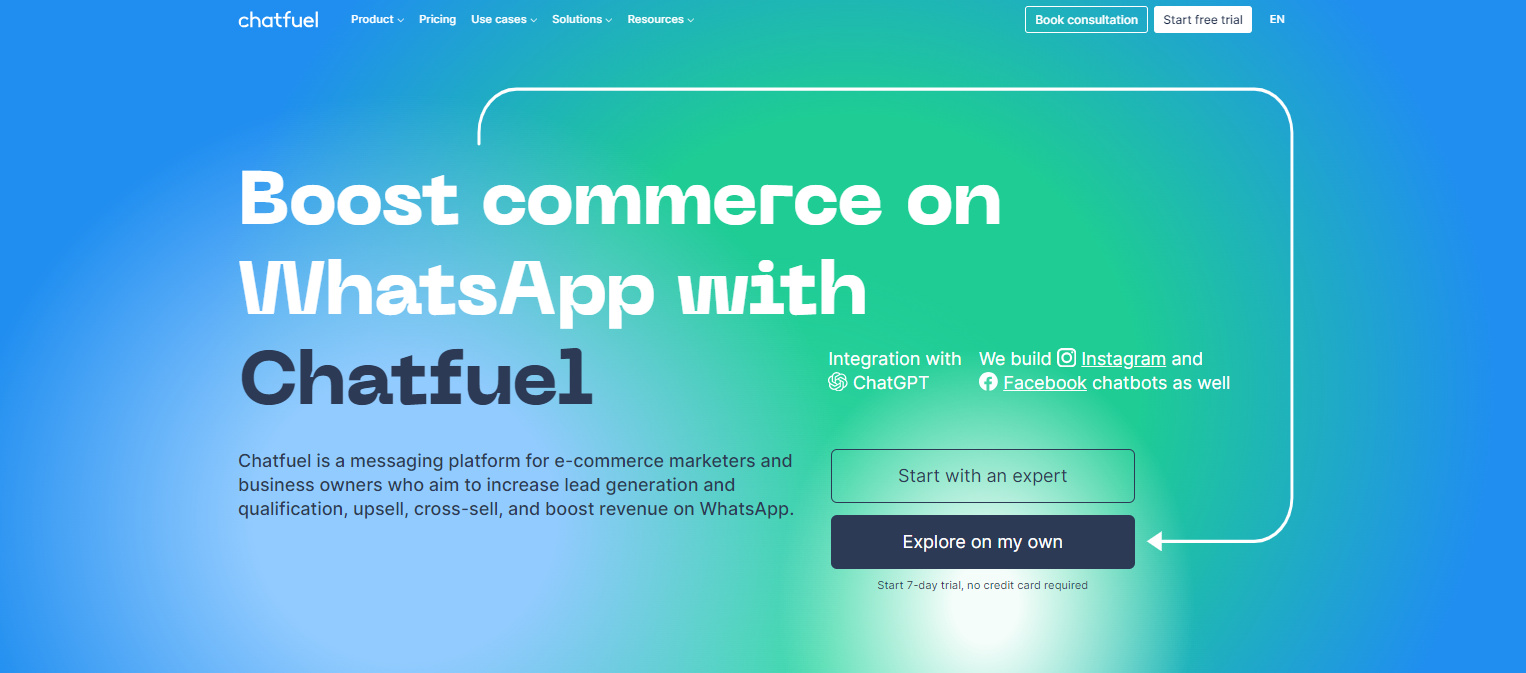 source: chatfuel.com
Overview
Chatfuel is a platform for automating communication with customers in Messenger, WhatsApp and Instagram. It offers a user-friendly interface and powerful tools to create custom chatbots for a range of business needs, from customer support to lead generation.
Key features
Intuitive flow builder for creating automated conversations

Built-in CRM features for segmenting, qualifying and exporting leads

Live chat feature, email notifications

Third party integrations: Google Sheets, ChatGPT, Stripe, Shopify, Zapier.
Pricing
Free trial with all features available (50 conversations). Paid plans starts at $14.39/mo.
Drift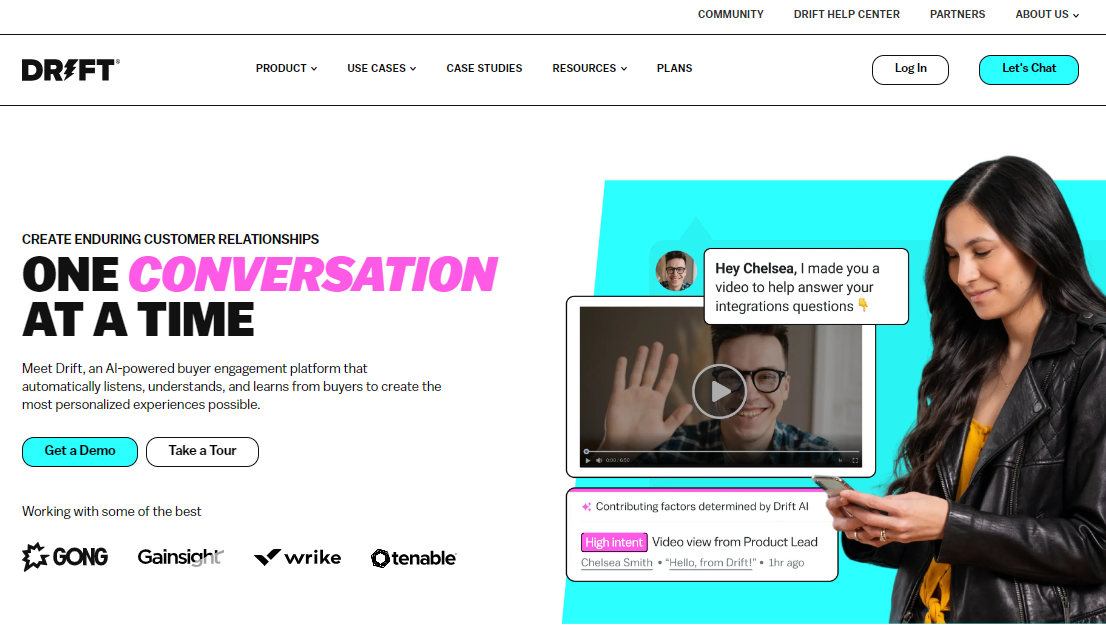 Overview
Drift excels in conversational selling by enabling real-time conversations between customers and the sales team, significantly boosting sales and marketing performance.
Key features
Real-time conversations

Personalized customer experiences

Lead generation and conversion tools

Automated chatbots

Third-party integrations with popular marketing and sales tools

Comprehensive analytics and reporting
Pricing
Drift operates on a freemium pricing model, allowing users to start at $0 per month and upgrade as needed for additional features.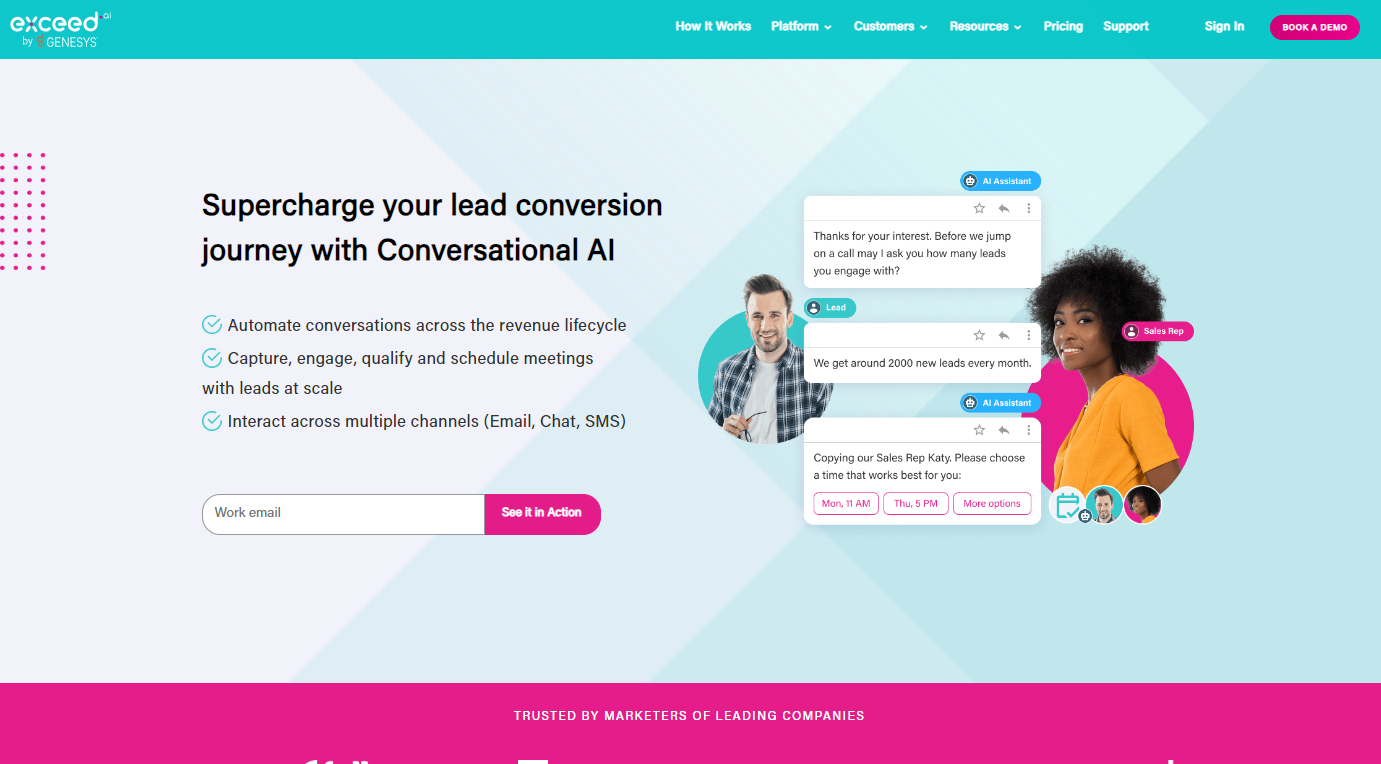 Overview
Exceed.ai automates lead capturing and follow-ups, engaging and qualifying leads, and scheduling sales meetings using AI-powered conversations.
Key features
Automated lead management

AI-powered engagement

Seamless CRM integration

Real-time analytics
Pricing
The pricing depends on your business' size, scale, and specific needs. You'll need to contact them for details.

6sense (ex Saleswhale)
Overview
6sense, formerly known as Saleswhale, automates sales workflows, focusing on re-engaging cold leads in your CRM with AI-powered conversations.
Key Features
Natural engagement through AI

Comprehensive contact and campaign management

Lead segmentation and email automation

Performance analysis and conversion optimization
Pricing
As with the Exceed.ai, the pricing will depend on your business' specific needs. Contact the team for more details.
Outreach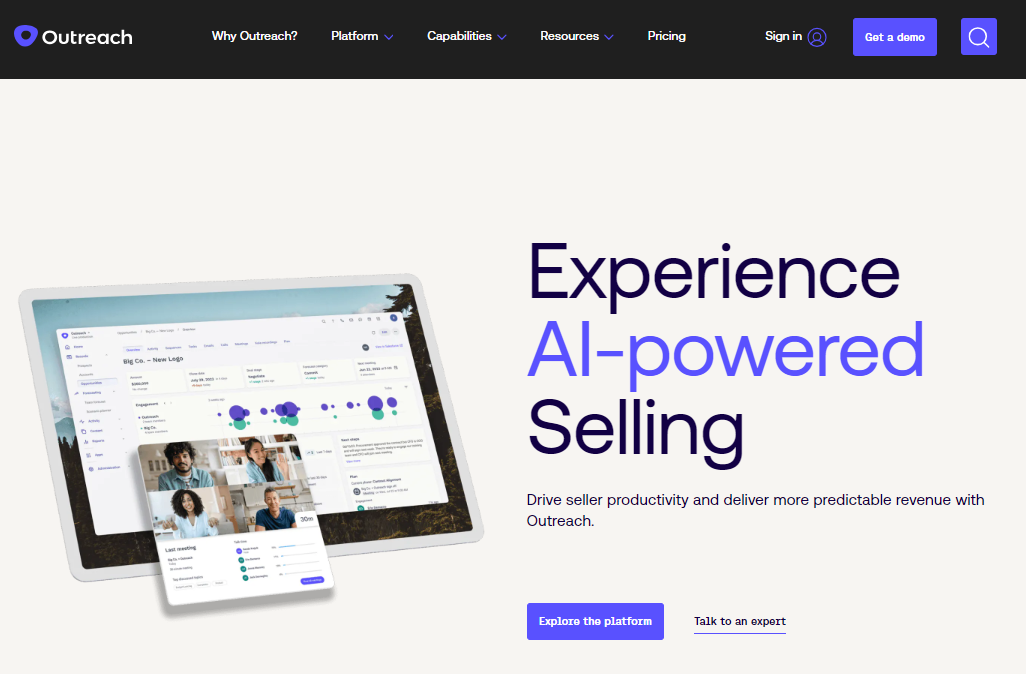 Overview
Outreach boosts sales productivity by optimizing playbooks for quicker prospect reach and relationship expansion, aiming to strengthen deal cycles.
Key Features
Automated outreach sequencing

A/B testing for message effectiveness

Easy calling with Outreach Dialer

Analytics for outreach effectiveness

CRM integration for centralized data
Pricing
The 'Accelerate' license costs $80 per user per month, totaling $960 annually, including features like sequencing, A/B testing, and Outreach Dialer​​.
Clari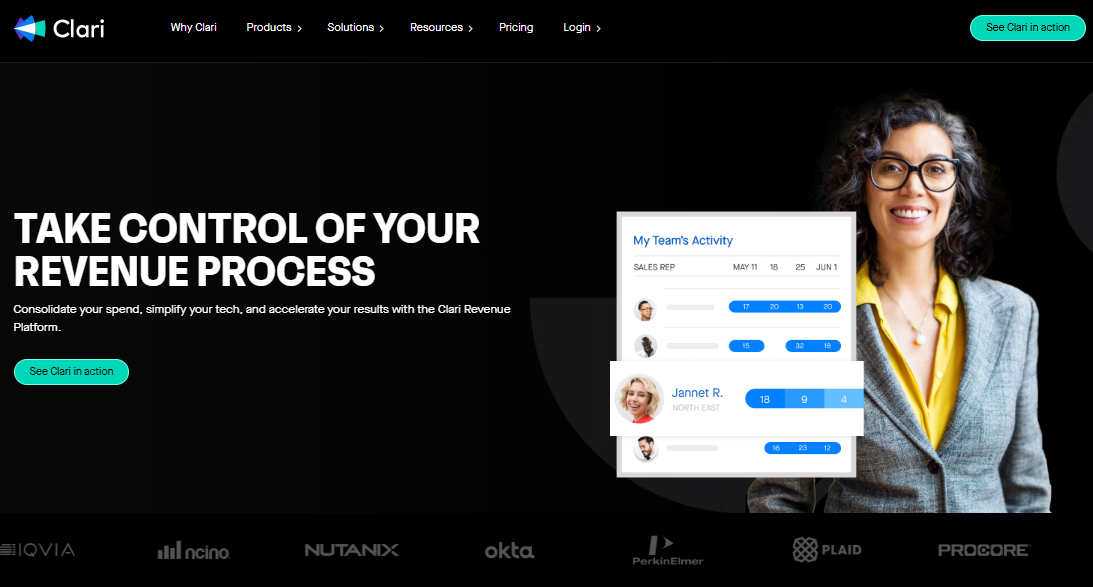 Overview
Clari's AI-driven core enables sales teams to forecast future performance using current sales data. By utilizing predictive analytics, it identifies patterns, trends, and insights to streamline and enhance the revenue process.
Key Features
Automated predictions, trend forecasting, and sentiment analysis​

Comprehensive tracking from lead tracking to pipeline analysis

Automation of mundane sales tasks

Advanced analytics and predictive insight​s
Pricing
Clari operates on a subscription model with a free trial available. Their pricing can range from $12 to $50 per seat per month​.
Gong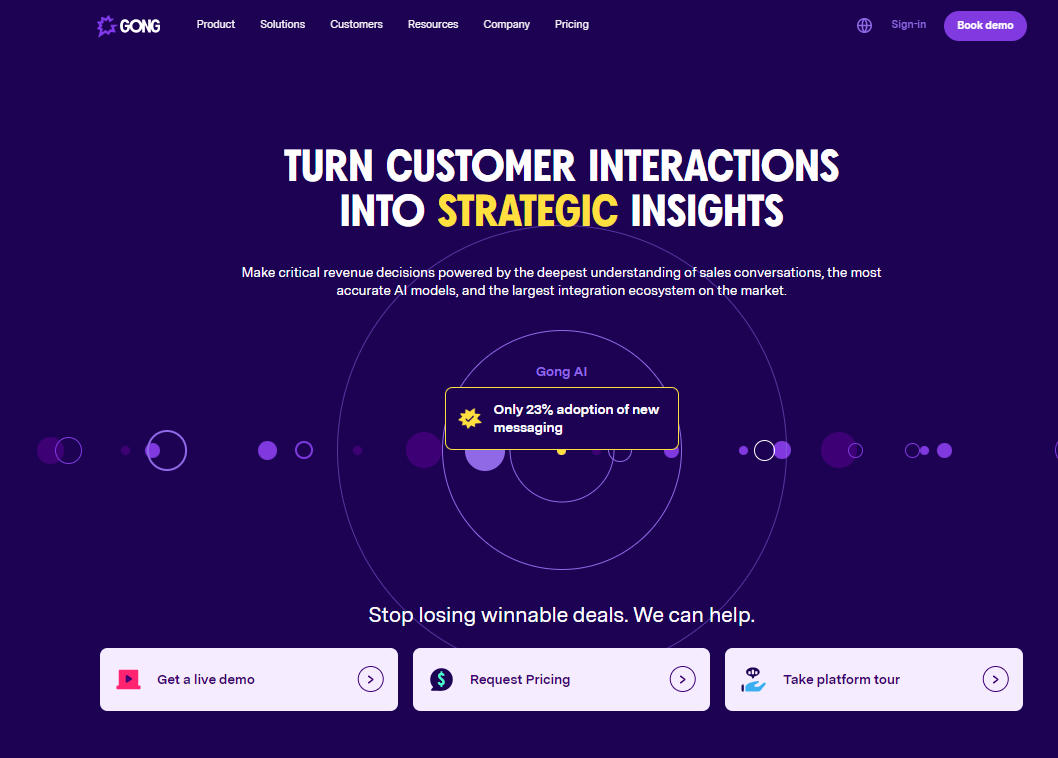 Overview
Gong uses AI to provide insights into sales conversations, market trends, and customer engagements, helping sales teams to improve their strategies and performance.
Key features
Conversation analytics and insights

Deal intelligence to understand and move deals forward

Market intelligence to stay ahead of market trends

People intelligence for coaching and team performance
Pricing
Gong has a tiered pricing model, with an additional per-user fee which decreases as the number of users increases. You'll need to contact their team to find out the individual pricing for your business.
Conversica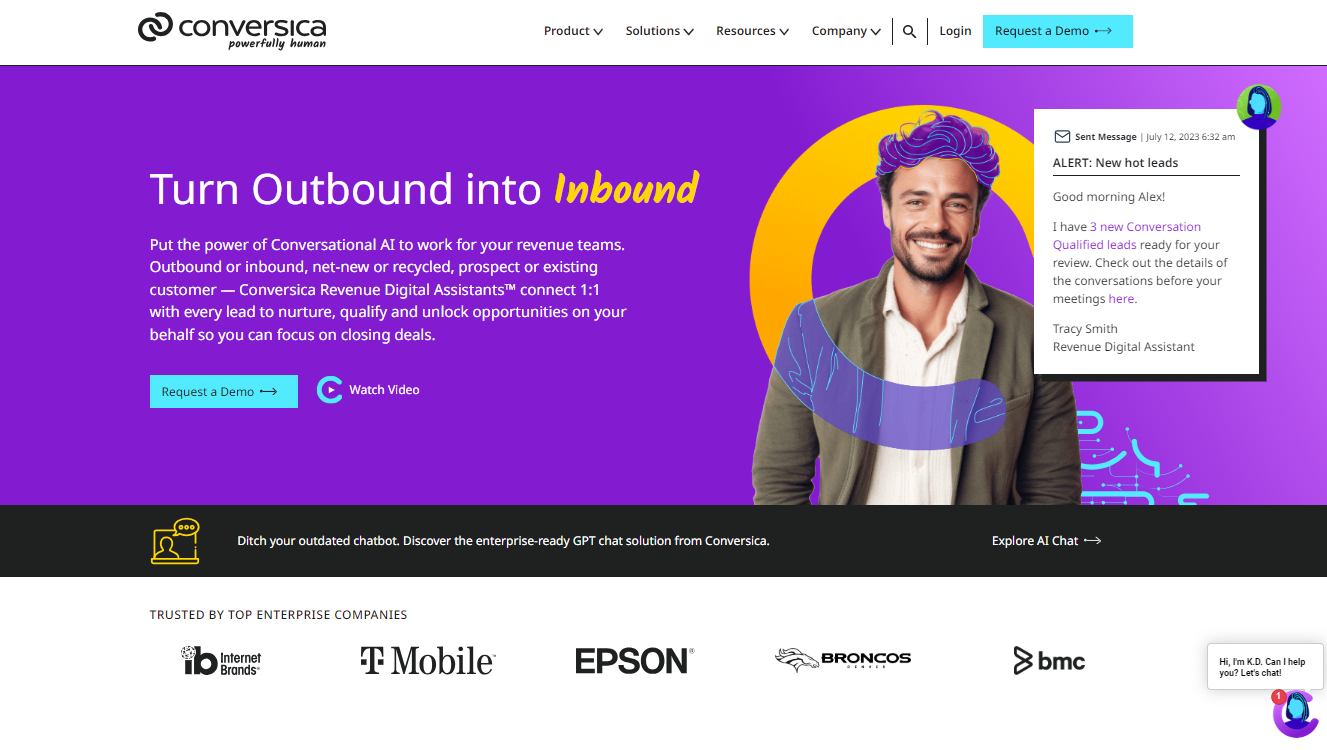 Overview
Conversica automates lead engagement, enabling a human-like interaction to qualify leads and set appointments, freeing up your sales team to focus on closing deals.
Key features
AI-powered lead engagement

Human-like interactions via email, SMS, and other channels

Integration with CRM systems

Lead qualification and appointment setting
Pricing
The pricing is based on the size and needs of your business, and you'll need to contact them for a custom quote.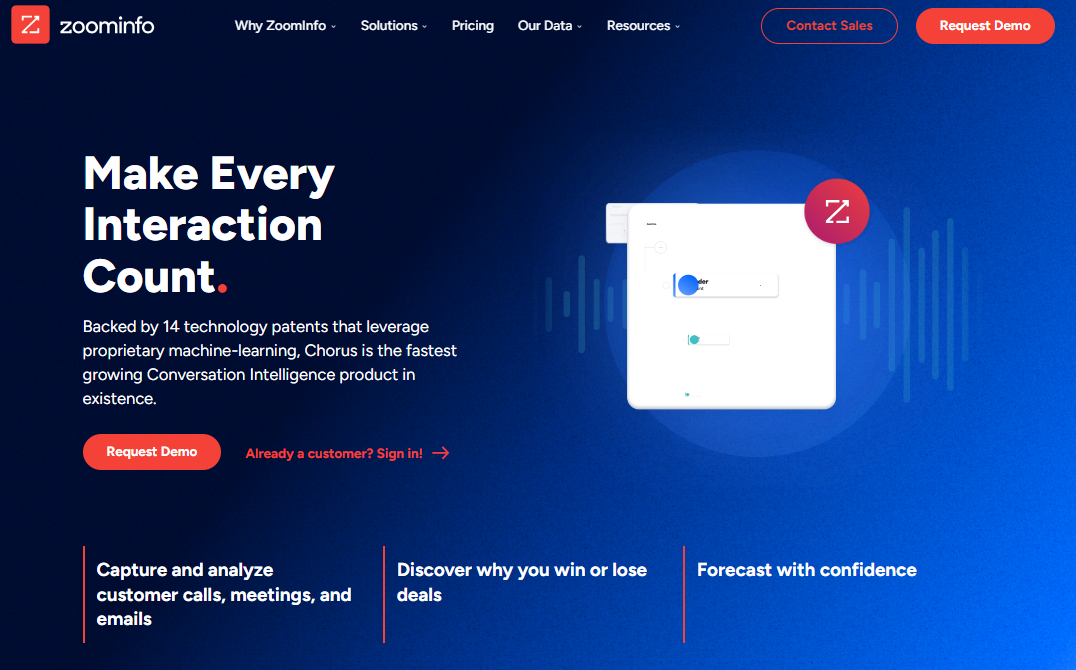 Overview
Zoominfo, previously Chorus.ai, helps you capture and analyze sales calls and meetings to provide insights into customer behavior. It also offers coaching to sales teams to improve their effectiveness.
Key features
AI-driven analysis of sales conversations

Real-time coaching and feedback

Integration with CRM and other sales tools

Analytics dashboard for performance tracking
Pricing
You'll need to contact Zoominfo directly for pricing details as they tailor it based on the individual needs of your business.
AI sales tools FAQ
How do I select the right AI sales tools for my business?
The right AI sales tools for your business depend on your business size, sales processes, and budget. Identify the sales areas needing automation or better analytics. Look for tools offering predictive analytics, automated lead management, and CRM integrations. Take a look at how easy these tools are to integrate into your current sales process, how they scale and how cost-effective they are against your business goals.
Do AI sales tools require technical expertise?
You can use most of today's AI sales tools without prior technical knowledge. They come with intuitive interfaces, dashboards, and often include training and support. However, a basic understanding of data analytics and AI can help you get much further with these tools.
How can AI sales tools improve team collaboration?
AI sales tools provide a centralized platform for tracking and managing customer interactions, sharing insights, and automating routine tasks, improving team collaboration. Shared analytics dashboards and real-time updates help in better communication and collaboration among team members.
How do AI sales tools assist in decision-making?
By analyzing a lot of data, AI sales tools provide useful insights, predict sales trends, and identify potential issues in the sales process. They use machine learning and predictive analytics, helping in making informed decisions to improve sales strategies, prioritize leads, and allocate resources effectively.
What are the common features of AI sales tools?
Common features of AI sales tools include predictive analytics, CRM integration, communication automation, lead management, and real-time analytics. They also offer capabilities for better customer engagement, performance analysis, and conversion optimization, looking to simplify the sales process and hit sales targets.
How do AI sales tools improve customer engagement?
AI sales tools improve customer interactions by analyzing customer data and behavior. AI generated chatbots and virtual assistants provide immediate responses to customer inquiries, while predictive analytics tailor offers and interactions to individual potential customers preferences, making the overall customer experience better.