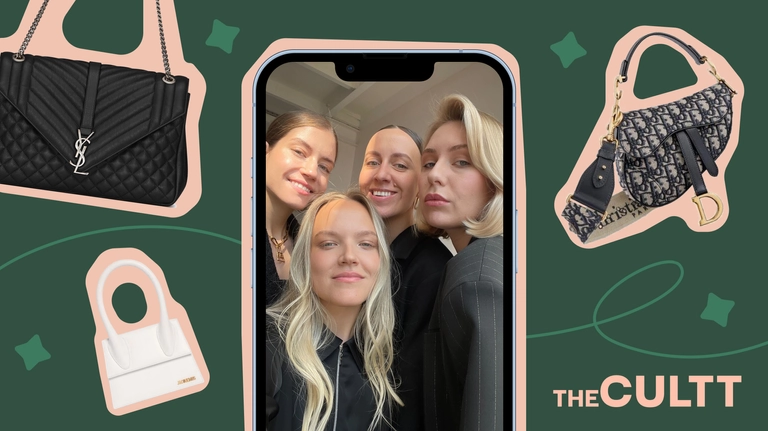 Published August 22, 2022 in
Resale platform raised conversion by 37% using a chatbot
TheCultt shares how to increased sales, decreased response time, and raised customers' loyalty.
It might be challenging to automate the communication when you have a strong connection with your customers. Especially when your business isn't all about money, you have engaged customers who know the people are standing behind the company. In this case, the customers often buy not only because of the products but to support people with the same values.
It seems that you'll lose everything you've been building if a chatbot does all your work, especially when your primary channel is social media.
But TheCultt's co-owners disproved it: in three months, they increased sales, decreased response time by 2 hours, and raised customers' loyalty. So here we'll show you how it's possible and what features to implement in your business.
TheCultt: a resale platform for sellers and customers
TheCultt is a resale platform. It helps buy premium secondhand accessories from luxury brands such as Celine, Gucci, and Fendi and niche brands like Danse Lente, Yuzefi, and Wandler. The brand owners stand for reuse and support sustainable consumption, but select only valuable accessories which are still fashionable.
Brand's clients are divided into two groups:
sellers who shape the brand's collection;
customers who come for an excellent consuming experience.
"That's why it's equally important to accommodate the interests and requests of both client categories. Thought-of client service helps to reach this goal. And in our opinion, it's directly connected with automation and fast request handling. A user has written to us and showed the interest — we aim to save and multiply this interest" — says co-owner Anna Avtaykina.
Routine took all time for creation and development
TheCultt is a small and enthusiastic team, so they had two main problems:
Communication with clients took too much time;
They had no resources to launch new activities but a lot of great ideas that could bring more leads.
"We have a well-developed Instagram account (35k+ followers) and mainly communicate with clients in DM. It takes a lot of resources, so we've been searching for possible growth points and discovered automation. Chatfuel offers many marketing solutions and allows testing the hypotheses even with a limited budget" — says co-owner Anna Avtaykina.
Welcome Messages and Autoreplies decreased response time and increased loyalty
However, the brand owners were afraid to lose a personal touch in every message, so they decided to try it. We offered two solutions for routine automation:
Welcome Message. The team created a welcome message using a ready-made template with the company's story. So, the customers didn't have time to lose interest while waiting for a long answer.
Comments Autoreplies. TheCultt set up answers for comments about price, availability, and goods condition.
This is what client service manager Yana Kurapova says about the automation:
"That's great that I can build a chatbot, so it sends a message that it's our work-off time, and we'll respond later. It helps our customers to know that we're having a day-off, not ignoring them. It increases our customers' loyalty and is seen in sellers' and customers' feedback.

Our clients ask the same questions every day: "How to make an order?", "How to sell my bag?". And a chatbot made my life easier — our response time decreased by 2 hours. It helped to increase loyalty and concentrate on more complicated tasks."
The company automated all routines and decided to test something engaging and unique to generate more leads and purchases.
It's time to check the first creative and engaging solution
The team launched a game in their Stories to engage the customers and encourage them for new purchases. First, they made a video of two bags: one of them was original, the second one was fake. And users were to identify the original bag and leave a comment below. After the answer they received a promo code for the next purchase.
By this, the brand's owners tested their hypothesis that their keen on fashion audience is always interested in demonstrating their knowledge.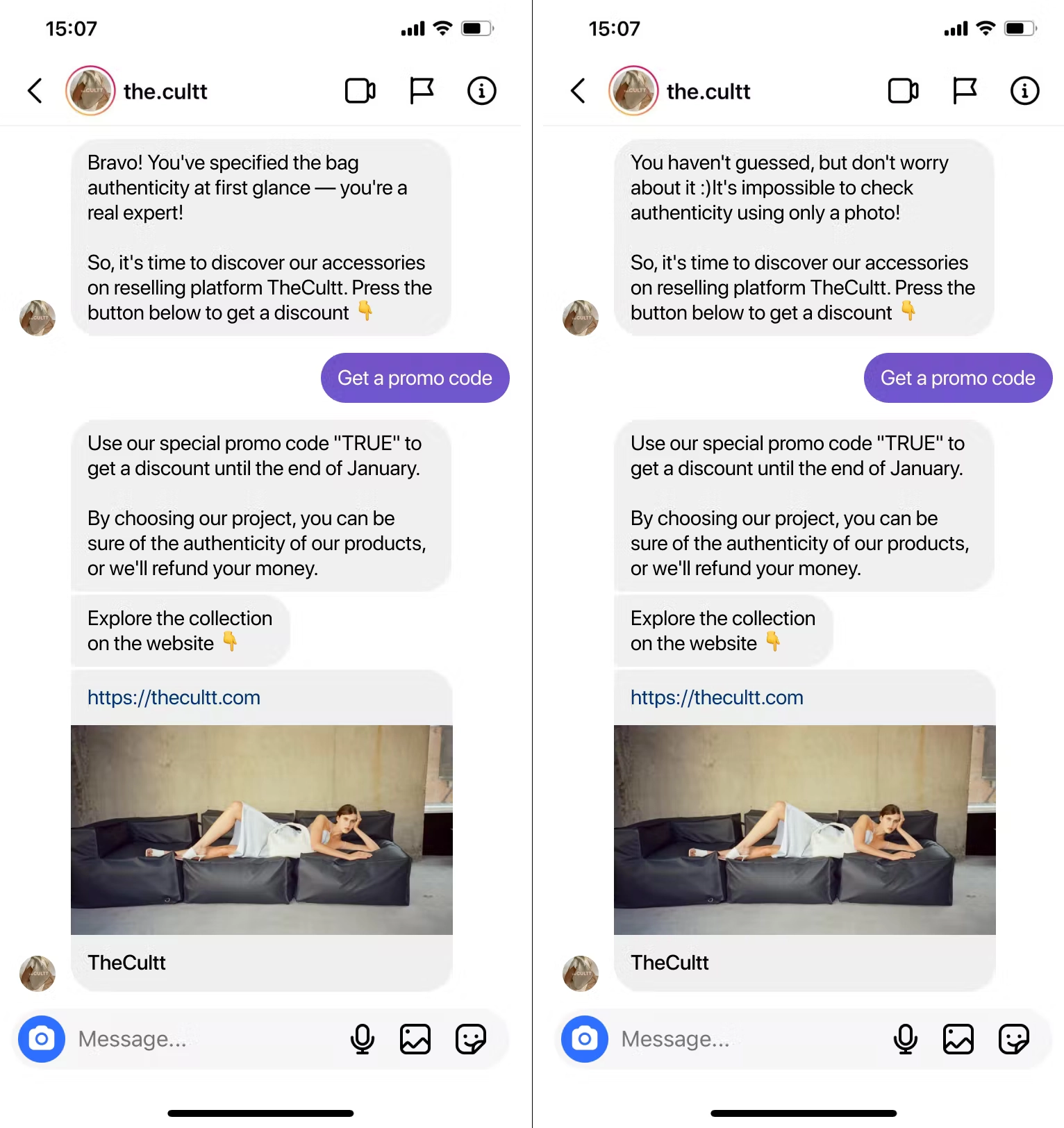 The game teased the audience for the next step — TheCultt posted an analysis of the bags showing the details that prove the bag is or isn't real.
It's impossible to process all comments by hand, so TheCultt automated the comments too:
They thought of the possible ways of interaction and understood that a person could leave two comments with different answers, making the process more difficult.
So their chatbot automaticcaly responded to every comment in DM. All participants got the results and had to confirm the answer using the buttons.
The chatbot gave a promo code if the answer was correct and sent a website link where the winners could use the promo.
"And all of that without our effort! Our team put the idea into action, and bot handles the activity on its own. Happy clients, no burnout team members — wow!" — co-owner Tatyana Ermakova shares her impressions.
The results: increased conversion, low client cost and engaged customers
In the beginning, the team launched this contest without advertising. It brought almost 1000 conversations per month and about 300 participants. After that theCultt decided to run ads and got exciting results:
450 people received a promo code;
170 of them made a purchase in the 3,5 months after the launch;
+47% to the existing number of conversations;
<$2 is a client cost, considering marketing costs.
"Chatfuel helped us to optimize our marketing a lot. So, we want to continue our collaboration to solve new communication and marketing tasks. We find Chatfuel effective and a perfect solution for ad integrations. With the right approach, you get a chatbot helping to solve problems in a moment, not an irritative tool.

Users today are too overwhelmed. They react fast to something new and get tired very soon. So, such an innovative way of interaction and customer attraction seem an excellent idea for us, " — co-owner Tatyana Ermakova says.
You can automate the routine and engage your customers in a new way with Chatfuel. Sign up and get your first 50 conversations for free. After signing up, you can set up auto-replies for all your FAQs in a few minutes and test the automation today.