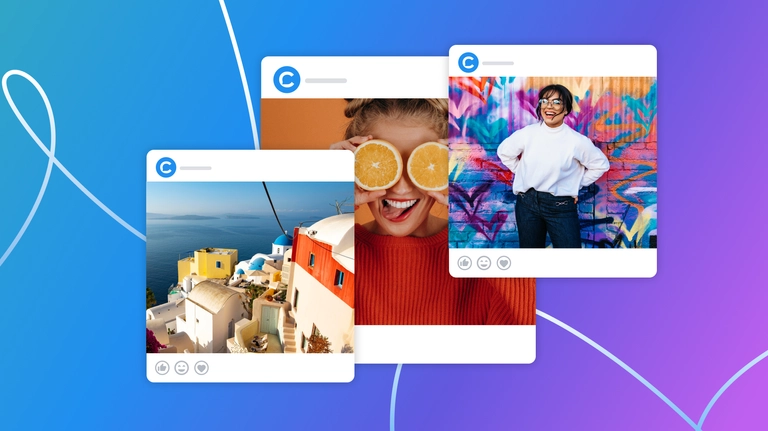 Published April 28, 2022 in
9 ideas you can steal for interactive posts on social media in 2022
Secret of good engagement: read about best examples for interactive content on social media and adapt this ideas to your brand.
Every social media manager says you should add interactive posts into your content strategy to increase the engagement rate. Not only to have better statistics but to sell more and become closer to your customers. And marketing analysts prove this: recent research showed that "engaged customers display greater brand loyalty and satisfaction, and are more likely to contribute to new product development, service innovation and viral marketing activity spread by word of mouth."
But, it's hard to engage the followers if you don't think up anything new. So, we collected nine examples of engaging posts for Instagram showing promising results. Use them as your inspiration, adapt them to your brand, shake up your usual posting process and reap the fruits of your ideas.
Secrets of good engagement
Before posting interactive content, take a look at the rules applied to all types of engaging posts:
Don't post them too often to keep the followers surprised. Remember that you don't sell at once with such posts, and you won't get comments in a few days after posting a piece of interactive content. So save your resources.
Don't ask customers to do random activities or actions when you run games in socials. Instead, slightly nudge them to mention your product or to share the values of your brand with their followers.
Ask to follow easy steps. The easier the rules, the more comments you'll receive. For example, asking to tag a friend in comments is better than demanding visitors to go through several steps, like following your page, leaving a like and tagging a friend. But, sometimes, thought-through comments are needed.
Explore the best practices below to understand which approach is better for your case.
9 examples for interactive content on social media
Take what you need
Shopify published a post with options users can take as if they see tear-off ads hanging on a lamppost. They mixed options for business and private life to grasp a bigger audience.
Such design takes very little time but gives good engagement.
To adapt the idea to your brand:
Write the list of effects your product or service delivers to clients. For example, strong hair, freshness, rich scent — if you sell shampoos.
List the products or services you provide. For example, a full-body massage, uniform tanning, fresh manicure — if you run a beauty salon.
The values your brand broadcasts. For example, consciousness, sympathy, cooperation — if you're a non-commercial organization helping someone.
To encourage the followers to leave comments, ask them to choose a thing from their wishlist and tag a partner or a friend using @ so they know what the person wants. Or say you collect statistics about your clients and will share the results with everyone, so every comment matters. Another thing you can do is to make options funny. So you won't have to ask people to tag their friends — they'll share the post just to make other people laugh.
‍
The first words you see
This is Olie asked followers to find three words in a set of letters. They devoted the post to the skills the followers should practice as the brand provides training programs and clothes and stands for self-improvement.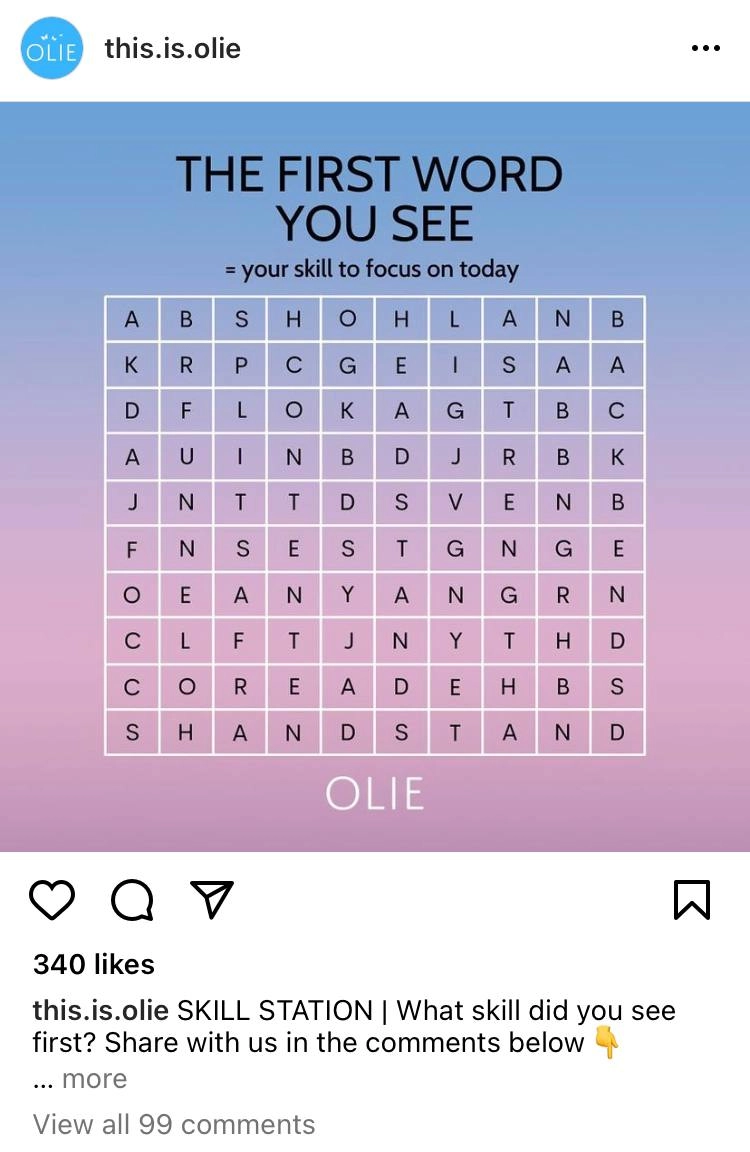 Add your brand logo to the design to prevent author's rights infringement.
To adapt the idea to your brand:
Create a list of words connected with your brand, values, or products.
Place them in the square vertically and horizontally.
Randomly fill in the whole square with letters. Make sure you didn't create new words out of your list.
To get more attention to your interactive post, ask the followers to tag friends in the comments to get them playing in the game. Or promise to create a giveaway and give them a small reward for a random comment.
‍
A simple question to the audience
People like talking about themselves and sharing their success and news. So, sometimes you can effortlessly get hundreds of comments just by asking your audience a simple question.
Girlboss simply asked the followers whether they have any good news to share and gathered 366 comments. The followers shared their news, tagged friends, and exchanged positive comments with each other.
Experiment with the design: make a screenshot from Twitter, add a sticker from Instagram stories, or call the post a "Honorous board" to get more attention.
The sphere of your business shapes which questions to ask — they should be connected with your brand. But there are questions suitable for everyone:
Which three things inspired you today?
What do you think about the (latest event)?
Which (product) do you like the most?
What's your superpower?
If you win $1 million, how would you spend it?
Make sure it's easy to answer to your questions, and you ask for a little effort or provide options.
‍
Relatable meme
Memes gather all likes, comments, and tags if they're relatable. Think of a meme or a catchy phrase that makes people laugh and share.
A Swedish fintech company Klarna posts memes relatable to their followers. They write comments that they think or feel the same and tag their friends. They connect the memes with shopping as it's their sphere.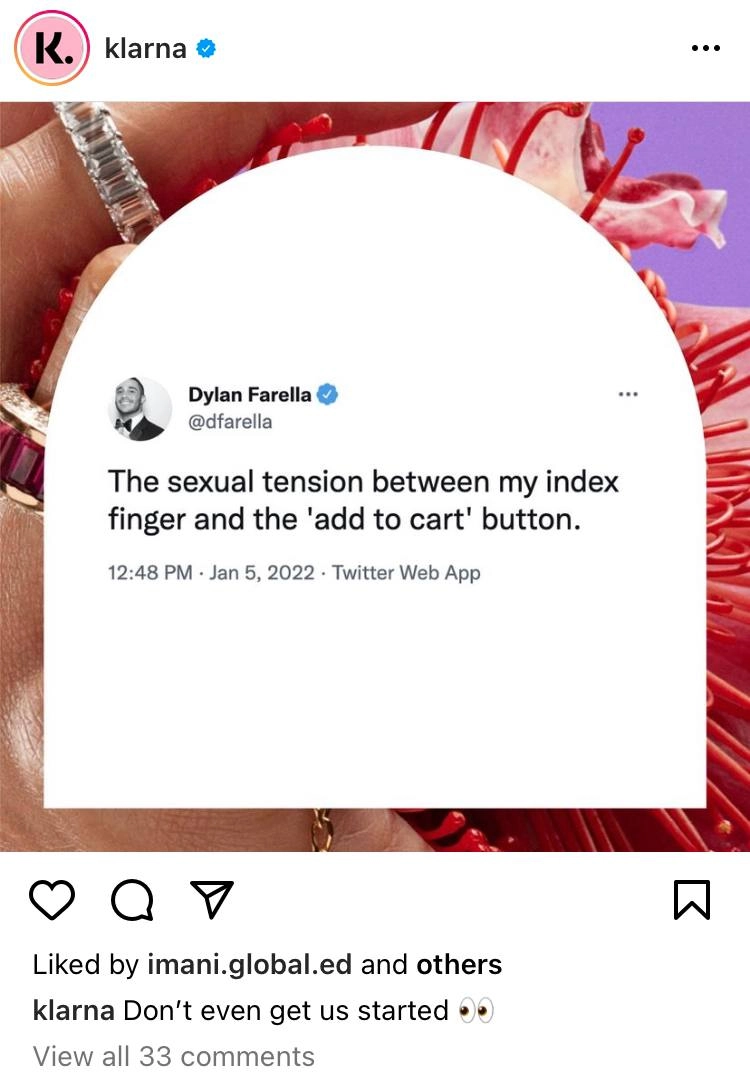 Get even more likes and comments — create a funny illustration or take a popular meme and adapt it to your brand.
If you need help and inspiration in meme creation, use meme generators:
ImgFlip — a vast library of popular memes. Take them as a template or upload your picture, add the text and customize it. View the most popular memes in a special section to know what's popular now.
Kapwing — a more complex meme builder for those who want to create them like a pro. Here you can create not only an image but a video, add emojis, control the picture using layers, record the screen, and add transitions, audio, and different elements.
Canva — a free meme generator that allows editing popular memes available in the app library. They offer over 5000 meme templates and two mln watermark-free images.
‍
This or that
People adore voting, sharing their opinion, and waiting for the results to know who won. So, give them such an opportunity — ask the followers to choose between:
products,
flavors,
colors,
looks,
shops at different addresses.
A clothes brand, "Her Treasures Boutique," regularly publishes posts where they ask to choose one of two looks on the same model. They get comments, involve users, and show the product. People write "A" or "B" in the comments, increasing the engagement rate.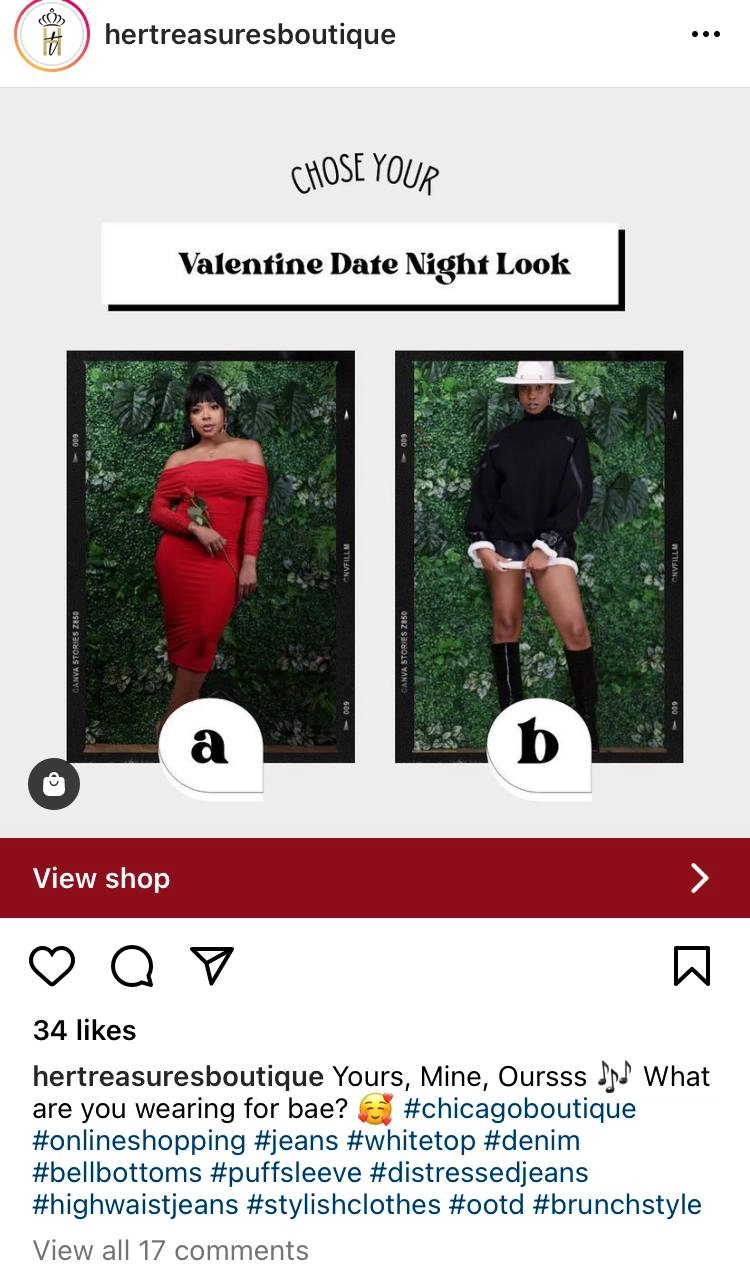 And don't forget to leave the shopping tags to lead the followers to make an order.
‍
Guess the product
This game works well only with the existing customers or loyal followers as they know your brand and product range. Ask them to guess which product you propounded, give hints for the novelties, and check whether your audience knows the differences between your products.
Coca-Cola asked followers to guess which flavor was hidden. They hid two words plus gave facts that followers may not know. You can take this approach as an example and test it for your followers.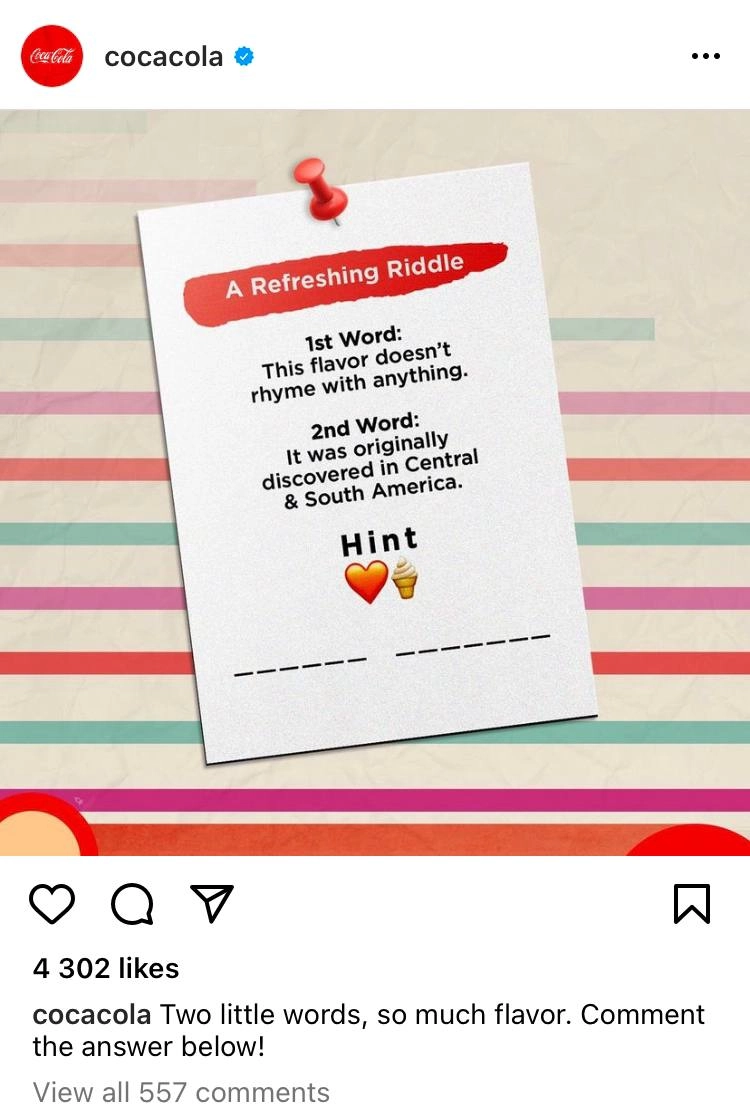 And don't forget about the hints — you'll get more comments.
To increase the engaging effect, offer discounts and give a reward to one of the participants. But don't reward a person who answered the first — others won't be motivated to participate.
‍
Match
Add a few columns and lines to make them cross. Put products, flavors, or services recommendations in these squares. Such "matches" make people feel that the recommendation is personalized and increases leads and sells. To adapt it to your brand:
Choose a few products or services you want to focus your followers' attention on.
Write short characteristics for them.
Match them with anything simple: favorite color, weather, or mood.
Starbucks offers followers to guess what their spring will bring. They are to choose a favorite drink and their spring vibe to get an answer. Most of the followers write their results in the comments. Starbucks got 452 comments on this post.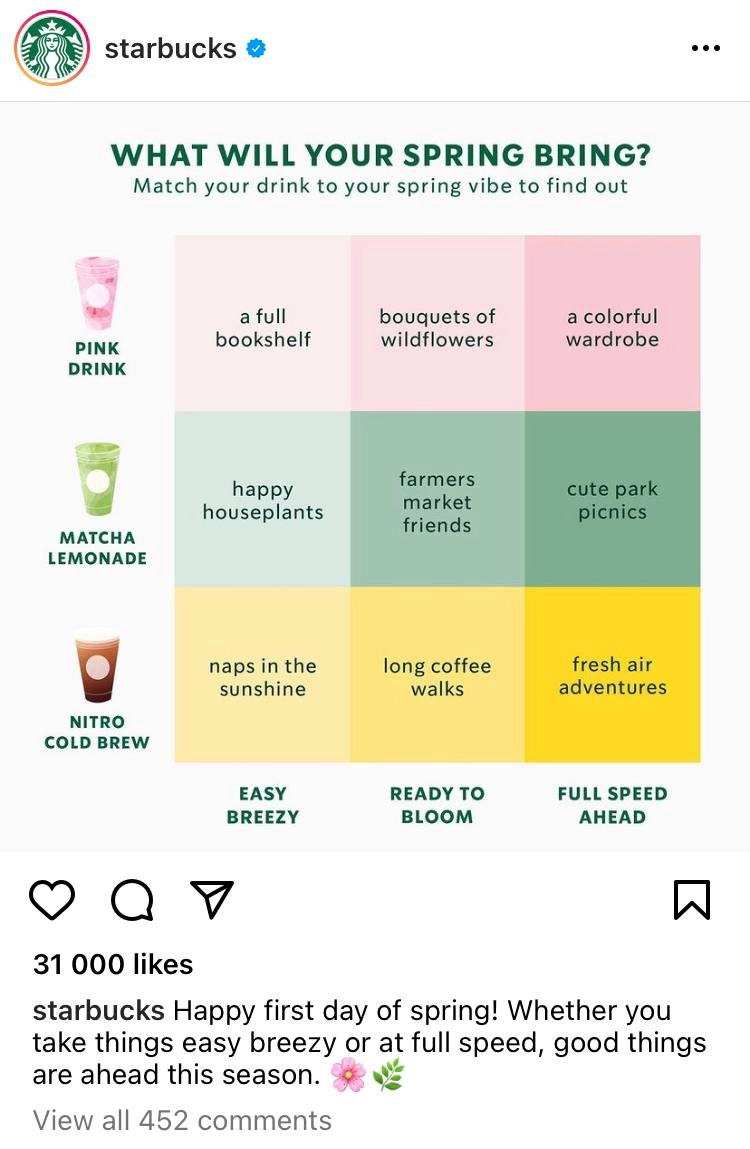 Don't forget to ask for comment on the results.
Motivate the followers to leave the comments — say they'll find co-thinkers or that you do the research and will show the results later.
‍
Tag a friend
Sometimes people tag their friends without asking when they want to share the post and don't send it to DM. But if your followers aren't used to tagging — ask them to do it a few times to create a habit. Their tags help you grow the audience faster for free — don't ignore this instrument.
HelloFresh asked followers to tag a friend the followers love more than food topped with melted cheese. They got 38 comments. People tagged their friends and wrote "definitely!", "hahaha you" and "hey bestie lol."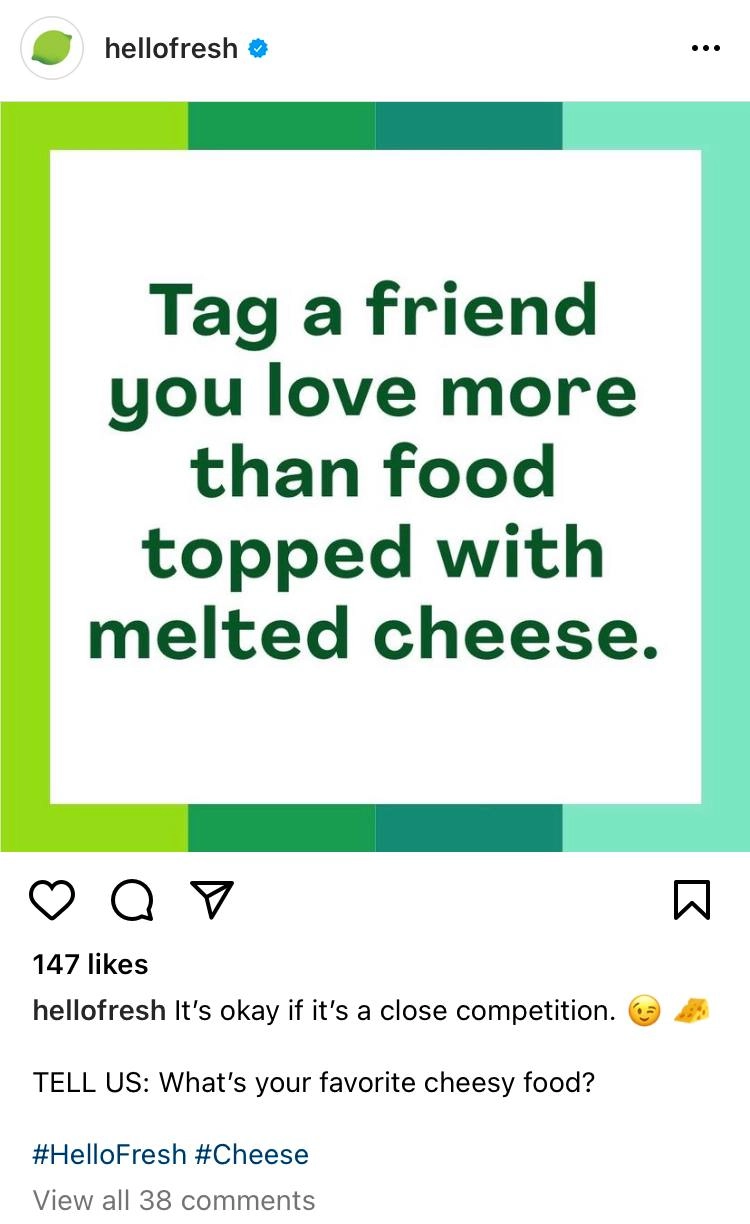 Support the picture with a good joke to make closer contact with the followers.
Make sure you create a positive post, and a tag will make your followers' friends smile or laugh. This way, you connect people's good feelings with your brand, and there's a bigger chance your followers' friends will become your customers.
‍
Giveaways
Don't wait that people who subscribe to you during the giveaway will stay with you for a long. So don't try to increase the audience with giveaways; use them for engagement and organic growth.
To create an engaging giveaway, think of a unique algorithm. Don't ask users to write emojis and numbers — it asks too little effort from the users. Ask intriguing questions instead.
Daisy, a jewelry brand from London, posted a giveaway on the 8th of March. They ask to tag inspirational women in the comments and share the stories of why these women are inspirational. They got 652 comments and warm stories and then chose a winner from the comments.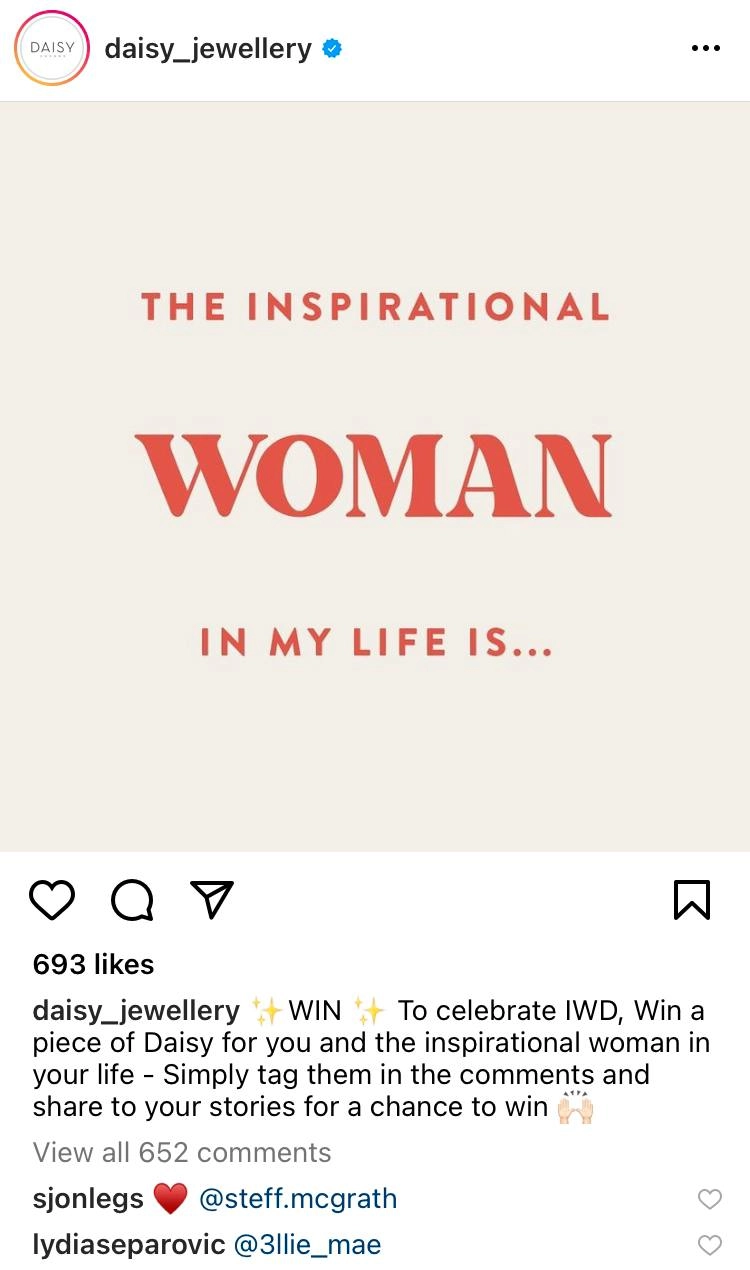 It's better to say it's a giveaway in the picture to catch more attention to it.
To make the giveaway even more engaging:
Choose a winner not randomly but for the best comment.
Ask the followers and their friends to put likes on the best comments.
Announce the deadline and see who got more votes.
It works as there's more competition, and while putting likes, people read each other's thoughts, find new friends, and comment on the comments.
Also, make a screenshot of the results when the deadline comes to prove everything is fair. And if you choose a winner randomly, make a screencast of the process and share it in Stories or the post with the results.
Turn the engaged followers into customers
Gathering comments isn't enough if you want a better conversion and increased sales. Chatfuel automation allows answering all questions automatically, creates a CRM from users' comments, and helps to lead the followers further to the marketing funnel. Connect your Instagram page with Chatfuel no-code automation builder and start the first 50 conversations for free.