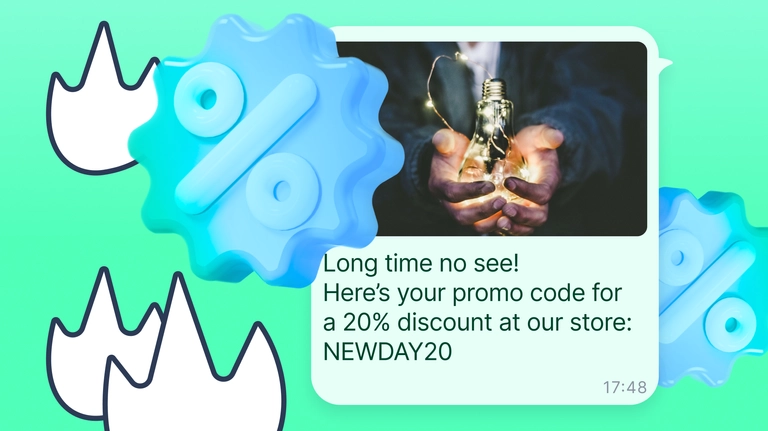 Published November 6, 2023 in
How to increase eCommerce sales by using ChatGPT: advanced techniques
Dive into the peak season with the detailed guide, inspiring use case, and a ready-to-use chatbot template for sales automation.
Black Friday and Cyber Monday are quickly approaching. Like many eCommerce managers and marketing specialists, you're probably rushing to prepare for the peak season. This might be the biggest month of the year for you. But don't worry — we're here to help you make the most of it.
In this article, we'll show you how to use sales automation to increase sales for your store. We're going to show you how to leverage WhatsApp for your business, a case study of a brand already doing this, and even a template that you can start using immediately. The goal is to get you prepared for an influx of customers, making sure that you maximize your sales while reducing the workload on your team at the same time.
Let's dive in.
How do you automate sales with ChatGPT and Chatfuel?
The great thing about ChatGPT is that it can be integrated into other tools, such as chatbots. And we did just that at Chatfuel. That means that instead of customers going through pre-defined options or being connected to an agent when they click the chat widget, they can ask questions in a conversational manner. ChatGPT can then answer those questions and provide them with all the necessary information. It acts as a product expert and salesman, all in one.
All of this is possible by adding some training data to the flow. You might add information about your products, details on your sales and promotions, information about your store, and anything else that is relevant to your business. The best part is that this setup is simple, especially if you already use Chatfuel for your website. In just minutes, you can have a completely automated sales machine working for your business.
While it may seem like a stretch, this use of ChatGPT-powered tools is more common than you'd think. Keep reading to find out how a popular Brazilian online education platform is leveraging Chatfuel and ChatGPT.
Case study: how an education platform automates acquisition with Chatfuel
Ultima.school, one of Chatfuel's many customers, sells digital courses on programming, marketing, and analytics. Their sales process includes collecting customer information and manually scheduling consultations, which is quite expensive. For this reason, they wanted to reduce this acquisition cost while keeping the same conversion rates. And to make that happen, they turned to Chatfuel.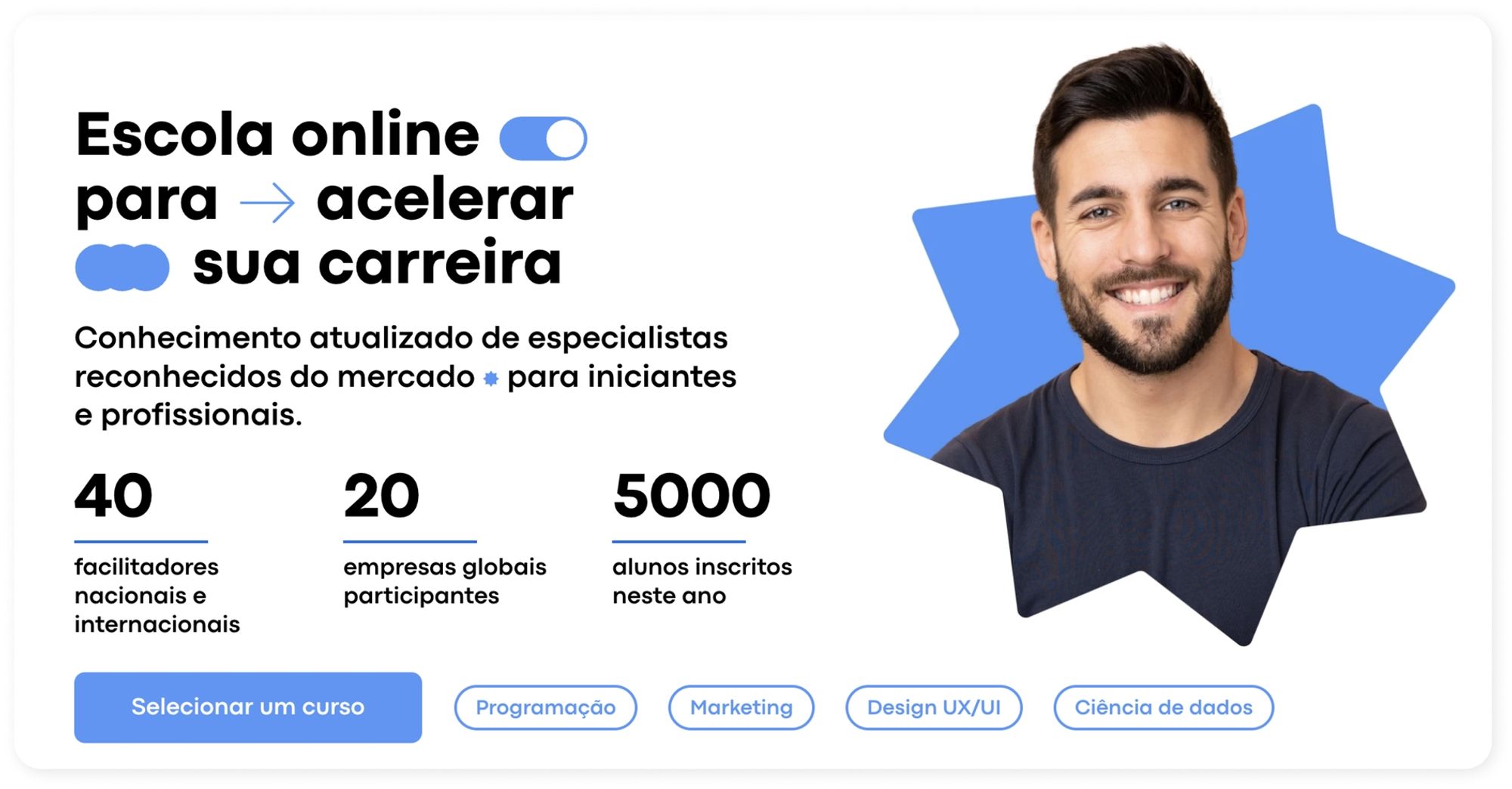 With our help, they've updated their sales flow so that Chatfuel now acts as a pre-sales manager for their customers. Once a customer fills out a form, the information is transferred to Chatfuel. Chatfuel then sends a confirmation message, uses ChatGPT to book a meeting, and finally creates a task in the CRM for that meeting.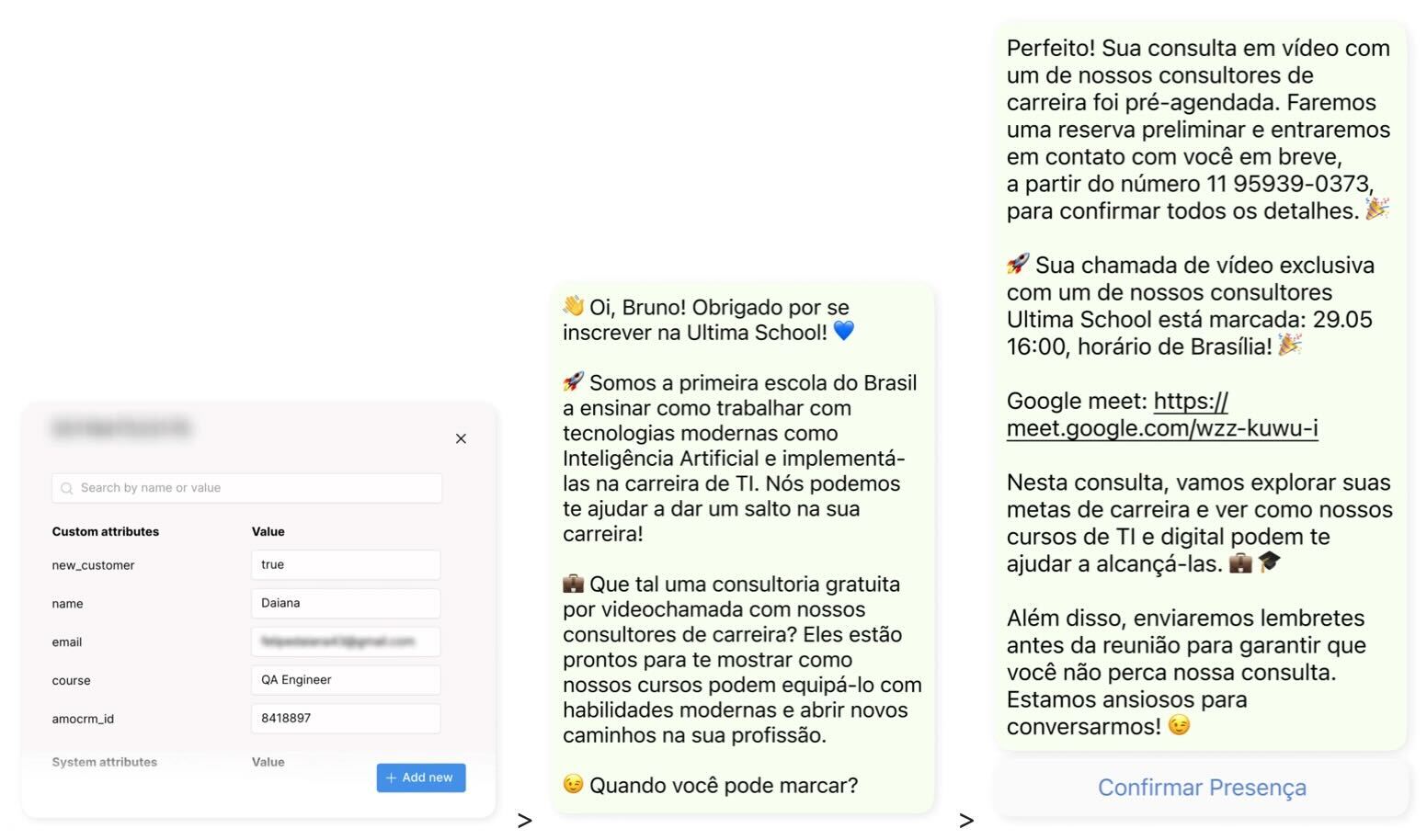 As a result, Ultima.school reduced their customer acquisition cost by 50% while still keeping their conversion rates high. Not only that, but they are now exploring other use cases, including engagement, lead qualification, and upselling through WhatsApp.
If you'd like to do the same for your brand, keep reading to learn how to get set up. Or, if you prefer to jump right in and figure it out as you go, you can find and duplicate our pre-made template here.
Set up a bot flow and guide ChatGPT to serve your needs
Get started with Chatfuel if you haven't already, sign up and start your free trial here.

Copy the template by clicking this link and press 'Save to Chatfuel' in the bottom right corner.

Add your business details to the flow:

Once you copied your template, open it and click on the 'Prompt' section in the ChatGPT block.

Here, you can add information about your company, such as the name, phone number, address, offerings, and more. We recommend adding all relevant information in this section so ChatGPT knows how to help your customers.

Under 'Additional instructions,' you can assign your chatbot with a specific role and goal.

Once you're done, click on 'Test this flow' in the bottom-right corner to see how it's working.
Your setup should now be done. In under 30 minutes, your business is equipped with an automated sales tool that will help you boost your sales this season.
Reengage your existing contacts
This is another great way to leverage our ChatGPT-powered tool. So, instead of waiting for customers to come to you, you can reach out to your existing customer groups and inform them about your promotions and offers. You can even offer them exclusive discounts, helping you build a stronger relationship and customer loyalty. Then, once they receive your message and engage with you, they enter the same flow that new customers do. This means that ChatGPT will answer their product questions, promotion questions, or whatever else you have it set up to do.
Here's how you can do this in your dashboard:
Go to the 'People' tab and click on 'Import contacts.'

Import the CSV file with the WhatsApp phone numbers for your existing contacts. If you want to differentiate these contacts from others, you can also give them a custom attribute during the import process.

Create a segment by clicking on 'Add Segment' and then filtering for the attribute you created.

You can then rename the segment you created by double-clicking the default name. The segment will then be saved automatically.

Now, you'll need to create a WhatsApp template for this campaign in the WhatsApp Manager. If you've never done this, you can follow this guide.

Go to the 'Reengage' tab and click 'Create message.'

Choose the WhatsApp template that you created earlier, then click 'Next.'

In the 'Send' section, indicate when you want to send this message and select the previously created segment in the 'Send to' field. You also have the option to send based on an attribute.

Lastly, connect this reengage message with the ChatGPT flow that you duplicated by going to the 'Actions' dropdown and selecting 'Redirect to Flow.' Once a customer clicks the button, the ChatGPT flow you set up in the previous step activates and interacts with them.
You've now set up a campaign to reengage your past customers and existing contacts. Not only are these high-intent customer to communicate with, but you're maximizing sales by essentially redirecting each of them to their very own automated salesperson.
Streamline your sales during the peak season with automation
As commerce moves towards automation, sales are no exception. You can leverage this trend to your advantage by using Chatfuel and ChatGPT. These powerful tools can streamline your sales process, reduce your team's workload, and ensure that every customer interaction is productive.
Upgrading your chatbot can help you respond to customers faster and keep them well-informed about your best products and promotions. Don't wait. Take action now and boost your sales this season by signing up for free with Chatfuel.