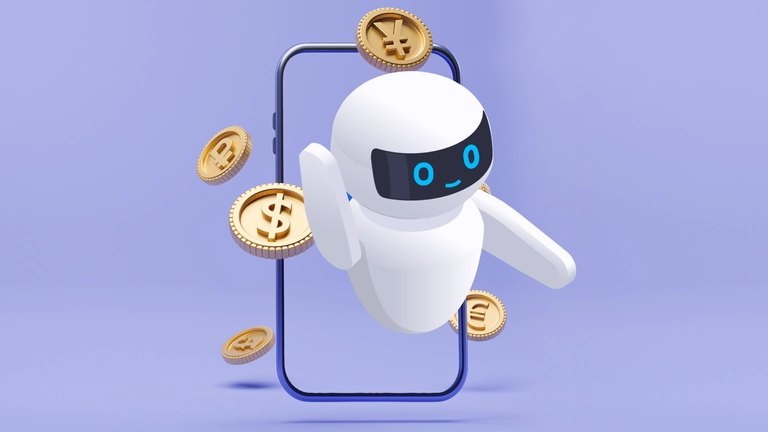 Published November 24, 2022
Chatbot pricing: how much does it cost to build a chatbot?
Although the apparent edge chatbots give businesses, only some use them. But are they actually expensive? Let's dive deep and find out.
It's undeniable that the invention of conversational bots behind businesses' DMs has made managing product requests and inquiries easier. Little wonder that 80% of companies have integrated chatbots into their communication systems, according to OUTGROW.
Although the apparent edge chatbots give businesses, only some use them. One of the major reasons is that many think they will have to break the bank to get one. But are they actually expensive?
Short answer: No, they are not. So, don't be afraid of overbearing charges. You can get quality subscription-based chatbots for almost nothing. But note that coding a chatbot from scratch costs between $5,000 to $150,000.
Long answer: Is right below, so keep reading.
How much does a chatbot cost?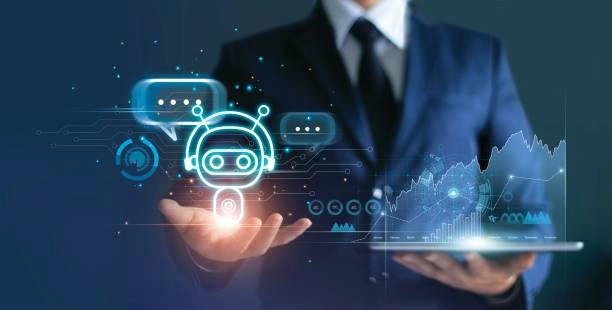 Like every other innovation, chatbots are priced according to their features. To build your chatbot from scratch, you would need between $5,000 to $150,000 for the code-based development charge. Their prices are high, especially those generated using Natural Language Processing and Machine Learning technologies. However, you can choose to subscribe to a software that offers this chat-automation solution too.
These subscription-based chatbots are less-expensive, as they only require modest recurring payments. They cost around $14.99 to $50 per month, and here are the primary factors that influence their pricing.
Factors affecting chatbot cost
You might plan on developing a chatbot for a specific business need or only to integrate one into your business communication platforms for generic purposes. Below are the factors that will largely determine how much you will have to spend.
Chatbot complexity
A large-scale business needs a chatbot system that is complex enough to handle all its customer support activities. In this case, the company might opt for from-scratch chatbots or pro-level chatbots, which offer premium features and more flows. For example, a distributing chatbot and responding to frequently asked questions (FAQs) are both chatbots but have different scopes.
A business that needs a distributing chatbot will have to pay more because in developing it, they had to integrate a payment gateway and an extra layer of security. For a simple FAQ chatbot, only a conversation pattern was needed. Features like full customization, artificial intelligence (AI) and machine learning, unlimited active bots, etc., are of the essence for such businesses. Still, they just have to pay more to get them.
In this article, we compared top-rated chatbot platforms based on their features, allowing you to know what features you need and which platforms offer them at the most affordable cost.
Chatbot type
Some chatbots only work with Instagram or Facebook Messenger, while others can work with both and more simultaneously. Therefore, expect to spend more if you choose a chatbot system or integration that can save you time on Whatsapp, Facebook, and Instagram. The reason is the central aspect affecting chatbot development costs.
A chatbot integrated into a business's app or website is yet another type. For this chatbot, providing customer service and responding to FAQs are its most robust use cases. Such chatbots will cost more because of their extra integrations, which require chatbot setup and development, ongoing support and maintenance, and so on.
Strength of data analysis
While businesses are leaving their customer interaction duties to the bare hands of chatbot technology, try to keep a humane feeling behind all direct messages. AI chatbots take a handful of complex data analysis abilities to learn how to interact the human way.
Chatbots can learn human communication patterns from previous chats through a solid machine-learning system and implement them in subsequent ones. This improves efficiency and originality with prospective customers but does not come for free. A chatbot's strength of data analysis directly influences the chatbot development cost. Subsequently, it affects the price businesses will have to pay for it.
How much does it cost to develop a chatbot?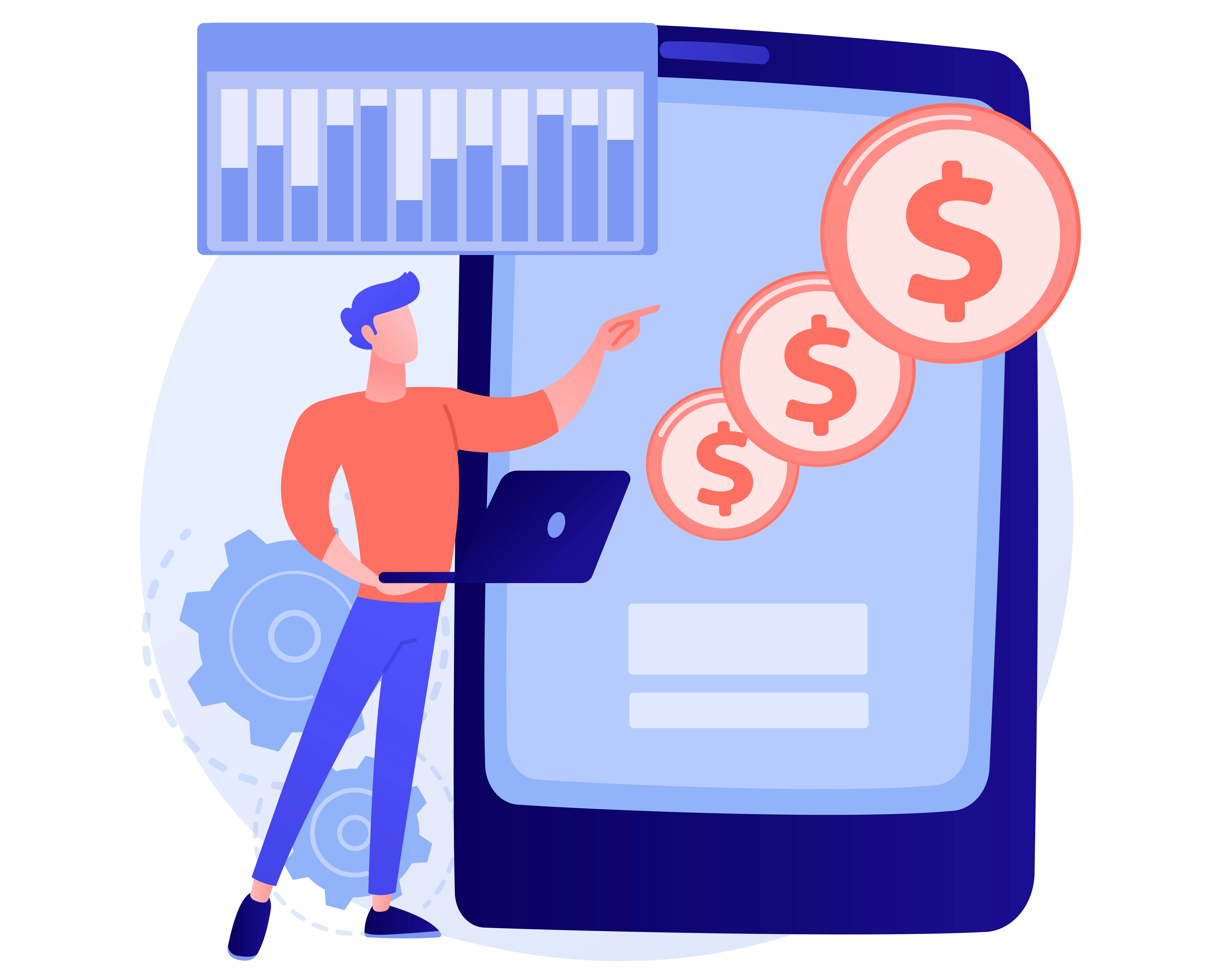 The chatbot development cost varies based on the developer and mode of development. There are three major players in chatbot development, and they are highlighted below alongside what it costs them to develop their chatbots.
Chatbot development companies
Chatbot development companies are AI-producing agencies that build and design chat automation software for businesses and companies. The standard chatbot development cost from stand-alone agencies ranges from $6,000 to $13,000. Factors like the company's strength in the industry, quality, location or region of operations, the value of their chatbot solutions, etc., influence their cost.
Freelancers
Most freelancers charge according to their level of expertise, years of experience, and quality of service delivery. But the general range for freelance chatbot development is $1,000 to $5,000.
Subscription-based chatbot software
Not all business owners can afford to build their chat automation system from scratch via coding. That is why companies like Chatfuel have long offered them a suitable alternative for their chat automation needs. The chatbot subscription plans by subscription-based chatbot development platforms typically range from $0 to $199 per month.
Chatfuel allows you to build chatbot systems according to your taste. For example, you can engage your customers in live chats, manage lead generation, collect and manage customers' data, re-engage your customers' messages, segment your audience, and more.
All you need to do is register, subscribe to a monthly plan of your choice, and save more time to focus on the things that really matter. The great thing about subscription-based platforms is that they cost much less, and a platform like Chatfuel offers 50 free conversations to users.
Chatbot pricing models
To help you find a suitable platform to assess your business needs and get a suitable package, we analyzed the features that leading no-code chat automation providers cover and their estimated prices.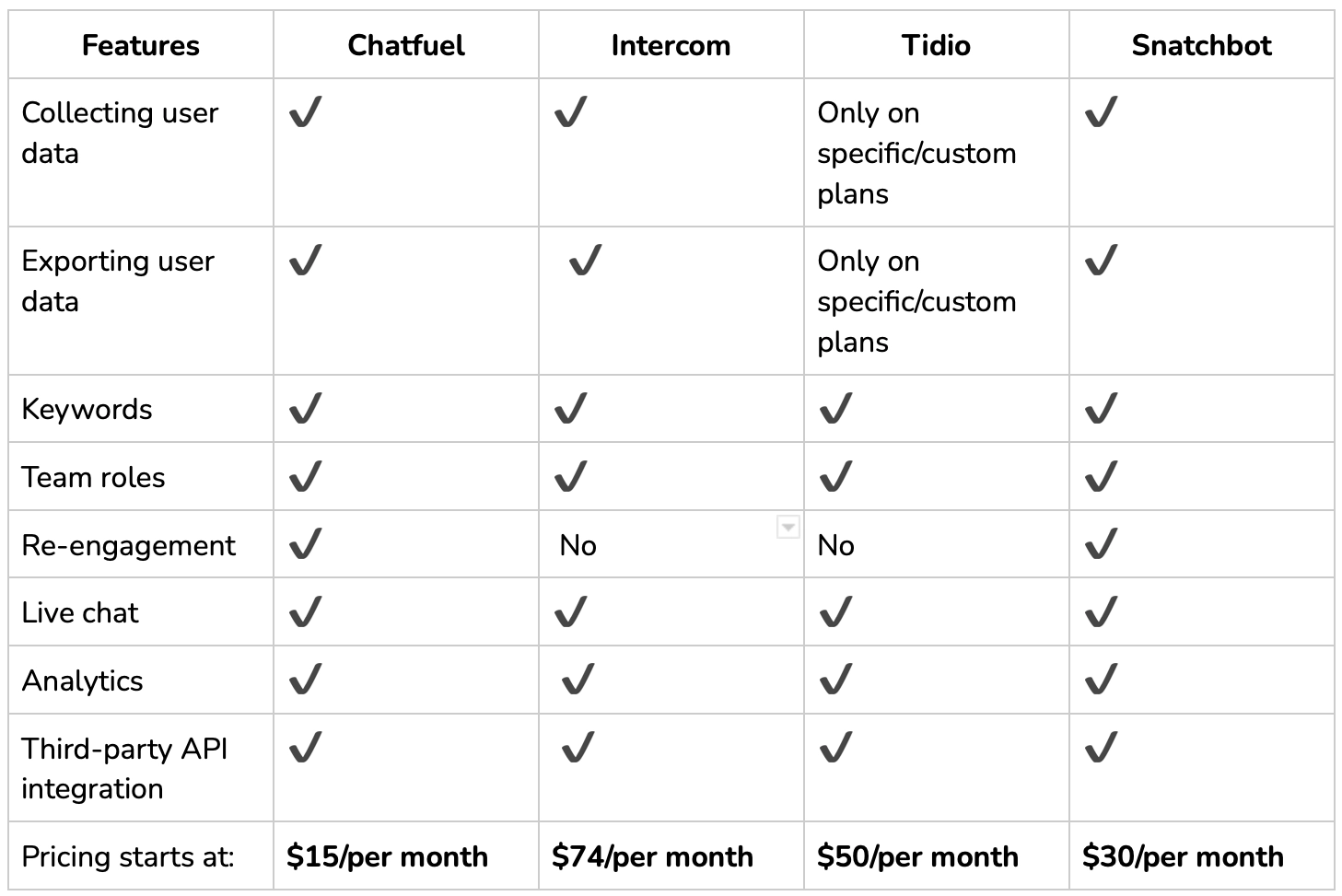 ‍Start your own journey today
Chatfuel is an excellent alternative for your business chat automation needs, especially if you are a small business and can't afford the from-scratch development based on coding.
You can easily create a chatbot for your business with several effective templates Chatfuel has built. All you have to do is browse through the industries on the templates page to find a fitting pick for your needs. You can also register here and get 50 conversations for free. So, what's stopping you?