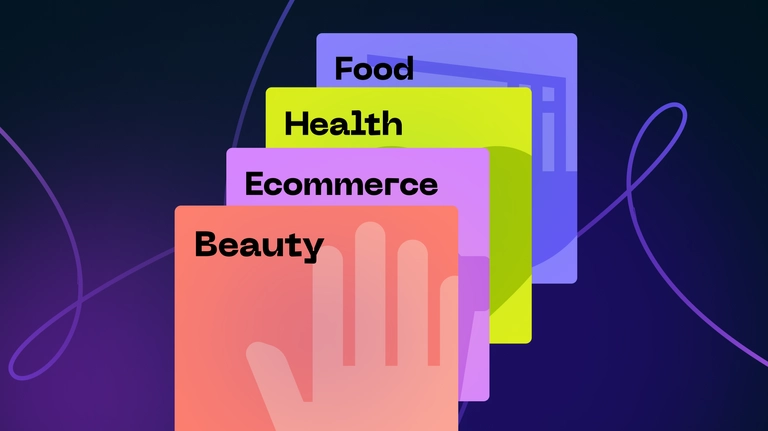 Best free chatbot templates for your business
To use a bot, you don't need to build it: just copy a chatbot template, customize and activate it. Read on and get 10 free bot templates.
Chatbots are all over the web and in our daily life. If you're not using them, you've probably interacted with them. For example, while shopping online, tracking orders and flights, or participating in giveaways on social media.
Today building a chatbot has become more accessible. There are various platforms with different tools, features, and prices. Their goal is to help customers to save time and other resources. Probably that's why the chatbot market size has increased by 92% over the last couple of years.
To start using a chatbot, you don't need special knowledge like coding. You don't even need to build a chatbot on your own. Instead, you can just copy a chatbot template, customize and activate it.
In this article, you'll find:
What a chatbot template is;
Types of chatbot templates;
5 reasons why you need to use a bot template;
10 examples of Chatfuel free chatbot templates.
If you're considering using a chatbot — you're in the right place to start. So let's dive in.
What chatbot template is
A chatbot template is a pre-build and ready-to-use chatbot. It already has conversational flows, messages, buttons, sample images, and more. All you need to do is customize it, connect your socials to let your chatbot interact with users, and then activate it. And the good thing is that you can have as many chatbots as you need.
Chatbot platforms create template catalogs or libraries to let people easily find a template for their business goals. First, you need select your industry and a use case, then select and copy a template. For example, suppose you run a real estate agency and want to answer your common customer questions automatically. In that case, your perfect template is 'Answering FAQs' in the 'Real estate' section in such catalog or library.
Types of chatbot templates and use cases
Chatbots can do various actions while communicating with users. For example, respond to messages and comments, recommend products, send promo codes, and more. To find a perfect chatbot template, determine what you aim to automate by using it:
Lead generation
Since chatbots are constantly online and never get tired, they make the lead generation process same constant and endless. They can ask people about their preferences and intents, recommend your products, send promo codes and invite users to apply them right away on your website.
Collecting and exporting data
Communication with customers is essential. But gathering and using information about peoples' interests, past purchases, contacts, and answers can take your customer relationship to the next level. For example, you can use this data to refer to previous customer responses and send relevant messages and offers.
Advertisement
With these chatbots, you can take out most of your ads. For example, pick a chatbot template that greets people who click on your ads and rewards them for sharing contact details. It can go further and do all the above: generate more leads, ask discovery questions, collect and export qualified leads' data and more.
Customer support
These chatbots help you answer common customer questions, manage feedback and complaints, share product instructions, and more. Using chatbots as a part of your customer service helps you and your team get more time to handle more complex issues while your chatbot instantly responds to repetitive inquiries.
Those are the basic types of chatbot templates. Look at these impressive metrics of bots' superpowers in general:

5 reasons why you need to use a bot template
It's fast and free
‍You don't need to build your own chatbot from scratch — professional bot builders do it for you. Most of the platforms offer trials or some amount of free templates, so you can try them to see how they work for you and your business needs.
It's ready to use
Chatbot templates already have pre-set messages and flows. Yes, it's a sample, but it already has all the essential parts to make a conversation with your customers logical. Don't forget to replace 'your.email@com' with your own address, though. More about it is below.
You can edit it as you wish
‍Start with editing your contact details: email, phone, location, etc. That way, customers can easily contact you, and your chatbot can export all collected data to the right place. You can also manage the messages, buttons, images, and basically everything in your template.
You can test it
‍Once you're ready to activate your chatbot, test it to see how the conversation with it looks on your customers' side. That way, you can see if you need to polish your template after editing. For example, to connect all message blocks to remove dead ends in a conversation
You can scale it
‍Before implementing automation, a good idea is to mark a starting point. For example, record the number of active leads, your customer satisfaction level, your support team's average response time, etc. That way, you'll see and measure the results of using automation.
Depending on your business needs, you can use different and even multiple chatbot templates at a time. Chatbots are always online and communicate with customers the way you want. Unlike landing pages, automation makes your customer experience interactive and organic. As a result, you improve customer support, user engagement, sales, and more.
How to use chatbot templates
Chatbot templates can be free or paid, super simple or complex, brief or detailed, depending on the platform. Plus, there are Instagram and Facebook Messenger bots, as well as website bots.
Still, there are three main steps that you should take while using a chatbot template. Let's look at them closer below.
Choose and customize a template
Let's use the 'Answering FAQs' example to keep it simple. So, in the template you chose, you'll see pre-set common questions and answers for a particular industry. For instance, if it's an eCommerce template, you'll see inquiries about shipping, refund policy, location, etc. Real estate templates cover available properties, agents' contacts, prices, etc. Both customer questions and your bot answers are samples, so you need to edit them to customize the template. For example, type in your phone number instead of +111111, add or remove sample questions, manage the bot's responses, and more.
Connect your chatbot to socials
There are chatbots for different social media platforms: Facebook, Instagram, WhatsApp, etc. You might also want to add a Messenger chatbot to your website. Or launch multiple bots to interact with customers across media platforms. To do that, you need to connect your chatbot to your social media account. This lets your automation communicate online as you would. Choosing a reliable chatbot platform is crucial because it will access your account info and communicate directly with your customers.
Activate your chatbot
Though this is the final step, some platforms allow you to test your chatbot before launching. If this option is available on your chosen automation platform, we recommend using it. That way, you'll check how your customers experience communication with your chatbot and edit the conversation flows if you wish. Bot activation usually takes a few seconds: you'll have to press the button, move the toggle, or do another simple action.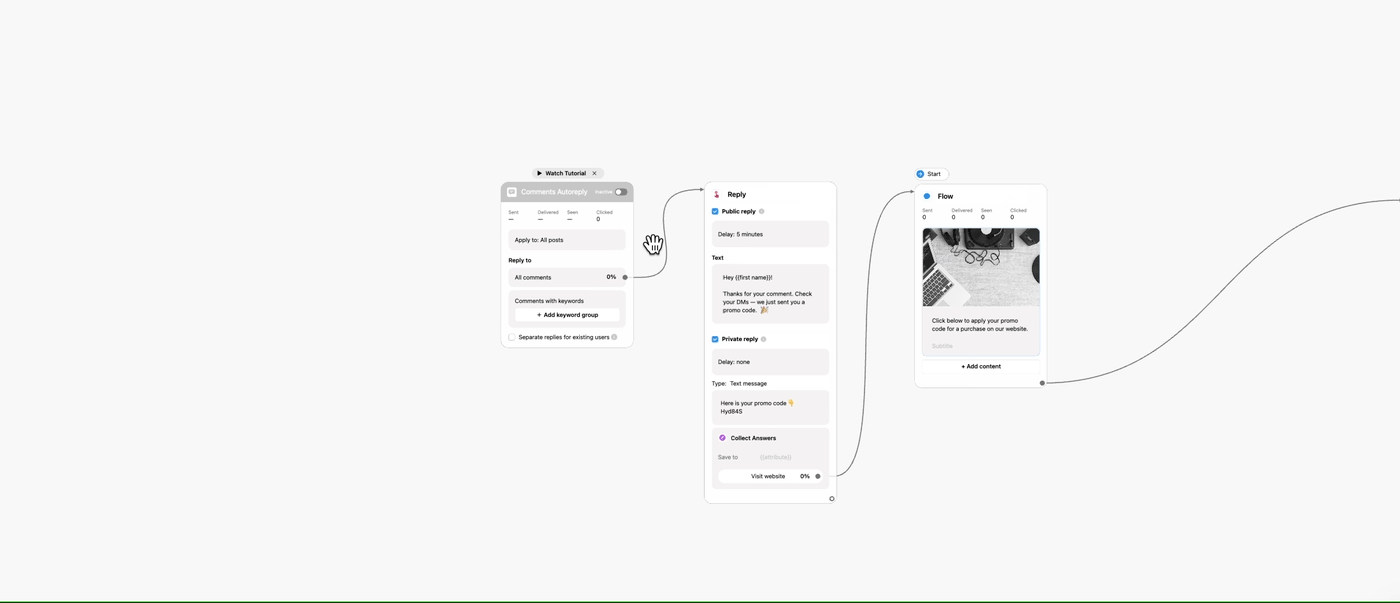 10 examples of Chatfuel free chatbot templates
Chatfuel is the biggest no-code chatbot platform and an official partner of Meta. Over 7 million users are building and using their Chatfuel automation on Facebook, Instagram, and Messenger. Since we still aim to help our customers save their resources, we decided to take another step forward and create a free chatbot template catalog.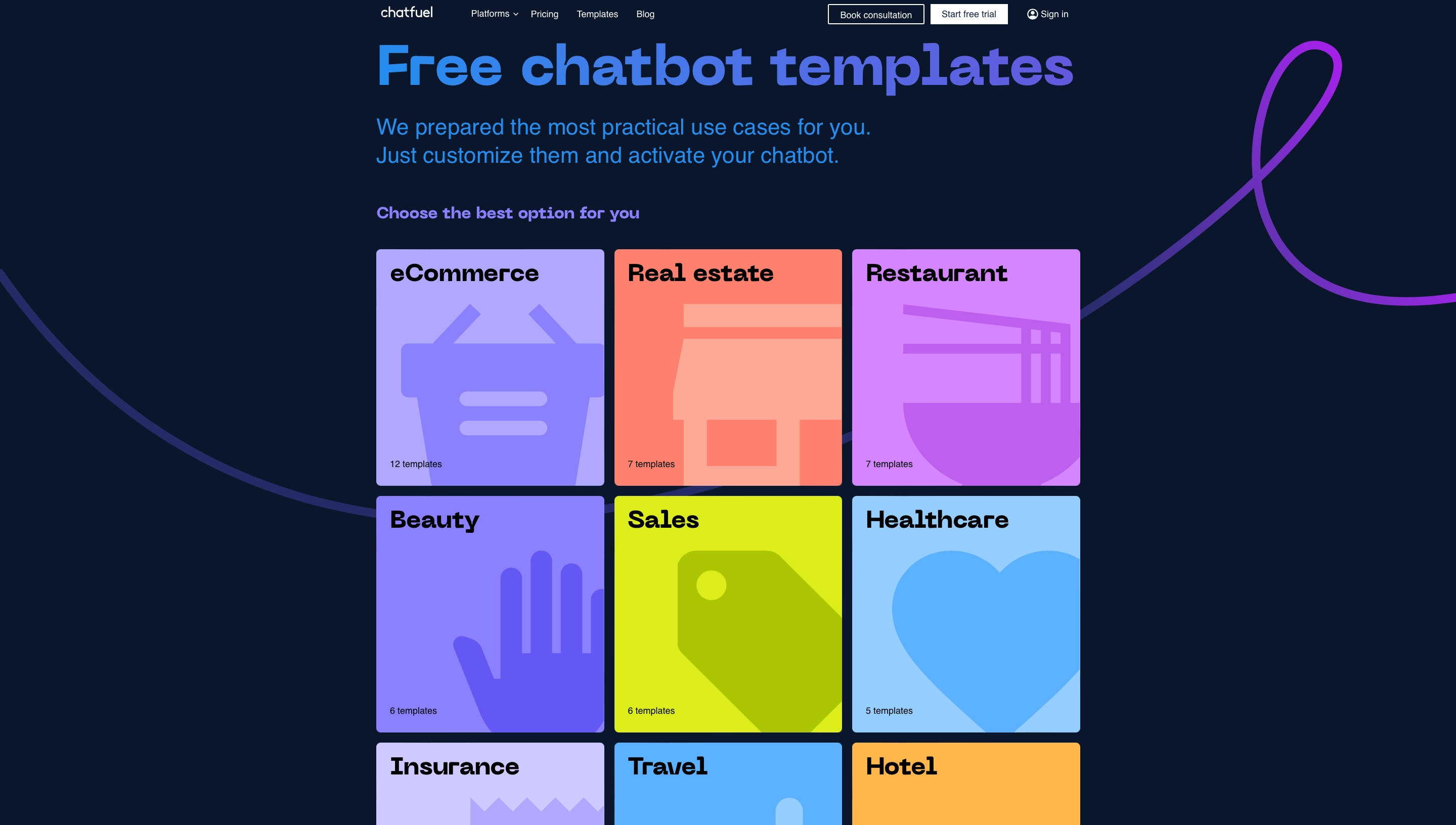 So let's look at some Chatfuel chatbot templates and see how they work. Below each example, you'll see the 'Use this template' button — click it to get the bot for free.
Welcome message chatbot template
A welcome message is the first message from your chatbot to users. So it's a good idea to introduce your business, products, or services and let visitors know what they can do within your bot. You'll see a welcome message in each template, as it's a standard part of each automation flow, like saying 'hi' in a human conversation. Let's look at a welcome message example in the 'Appointment scheduling' template for a real estate agency chatbot.
How you and your bot users see this template: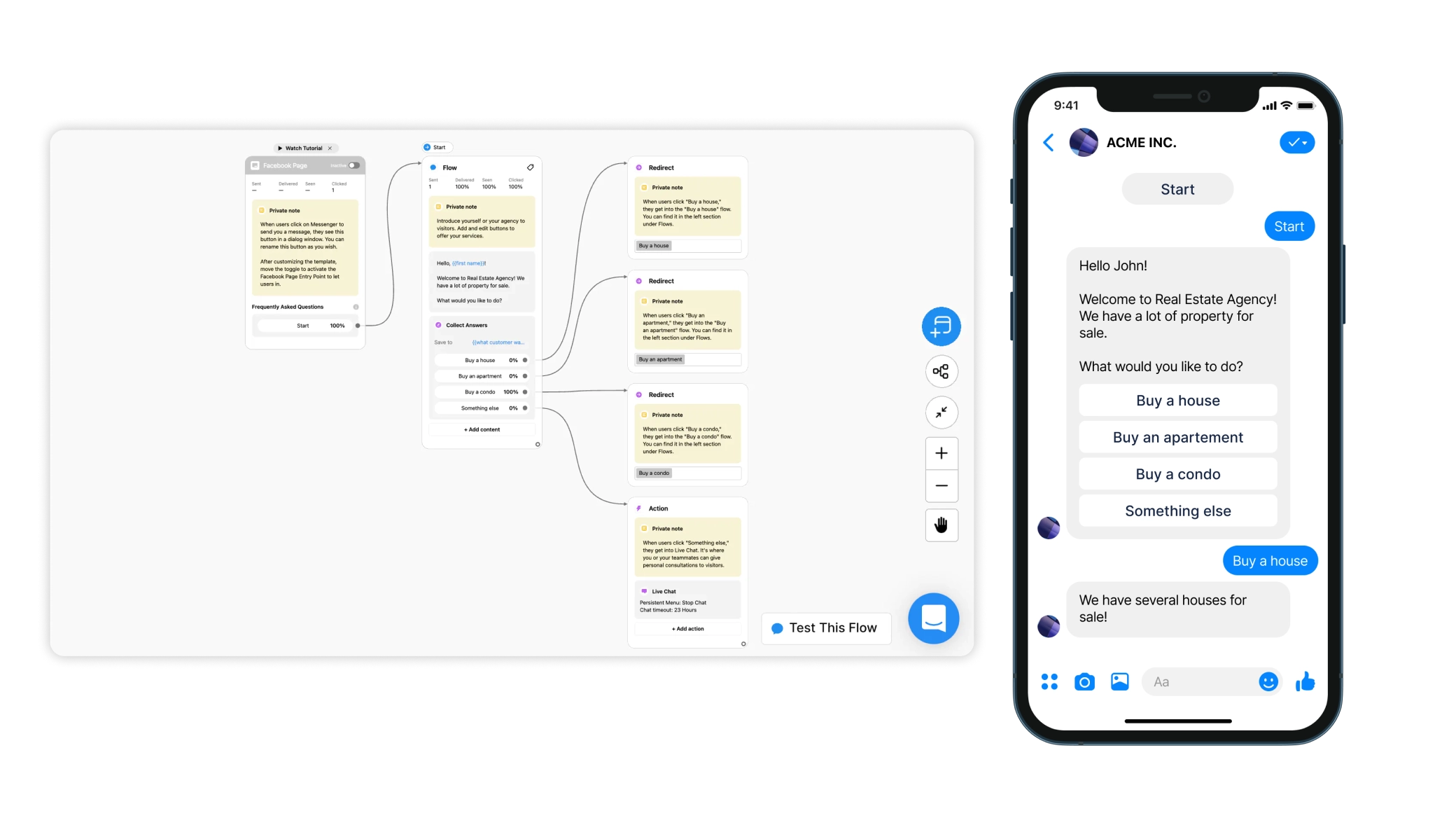 Bot templates for answering FAQs
Answering common customer questions is a must for most chatbots. They recognize keywords in user messages and comments, send relevant answers and notify you when customers request a live chat. It's an essential automation feature — that's why you'll see multiple FAQ chatbot templates in the Chatfuel catalog. Let's look at 'Fitness & Gym: Answering FAQs' template, for example.
How you and your bot users see this template: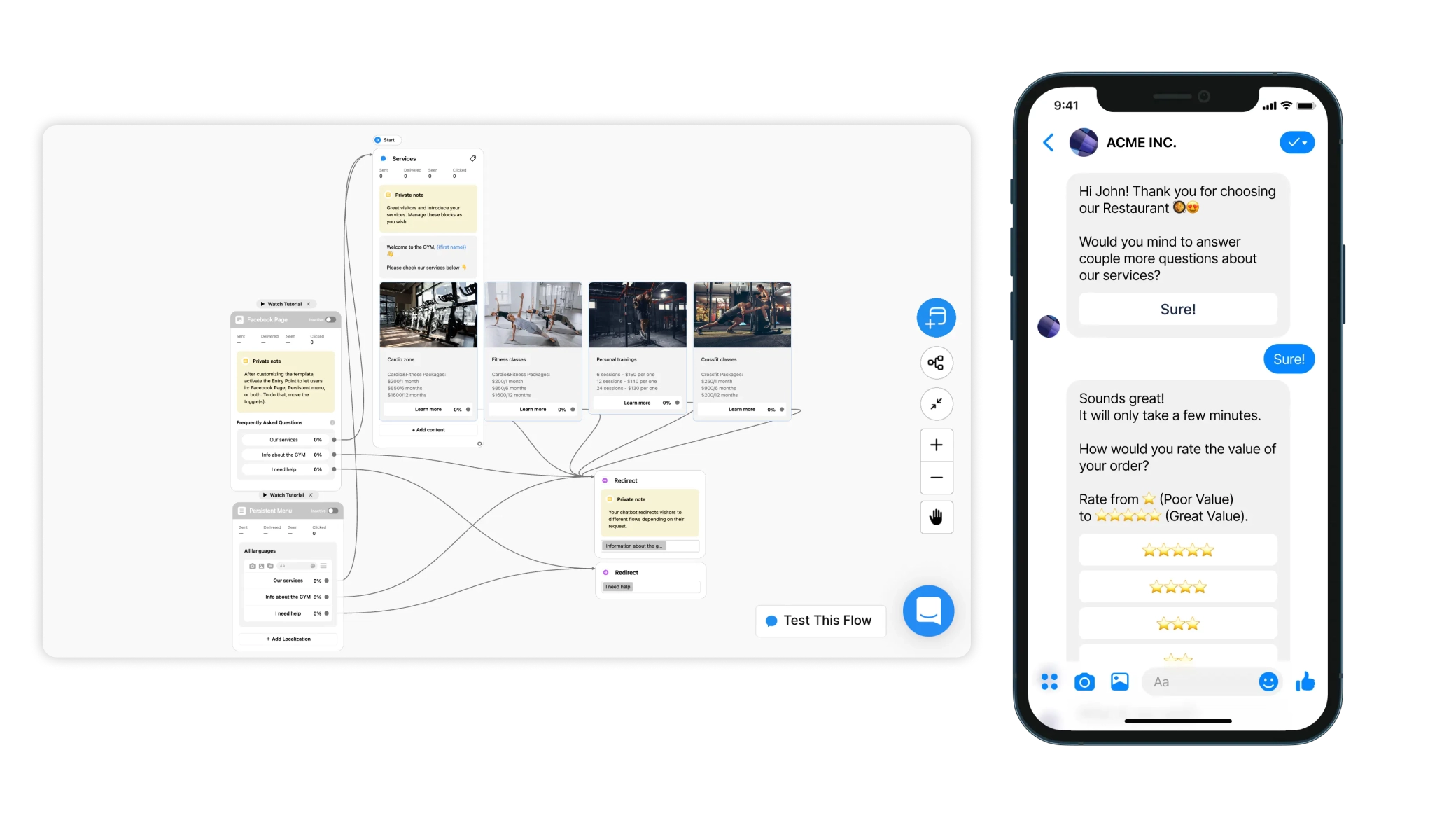 Discount chatbot templates
These templates help you send out your promo codes and discounts, personalize your offers and make them exclusive. For example, your Messenger bot can save user answers and send relevant promo codes based on customer preferences. Or, your Instagram chatbot can send promo codes only to those participants who followed all giveaway conditions. For example, to those who commented on your post, followed your account, and mentioned it in stories, like in the 'Offering promo codes' template below.
How you and your bot users see this template: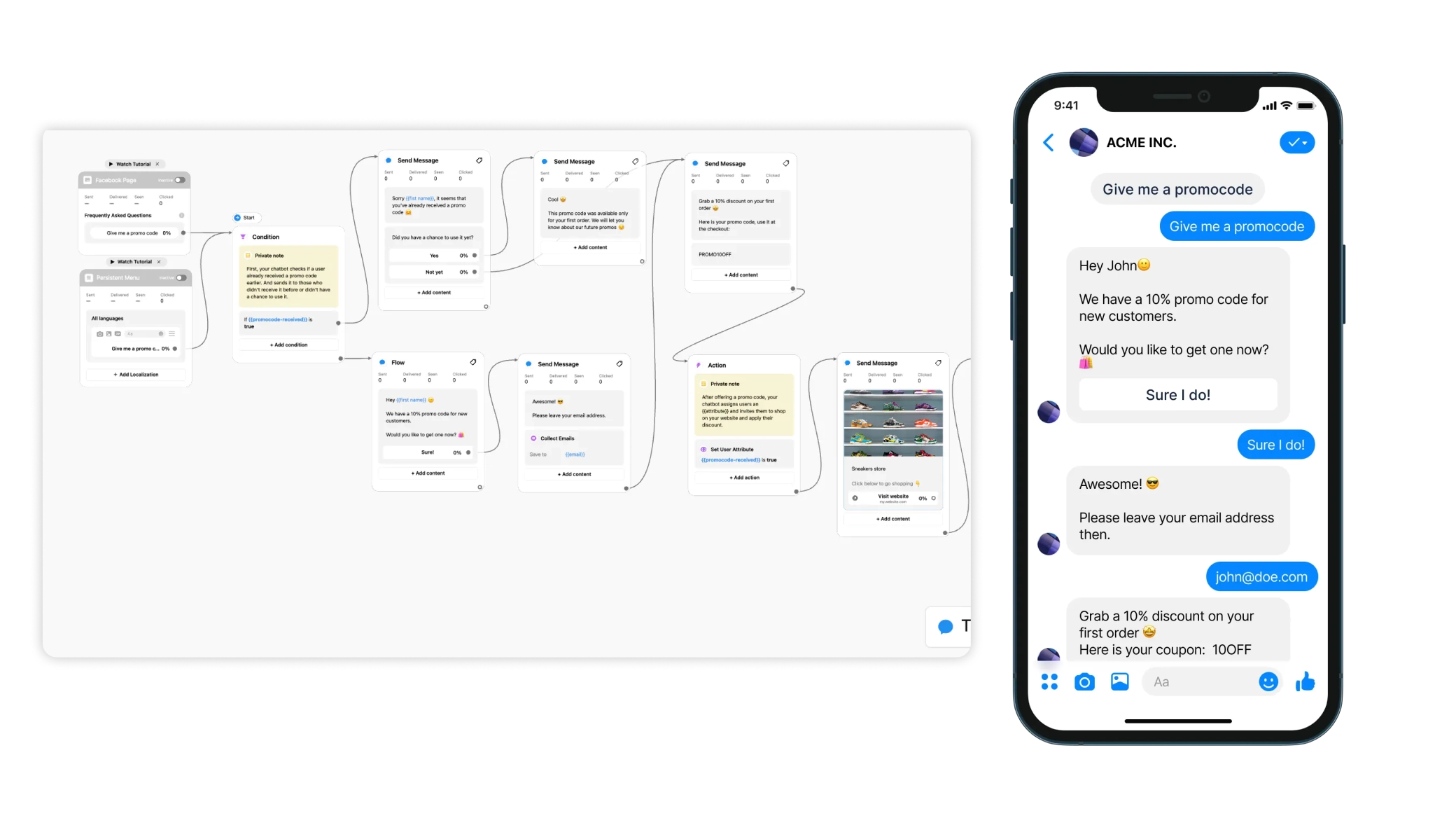 Chatbot templates with a subscription form
This is a popular category in a template catalog because these chatbots automate appointment bookings, registration for your events, subscription to your newsletters, and more. In addition, you can collect and export different user data, depending on your needs. For example, let your booking chatbot display your event options, let participants navigate through them, and manage their registration like in the 'Registration for events' for the beauty industry template below.
How you and your bot users see this template: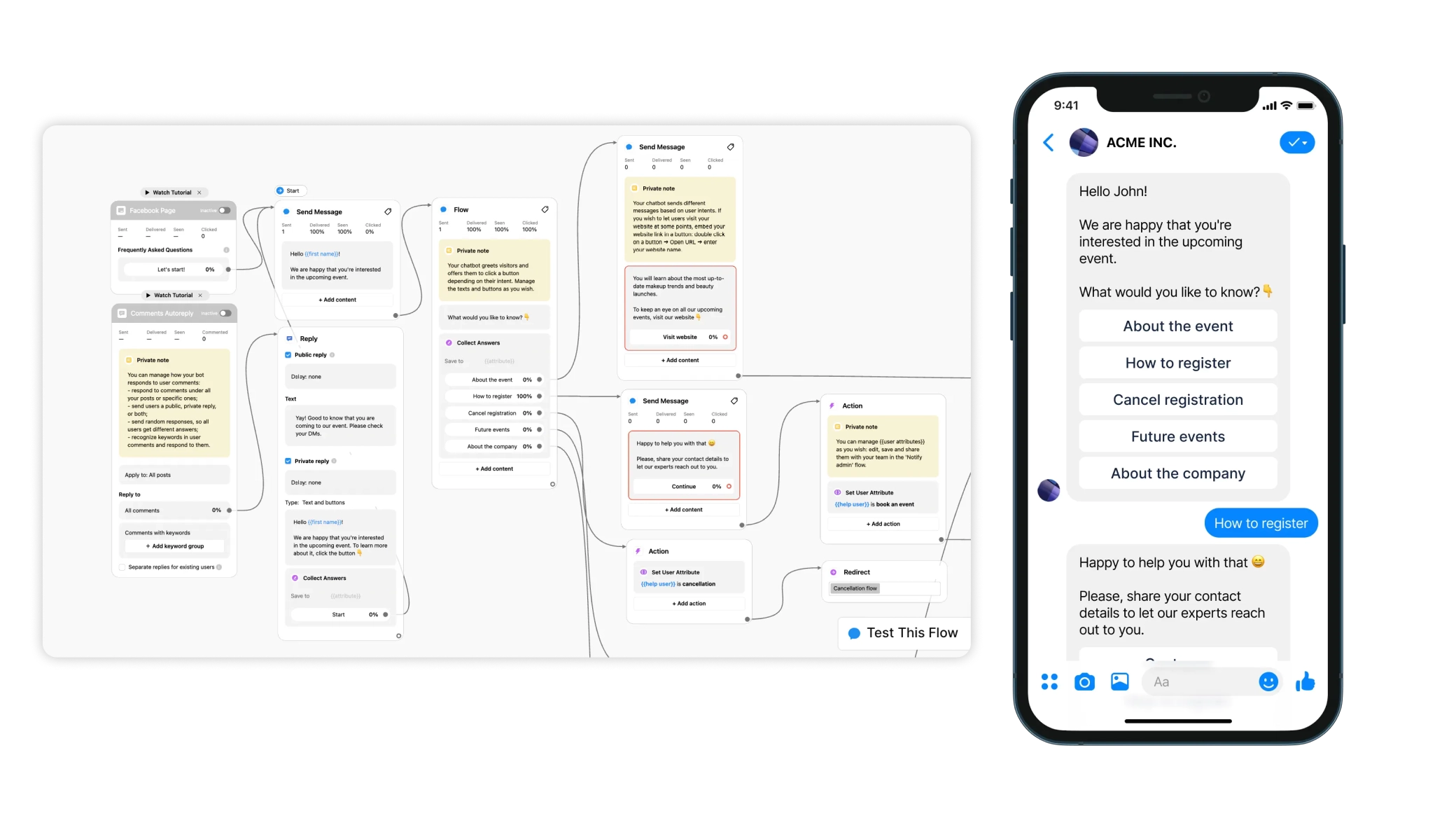 Bot templates to measure customer satisfaction
Use these templates to collect and manage customer feedback on your products, services, or both. Your chatbot reacts to the specific words in user comments and messages and sends relevant responses. For example, you can reward those who left a positive review with a discount and hand over a conversation from your chatbot to solve complex issues in the Live Chat. Like in the 'Restaurants: Collecting feedback from comments' template below.
How you and your bot users see this template: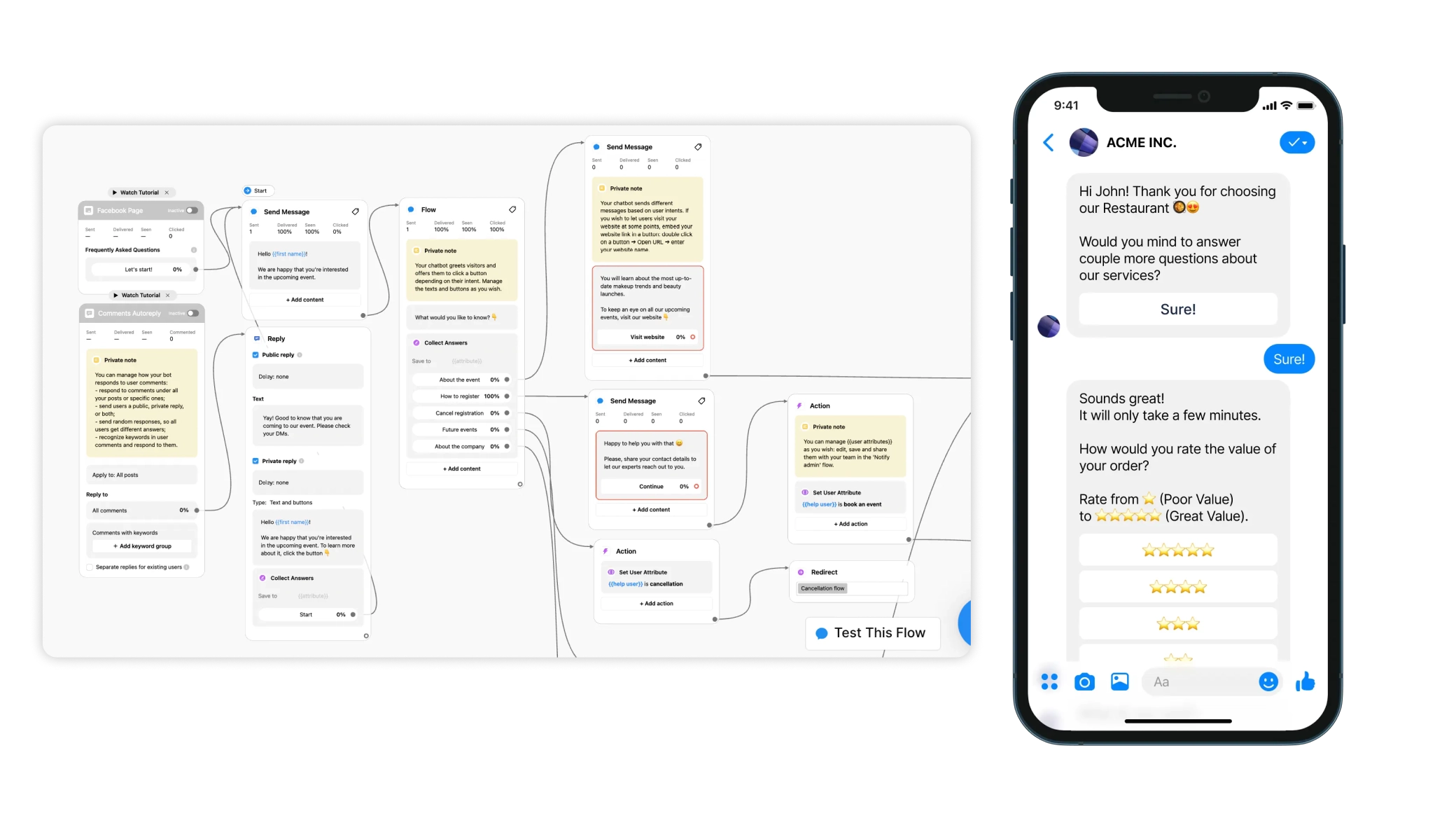 Product recommendation chatbot template for eCommerce
You can automatically recommend your products and invite leads to visit your website and purchase. Your chatbot discovers user interests and sends relevant recommendations. For example, in the 'eCommerce product recommendations' template, visitors can navigate within your automation: go back to the previous step, edit their answers and get new offers.
How you and your bot users see this template: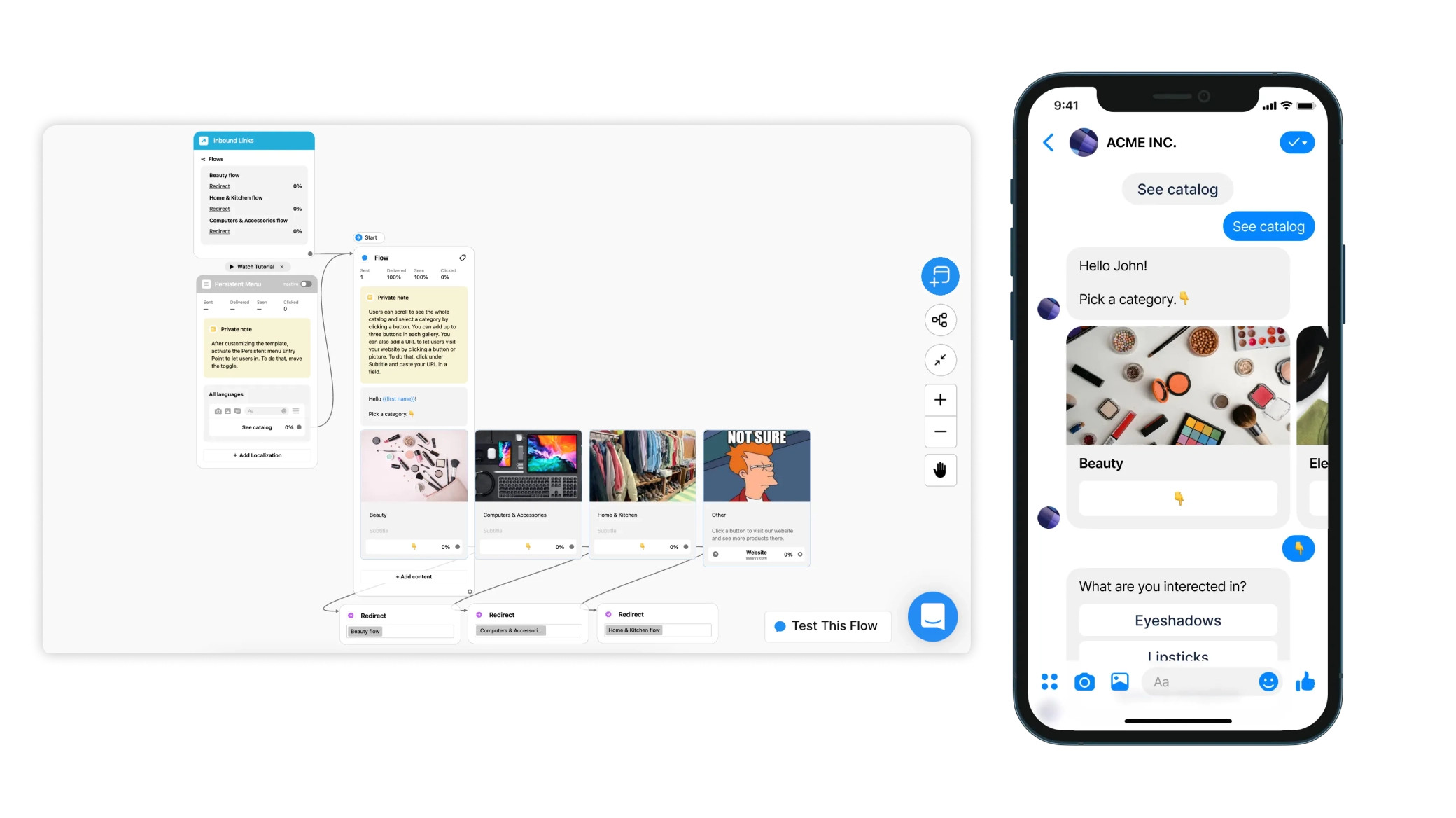 Automating lead generation for real estate and other industries
As an essential part of any business, lead generation is a time and resource-consuming process. But with automation, you can make it much easier and even enjoyable. For example, the chatbot works like a survey with the 'Lead generation & qualification' template for real estate. It asks visitors whether they want to buy, sell or rent property, and more. It also collects and exports lead data and contacts so that you get all essential information for showings.
How you and your bot users see this template: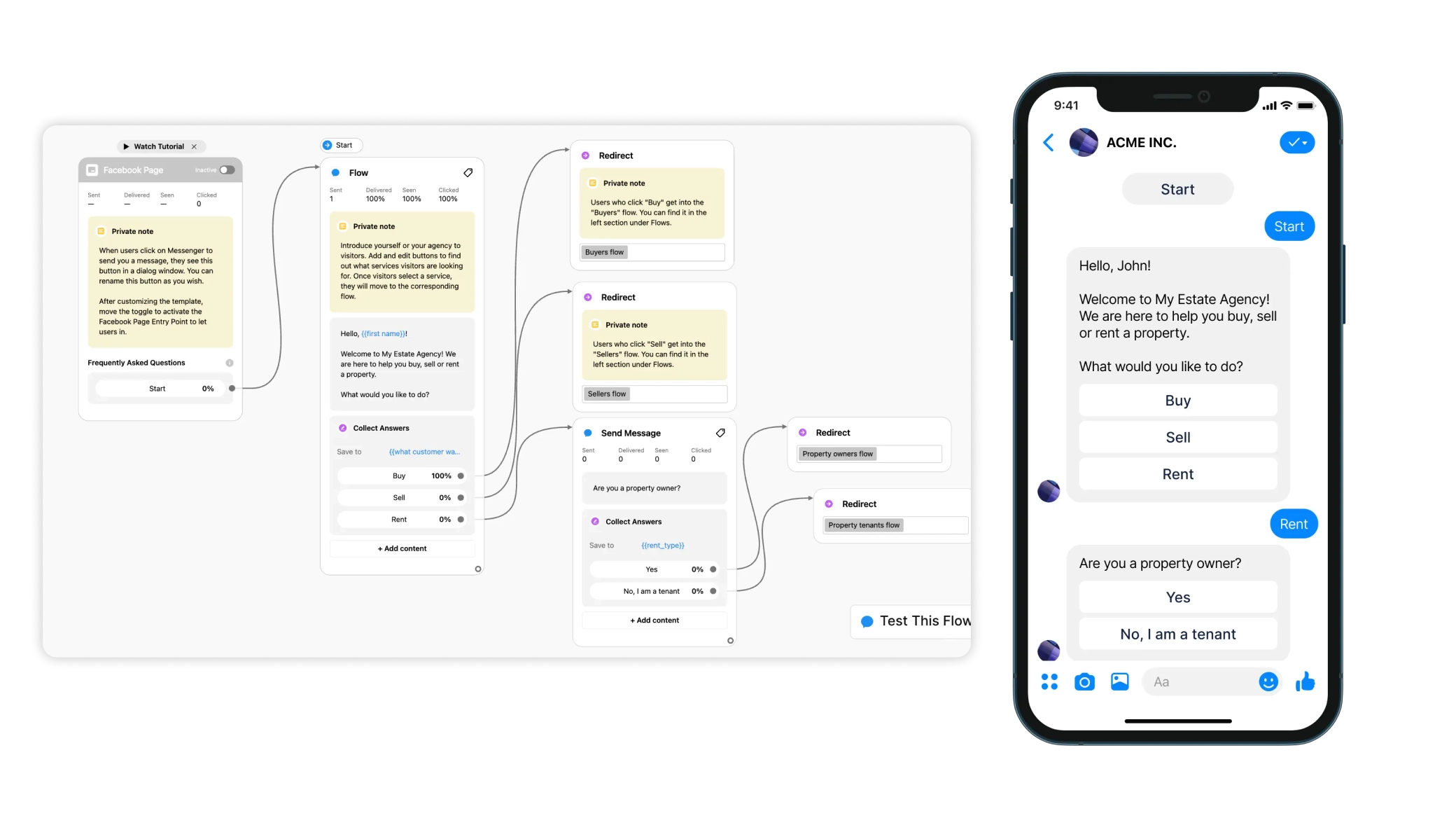 Template to help your guests place an order
With this template, your chatbot greets visitors by name, displays your special and regular menus, and lets them place an order. In addition, you can let guests navigate within your automation, edit and confirm their order by phone or on your website, and more. For example, let's look at the 'Ordering template for restaurants.'
How you and your bot users see this template: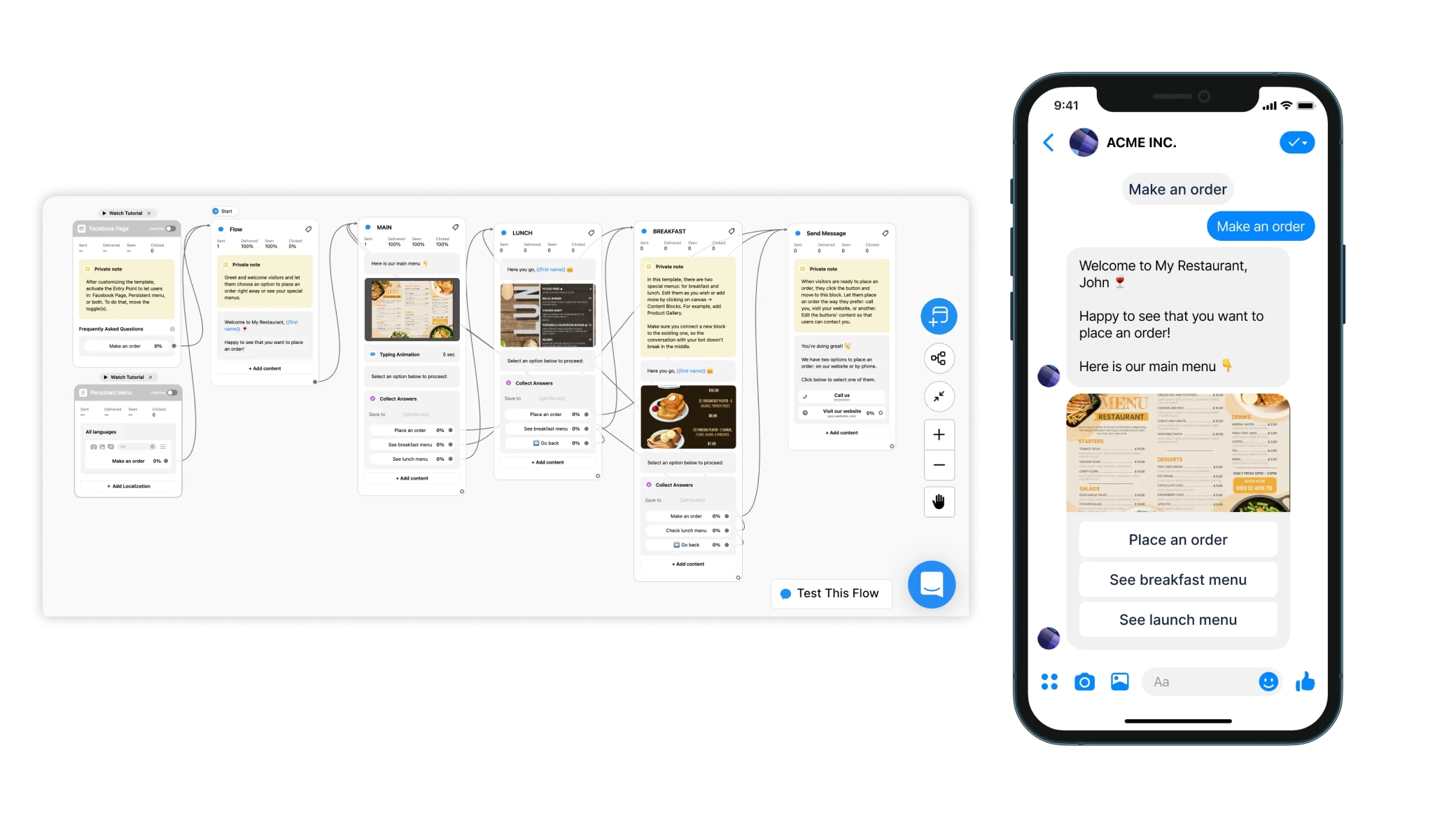 Chatbot templates for Instagram ads
These templates help you boost Instagram ads to get even better results. Use them to generate more leads, collect and export their data, and encourage them to do the target action. For example, to purchase on your website, like in the 'Lookalike ads on Instagram' template.
How you and your bot users see this template: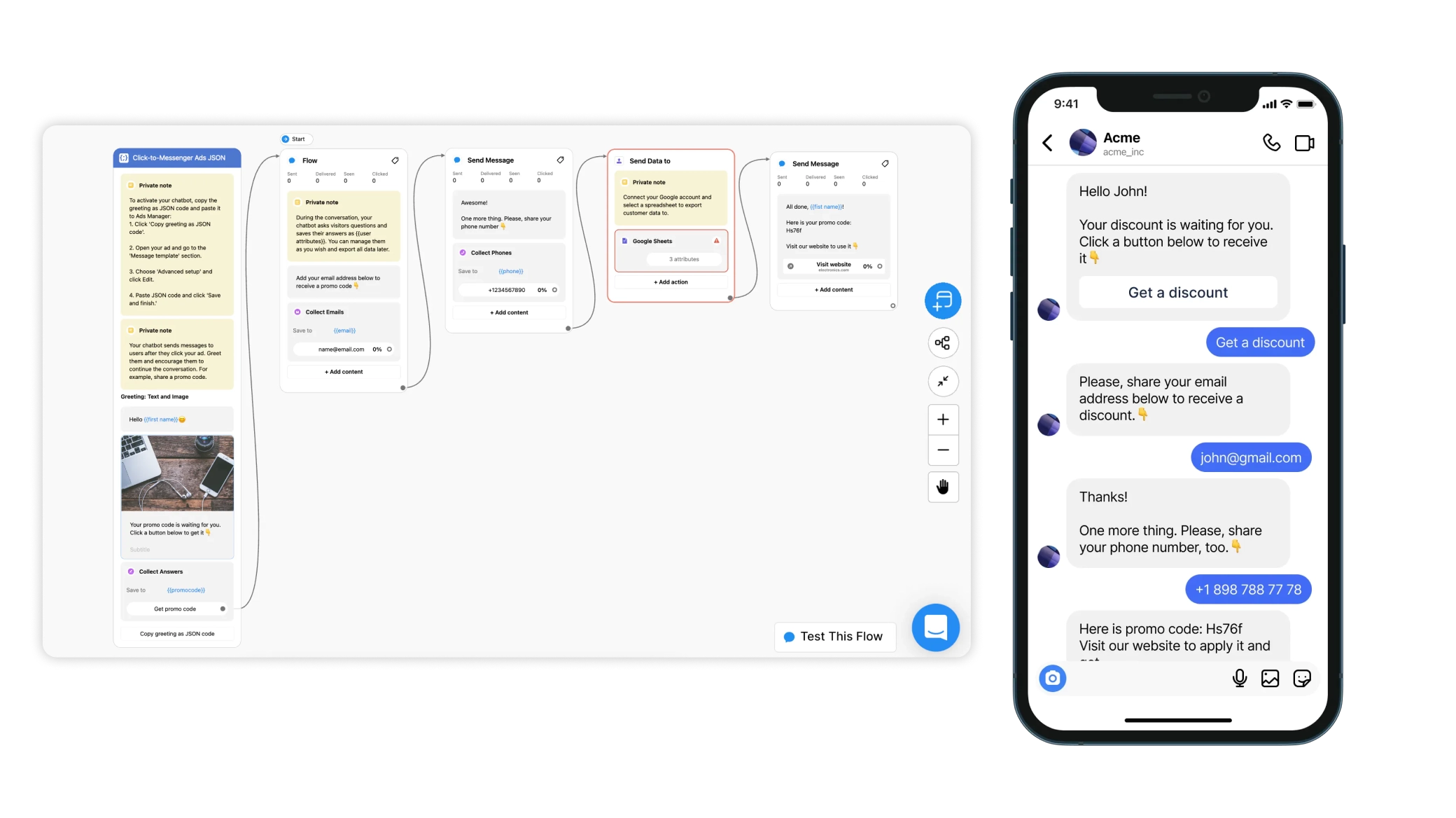 Chatbot templates for Facebook ads
These templates work similarly to the ones mentioned above and help you improve your Facebook ads with automation. For example, your chatbot introduces your brand to people who click on your ads, encourages them to continue the conversation, share their contacts and other data. For example, let's look at the 'Targeting competitors' audience template.
How you and your bot users see this template: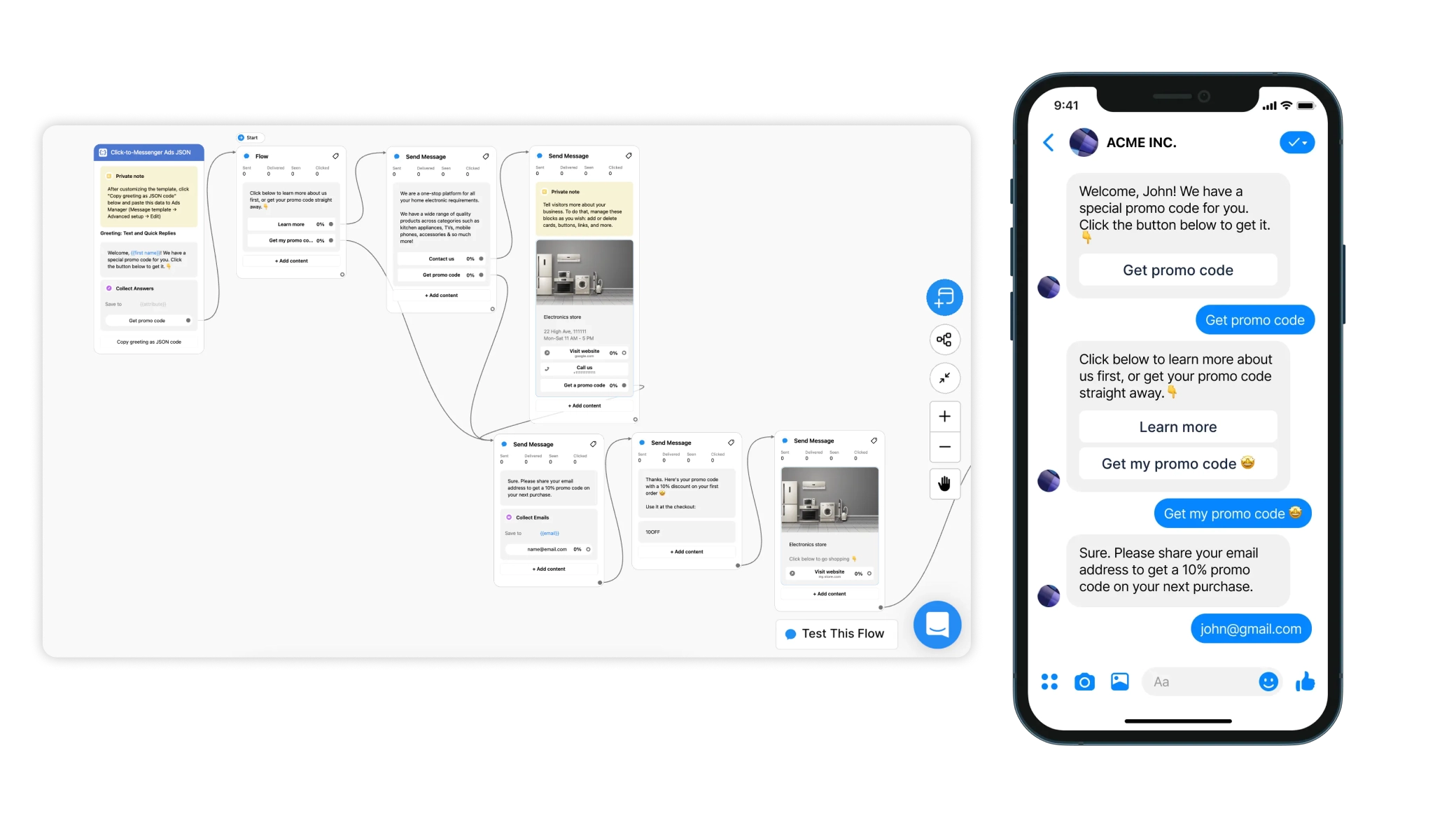 In the video below, see how to increase eCommerce lead generation with chatbots on Facebook and Instagram automation templates.
Start your own journey today
With Chatfuel, you can automate various daily tasks and let your team and yourself focus on things that need your attention the most. With our free chatbot templates, you can do it during a coffee break — in a few clicks. Try today and see the difference.