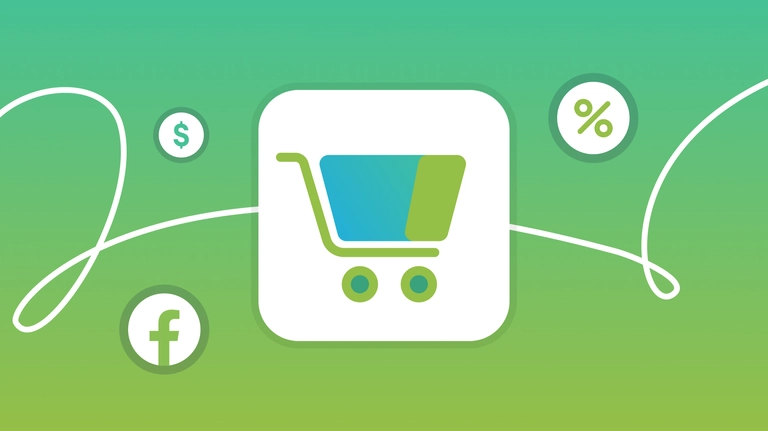 Published March 28, 2023 in
How to automate your Facebook marketplace
Top reasons to sell on Facebook marketplace and how to set up a Facebook shop automation with chatbot
Today's e-commerce market has to take the social aspect into consideration. That means leveraging social media as a tool. You're probably already maintaining a social media presence and running social media ads. In this article, we will make a case for why you should also have an actual store on social media. We're talking about Facebook Shops.
What is Facebook Shops?
Facebook Shops is a part of the Facebook platform. It's a shopping interface that a business can set up and link to their business pages. It can be a single online store for both Facebook and Instagram. Brands choose the products and customize their shop with a cover image and accent colors. This means any seller can bring their business online and connect with customers wherever and whenever it's convenient for them.
People who are already socializing with friends and keeping up with businesses on Facebook will be able to find your shop easily. Your business page will have a link, and you can run ads that lead to it, too. Some businesses can even offer a native buying experience, so users can enjoy shopping on Facebook and then check out without leaving the site or app. Users can also bookmark favorite items and message the business directly through Messenger if they have questions.
Top reasons to sell on Facebook marketplace
Global audience
Facebook has 2.7 billion monthly active users worldwide. If your business has a presence on this platform, you've access to a vast audience. Statistics show that people want to connect with brands on social media. 78% of US consumers say they've discovered products on Facebook. And there's now a dedicated marketplace tab on Facebook. Users can browse products by category or search for a specific shop. They'll also be able to access your shop through the prominent View on Website button on your business's Facebook page. This sets the stage for your business to benefit from the shopping development on Facebook.
No monthly fee
Even though there are no initiation or monthly fees, some payments associated with being a merchant on this platform occur. Facebook takes 5% of all orders processed with their in-app checkout option (or $0.40 on items cost $8 or less). These fees include taxes and payment processing costs. Merchants don't need to worry about manually paying for their Facebook shop since Facebook automatically deducts the fees.
Easy to save time and sell more
In an e-commerce shop, a Messenger chatbot plays the role of a sales associate. Set up a chatbot and equip it to answer common questions about your Facebook Shop's products. It will automatically respond to every customer inquiry and give them information in a seamless, back-and-forth style. That means prospective buyers will no longer fall through the cracks because you were too busy manually responding to messages. And after answering the user's question, your chatbot can even cross-sell and upsell additional products related to the one the customer showed interest in.
How to set up a Facebook marketplace automation
Setting up a Facebook Shop is simple to do but can be a game-changer for the success of your new or well-established brand. As long as you're an admin of your page in Business Manager and have permissions to manage the page and its catalog, you can set up a Facebook Shop in minutes. If you already have an e-commerce store set up on Shopify, you can create a Shopify Facebook store. That way, you'll be able to continue selling on your original site and attract business from Facebook. Follow Shopify's instructions for linking.
If you're starting your e-commerce store from scratch on Facebook, follow these instructions to set up a Facebook shop:
Step 1. Start at Facebook's Create Your Shop page and click Next.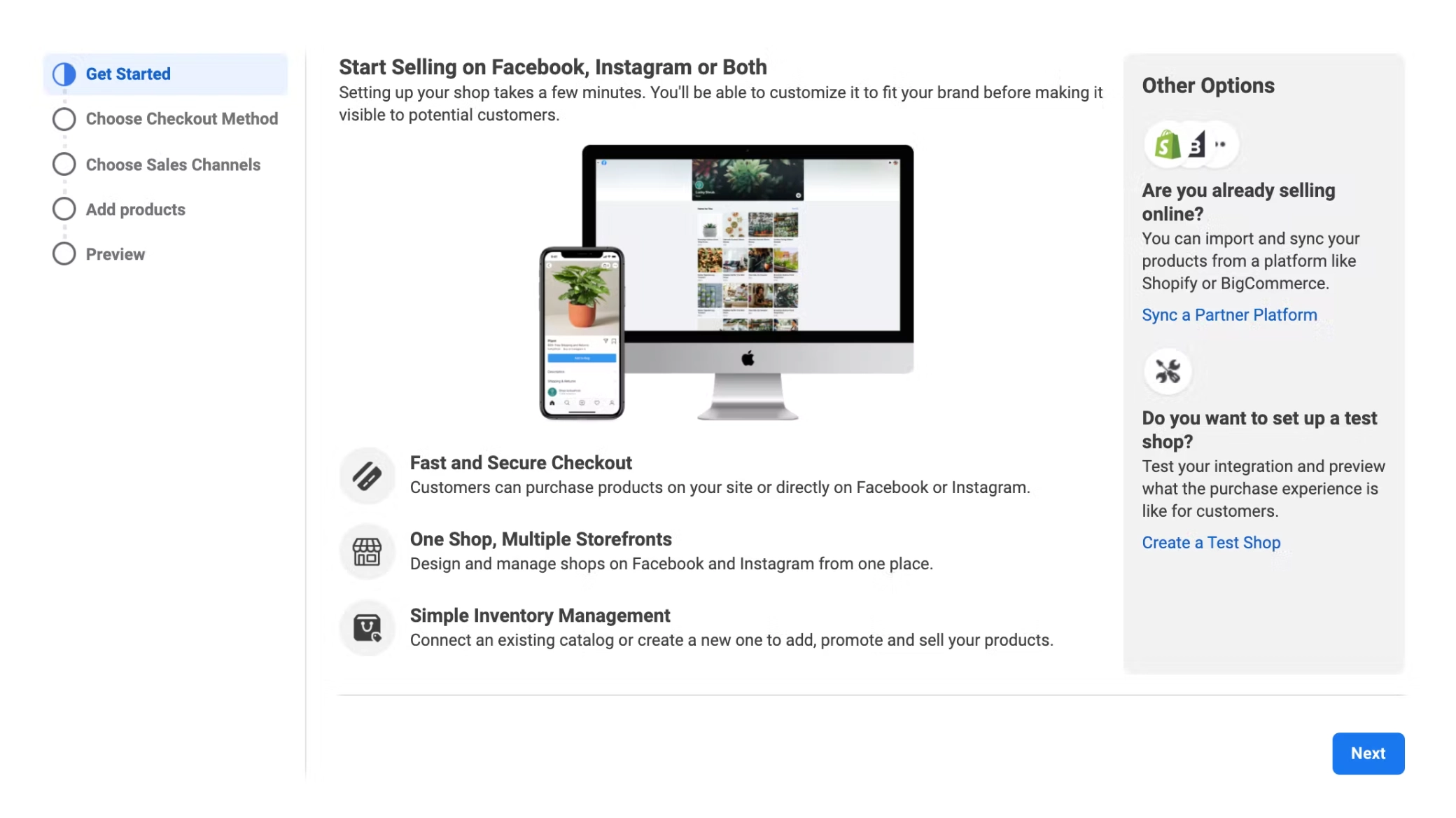 Step 2. Choose a checkout method. We recommend the Checkout with Messaging option, so you can enable tools like Chatfuel to help you sell more. Then click Next.
Select your business from the list or start a new one. Click Next.
Select existing products in the Add Products section, or add a new catalog. Click Finish Setup.
Create a collection of up to 30 products.
Customize the colors and other visual settings of your shop.
Publish your shop and wait for approval from Facebook.
Set up a Messenger chatbot to increase your sales and improve customer service.
Facebook marketplace and chatbots
Facebook Shops lets you access a vast, engaged audience. They load faster than a mobile website, and you can make your shoppers' lives easier by enabling in-app checkout. Thanks to the prominent tab and buttons, shops efficiently market with Facebook ads, making organic discovery easy.
Integrating a Messenger chatbot helps Facebook Shops grow faster with conversational marketing. Setting up a chatbot for e-commerce to do all of the above on Facebook is easy. With Chatfuel, no coding experience is required. Sign up for your free account today to get a chatbot for e-commerce up and running in minutes.