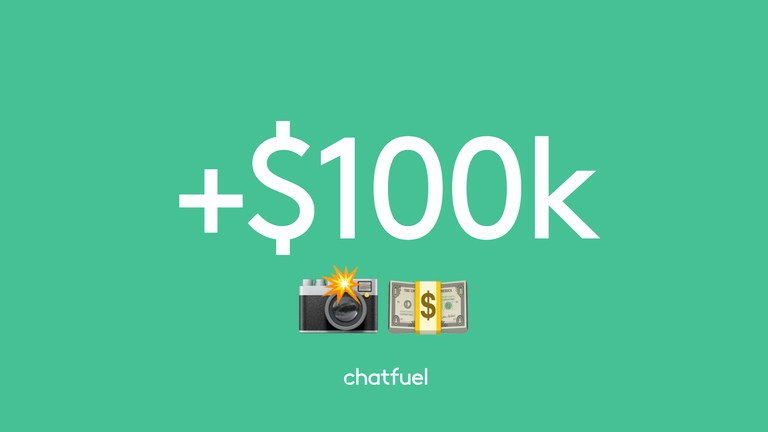 Published July 25, 2023 in
Ecommerce entrepreneur uses Chatfuel bot to automate over $100,000 in sales
Discover how this photo-booth entrepreneur used a Messenger chatbot to bring in revenue on autopilot.
The brand
Photobooth Deluxe is a German company founded by Jürgen Mayr. This entrepreneur began his career as a wedding photographer, but decided he wanted to do things a bit differently than others in the industry.
Years ago, Mayr began to notice the rise in popularity of photo booths for weddings in Asia and the US. He got a friend to build him a prototype, and in 2013, he started building his own. From then on, many of his fellow wedding photographers who saw them wanted one for their own businesses.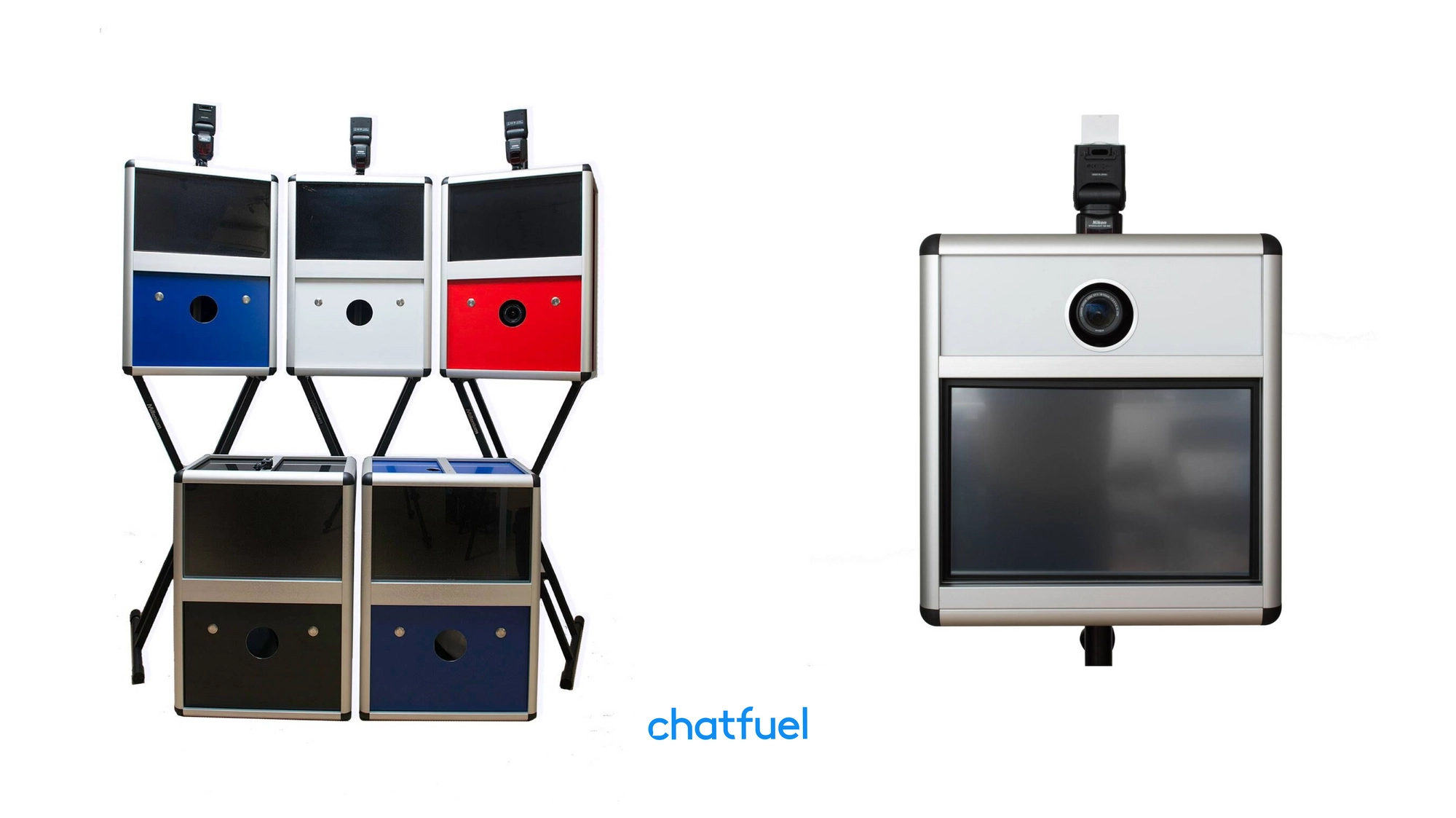 Since then, Mayr has built and sold 500 photo-booth systems across Europe—but that's not the key source of his income today. Instead, it's supplies (the specialized ink and paper for the photo booths) that he sells regularly to past clients. The Messenger bot he built now handles all these transactions—and he won first prize in Chatfuel's 2019 Ecommerce Bot Competition for it!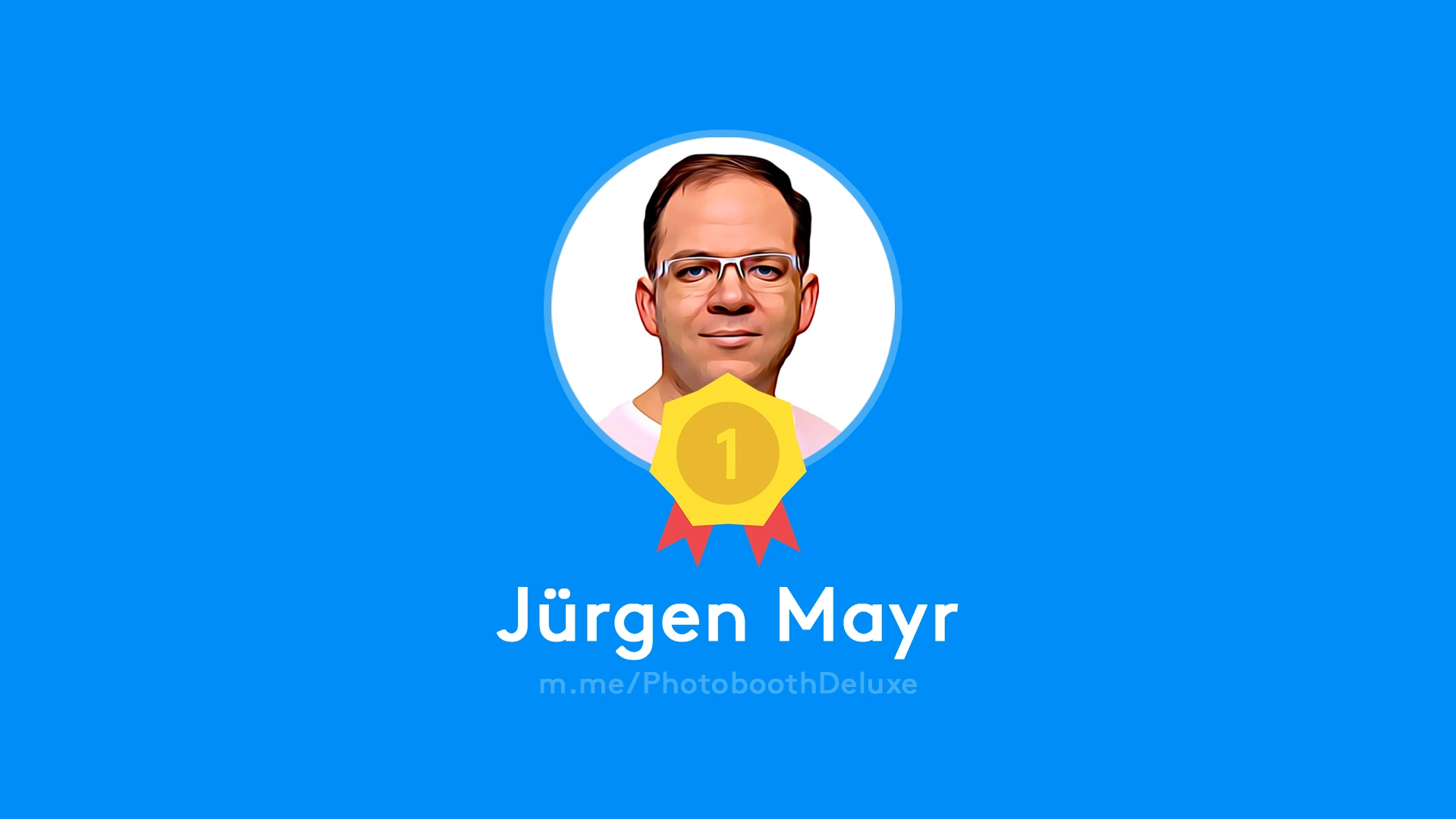 The problem
Pre-chatbot, the procedure for reordering these supplies wasn't easy for Mayr or his clients. Taking down their information via phone and email to send to the drop-shipper was tedious, and took 10–20 minutes each time. Plus, orders could only be processed when Mayr was available. If he were on vacation or at an event, for example, the orders wouldn't be shipped until days later when he had time to submit them.
95% of his clients are on Facebook. So when he heard about chatbots, he knew he had to see if one could help him streamline the process. "The goal, " Mayr explains, "was to enable my clients to order supply materials without my physical presence."
The solution
Mayr held the common misconception that you need coding knowledge to build a Messenger chatbot, so he turned to a freelancer for help. But when the end result didn't turn out well, he decided to take the project on himself. One Friday morning, he set out to build a chatbot with Chatfuel by Sunday night. "If I can get it done in time, great. If not, I'll treat it as a good experience and know that chatbots aren't for me, " Mayr says.
He started with a sea of sticky notes on his wall to help him plan the bot's flow. It's a great illustration of his advice for other bot builders, which is that planning is crucial. 90% of the work—mapping out a logical flow—happens before you even log into Chatfuel. And then once you do: "Do something, and test it, tweak it, and test it again!" says Mayr.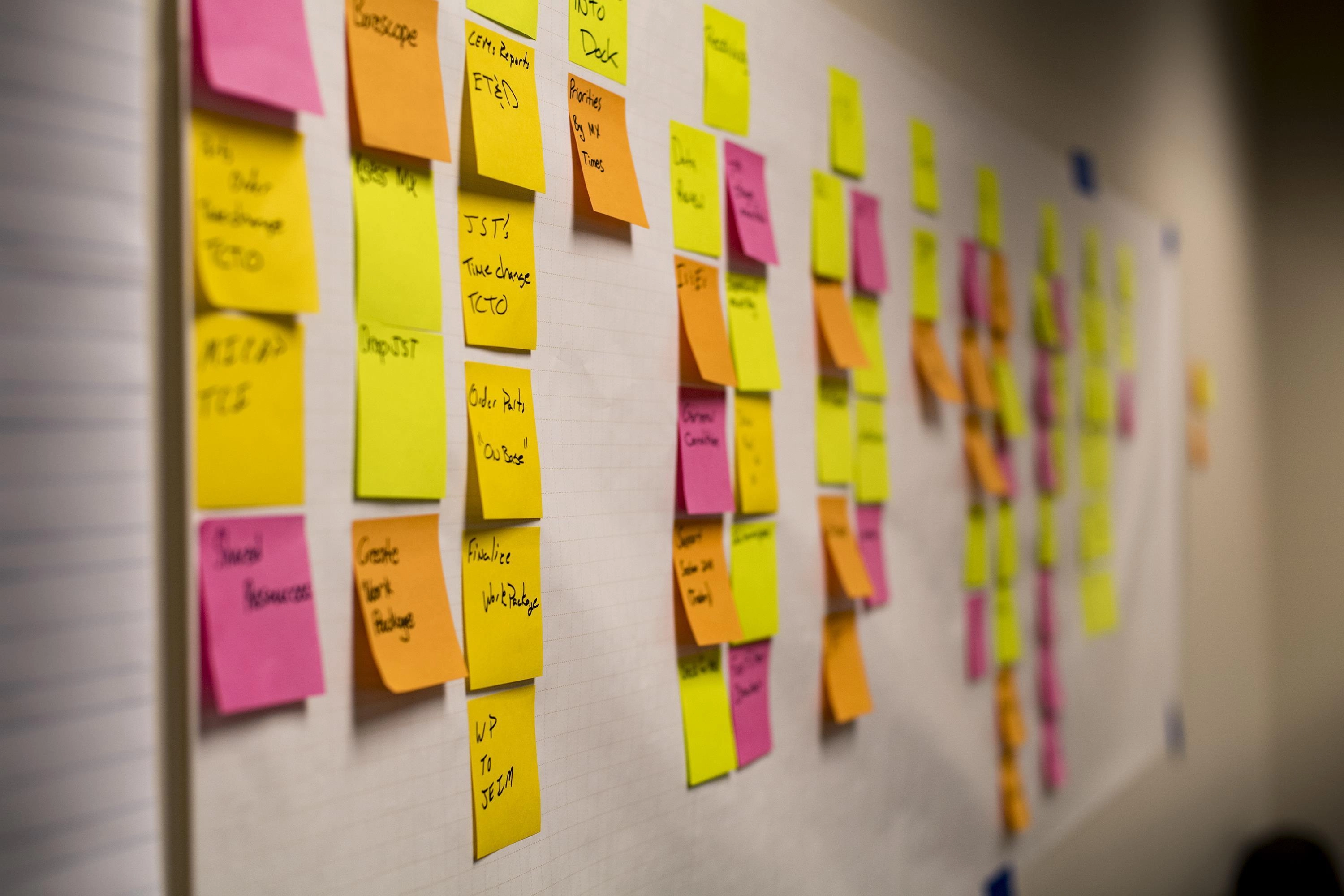 The bot he builtand fine-tuned then does exactly what he wanted it to. It gathers all the order, shipping, and payment information from first-time clients, and notifies the drop-shipper to ship. For repeat customers, all past information is saved, and the reorder process takes just two taps.
"So if I'm on vacation for two weeks, for example, my clients can still order, they can still get their materials/supplies. When I come back home, all I have to do is write the invoices, " says Mayr. 🏝️
The recipe
"Don't build a bot a bot to serve you as a vendor; build a bot to serve your clients" — Jürgen Mayr, Photobooth Deluxe founder
These are a few of the features and plugins Mayr used to build his super-effective Messenger chatbot:
User attributes. Mayr uses this Chatfuel feature to keep track of how much each of his clients have spent with him in total. He set an attribute to populate with the total amount, which updates automatically each time an order is placed. Using attributes also gives him the option to create custom and Lookalike Audiences for sponsored messages and other Facebook ads, so he can target his most valuable customers (or find prospects similar to them). You can now use Segment Sync to send subscriber data for these audiences to Facebook in one click.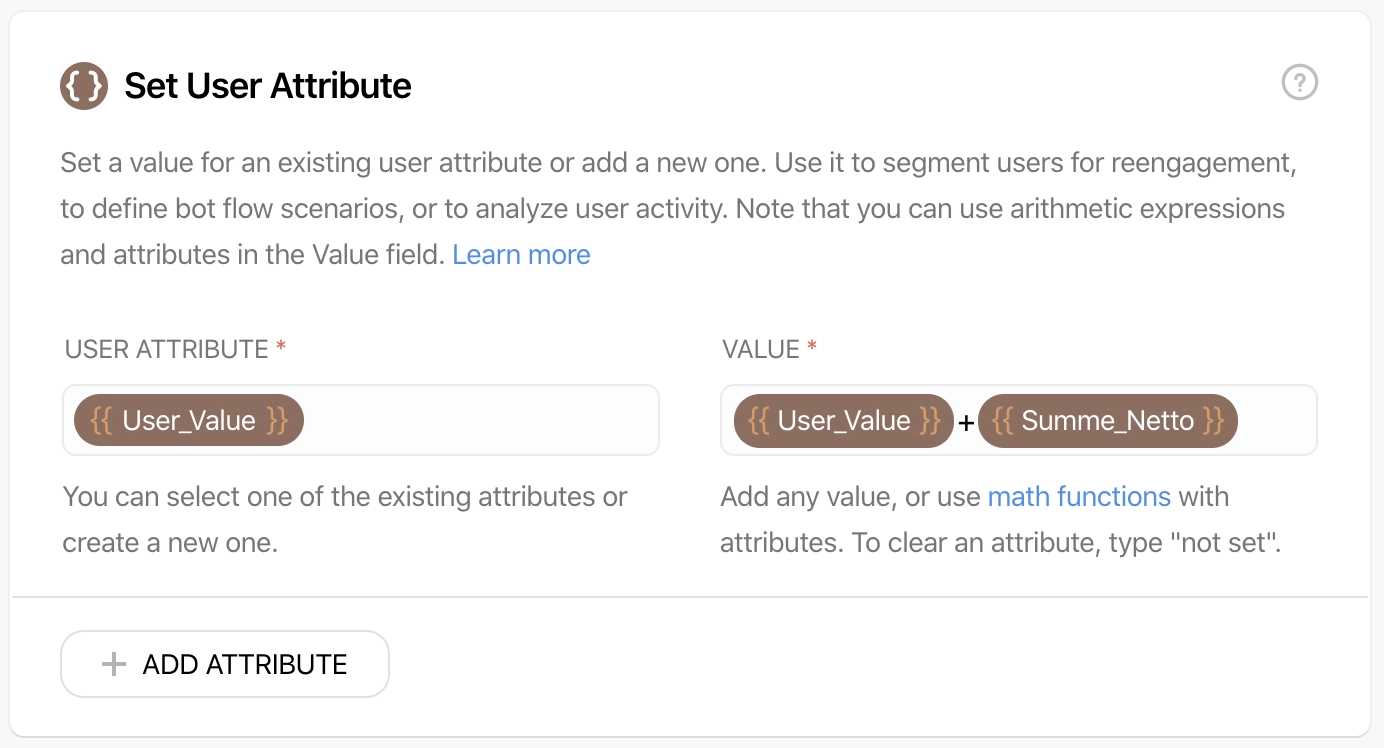 Notify Admin via Email plugin. Each time a client orders through Mayr's chatbot, it instantly sends an email to him for his records. It also sends one to his drop-shipper, so they can package and ship the order right away.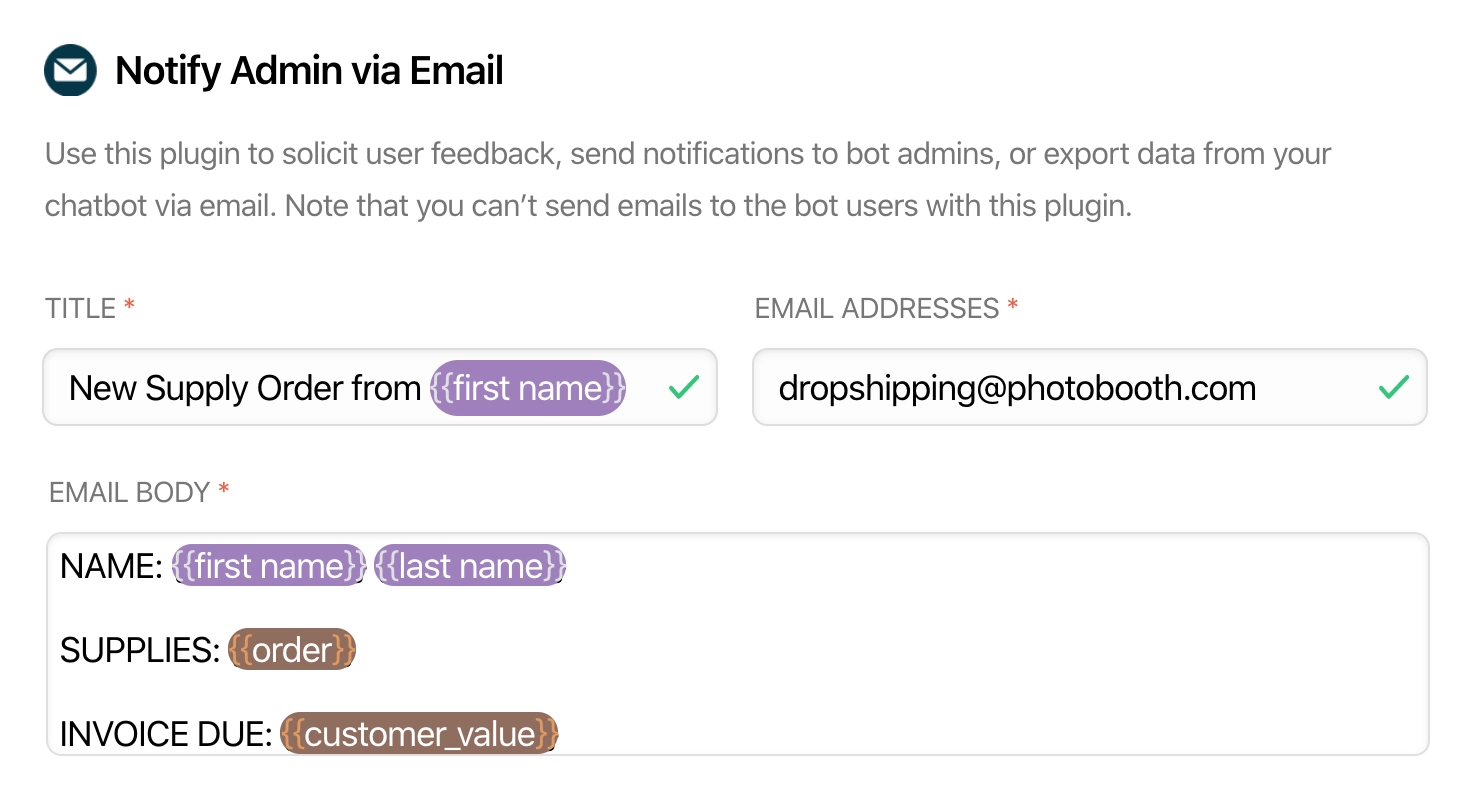 Sponsored messages. After a customer places an order, Mayr's bot asks if they'd like to receive a supply check-in notification in 30 days. Now that Facebook's policies have changed, he plans to use sponsored messages to send these, which simply ask if the client needs to reorder. Mayr says his customers often forget to stock up on supplies otherwise, so these reminders are helpful for them and bring in more revenue for him. You can now use our native ads integration to easily set up sponsored messages for your Facebook chatbot.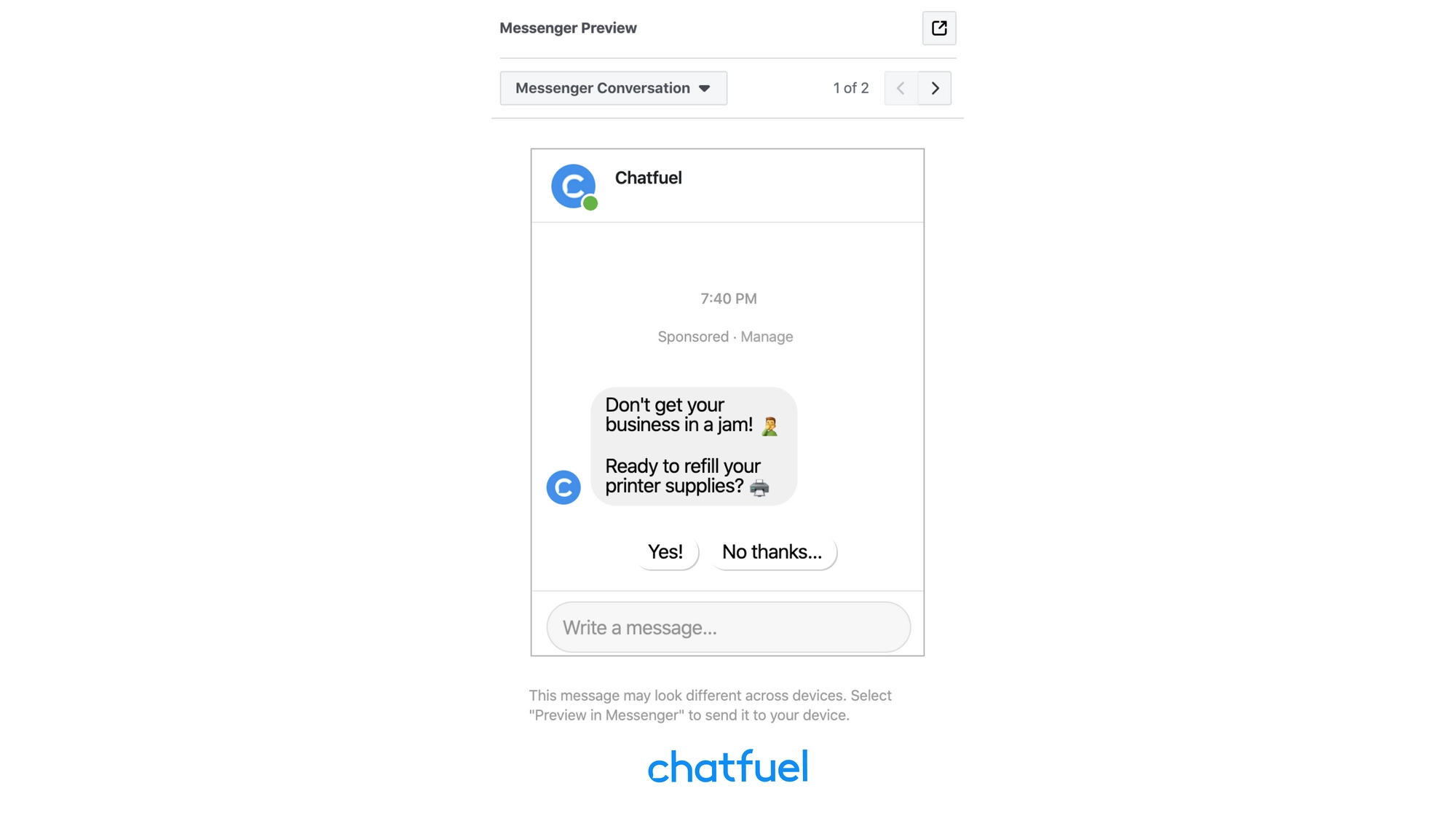 Third-party API. The next update Mayr has planned for his bot involves an API from the shipping company he uses. He's going to connect Chatfuel to it via Zapier or Integromat. That way, the bot can automatically message customers with a tracking number, so they can keep tabs on their shipment. "Always keep the client well informed, and make it easy for him to order, " advises Mayr.
JSON API. It occasionally happened that new-order emails would be missed by the drop-shipper, or would end up in their spam folders. To solve this issue, Mayr used the JSON API to integrate Twilio. His drop-shipping company now receives an SMS text triggered by the bot, so they know to look out for a new-order email.
He also encourages other bot builders to seek feedback before launching. 🗣 "Maybe ask a couple of friends to test it. Ask them to be very, very critical with the bot. Ask if there were any steps where they didn't know what to do, because that means you have to do better there." And always design with the customer or end user in mind, he adds. "Don't build a bot to serve you as a vendor; build a bot to serve your clients."
The results
"The quality and ease of service is more important to [my clients] than getting the lowest price" –Jürgen Mayr, Photobooth Deluxe founder
Since he implemented the bot, Mayr has automated over $100,000 in revenue with his Messenger chatbot. "It's quite amazing, " admits Mayr, "because it's almost hands-free. I don't have to do a lot. I have to write the invoice at the end; that's it." And he's even working to automate that final step: He's already asked his invoicing company to consider adding an API for their service.
Mayr also notes that he gets more sales because the ordering process via bot is so simple. Normally clients shop around to check prices with different vendors before ordering photo-booth supplies, he explains. "But I make it so easy for them to reorder, so it doesn't matter if a certain item is a few euros more." His clients order anyway, because "the quality and ease of service is more important to them than getting the lowest price."
Build a picture-perfect bot for your brand
"Chatfuel is amazing. It's fun to work with, and you don't have to have developer skills. You can do a lot just with a logical mind, " says Mayr. He studied economics and tax law himself, which illustrates that building a Chatfuel Messenger bot without a coding background is completely possible. "If you really need a developer for some advanced functionality, " he adds, "you can probably find someone in the Chatfuel community. You can do almost everything yourself though; the sky or your brain is the limit!"
"Chatfuel is amazing. It's fun to work with, and you don't have to have developer skills. You can do a lot just with a logical mind"  –Jürgen Mayr, Photobooth Deluxe founder
Sign up with Chatfuel for free today — no coding skills, previous experience, or credit card required.