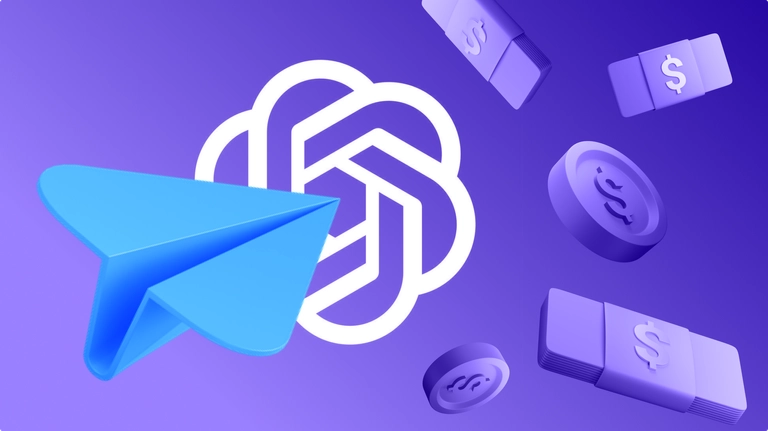 Published July 25, 2023 in
How to use ChatGPT on Telegram for business
Learn the basics of ChatGPT and how to use it on Telegram for the maximum impact on your business.
Today, many companies look for ways to streamline their business operations on various platforms, including Telegram. Moreover, with the incredible development of AI (artificial intelligence), getting a smart assistant for this purpose has become more and more accessible and affordable.
Introduced in November 2022, ChatGPT by OpenAI changed the AI world and made it a part of our daily life. So if you are looking for a powerful AI-powered assistant to help you cover your business tasks, look no further than ChatGPT bot on Telegram.
In this article, we will guide you through the basics of ChatGPT, show you how to use it step-by-step on Telegram, and provide you with the top ways to use it for your business.
Let's dive in.
What is ChatGPT?
Most likely, you have heard the name 'ChatGPT' by now. Or, you have already tried it yourself.
ChatGPT is a large language model developed by OpenAI. It became a game changer that blew the minds and got 1 million users in less than a week. It can't generate images, but provides you with outstanding text outputs.
ChatGPT, unlike a previous generation of chatbots, understands both questions and context and generates relevant responses on a huge amount of topics.You can send it a text prompt with your request using casual or complex language — it doesn't matter.
What does matter is providing ChatGPT with as specific details on the desired result as possible. Unlike search engines, it doesn't only give you an answer. It can also change the tone of the output text, add links to the sources, edit it, and more.
That way, ChatGPT becomes a genie in your pocket and an incredible tool for businesses across industries and platforms.
So let's look at a short guide on using ChatGPT on Telegram.
How to use ChatGPT on Telegram: step-by-step guide
To use ChatGPT on Telegram, you need to follow a few steps:
Add the ChatGPT bot to your contacts in the Telegram search bar by searching for '@ChatGPT_bot.'
To start interacting with the bot, click Start.
You can employ ChatGPT to automate your business operations: simply type your message to the bot and press Send. ChatGPT will then provide you with an intelligent response based on your input.
Using ChatGPT is a great way to handle a variety of routine tasks. Let's look at how to benefit your business with ChatGPT on Telegram.
Best ways to use ChatGPT on Telegram for business
There are many ways to use ChatGPT on Telegram for your business. Here are some of the top ones:
Customer support. Use ChatGPT to provide quick and intelligent responses to customer inquiries. This will help you to improve your customer service and save time and effort.
Appointment scheduling. Use ChatGPT to schedule appointments with customers. This will help you to automate your scheduling process and save resources.
Product recommendations. Use ChatGPT to provide intelligent product recommendations to customers. This will help you to increase sales and improve customer satisfaction.
Take full advantage of ChatGPT on Telegram for your business
ChatGPT is an AI-powered assistant that can help you automate your business operations on Telegram group chats. It uses natural language processing to understand the messages you send and provides intelligent responses based on your input. As a result, ChatGPT can save you time and effort by handling routine tasks.
You can streamline your business operations and improve your bottom line by following our step-by-step guide and utilizing ChatGPT for customer support, appointment scheduling, and product recommendations. So give it a try today with Chatfuel AI — sign up for free.